Alexia Johnson named Texas Charter School Teacher of the Year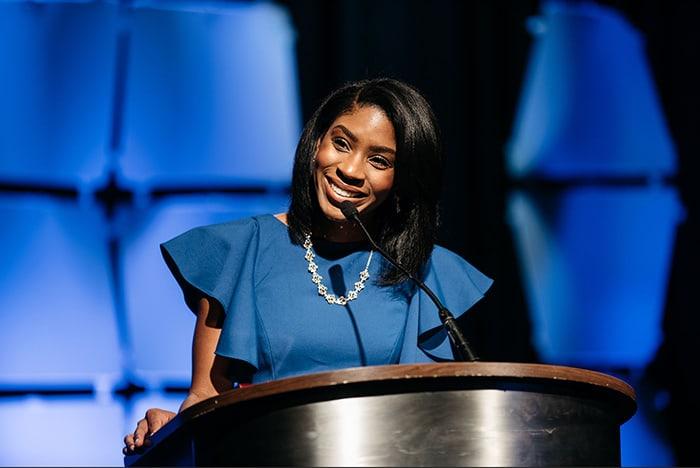 The Texas Public Charter Schools Association (TPCSA) has named Alexia Johnson its 2018 Teacher of the Year. Ms. Johnson is a third grade teacher at Beta Academy, a charter elementary school in Houston. The TPCSA Teacher of the Year award is given to a current educator who is passionate, knowledgeable and dedicated to the education of public charter school students in prekindergarten through grade twelve.
Watch a video of Johnson's acceptance speech from the 2018 Texas Charter Schools Conference.
"Teachers today have a harder job than ever and Alexia Johnson is an inspiring example of the impact a great teacher can have on students," said TPCSA Chief Executive Officer Starlee Coleman. "Her creative teaching methods engage each individual that sets foot in her classroom. Beta Academy's effort to find and put amazing teachers like Ms. Johnson in all their classrooms speaks volumes about the schools' commitment to children."
Though only in her third year of teaching, Johnson is known for her innovating teaching strategies and her effective use of Whole Brain Teaching. During any given lesson, you might find Johnson and her students standing on their desks or playing musical instruments, all to help her students fully learn the concepts she is teaching. She also works hard to set a positive tone and learning environment, greeting each student with a handshake and warm smile when they arrive for the day.
Watch a video from her classroom to see Johnson and her students in action.
Johnson responded, "It's a thrill and honor to be awarded Teacher of the Year. My own rocky educational journey motivates me to ensure that each child in my classroom is valued and thriving and the subjects I struggled with as a child are now my favorite ones to teach. As a 28-year-old African American educator in pursuit of my Master's in Education, I am striving to reach my goals in order to help my kids become the best versions of themselves. This award is a huge encouragement that I am exactly where I should be, doing what I should be doing. Thank you to TPCSA for this recognition."
Ms. Johnson was honored and presented with $1,000 at a luncheon today at this year's Texas Charter School Conference at the Marriot Marquis Houston.
To arrange an interview with Alexia Johnson, please contact TPCSAmedia@school-forward.com or call 303-478-8444.