Theresa Gray named Texas Charter School Teacher of the Year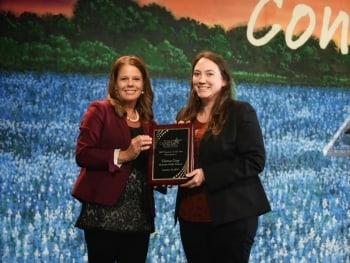 Congratulations to Theresa Gray, a high school teacher from the Harmony School of Innovation-Katy, who was named the Texas Charter School Teacher of the Year last Wednesday at the Texas Charter School Association 2019 Conference.
Gray teaches a variety of courses, including U.S. History, Government, Economics, Entrepreneurship, as well as a Career and Technical Education (CTE) course in Social Media Marketing.
The award was announced at the TCSA's annual conference in San Antonio by Harmony Chief Development Officer Gina Gregory. In receiving the award, Gray was lauded for her individualized approach to student instruction, as well as her dedication to the craft of teaching.
"Every day in the classroom, whether it's seeing a student get a college acceptance letter or hearing them speak up for the first time in class, is a reminder that there is no such thing as a one-size fits all approach to teaching".
Though only in her third year of teaching, Johnson is known for her innovating teaching strategies and her effective use of Whole Brain Teaching. During any given lesson, you might find Johnson and her students standing on their desks or playing musical instruments, all to help her students fully learn the concepts she is teaching. She also works hard to set a positive tone and learning environment, greeting each student with a handshake and warm smile when they arrive for the day.
Watch a video from her classroom to see Johnson and her students in action.
Johnson responded, "It's a thrill and honor to be awarded Teacher of the Year. My own rocky educational journey motivates me to ensure that each child in my classroom is valued and thriving and the subjects I struggled with as a child are now my favorite ones to teach. As a 28-year-old African American educator in pursuit of my Master's in Education, I am striving to reach my goals in order to help my kids become the best versions of themselves. This award is a huge encouragement that I am exactly where I should be, doing what I should be doing. Thank you to TPCSA for this recognition."
Ms. Johnson was honored and presented with $1,000 at a luncheon today at this year's Texas Charter School Conference at the Marriot Marquis Houston.
To arrange an interview with Alexia Johnson, please contact TPCSAmedia@school-forward.com or call 303-478-8444.