Yesterday, we learned that Northside ISD has sent out a survey to parents that includes inaccurate and misleading information about public charter schools.
The survey asks questions about where parents plan to send their children to school. For any parent that indicates they are also considering a charter, they receive the questions below.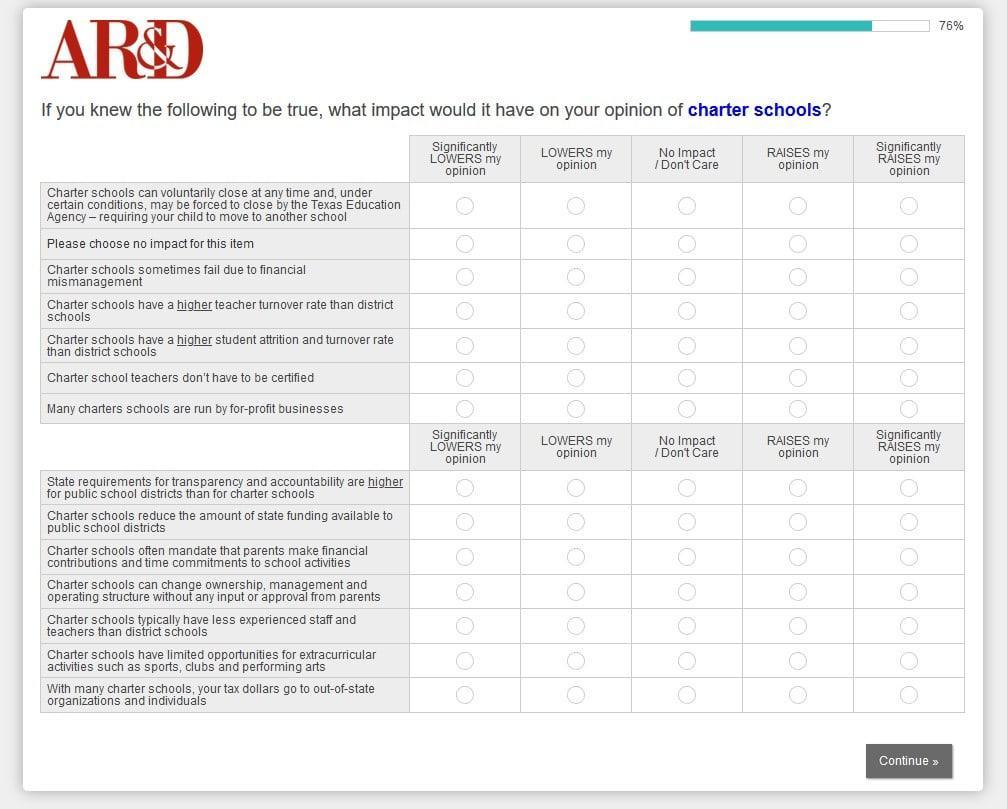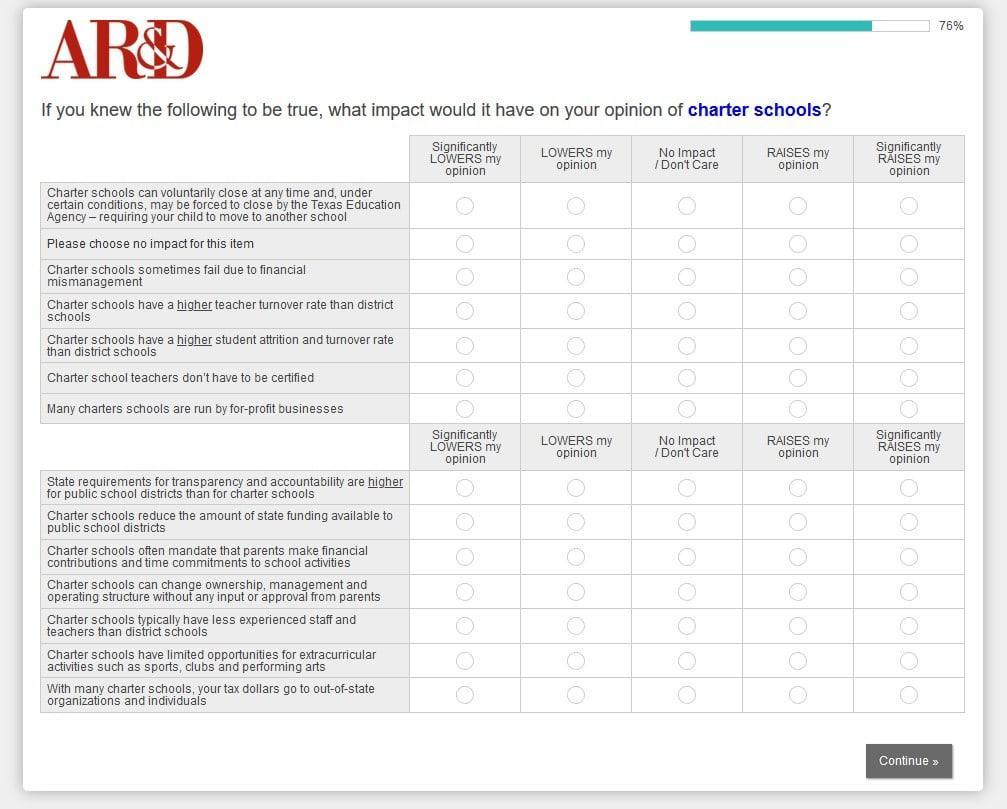 This is not an objective survey—it is biased propaganda. The questions, as posed, are partial, manipulative and misleading, at best. Many of them are blatantly false. For example, Texas bans for-profit charters and charter schools are subject to higher accountability, not lower.
Of course, there is absolutely nothing in these questions that talks about student outcomes. We know that Texas public charter schools send more students to college and that 2/3 of the top-rated districts in the state are charters even though we only educate 6 percent of students. These are just two reasons why so many families are choosing public charter schools.
TCSA is responding quickly to set the record straight. Yesterday, we launched a social media campaign in San Antonio to debunk these myths and we are working on other ways to get the truth out over the coming days.
In addition to making you aware of this survey, we wanted to request two actions:
Download and share our Truth About Texas Charters paper that addresses many of these myths. This page on our website also houses videos and shareable social media graphics to address the most common myths we hear. Feel free to share these!
We're with you and we've got your back. Please don't hesitate to reach out if there's anything more we can do to help.
Starlee Coleman, CEO of TCSA and John Armbrust, CEO and Founder of Austin Achieve Public Schools honored the Lt. Governor for his hard work and dedication to public school students in Texas by presenting him with the 2019 Charter Champion award. Lieutenant Governor Patrick is one of our greatest champions at the Texas Capitol.  This past session, there were several negative bills filed that would have hurt public charter schools and our students. Lt. Gov. Patrick worked to ensure that bills that would negatively impact public charter schools did not make it to the finish line. Because of the Lt. Governor's help in shepherding our priorities through the process, we were able to get many of our legislative priorities on the Governor's desk. We are thankful for the Lt. Governor's support and look forward to our continued work together in the future.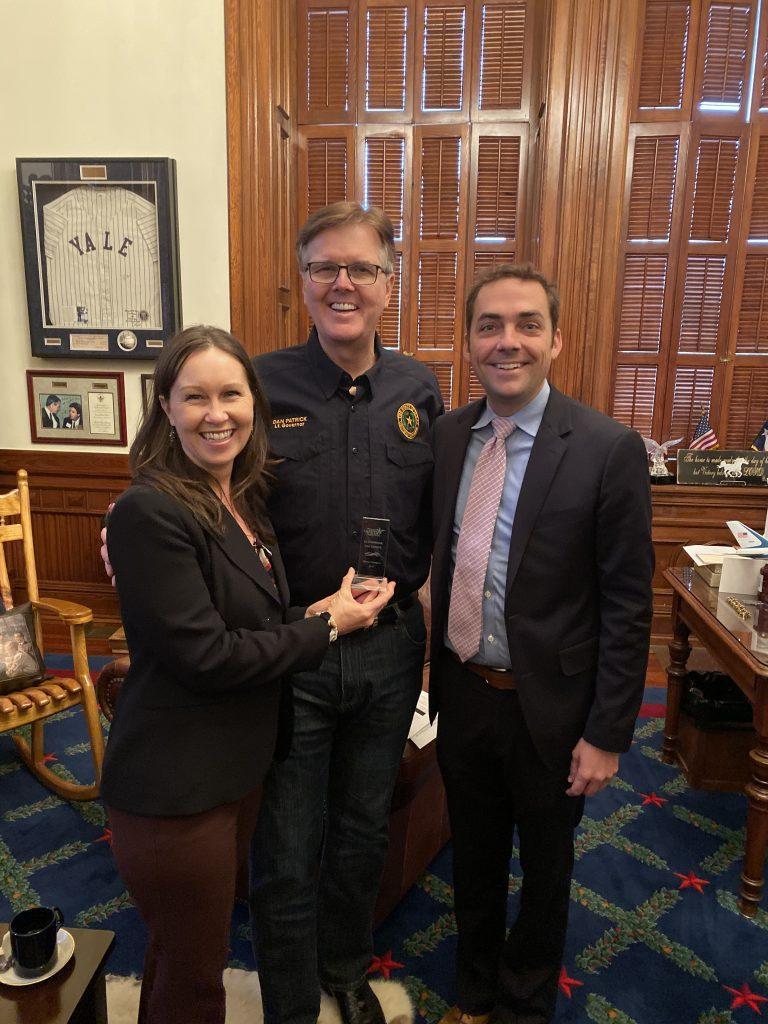 State Representative Krause from House District 93 stopped by the TCSA Headquarters in Austin on Tuesday, November 5 to meet with TCSA staff and accept his award as a 2019 Champion for Public Charter Schools & Students. This past session, Representative Krause sponsored HB 3871 which protects public charter school student safety by requiring municipalities to consider school zone limits for public charter schools in the same manner as ISDs. With Representative Krause's leadership, we were able to get this bill passed! We were honored to name Representative Krause as a Charter Champion and enjoyed spending time discussing interim work and the upcoming 2021 session.
The Texas Charter Schools Association is proud to announce 25 fellows have been accepted to the 2019-2020 Teacher Advocacy Leadership Institute (TALI). This highly selective fellowship is in its second year and has doubled the number of fellows to meet growing demand.   
 The purpose of the fellowship is to help educators gain a more thorough understanding of charter school laws and to teach them how to advocate for policies that advance the charter school movement in Texas.  
Fellows will receive extensive advocacy and communication training and will learn how to engage legislators, testify before legislative committees, respond to action alerts, write op-eds, and engage fellow teachers on issues that concern charter schools, students, and teachers. 
The names of 2019-2020 TALI Fellows are: 
Austin
Tanya Reyes, 

Harmony Science

Academy

 

Aryn Van Steijn, 

Chaparral Star Academy

 

Mark Rogers, 

Austin Achieve

Public Schools

 

Miriam Rodgers, 

Meridian

World School

 

Jennifer Cephus, 

KIPP

Austin

Leadership

Elementary

 
Beaumont
Amber Frasher, 

Harmony Science Academy

 
Dallas
Benjamin Prior, 

Legacy 

Prep

aratory Charter Academy – Mesquite

 

Brandi Weaver, 

Legacy 

Prep

aratory Charter Academy – Plano

 

Elena Creixell, 

Great Hearts – Irving

Sondra Hopper, 

Education Center International Academy

 

Rachel Barrett, 

Leadership 

Prep School 
El Paso
Valerie Astorga, 

Harmony School of Innovation

 

Marilyn Owens, 

Harmony School of Excellence

 
Houston
Abigail Solis, 

YES Prep

–

 Hobby

 

Byron Hannah, 

YES Prep

– 

Fifth Ward

 

Camedra Jefferson, 

YES Prep 

–

District

Debbie Ramos, 

YES Prep – Brays

 Oaks

Jillian

Suan, 

YES Prep – 

White Oak

Mandy Peyrani, 

Harmony

School of

Endeavor

 

Ryan Martinez, 

YES Prep – Brays Oaks

 

Tamira Samuel, 

YES Prep – Northline

 

Ricca

R Dickens, 

YES Prep – District

 
San Antonio
Chanel Ashley, 

Harmony School of Innovation

 

Jennifer

Aceves, 

School of Science and Technology

Brandon Aniol, 

Great Hearts – Northern Oaks
We are excited to welcome this new class to TALI and thank them for their commitment to advocate for our charter schools and our students!
For more information about the program, please contact Shree Medlock, Vice President of Strategic Engagement for the Texas Charter Schools Association. 
On Wednesday, September 11th, charter school parents, students, and educators, primarily African-American and Hispanic/Latino, took a "shot across the bow" to the Democratic Presidential candidates who were participating in the Democratic Presidential Debate held on the campus of TSU in Houston. The rally, organized by African-American and Hispanic/Latino charter school leaders from across the country, engaged over 500 parents, students, parents, school leaders and board members in an hour of speeches, chants and student performances.
The program was emceed by Margaret Rodriguez, Superintendent Sanchez Charter School and Luly Castillo – YES Prep board member/alumni and parent! The rally was co-organized by Dr. Howard Fuller, Roland Martin, and Dr. Steve Perry. The inspirational talks, performances and general excitement from everyone will be remembered for a long time.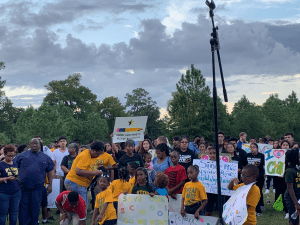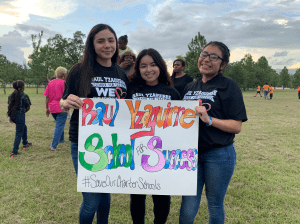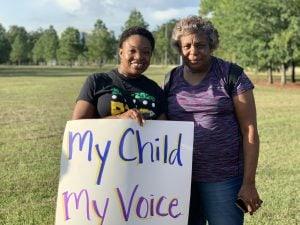 Thanks to the Rhodes School for the Drum Line, Beatrice Mayes Institute, for the Cheerleaders and the Southside Dazzling Giants dance group from YES Prep. Other program speakers included; Victor Garcia – a Senior from Harmony Schools, Tereasa Doss- Parent from the Beatrice Mayes Institute; Tristan Jones - a teacher at KIPP Houston (and TALI alumni), and Lauren Philpott, 7th grader at Rhoades School.
Check out the Rally here. 
Other stories and blogs about the rally can be found at https://www.saveourcharterschools.com/
 Leaders of the Coalition for Charter Schools participated in a demonstration the next day prior to the Presidential Debate held at TSU. You can read more about that here.
Thanks to you, public charter schools in Texas had a very good legislative session! 
Here's the good news: 
More funding for public schools—including charter schools! House Bill 3 provides charter schools with an average increase of $767 per student, which means raises for teachers and more money for the classroom.
Improved student safety! House Bill 3871 will increase student and school staff safety by allowing public charter schools to receive school zone signs when they ask for one.
Charter school autonomy protected! Senate Bill 2293 makes sure that charter school leaders and teachers keep their ability to innovate and respond to student needs by keeping workplace rules under the direction of charter leaders.
Options for charter school teachers with children! House Bill 2190 will allow charter school teachers to send their students to the school where they work. This will help charter schools keep some of their best teachers in the classroom and give these parents more options for their child's education.
We also blocked 40 anti-charter school bills that would have stopped new school growth, made our schools less safe, increased red tape, and decreased funding.
Collectively, charter school supporters sent nearly 50,000 emails to lawmakers—which helped pass these important bills and will create a better environment for charter schools in the future.
Our success is a result of you making your voice heard! Thank you for supporting public charter schools throughout the legislative session.
 We are grateful for your support!
Starlee Coleman
Chief Executive Officer
It's a wrap! The first cohort of the Teacher Advocacy Leadership Institute (TALI) has ended, coinciding with the end of the legislative session. The institute was designed to help teachers gain a more thorough understanding of public charter school laws and to teach them help to advocate for policies and laws that are needed to support the public charter school movement in Texas.
Twelve teachers representing charter school networks across Texas participated in the program. They are:
Donnie Beeson, KIPP Austin Brave High School
Cristina Correa, IDEA College Preparatory San Juan
Travis Helm, Austin Achieve Public
Tristan Jones, KIPP Houston High School
Jeremy Lippart, Harmony Science Academy Austin
Brooke Lucero, Great Hearts Northern Oaks San Antonio
Shelley Pridgen, IDEA Public Schools,
Heather Richmond, University Academy-Palestine
Cameron Starc, Founders Responsive Education Classical Academy of Leander
Darla Sutton, Responsive Education Premier High School Amarillo
Amanda Walsh, KIPP Comunidad-Austin 
In addition to receiving advocacy training (provided in partnership with Teach Plus Texas), participants responded to action alerts, wrote op-eds, facilitated school tours with lawmakers, prepared for and testified before the House Public Education committee, met with lawmakers, and kept their peers informed on the issues.
Building upon their work in the TALI program this year, teachers Cristina Correa, Brooke Lucero, and Heather Richmond have been accepted into the Teach Plus Texas Fellowship program for the 2019-2020 school year, where they will be continuing their advocacy training. 
Thank you to our wonderful teachers for all you do for your students and for going above and beyond this year by becoming an advocate too! We are grateful for you.
Applications for Cohort 2 for the 2019-2020 TALI fellowship will open in August. Please email Shree' Medlock at smedlock@txcharterschools.org if you would like to be notified when the application is available.
The last day of the 86th Legislative Session is May 27! With only four weeks left in the session, this is the time that everything starts moving quickly and bills start becoming laws.
Here is a look at where some of our priority bills are currently in the legislative process:
HB 3155 exempts public charter schools from impact fees and drainage fees and requires municipalities to enter into a land development agreement if requested by a public charter school allowing public charter schools to keep more of their funds in the classroom.
HB 3155 has passed out of the House Public Education Committee and the next step is for HB 3155 to be referred to calendars so it can be placed on the General Calendar and heard by the House.
HB 3871 would require municipalities to consider school zone limits for public charter schools in the same manner as ISDs increasing student safety. HB 3871 has been placed on the local calendar and should be heard soon by the House.
HB 388 exempts public charter schools from paying taxes on their leased property. HB 388 has been referred to calendars and once placed on the calendar, it will be heard by the House.
SB 2293/ HB 2487 defines public charter school employees as public employees. SB 2293 has been placed on the Senate calendar and will be heard by the Senate very soon. HB 2487 has been referred to House Calendars and will be heard once it is placed on the Calendar.
We will continue to work hard these last few weeks of session to advance our legislative priorities and keep things moving!  
Legislative Process 101
Read more about how the legislative process in Texas works here:
How a bill becomes a law in the Senate
How a bill becomes a law in the House
Source: https://tlc.texas.gov/
Interested in learning more about where other bills are? Use the Texas Legislature Online website to search for bills by number or phrase https://capitol.texas.gov/Home.aspx
With only a little over a month left in the 86th Texas Legislative session, the Texas Charter Schools Association has been spending many days at the Capitol and many hours engaging with our charter school advocates. Last week was charter day in the House Public Education Committee. The committee heard over 20 bills directly related to public charter schools. Over 60 members of the charter school community came out to testify and show their support. This week was charter day in the Senate Education Committee.  Five bills were heard in the Senate Committee and many members of the charter community came to show their support and testify.
As session continues, TCSA will be at the front lines supporting and defending charter schools, but we cannot do it alone. Over the past two weeks, 2,700 charter school advocates sent over 37,000 emails to lawmakers asking for their support of public charter schools. We are grateful to everyone who has taken action and hope you will continue to advocate for Texas public charter schools with us!
As we continue to move forward this legislative session, it is important for everyone to get involved. Please contact your lawmaker and let them know you support public charter schools, or share your charter school story with them. TCSA will keep you posted throughout this year's legislative session and let you know when critical charter school votes are happening and when it is time to act.  Join the fight here or text COUNTMEIN to 52886.
The Texas Charter Schools Association has submitted a letter to Lt. Governor Dan Patrick and members of the Texas House and Senate that outlines four key priorities for school finance reform as they work toward the final version of House Bill 3 and Senate Bill 4. TCSA firmly believes that all Texas children, regardless of race, income, or neighborhood, should have the chance to succeed academically and lead choice-filled lives. To achieve this goal for all students, including the 300,000 students currently attending public charter schools in Texas, the following four priorities have been identified and recommended to elected officials to support: 
Support a level playing field. Keep it fair by ensuring that changes to the school finance formula provide proportionate benefit for public charter students and traditional public-school students. We should see a comparable average increase to per-pupil funding for all types of public schools, at both the base level and for students who share the same level of need.

Maintain flexibility and creativity. Continue public charter school educators' ability to cut through red tape and innovate to put the needs of students first. Public charter schools were designed to allow educators the room to be creative in exchange for greater accountability, a bargain that has allowed public charters to succeed and meet the needs of our individual students.

Don't reverse progress on charter school facilities funding. Unlike traditional public schools, public charter schools cannot levy taxes and receive no local taxpayer money for our facilities. To address this, in 2017 the Legislature created, for the first time, a $60 million fund for public charter school facilities, to be distributed on a per student basis to charters with good academic performance under Texas Education Agency (TEA) accountability ratings. Unfortunately, this progress toward leveling the playing field could be significantly eroded by a provision in HB3 that requires public charters to pay into the Teacher Retirement System at a significantly higher rate than in  past years, without providing dollars to cover this new estimated $25 million cost to public charter schools. This year, public charters can better afford our school facilities without cutting into funds that should go into the classroom. Now that we are finally making progress, we urge the legislature not to take that away by adding new costs to public charter schools.

Advance equity for all. Although we do not yet know the full financial impact of funding reform on either Independent School Districts or public charter districts, we applaud the House Public Education Committee, Senate Education Committee, the School Finance Reform Commission, and our state elected leaders for the shared commitment to increasing funding for our most vulnerable students: students living in poverty, students learning English, and students with special needs. We urge you to ensure that the final bill provides for an adequate increase in funding for all public schools, regardless of type, who serve a significant concentration of our highest-need students. In particular, we urge legislators to examine financial models produced by the Legislative Budget Board to ensure that no high-poverty school experiences a cut in funding due to formula changes.
To read the full letter, please click here.