Congratulations to Theresa Gray, a high school teacher from the Harmony School of Innovation-Katy, who was named the Texas Charter School Teacher of the Year last Wednesday at the Texas Charter School Association 2019 Conference. 
 Gray teaches a variety of courses, including U.S. History, Government, Economics, Entrepreneurship, as well as a Career and Technical Education (CTE) course in Social Media Marketing.
The award was announced at the TCSA's annual conference in San Antonio by Harmony Chief Development Officer Gina Gregory. In receiving the award, Gray was lauded for her individualized approach to student instruction, as well as her dedication to the craft of teaching.
"Every day in the classroom, whether it's seeing a student get a college acceptance letter or hearing them speak up for the first time in class, is a reminder that there is no such thing as a one-size fits all approach to teaching".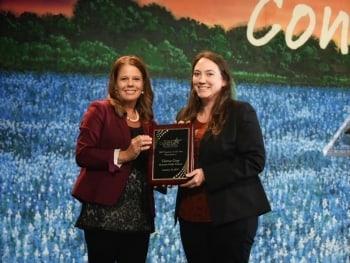 Dr. Jennifer Goodman, Superintendent of Odyssey Academy, was named the 2019 TCSA Leader of the Year.   Jennifer has been a long-standing leader in the charter school movement and has given of herself unselfishly to help promote and support the work of the Texas Charter Schools Association and has served as a TCSA board member and Member Council Chair. 
Jennifer serves as an example of leadership to all Texas charter leaders, being willing to help create innovative and creative spaces and approaches, earning the respect of students, parents and charter colleagues, advocating for the local and state charter movement, and serving as a leader within her community and region, willing to mentor other leaders.
"Serving as Superintendent of Odyssey Academy has been more than a job, it's a calling and an opportunity to provide our students and our community a high-quality public education.  I've witnessed the transformative education public charters can provide, and I know the difference that it makes for families."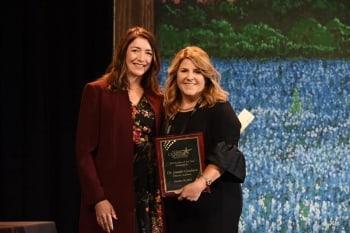 Both Theresa and Jennifer receive an award of $1,000, a free registration to the 2020 Texas Charter Schools Conference where they will receive recognition during the awards ceremony, a prepared media statement for the awardee's use, and an opportunity to share ideas quarterly through the TCSA Bi-Weekly Bulletin and the Texas Charter Exchange blog.
Thanks to everyone who attended our 2019 TCSA Conference!  We had a record crowd of over 1700 attendees and an extremely high level of engagement from our attendees, whether it was in attendance at breakout sessions, prowling the exhibit hall, or enjoying the 80's prom with the Spazmatics!                                    
While it's fresh on your mind, if you attended the conference, would you mind taking a few minutes to complete our conference survey?  We want to make next year's conference even better, so your feedback is extremely important.  Speaking of next year – we'll be back again at the JW Marriott San Antonio Hill Country Resort for TCSA Conference 2020 from September 30th – October 2nd, so save the date!
The 2019 conference app has been updated with additional presenter slides.  Even though the conference is over (and even if you didn't attend the conference), you can access the presenter slides and the information they contain.  If you haven't loaded the app or if you accidentally deleted it, you can find the download here.
Several new training webinars are available on our on-demand learning zone.  One new addition is Reporting Requirements for Educator Misconduct which details your responsibilities as a school leader when instances of potential educator misconduct arise.  Presented by TCSA Attorney Elizabeth Cross, this course discusses responsibilities for educators under TAC Chapter 153 and 249, and well as TEC Chapter 22 and HB 3.  In addition, an updated presentation on Proposed Changes to the Charter School Performance Framework will be presented as a webinar on November 7 and available in our on-demand portal on November 12th. 
Did you know that all of our on-demand course content is available free to TCSA member schools?  Whether you are a CEO/Superintendent, Principal, Board Member or CFO, you can find courses in our Training Zone that will help you meet your Commissioner's Credit training requirements.   Let me know how I can help you access the training content you need.
Several significant changes to the rules surrounding growth and expansion as well as charter school application and waitlist requirements have come about as the result of legislation passed in the recent 86th legislative session.  TCSA has been working with TEA charter division staff to provide schools with the most up to date information to be presented in two important conference breakout sessions.  
On Tuesday, October 29th TEA charter division staff will present SB 668 - New Growth and Expansion Rules for Charter Schools (2:00 p.m. Grand RS).  SB 668 alters the existing charter school expansion rules and allows charter holders to provide written notice of a new open-enrollment charter school up to 18 months before the date on which the campus is anticipated to open. This session will provide an overview of these new requirements and what charters should plan to do going forward if they are considering expansion. In addition, the TEA charter division staff will discuss the upcoming CSP grant available to schools looking to expand. 
Immediately following at 3:15 in the same breakout room, TEA staff will present HB 2293 - The New Statewide Common Application and Waitlist Reporting Requirements for Charters.  Significant changes are ahead in the way that charter schools enroll students. HB 2293 mandates that when charter schools recruit students, they will be required to direct their families to fill out the common charter school application posted on TEA's website. In addition, charters will begin the process of submitting waitlist data to TEA. This session will provide a comprehensive overview of these major changes in the ways charters enroll students. 
Time will be provided in both sessions for participants to ask questions.  Come early – we expect these sessions to be full.  With that, we are making arrangements to videotape these sessions for inclusion in our training portal. 
Speaking of our training portal, did you know that all of our on-demand courses are now available free to TCSA member schools?  Now schools can have the convenience of high-quality, 24/7 on-demand training at no cost.  Do you need help in registering board members or staff or don't know what courses to register for?  Look for "Special Offer" icons next to many of the courses.  These will connect you to a course bundle that will allow you to register your board members and administrative staff for required courses with just a few clicks.  If you have any questions or are interested in live training to meet Commissioner Credit hour requirements, please reach out to Dr. Bruce Marchand, TCSA VP of Member Services.    
Two of the important conference breakout strands emphasize training in effective governance as well as developing school and network leadership systems. Here's a sampling of breakout sessions in these two strands:
Why is Good Charter School Governance so Difficult? presented by Mike Mizzoni of BoardOnTrack – Monday, October 28 – 10:45 a.m.
Great boards are well-staffed and well-supported. They have the right people in the right roles, doing the right work. And, by measuring their performance, they improve their capabilities over time. In this interactive workshop, we'll hand over the keys to great charter school governance. Whether you're focused on ending your first year strong, preparing to replicate, and managing a rapidly-scaling organization, you'll take away actionable strategies and practices for your governance team. Together, we'll explore:
How to ensure you've got the right people in the right roles, from charter starter to rapidly-scaling organization
The systems and processes that make great board meetings
How to establish and strengthen a board-CEO partnership that, in turn, strengthens your organization.
If you don't grow your people, who will? A Model for Developing Organizational Capacity: presented by Troy Mooney, EdD and Lani Norman of Life School – Tuesday, October 29th, 2:00 p.m.
Employees are overtrained and underdeveloped. Learn how to develop leaders at all levels in your organization to improve student outcomes. Participants will explore how to build capacity by redefining systems and empowering leaders in order to create a sustainable learning culture that will:
Develop a systematic approach to creating leaders at all levels in their organization
Build organizational capacity through systems-thinking
Identify critical personnel groups to develop that improve student outcomes
Avoiding Chaos: Leadership Development and Succession Planning presented by attorney Darrick Eugene of Darick Eugene Law Firm – Wednesday, October 30th, 9:45 a.m.
The charter school movement started over 20 years ago and organizations that were new and novel are now mature and possibly in transition. As these organizations grow from founder lead to management lead, they may experience growing pains and challenges with navigating that path. This presentation will provide guidelines and strategies for leadership development and succession planning that will give school leadership resources to avoid potential pitfalls. Through case studies, group discussion and real world examples attendees will be encouraged to participate in and lead their organizations to new horizons.
Have you registered for the conference? Do so now before rates go up!
Have you downloaded the 2019 Conference App? It's the best way to get the most updated information about the conference, including speakers, sessions, and special events!
Questions? Call our conference registration hotline at 1-855-389-8723 or email us at conference@txcharterschools.org
We are excited to add two new important webinars to our training offerings this summer.  On Thursday, August 1stat 10:00 a.m. please plan to join us for 86thLegislature Update for Charter Leaders.  As you know, a number of bills in addition to HB3 were signed into law as a result of actions of the 86th Texas Legislature that address safety and security, curriculum and instruction, health issues, discipline, personnel, and other matters.  This training provides a summary of these new bills and the impact on charter schools. 
We will present Changes to the Charter School Performance Framework on Tuesday, August 6that 10:00 a.m. The CSPF is an important evaluation tool used by the Texas Education Agency to monitor the academic, financial, and operational performance of Texas charter schools.  TEA has proposed changes in the CSPF for some of the indicators being monitored.  This training will review these proposed changes and discuss how the CSPF is used to impact Commissioner recommendations for charter school expansion and renewal.
Can't make the live webinars?  No worries!  These webinars will be recorded and available for free access to TCSA members anytime on our on-demand platform in the TCSA Learning Zone.  
Speaking of training, the 2019 TCSA Conference is just around the corner October 28th– 30th.  This year's conference will feature 88 breakout sessions that will allow charter administrators to receive their required 15-hour annual training update all at one time and go a long way towards the initial 30 hours of training if you are a new administrator.  On Tuesday, October 29th we will again have our popular 6-hour board workshop that allows board members to receive their required 6-hour training update all on one day.
Questions about training requirements, on-demand training, or interested in setting up a live training for your school? Contact Bruce Marchand at the Texas Charter Schools Association.  We're here to help!  
Don't you wish there could be a one-stop shop to receive excellent professional training, earn Commissioner Credit hours, listen to inspiring speakers, learn about the latest educational tools, and enjoy world-class accommodations and food?  Stop wishing – you can get all of that and more at the 2019 TCSA Conference October 28th-30th in San Antonio! 
The 2019 Conference will feature two inspiring keynote speakers, Laura Vanderkamm and Richard Whitmire.  There will be professional learning opportunities with 74 breakout sessions divided into eight learning strands – Student Success and Learning, Leadership and Coaching, Advocacy and Communications, Finance and Operations, Governance and Law, Marketing and Engagement, Strategic Planning, and Safety and Security. Each session will award Commissioner's Credit training hours in one of the seven credit categories as spelled out in 19 TAC 100.1102-1105, and school leaders can receive their complete 15-hour training credit update through their attendance at the conference sessions. 
In addition, on Tuesday October 29th we will feature our popular 6-hour board workshop where board members can meet their annual training credit requirement, with targeted governance training in School Finance, Academic Accountability, the Charter School Performance Framework, Health and Safety, Special Populations, and Superintendent Evaluations; all with an emphasis on updates from the 86th legislative session.  Also on Monday afternoon we will provide a two-hour Superintendent Workshop to address hot-button topics directly related to maximizing your effectiveness as a school leader.
A special thanks goes out to our hard-working conference committee members:  Chair Dustin Cox, Harmony; Brenton White, A+ Charter Schools; Julia Wright, MeyerPark Charter School; Jerry Lager, Ki Charter; Christopher Mayes, BMI; Tod Nix, Richard Milburn Academy; Carmen Darville, YES Prep; Don Mills, Braination; and Fred Clarke, Manara Academy.  This esteemed group spent countless hours reviewing breakout session proposals and met on June 11th to finalize their selections.  
We strongly suggest that you register now especially as on-site accommodations are limited.   Stay tuned for further updates and the rollout of the best-ever 2019 TCSA Conference mobile app! 
The deadline for 2019 TCSA Teacher of the Year and Leader of the Year nominations is July 15th, 2019.  TOTY and LOTY awardees will each receive:
An award of $1,000;
A free registration to the 2019 Texas Charter Schools Conference where they will receive recognition during the awards ceremony;
A prepared media statement for the awardee's use; and
An opportunity to share ideas quarterly through the TCSA Weekly Bulletin and the Texas Charter Exchange blog.
TOTY nominees must have at least two years of teaching experience working in a Texas public charter school and teach for a charter that is a current TCSA member.  In addition they should:
Use innovative teaching strategies that inspire students of all backgrounds and abilities to learn;
Have earned the respect of students, parents and charter colleagues;
Advocate for the charter movement and serve in their community;
Serve as a leader on the campus, willing to mentor other educators;
Engage with students, parents and community members in a poised and articulate manner
LOTY nominees are current administrators (main office or campus) who have at least five years of experience working in a Texas public charter school, have served on at least one TCSA member committee or council and work for a charter that is a current TCSA member.  In addition they should:
Help to create innovative and creative spaces and approaches with the potential to be expanded or replicated either locally or statewide;
Earn the respect of students, parents and charter colleagues;
Advocate for the local and state charter movement and serve within their community;
Serve as a leader within their region, willing to mentor other leaders
Board members, administrators, teachers, students or parents and community member may nominate eligible applicants for these awards.  Please take a moment today to nominate a deserving teacher or leader! 
TCSA received helpful feedback from member schools earlier this year in regards to scheduling Member Council meetings. Many of our member schools indicated that traveling to Austin for a meeting was often challenging for school leaders with their busy schedules and the difficulty of being away from their organization for a day or two.
Based on that feedback, TCSA has scheduled webinars for Wednesday, May 8 and Wednesday, August 28. Participants will be able to participate via phone (like a conference call) but will also be able to view meeting content on their computer screen. We anticipate that these webinars will last 60 to 90 minutes.
Although the May 8 and August 28 Member Council meetings will be presented in this webinar format, the October 29 Member Council will be an in-person meeting held at the 2019 TCSA Conference in San Antonio.
Member Councils are a great way to get the latest updates on legislative action, TEA requirements, and other issues that impact the public charter school movement. Be sure to register now for one or both of our TCSA Member Council webinars!
With the our annual Texas Charter Schools Conference, TCSA Membership Drive, and our 2018 Leadership Election wrapping up, it has been a busy few months at TCSA! We appreciate everyone's time and participation in the elections. We would also like to thank the all of candidates for their involvement. Congratulations to the seven new individuals who will join the TCSA Board of Directors and Advocacy Committee!
Mark Larson with KIPP Public Schools will join the TCSA Board as a Large Standing Member School Director. Charter operators who educate 20,000 or more students in Texas are entitled to a standing seat on the TCSA Board. A Small Standing Member School seat was created in conjunction with the KIPP Public Schools Large Standing School seat and was included in the 2018 TCSA Leadership Election.
2018 Election Winners:
 Board Member – Small School Representatives (2) and Standing Member School Small (1)
John Armbrust, Austin Achieve (Standing Member School Small)
Rick Baumgartner, Rise Academy (Small School Representative)
Stacy Alton, Leadership Prep School (Small School Representative)
Elected Advocacy Committee – Large School Representative
Karalei Nunn, Meridian World School 
Elected Advocacy Committee – Small School Representative
Frederick Clarke, Manara Academy
Elected Advocacy Committee – RTC/JDC Representative
Donald L. Mills, Ed. D., Meadowland Charter District
Both John Armbrust and Rick Baumgartner are returning Board Members. We welcome our newly elected Board of Directors! Their terms will begin on January 1, 2019.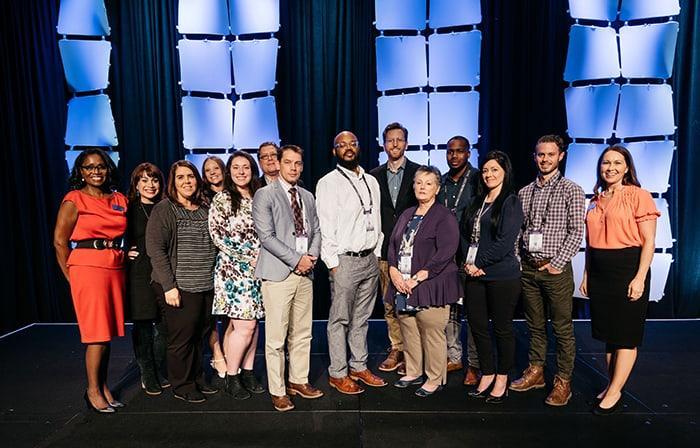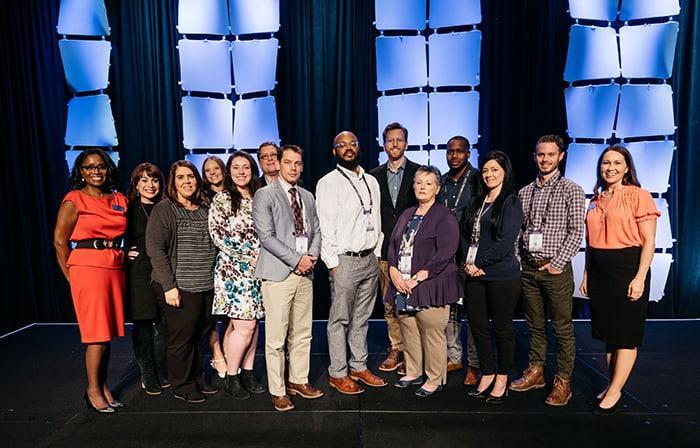 Twelve teachers (six men and six women) have been selected from over 50 applicants for the 2018-2019 class of the Teacher Advocacy Leadership Institute (TALI).  TALI gives teachers the opportunity to connect with policy and advocacy experts, strengthen their leadership skills, and learn how to effectively communicate with policymakers on issues that impact their classrooms. Participants also serve as leaders at their schools and will learn how to encourage their fellow teachers to become more politically engaged. To be considered for the program, applicants were required to complete and submit three advocacy related essay questions and provide a letter of support from their current school leader.
The teachers in the program live and work in Amarillo, Austin, Houston, Mission, San Antonio, San Juan, and Tyler:
Donnie Beeson, KIPP Brave High School        
Cristina Correa, IDEA College Preparatory     
Travis Helm, Austin Achieve Public Schools
Tristan Jones, KIPP High School                                                  
Jeremy Lippart, Harmony Science Academy
Brooke Lucero, Great Hearts Northern Oaks                               
Kelle' Martin, KIPP Sunnyside High School                               
Shelley Pridgen, IDEA College Prep – North                                 
Heather Richmond, UT-Tyler University Academy-Palestine
Cameron Starc, Founders Classical Academy, Responsive Education Solutions             
Darla Sutton, Premier High School, Responsive Education Solutions                               
Amanda Walsh, KIPP Comunidad
Fellows attend two in-person training sessions, participate in monthly webinars, and engage in two advocacy-related activities. Fellows also receive a cash award of $1,000. TALI is a collaborative partnership between the Texas Charter School Association and Teach Plus Texas. Congratulation TALs!
To learn more about how to engage your teachers, staff and parents, contact Shreé Medlock at 972-896-9324 or smedlock@txcharterschools.org.