By Troy Mooney, Life School Chief Academic Officer
Principals make many crucial decisions each day, often with limited information, inadequate resources and unforgiving time constraints. Further, the consequences of making a mistake on any of these decisions can be devastating for the campus, the school system or the principal themselves.
The U.S Navy SEAL axiom, "We do not rise to the occasion, but rather sink to the level of our training," is equally applicable to principals and other campus leaders. Most leadership preparation programs fail to authentically prepare campus leaders for the crucial decision-making that is an essential part of their job.
School systems need more effective leaders, authentically developed at a faster rate, and spread throughout all levels of their organization. Which is more than most current district leadership preparation programs are scaled to produce.
District executives must commit to creating an aligned, authentic, competency-based system to recruit, select, develop, support and evaluate leaders. Otherwise, they fail to prepare their principals for the actual challenges they will encounter while leading their schools.
As the Chief Academic Officer of Life School, one of my key responsibilities is to lead, manage and support campus principals. Recognizing the inadequacy of earlier principal preparation efforts, we have pivoted toward an authentic, competency-based approach that couples real-world problem-solving with traditional leadership instruction and reflection.
During this comprehensive overhaul of our leadership preparation for principals and campus leaders, Herbert O'Neil, the Life School Director of Academics and former principal of Corsicana High School, and I created the PRIMER podcast. The podcast, which has eleven episodes available on iTunes, provides an additional avenue for us to continuously support and prepare leaders in our organization and in other school systems.
While the episodes focus on particular difficult issues for principals, the underlying theme is to encourage organizations to evaluate their own current leadership preparation efforts. If their principals and campus leaders are not able to lead and manage the way that their system needs them to perform, then how should they adjust their current development and support efforts?
We hope that the Life School PRIMER podcast and further information that we share will be beneficial for other charter and school system leaders for developing the kinds of principals that our staff and students deserve.
Follow @TroyMooney on Twitter
Follow @HerbertONeilJr on Twitter
The mission of Life School is to train leaders with life skills for the twenty-first century by establishing strong academics, character training and a parenting program.
Update: Archived video of the oral arguments can be viewed here.
Former Texas Solicitor General James Ho made the case for equitable funding for public charter school students and TCSA General Counsel Denise Pierce drove the point home at the school finance trial before the Supreme Court of Texas on Tuesday.
"We want you to send a clear message to the state legislature. Tell them they can't discriminate against public charter school parents and students. Tell them they can't require charters to take money away from teacher salaries and computers," Pierce concluded in her remarks to the Chief Justice and eight Justices of the court.
Charter schools are different from traditional public schools, but the Texas Charter Schools Association was there on Tuesday because of the similarities, Pierce said.
State law states that charters are a part of the public school system and have to follow the same academic and financial standards, she said.
"It's undisputed that charters receive $1,000 less per WADA, per student. It's undisputed that charters receive no facilities funding," said Ho.
Several times he reminded the court that public charter schools are forced to "cannibalize their education budgets" to pay for facilities.
More than 600 school districts were appellants in the case before the Supreme Court of Texas arguing that the state's public schools are constitutionally underfunded.
Charter schools agreed and added that public charter school students face additional discrimination, because they receive no facilities funding.
"We ask the Court to tell the state not to discriminate against charters….They cannot discriminate against charters by giving facilities funding to everyone except us," Ho said.
Pierce pointed out that it is the same as saying that the Supreme Court of Texas has to fulfill its mandated duties and pay for its own courthouses.
The state argued that charters signed a contract with the state for a certain amount of funding, and now can't ask for more than the contractually approved amount.
Ho countered: "There's no immunity, because there's a constitution."
"Charter parents and students didn't sign a contract for less funding," he said.
The Supreme Court of Texas adjourned just after noon on Tuesday and will likely take several months to publish its decision.
Read more about the school finance trial at School Finance Lawsuit: Three Things to Know.
By Denise Pierce, TCSA General Counsel
1. It's historic
This is the first time in the history of the Texas charter school movement that the case for fair funding will be made before the Supreme Court of Texas.
The public charter school movement joined the school finance lawsuit in 2012 and went to trial in 2013 and again in 2014. All the testimony and evidence pointed to the indisputable conclusion that the state has failed to meet its constitutional duty to all public school students, especially public charter school students.
After decades of being shortchanged by the state, public charter schools say, "Enough."
Watch Live: Online streaming

When: 9 a.m. Tuesday, Sept. 1

Where: Supreme Court of Texas, 200 W. 14th Street, Austin TX

What: Oral arguments in Michael Williams, Commissioner of Education, et al. v. Texas Taxpayer & Student Fairness Coalition, et al.; Calhoun County ISD, et al.; Edgewood ISD, et al.; Fort Bend ISD, et al.; Texas Charter School Association, et al.; and Joyce Coleman, et al.

How: Charter school plaintiffs will have 10 minutes for the opening and five minutes for a rebuttal.
2. It's about fairness
Public charter school students and families deserve fair funding.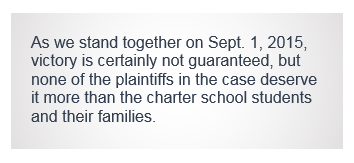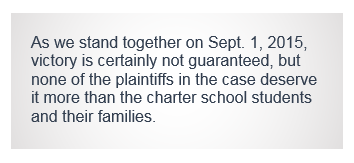 Right now, each and every family that decides a public charter school is the best fit for their student is shortchanged about $1,000. That money would be there if they stayed at their traditional district school. Charters have to meet the same academic and financial standards as traditional districts and face the added threat of closure should they chronically underperform. For the nearly 230,000 public charter school students in Texas, $1,000 less per student is clear evidence that we deserve intervention by the Supreme Court of Texas.
3. It's a team effort
The charter movement made it to this historic moment by working together for the students and families who rely on charter schools and the 105,000 students waiting for an open seat at a public charter school.
Thanks to:
The six parent plaintiffs: Mario Flores, Wayside Schools; Christopher Baerga, New Frontiers Charter School; Jason and Sarah Christensen, Harmony Public Schools; Dana Allen, Lumin Education; and Brooks Flemister, Ser Ninos Charter School.
The TCSA Board of Directors, including TCSA Executive Director David Dunn.
The TCSA member schools who financially supported this effort by stretching their already meager budgets.
The Walton Family Foundation and the Broad Foundation, which provided grants to continue this fight at the Texas Supreme Court.
The trial team: Robert Schulman and Leonard Schwartz.
The appellate counsel: Jim Ho and William Thompson.
As we stand together on Sept. 1, 2015, victory is certainly not guaranteed, but none of the plaintiffs in the case deserve it more than the charter school students and their families. The Texas Supreme Court needs to uphold the trial court's August decision that the state does not give adequate funding to students, and declare that charter school students are entitled to equitable funding and facilities funding.

There are so many ways you can learn, grow and share at the Texas Charter Schools Conference -- it's an event you won't want to miss!
From Oct. 28-30, here are just a few highlights of what TCSACon offers:
1. Workshops with required training hours for superintendents, principals, business officers, board members and teachers.
2. Priceless networking opportunities with charter school leaders and educators, industry experts and solution providers.
3. Dozens of sessions on cutting-edge trends, best-practices, challenges and solutions in public education, as well as in-depth advocacy and Texas Legislature insights for charter schools.
4. Energizing and encouraging keynote and spotlight guest speakers.
5. Three days of fun at the JW Marriott San Antonio Hill Country Resort and Spa!
We hope you will register or reserve your spot today.
By: Zach Salesman, A.I.M. , and Lisa Freeman Schutz, KIPP San Antonio
TCSA works hard to connect competitively-priced solution providers with the needs of our member schools. If you are a TCSA Solution Provider or TCSA member school with a positive story to share, let us know! Click to learn more about TCSA membership opportunities.
Zach Salesman, A.I.M.
"KIPP San Antonio is always focused on providing the best education and environment for its students. When our team started working with KIPP we were impressed by the amazing collaboration and dedication that [the] team brought to the table. Working in education we know that every student's learning profile is unique and services often have to be tailored to meet those needs. The staff at KIPP understands this and it's one of our favorite things about working there. KIPP is always communicating with us and trying to find unique ways to do more for students and families. In that spirit, together we have developed new systems, tracking mechanisms, professional development and service delivery models that keep quality high, but are cost effective for our customer. What we've done and shared with KIPP in the last year is so inspiring and energizing. We can't wait to see what happens next!"
Lisa Freeman Schutz, KIPP San Antonio
"As a growing charter school region, it was a leap of faith for us to leave our special ed co-op and manage our own services. A.I.M. was an amazing partner for us in this process. Their team of service providers were great to work with – knowledgeable, professional and caring. I felt as though I had the benefit of full-time employees. They are all invested in doing the right thing for our children. And the owners of A.I.M. were always ready with advice about ensuring that we are meeting the needs of our students and complying with regulatory requirements. They understand the ways charter schools are similar to, and different from, traditional public schools. I couldn't ask for a better partner than A.I.M."
The Texas Charter Schools Conference is the only statewide charter event attracting about 1,500 leaders and innovators of Texas' public charter schools. The conference brings your products and expertise straight to the consumer. Network and secure solid sales leads while you enhance quality public education in Texas by joining the conference October 28-30 at the J.W. Marriott San Antonio Hill Country Resort and Spa.
Exhibitor benefits include:
1. Undivided access to your target audience
2. Pre- and post-conference attendee list (TCSA members only)
3. TCSACon mobile guide app listing
4. Two complimentary conference registrations
5. Early-bird discount before June 1
6. Complimentary raffle ticket to drive traffic (more with prize donation)
7. Exclusive exhibit hall hours Oct. 28 for meals, breaks and welcome reception
8. Full day exhibit hall hours Oct. 29
9. Unlimited networking possibilities
10. Enhance quality public education in Texas
Learn more in the Exhibitor Prospectus and the Sponsorship Prospectus.
Well, what are you waiting for? Register Now!