The Texas Legislature has authorized $100 million for the 2019–2021 School Safety and Security Grant to help public school districts (including public charters) meet the new safety and security requirements under Senate Bill 11 (SB 11). SB 11 requires school districts to provide costly and time-consuming training to their employees, in addition to facilities upgrades such as security cameras, cell phone signal boosters or installation of land lines in classrooms, and doors that lock from the outside. The Texas Legislature is providing these grants to supplement the safety allotment schools are already receiving ($9/pupil), which for many districts is insufficient to cover upfront costs for necessary security upgrades.
TCSA encourages all charters to apply for this grant funding. To apply for a grant, visit the following Texas Education Agency (TEA) website: https://tea4avoswald.tea.state.tx.us/GrantOpportunities/forms/GrantProgramSearch.aspx and search for "2019–2021 School Safety and Security Grant" from the drop-down menu "Application Name." The grant application is due on January 22, 2020 at 5:00 p.m. School districts should use their existing safety and security allotment funding to cover unallowable costs in the 2019–2021 School Safety and Security Grant. These unallowable costs include the following:
Safety and security purchases made before January 1, 2020
Maintenance, repairs, or replacement (with equal specifications) of existing safety/security equipment
Training, unless a documented part of a larger security system or active shooter alarm system and only specific to the implementation of the system
Training required by other statutes or regulations
Active shooter training, unless a documented part of a larger active shooter alarm system and only specific to the implementation of the active shooter alarm system
Mental health activities or training
For more information on this grant, contact TEA via email grantsupport@tea.texas.gov. For more information on training and facilities requirements under Senate Bill 11, contact TCSA's Director of Policy and Research, Dr. Timothy Mattison, via email tmattison@txcharterschools.org or by phone (512) 584-8272 ext. 309.
TCSA has scheduled a conference call for school leaders to discuss the proposed rule changes to the Charter School Performance Framework.  The call is scheduled for Wednesday, December 11th at 1:00 p.m.  To make the best use of everyone's time, please email your CSPF questions, comments, or concerns to Dr. Timothy Mattison and Dr. Bruce Marchand by 5:00 p.m. on Monday December 9th.  This will give us a chance to consolidate similar concerns as well as research anything that needs further investigation prior to the call.   To join the call, dial 512-768-6006. You will be prompted to enter the conference number, which is 7005, and then the conference pin, which is also 7005.
The Proposed 2019 CSPF Manual documents the indicators and notes changes from past years.  You'll want to take time to familiarize yourself with the proposed changes prior to the call.  Briefly, the major changes from what was originally proposed are as follows: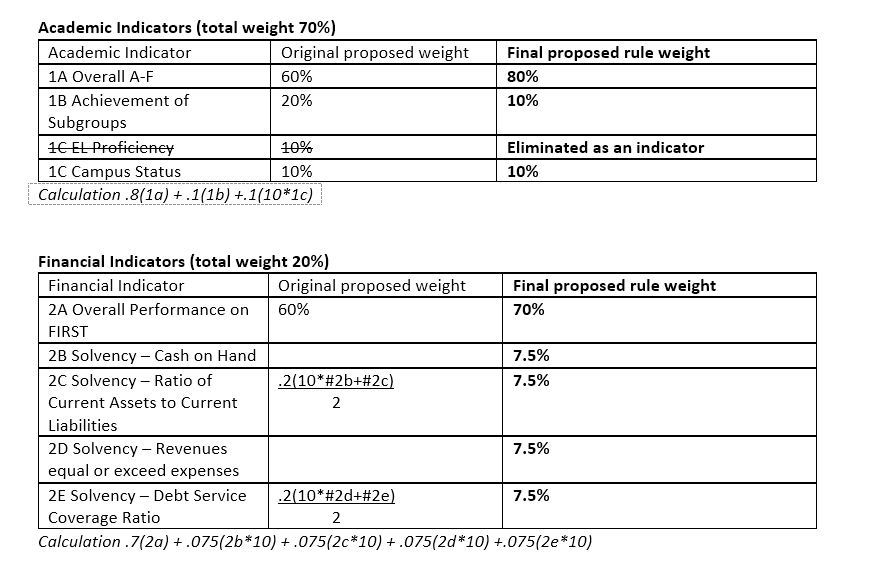 On Wednesday, December 11th at 10:00 a.m. please plan to join architect Kerri Ranney of Huckabee-inc.com, a leading Texas school architectural firm, as she discusses Senate Bill 11 Facilities Standards for Schools. Kerri is the Co-Chair of the TASA School Facilities Committee and was recently appointed by Governor Greg Abbott to the Texas School Safety Center Board and is the first architect to serve on the board. The board reports to the Governor, the legislature, the State Board of Education, and the Texas Education Agency regarding school safety and security.  Kerri will also give a glimpse into the process that created the school facilities standards now in place as well as the role that charters will play in future facilities planning.  If you are unable to join us for the December 11th webinar, no worries!  All of our live webinars are recorded and placed on our on-demand training portal for easy 24/7 access to member schools.
Did you know that all of the on-demand courses in the TCSA training zone are now available free to member schools?  You can choose from over 100 courses, all of which offer Commissioner Credit training minutes to meet the professional development requirements for board members, CEOs, charter officers, campus administrators, and business officials.  Need help selecting and bundling courses or unsure about training requirements?  Dr. Bruce Marchand and the TCSA Member Services team can help you make the right training choices for your team – let us know how we can help!
HB3 made significant changes to the regular transportation program funding rate that will allow districts to improve students' access to schools outside of their attendance zone without negatively impacting their transportation allotment.
Before HB3, the maximum effective rate per mile calculation and linear density rate provided a disincentive for districts to provide home to school and school to home transportation to students who attend specialized school models.
-Districts may have bused students to their zoned school and then had students ride additional transportation to a school outside their attendance zone; or
-Parents may have been required to provide all or part of the transportation by dropping off students at zoned schools or other centralized locations.
-Students without transportation would be closed off to specialized opportunities and school models. Students with transportation barriers now have equitable access to specialized school models.
-Specialized school models include: schools with specific academic models like dual language, Montessori, or single-gender schools, schools with specific themes or focuses like STEM or Fine Arts, and magnet schools/magnet programs within schools
Transportation Allotment:
The transportation allotment outlined in HB3 provides state funds to school districts for certain transportation of two types of eligible students:
Special-program students: students with disabilities who require specialized transportation to access their academic programs and other related services, and who meet the eligibility requirements given in statute.
Regular-program students: students who do not require specialized transportation to access their specialized programs.
School districts may receive transportation allotment funds for four categories of transportation services:
Regular route services
Special route services
Career and technical education (CTE) route services
Private route services
It is significant to note that costs for transportation are now funded equally between recapture and non-recapture districts.
In addition, HB3 formally expanded the definition of a "Regular Eligible Student" to include students who are facing homelessness according to the criteria found in United States Code, Title 42, §11434a.
Reporting Transportation Information:
In order to calculate the Formula Transition Grant, HB3 requires districts and charter schools calculate using both the linear density effective rate and the $1 per mile rate; however the 2019-2020 regular program transportation allotment will be calculated using the $1 per mile rate.
There are no changes to Foundation School Program transportation reporting due to HB3, and transportation allotment reporting remains on the same schedule for 2019-2020. Actual 2019-2020 transportation operations data is due to TEA by December 1, 2020.
If you have questions related to transportation funding implications under House Bill 3, please refer to the frequently asked questions on the House Bill 3 webpage or email HB3info@tea.texas.gov.
One of the most important student populations in all schools is students with disabilities. Special education programs for students with disabilities is among the most critical services that schools provide, and evidence suggests that special education services is a major factor in the choices parents make for their child's schooling. Though our charter schools in Texas abide by the same rules as traditional public schools for enrolling and identifying students for special education services, charter schools in the state have typically lagged behind ISD schools in special education enrollment.
In the 2018-2019 school year, charter schools in Texas were providing special education services to more than 22,000 students, at an average rate of 8.5% of total enrollment across all charter schools. That rate has steadily risen in the past few years, but charter schools still sit nearly 2% behind ISDs in their average percentage of students receiving special education services.
In order to support charter schools in the development of their special education programs, the Center for Reinventing Public Education and the National Center for Special Education in Charter Schools are jointly hosting a free webinar on Friday, November 15th. The webinar will discuss strong special education practices that they have seen and how charter schools can better support students with disabilities. The webinar will take place at 12 PM Central on the 15th, and you can complete your free registration here.
The Blended Learning Grant Program (BLGP) is a four-year process to design, launch, and scale a high-quality blended learning system. The BLGP has been approved by the Commission on School Finance and established by House Bill 3.  
Blended Learning is an instructional model that combines face to face instruction with online learning in order to assist teachers to differentiate instruction for all students. The BLGP offers options for district/ charter participation either in math (through Math in Innovation Zones) or in other subjects through the non-math blended learning pilots. 
This fall, TEA will award up to 25 planning grants of up to $125,000 to districts and charters for Math Innovation Zones (MIZ) and non-math blended learning pilots. TEA will select up to 10 districts/ charters to join MIZ as non-granted participants in the program as well. Upon evaluation of the BLGP Strategic Plans in the spring of 2020, all granted and non-granted participants are eligible for execution grants of up to $100,000.  
Interested districts can find the grant application through the TEA Grant Opportunities Page. 
For further information, please contact HB3info@tea.texas.gov or the HB 3 website. For more information about Math Innovation Zones, please visit the MIZ Page or contact MIZ@tea.texas.gov.  
As per the guidance of the Texas Education Agency, Extended School Year (ESY) services are to be delivered beyond the regular school year. Extended School Year services is an individualized instructional program for eligible students with disabilities. ESY services are connected to previous and future school year services. These services allow students with disabilities to maintain critical skills outside of the traditional school year months.
The need for ESY services will be determined on an individual basis by the admission, review, and dismissal (ARD) committee. The need for ESY services must be documented (through either formal or informal evaluations provided by districts or parents).
Districts should ensure the following requirements are met in order to provide students with an equitable, free, and appropriate public education:
ESY goals and activities for individual students are reflected in the student's current IEP.
District information reflects that ALL disability categories are considered for ESY.
ESY services are not limited as to the type, amount or duration. School leaders and administrators consider all options and services for the benefit of their students.
Transportation is considered and offered to all students
All district staff, administrators, supervisors, teachers, and leaders understand the purpose of ESY services and the role they play in the delivery of ESY services
District staff ensures that parents are provided adequate information regarding the purpose, intention, and objectives surrounding ESY services. Parents feel empowered to contact their assigned committee or staff member regarding their student's ESY services.
For further information about Extended School Year services, review the Special Education Rules and Regulations webpage on the TEA website or visit Texas Project FIRST.
Short Description:  
House Bill 3 created the Teacher Incentive Allotment, which can provide Texas charter districts the ability to reward their highest-performing teachers with extra pay. This extra pay is on top of base salaries and can provide a path for high performing teachers to earn six-figure salaries.  
Longer Description:  
House Bill 3 created the Teacher Incentive Allotment to help Texas school districts pay their highest-performing teachers more to keep them in the classroom. High-performing teachers frequently leave the teaching profession in search of higher wages. Some seek roles in school or district administration, while others switch careers despite their love of teaching and success at driving student achievement. Members of both the Texas House and Senate Education Committees said that they created the Teacher Incentive Allotment, because they wanted to show high-performing teachers the respect they deserve by providing funding that could enable them to potentially earn a six-figure salary. However, legislators designed the Teacher Incentive Allotment to reward not only great teaching, but also high-performing teachers' willingness to teach in schools with majority high-poverty students (especially in rural areas of Texas).  
 Charter districts do not have instant access to Teacher Incentive Allotment funds. Charters must first create a Teacher Designation System that rates teachers on their level of performance using classroom observations, student test scores and any other factors they choose. Charters must then submit an application to have their designation system approved by TEA. Once TEA approves a charter's designation system, they will have access to Teacher Incentive Allotment funds the following year. See the bullet points below for particulars about the Teacher Incentive Allotment. These points come from TCSA's official HB 3 Memo, which members receive every month with updates. 
This allotment is available to any school in Texas that adopts the teacher designation system (in HB 3).

 

Bonuses have a base level of $12K (master teacher), $6K (exemplary teacher), and $3K (recognized teacher) and may be increased based on the application of a high needs and rural factor. 

 

To determine the high needs and rural factor, the amount of $5k (master teacher), $3k (exemplary teacher) and 1.5k (recognized teacher) is multiplied by the average of the point value assigned to each student at a campus. A point value for each student at a campus shall be assigned as either 0 for a student for whom the charter does not receive a Compensatory Education Allotment or, for a student for whom the charter receives a Compensatory Education Allotment, 0.5, 1.0, 2.0, 3.0, and 4.0, respectively, from least to most severe economic disadvantage according to the census block in which the student resides.

 

For examples on how to calculate estimates of Teacher Incentive Allotment funding watch the following video: https://www.youtube.com/watch?v=Q1no6VQ6a2A&feature=youtu.be 

 

If the campus at which the student is enrolled is classified as a rural campus, a student is assigned the point value two tiers higher than the point value determined above.

 

The only way for a charter to receive funding from the Teacher Incentive Allotment for non-economically disadvantaged students, is if those children live in a rural area of Texas.

 

Click here for a list of schools TEA would designate as rural.

TEA will determine economic disadvantage by

census block group of students.

 

To be eligible for this allotment a charter must implement a local designation system that they create with stakeholder input, which they must submit to TEA for approval.

 

The bonuses are only available to state-certified teachers, or those on a probationary certificate working toward certification, and those a school has designated as m

aster, exemplary or recognized.

 

National Board Certified Teachers will automatically earn a Recognized designation. TEA will provide reimbursements for teachers' national board certification.

 

A teacher's designation will not change if they teach a different subject or leave to teach in another district. The designation follows the teacher.

 

A teacher's designation will appear on their SBEC certificate.

 

Charters may update a teacher's designation annually. If charters do not act to change a teacher designation, the teacher keeps their designation for 5 years.

 

A charter's teacher designation system must include teacher observation and the perfo

rmance of a teacher's students.

 

Observations must be based on a rubric. T-TESS, Danielson Framework and NIET TAP are all pre-approved rubrics. Other rubrics will need TEA approval.

 

TEA and Texas Tech University will review the quality, validity, and reliability of the observation tools and student performance measures as part of the LEA desig

nation system approval process.

 

Charters may choose to include other components in their designation system, such as evidence of teacher leadership or student surveys.

 

This winter

2019

, TEA will post a Teacher Incentive Allotment (TIA) letter of intent to apply, which charters will use to indicate interest in submitting a TIA application in spring 2020. 

 

In spring 2020, LEAs that submitted a letter of intent can submit an application for the Teacher Incentive Allotment.

 

To be eligible to apply for TIA funds in spring 2020, districts must have paid teachers during the 2019-2020 school year based on their performance in the 2018-2019 school year. 

 

LEAs with approved teacher designation systems in place will receive Teacher Incentive Allotment funding in fall 2020.

 

At least 90% of the Teacher Incentive Allotment funds must be used on teacher compensation. The remaining funds could be used for costs associated with implementing the local designation system or to support teachers in obtaining designations.

 

TEA will send a "To the Administrator" letter in

October

2019 regarding the Teacher Incentive Allotment addressing necessary details. However, TEA says it is committed to a plan that ensures those charters who are eligible, approved and already providing related compensation to teachers in 2019-2020 will receive funding for 2019-2020.

 

TEA plans to create a tool on its website for the public to look up how show much each district receives in Teacher Incentive Allotment funding. (exact date of release unknown)   

 
Certain open-enrollment charter schools may be entitled to additional funding if they meet the criteria for a significant expansion of enrollment.  Schools must first be receiving money under Every Student Succeeds Act (ESSA) or Individuals with Disabilities Education Act, Part B (IDEA-B) to be eligible for the additional funding.  The criteria for significant expansion is different for ESSA and IDEA.  To get extra funding under ESSA a charter school must have a minimum total student enrollment of 150 and at least a 50% increase in the ages 5–17 student enrollment from previously-reported student counts.  To get extra funding under IDEA a charter school must have a minimum total student enrollment of 50 and at least a 50% increase in the total student enrollment from previously-reported student count.  To receive funding for the 2019-2020 school year, schools must submit a certified submission by November 1, 2019.
To learn more and to submit your request for additional funding, please see TEA's website, or reach out to Bruce Marchand, Vice President of Membership Services, at bmarchand@txcharterschools.org.
Several significant changes to the rules surrounding growth and expansion as well as charter school application and waitlist requirements have come about as the result of legislation passed in the recent 86th legislative session.  TCSA has been working with TEA charter division staff to provide schools with the most up to date information to be presented in two important conference breakout sessions.  
On Tuesday, October 29th TEA charter division staff will present SB 668 - New Growth and Expansion Rules for Charter Schools (2:00 p.m. Grand RS).  SB 668 alters the existing charter school expansion rules and allows charter holders to provide written notice of a new open-enrollment charter school up to 18 months before the date on which the campus is anticipated to open. This session will provide an overview of these new requirements and what charters should plan to do going forward if they are considering expansion. In addition, the TEA charter division staff will discuss the upcoming CSP grant available to schools looking to expand. 
Immediately following at 3:15 in the same breakout room, TEA staff will present HB 2293 - The New Statewide Common Application and Waitlist Reporting Requirements for Charters.  Significant changes are ahead in the way that charter schools enroll students. HB 2293 mandates that when charter schools recruit students, they will be required to direct their families to fill out the common charter school application posted on TEA's website. In addition, charters will begin the process of submitting waitlist data to TEA. This session will provide a comprehensive overview of these major changes in the ways charters enroll students. 
Time will be provided in both sessions for participants to ask questions.  Come early – we expect these sessions to be full.  With that, we are making arrangements to videotape these sessions for inclusion in our training portal. 
Speaking of our training portal, did you know that all of our on-demand courses are now available free to TCSA member schools?  Now schools can have the convenience of high-quality, 24/7 on-demand training at no cost.  Do you need help in registering board members or staff or don't know what courses to register for?  Look for "Special Offer" icons next to many of the courses.  These will connect you to a course bundle that will allow you to register your board members and administrative staff for required courses with just a few clicks.  If you have any questions or are interested in live training to meet Commissioner Credit hour requirements, please reach out to Dr. Bruce Marchand, TCSA VP of Member Services.