Did you forget to renew your membership before December 31st? Luckily, January is a TCSA membership grace period. The last day to submit your renewal before incurring late fees and losing access to all member benefits is January 31st. Renew today to keep your membership current and continue to access high-quality charter-specific services, like training, data consultation, advocacy and legal support. Other membership benefits include:
Representation with the Texas Legislature, Texas Education Agency and State Board of Education.
Discounted legal products including model board policies, Student Code of Conduct, and a Personnel Handbook
Access to the Learning Zone, TCSA's robust online training portal, and discounted registration rates for the Texas Charter Schools Conference
Legal information and advice, as well as updates and alerts on specific matters pertaining to charter schools
Tools to engage parents on advocacy efforts with the Texas Legislature
Access to a growing market of solution providers and strategically-aligned partnerships with negotiated pricing and contract terms
Resources and advice for navigating TEA requirements for your school's growth and expansion
While there is tremendous diversity in the scope, size, and mission of our public charter schools, we must work together as one voice to represent our sector and achieve our common goals. Whether we're advocating for charter-friendly policies at the state capitol or sharing best practices through continuing education and training, we're more effective as one body.  The future is bright for charter schools in this state and for the association, as last year there were nearly 273,000 students at 675 public charter school campuses across the state and we continue to see growth in enrollment and campuses.
Please, take this time to renew or begin a membership with TCSA. Add your voice to the conversation and ensure the charter movement continues to grow and succeed.
---
HOW TO JOIN OR RENEW
Step 1: Login to the Quality Member Portal 
Applications will be completed in the Quality Member Portal. Once logged in, click the 'Membership' tab at the top. Please click here if you have forgotten your password.
Step 2: Complete the 2018 Online Membership Application
Upon submission of the online application, an invoice will be automatically generated and sent directly to the accounting contact email listed on the application.
Step 3: Remit your Membership Dues to:
Texas Charter Schools Association (TCSA)
700 Lavaca Street, Suite 930
Austin, TX 78701
If you have questions, please contact Nadia Luna.
Thank you for your continued support of charter schools in the great state of Texas.
Studies have shown that in a student's years between kindergarten and their senior year, he or she will spend the equivalent of one school year's time with a substitute teacher.  School administrators use a lot of energy and lose a lot of time in the recruitment, hiring, training, payrolling, and scheduling of substitute teachers. 
These activities can be even more challenging for charter schools because some are not located in large residential areas and face tougher challenges in recruiting and retaining valued substitutes.
Outsourcing substitutes is becoming a much more widespread practice among schools for the advantages it offers schools and substitutes such as weekly payroll, call centers, training, workman's compensation, affordable care act, and time spent on these activities.
SubTeachUSA and ESS Company collaborates with TCSA as an Elite Provider of substitute outsourcing and has over fifteen years of experience in the placement of quality substitutes in the classroom. 
"I am still very pleased with the level of customer service I receive from SubTeach.  I have communication with them on at least a weekly basis and any other time it is needed.  The sub pool is continuing to grow and the fill rates have steadily improved from last year."
Ryan Harris, Executive Director of Human Resources
Faith Family Academy, Dallas TX
One of its co-owners is a former substitute teacher who wanted to broaden opportunities for people like her that needed a flexible schedule to attend to her own children.  One of its leadership team is a retired principal whose district was the first to use SubTeach and continues with them today.
To learn more about TCSA's partnership with SubTeachUSA, contact Erin Tholen.  To speak directly with SubTeach, contact James Brittingham, Assistant Director of Operations (the retired principal).
In 2018, it's expected that nationally the demand for and expansion of charter schools will grow, but the challenges of funding such endeavors will likely also increase. Despite a promising budget from the current administration to increase funding for charter schools, there are strong opponents in local government and traditional ISDs that view charter schools as competition for education dollars. Demand for equipment to drive learning in the charter classroom could go unmet if schools have trouble partnering with companies to make technology acquisition more affordable.
Revive IT, a computer refurbisher, believes that their commitment to community revitalization includes charter schools. Seeing a technology gap in charter schools that struggle with funding, they know their business model to refurbish computer equipment for resale is a perfect fit for charters balancing tight budgets with the need to educate and expose students to technology. To date, Revive IT has partnered with nearly 50 districts throughout the country. Many of these schools serve vulnerable communities, so the impact of these relationships goes far beyond technology.
"Our school...has 80 - 85 percent (of students) that are at free or reduced lunch," said Jesus Armenta, Principal at New World Educational Center in Phoenix. "Many students don't have access to a computer at home." Revive IT proposed creative solutions to make the purchase of refurbished equipment a reality at New World.  
"They really are seeing school not just necessarily as the place where they come and learn, but that learning can happen anywhere. There's definitely magic happening," agreed Lisa Smith, STEM teacher at New World.
Data suggests that such partnerships are crucial to student success. Studies released on personalized learning (PL) in the classroom, particularly in schools that use technology to deliver it, are promising. In particular, a report from the Bill and Melinda Gates Foundation and the RAND Corporation found students do better on computer-based reading and math assessments in schools that use PL approaches. So, partnerships that allow for more cost-effective technology to be placed in students' hands not only satisfies budgetary concerns, it creates a lasting legacy as each student advances in their education.
"We see that big ripple effect - it's affecting our future. Revive IT is making an impact more than they know," agreed Armenta.
"Our vision as a company is in part to be responsible to our community," said Revive IT CEO Chris Ko. "In these school partnerships, we are not only equipping them with technology, we are also equipping each student with critical tools to compete, succeed and thrive in their communities, and the workplace."
TCSA Members, 
TCSA will hold a special election to elect a second Small Standing Member School representative to the TCSA Board of Directors. Please note there is a short time frame for this special election. Nominations are due January 19, 2018 and voting begins January 23, 2018. Election results and any run-off (if necessary) will be held on February 1, 2018 at the TCSA Member Council Meeting.
In accordance with Section 3.2 of the TCSA Bylaws, the TCSA Board of Directors recently approved a Large Standing Member School Directorship for Responsive Education Solutions (RES) as RES has reached a student enrollment of over 20,000 students. Pursuant to Section 3.5 of the TCSA Bylaws, a Small Standing Member School Directorship shall be created for each Large Standing Member School Directorship created. Small Standing Member School Director positions are elected by the membership and subject to charter leadership two year term periods.
The Candidate Nomination Form is attached here. You may also access election forms and information through the TCSA Quality Member Portal.
Forms may also be submitted via email to msigua@txcharterschools.org or online through the TCSA Quality Portal or through Survey Monkey. Candidate Nomination Forms are due no later than January 19, 2018. If you wish to include a bio and campaign video for voters to view, please submit both along with your completed nomination form. Please note that you must be a 2018 charter holder member and small school to participate in this special election. Small schools are defined as a charter holder that educates 1499 students or less in Texas.
If you would like to nominate someone other than yourself, please reach out to that potential candidate and ask him or her to complete the Candidate Nomination Form.
If you have any questions or have problems accessing the voting pages on our portal, please contact Maria-Theresa Sigua at msigua@txcharterschools.org.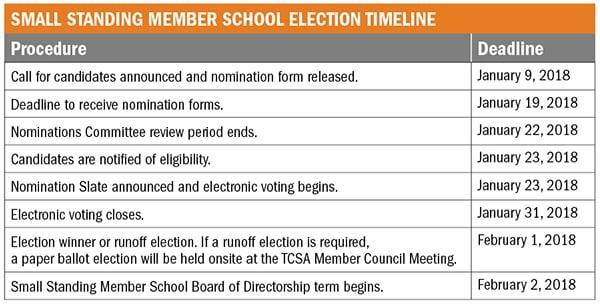 As we kick off 2018, the horizon is bright for both public charter schools and our association. As interim CEO, the prospect of selecting a permanent leader for TCSA is exciting. I am actively involved with the search committee to ensure we attract top candidates that share our passion for public charter education.  The association staff, board members, and committee leaders are making good use of time while the CEO search is underway. In the next few weeks, I will be hitting the road to visit with charter leaders to learn more about what we can do to improve our services and meet the needs of all TCSA member schools.
There are a lot of things we can be proud of at TCSA during our first decade. Our advocacy gains from last session – the first ever state facilities funding and the passage of the "minutes" bill from last legislative session are historic. In 2017, TCSA reviewed nearly 6,700 bills, provided more than 1,895 hours of training, and had more than 1,600 attendees at our annual conference. We can't rest on past success. Now is the time to take stock of what works well at TCSA, but also focus on the future and ways we can be even more effective in the coming years.
Everything is on the table – from the way we set our legislative agenda, to the type of professional development we offer, to how we stay in touch and operate as a member led organization. Are there ways to make the member council more relevant to you, or ensure our legislative agenda addresses your concerns?  Do our trainings provide what your management team seeks? I don't believe you should fix what isn't broken, or make change simply for change sake, but we can always be better, stronger, and more efficient.  So now is the time to speak up, step forward, and share your ideas about the future of TCSA.
In the coming weeks we will launch several working groups that will re-envision core areas of operation: advocacy, training and services, and the member council. I encourage you to attend the next council meeting on February 1st. We will have more details at that meeting, and begin work on our advocacy agenda for the 86th Legislature. Now less than a year away, it's time to focus on our future legislative goals. We will also discuss the rulemaking underway at the TEA regarding district-charter partnerships.
It's my privilege to volunteer as your interim CEO. This is one way I can give back to the association that's worked hard to advance public charter schools in Texas. Stay tuned, but more importantly – get involved in shaping the future of TCSA. Working together, our next decade will be even better than our first.
Do not forget your free legal assistance from the dynamic duo of Texas Charters Schools Association's (TCSA) Legal Team: Lindsey Gordon, General Counsel and Christine Nishimura, Deputy General Counsel. As members of TCSA, each school's administration, board of directors, and human resource specialists have access to free legal assistance on all your pressing questions. TCSA Legal is here to assist you through the ever-changing state and federal charter school laws.
In addition to legal assistance, TCSA Legal provides a voice for member schools by submitting comments to the Texas Education Agency (TEA) and School Board of Education (SBOE) as it relates to regulations impacting charter schools.  TCSA Legal also works closely with TCSA Advocacy to review, draft and analyze legislation that strengthens the Texas charter movement and supports TCSA Legislative priorities, such as achieving facilities funding this past legislative session.
TCSA Legal is here to assist schools and to ensure they are always in compliance. Member schools also receive discounted prices on Model Policy Subscriptions, the Model Personnel Handbook, and the Model Student Code of Conduct that reflect the current state and federal requirements.
Renew your membership today to ensure you continue to receive free legal assistance from TCSA!
The Texas Charter Schools Association (TCSA) offers a variety of grassroots advocacy tools and resources for your public charter school. Whether you are an individual campus or a large network with multiple campuses, we have the bilingual staff and materials to support your grassroots advocacy efforts. Our grassroots support consist of the following:
- Grassroots Consultations
- Grassroots Trainings (Charter 101, Story of Self, Civic Education)
- Strategic planning around parent engagement (recruitment, enrollment, advocacy)
- Opportunities to network with peers and share best practices
- Legislator Outreach Support
- Online Bilingual Advocacy Website/Database
- Legislative one-pagers
- Portable Professional Translation Equipment
Public charter schools exist because of strong advocates. One primary example includes achieving facilities funding during this most recent legislative session, which was made possible thanks to the many parents, teachers, school leaders, and board members advocating for charter schools like yours. We want to help strengthen your advocates to fully engage with your local community and representatives from all levels of government.  Please reach out to us and invite us to your next parent meeting, staff development, or board retreat. We are here to partner with you!
Most traditional teacher support organizations are anti-school choice – are your staff's paychecks going to one of these organizations? Working at a charter school comes with its own set of unique challenges. Staff work long hours and are selfless in their pursuit of supporting their charter's mission, but what if they belong to an organization that seeks to stifle the charter movement? Let us offer a better choice.
"I want my teachers to be a part of a professional educators association but finding one that advocates and supports charter schools is not easy. AAE provides the professional benefits we care about as educators in addition to advocating on behalf of all public school teachers including those who choose to serve in a charter school."
Lisa McDonald
Executive Director
Brighten Academy Charter School
One of the best things you can do to support your staff is help them advocate for themselves and the charter sector. TCSA collaborates with The Association of American Educators (AAE) to support educators working in our charter schools. AAE is the largest national, non-union, professional educator's organization that supports school choice and legislation that paves the way for new and innovative learning environments, including charters and virtual schools.
"We all know teachers and school personnel aren't paid what they are worth. So it is even more important to offer them opportunities to be financially responsible and proactive. They are building the future every day, so partnering with AAE just makes sense to help your staff prepare for that future. They should be able to enjoy it!"
Michelle Holland – Elementary Principal
Leadership Prep School Frisco
AAE provides professional benefits and services to its members such as liability insurance, professional development opportunities, supplementary insurance, and classroom grants. A number of Texas charter school educators are members of AAE, including Anita Collins, who received a classroom grant in 2017.
"I joined AAE because I wanted to build relationships and network with other educators around the country, gain knowledge on the latest trends and issues impacting education, and to receive the excellent insurance benefits it provides."
Anita E. Collins - Teacher
Life Oak Cliff Secondary
AAE offers school-wide training and advocacy resources for your staff. Have you seen their Teachers as Charter School Advocates toolkit? Keep your staff energized and engaged – let them be a part of the grassroots effort to advocate for Texas charter schools while building a culture of leadership at your campuses.
To learn more about TCSA's partnership with AAE, contact Erin Tholen. To speak directly with AAE, contact Rena Youngblood.
Model Policy Updates
Model Policy subscribers can find more updates in the Quality Portal incorporating important changes made by the 85th Regular Session of the Texas Legislature. TCSA Legal updated 400.080 Required Instruction & Graduation to include changes to college readiness and vocational assessments. Section 400.120 Health now includes information about required lice notices and donating food. The School Marshal policy, 400.150, updated the minimum number of students needed per school marshal to 200 students instead of 400 students. Concerning the Texas Open Meetings Act, section 500.020 updated the minimum requirements to hold a video conference meeting, as well as updated the exceptions for closed meetings. Section 500.040 updated procedures to respond to a public information request under the Texas Public Information Act, including when a request may be considered withdrawn for failure to pay costs associated with the request.
For the convenience of subscribers, all updated legal authorities and policies clearly note which subsections within the policy have been updated.
Personnel Handbook Update
In early fall, the United States District Court for the Eastern District of Texas granted a permanent injunction against the Department of Labor's proposed Fair Labor Standards Act (FLSA) rules. By issuing a permanent injunction, the exemption from overtime salary test will remain at $455 per week or $23,660 per year instead of the proposed $913 a week. The Personnel Handbook 2nd Edition has been updated to reflect this change. Additionally, for your convenience, the Commissioner approved pre-employment affidavits have been added to the Personnel Handbook folder in the Quality Portal.
As always, do not hesitate to contact Christine Nishimura with questions or for more information regarding the TCSA Model Policy Series.
Did you know a lack of board, officer, and campus administrator training can result in a material violation of your charter?  Many charter systems struggle to aquire the appropriate amount of training for board members, officers, and campus administrators.   The Texas Charter Schools Association (TCSA) offers member schools various webinar trainings either free or at a discounted rate to help charter leaders meet Texas Education Agency training requirements.  Member schools can opt to join bi-monthly webinars or access the webinar recording each month, accelerating progress toward training requirements.
Member schools also receive deep discounts on training bundles within the TCSA Learning Zone.  If you are a new or existing charter on a tight budget, TCSA can manage your school's compliance training efficiently and affordably. Please contact Dr. Paula Moeller to discuss how online training is the right solution for your school. This is one more reason to join or renew your membership with TCSA.
HOW TO JOIN OR RENEW:
Step 1: Login to the Quality Member Portal
Applications will be completed in the Quality Member Portal. Once logged in, click the 'Membership' tab at the top. Please click here if you have forgotten your password.
Step 2: Complete the 2018 Online Membership Application
Upon submission of the online application, an invoice will be automatically generated and sent directly to the accounting contact email listed on the application.
Step 3: Remit your Membership Dues to:
Texas Charter Schools Association (TCSA)
700 Lavaca Street, Suite 930
Austin, TX 78701
If you have questions, please contact Nadia Luna.
Thank you for your continued support of charter schools in the great state of Texas.