Yesterday, we learned that Northside ISD has sent out a survey to parents that includes inaccurate and misleading information about public charter schools.
The survey asks questions about where parents plan to send their children to school. For any parent that indicates they are also considering a charter, they receive the questions below.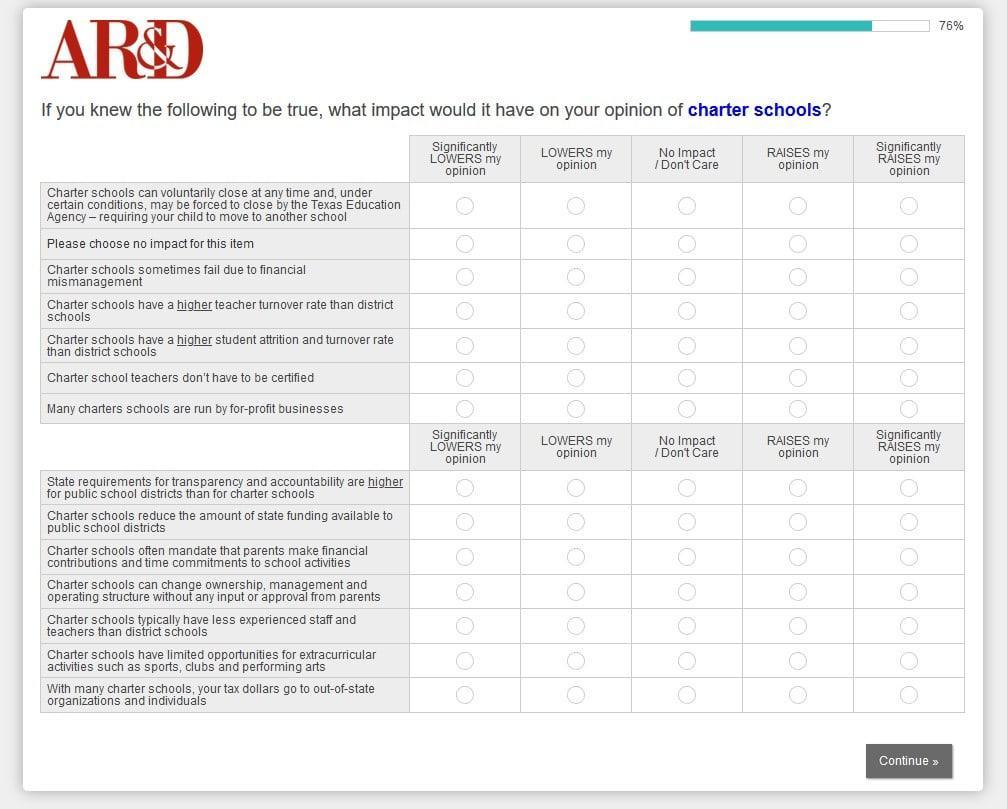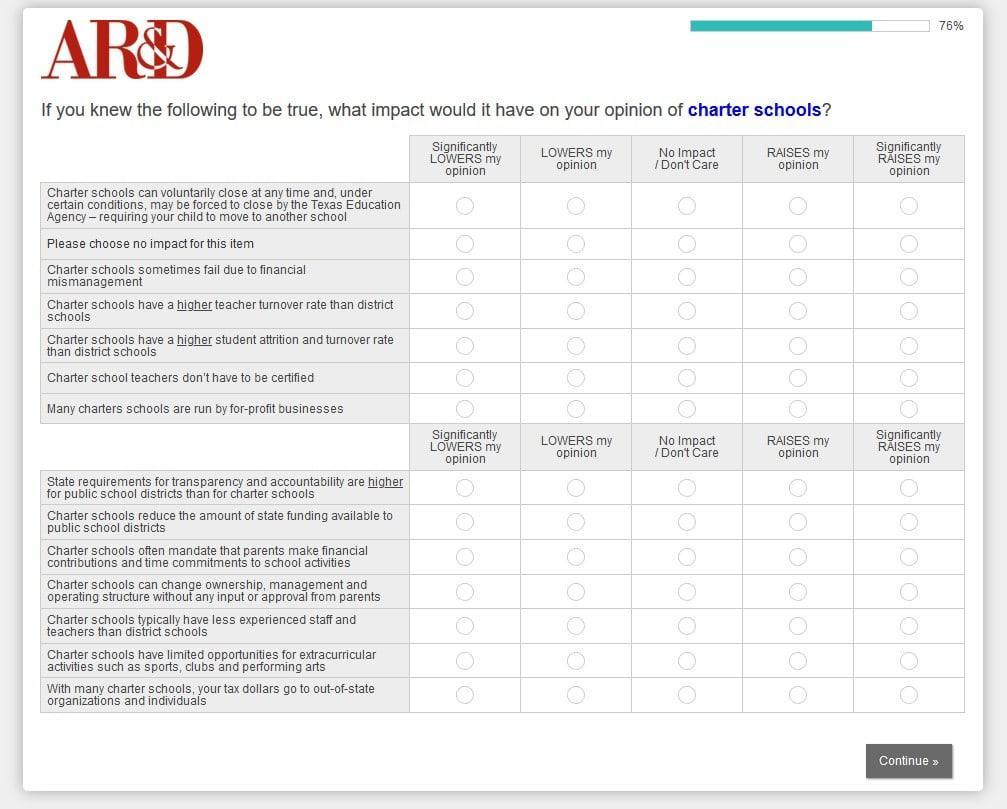 This is not an objective survey—it is biased propaganda. The questions, as posed, are partial, manipulative and misleading, at best. Many of them are blatantly false. For example, Texas bans for-profit charters and charter schools are subject to higher accountability, not lower.
Of course, there is absolutely nothing in these questions that talks about student outcomes. We know that Texas public charter schools send more students to college and that 2/3 of the top-rated districts in the state are charters even though we only educate 6 percent of students. These are just two reasons why so many families are choosing public charter schools.
TCSA is responding quickly to set the record straight. Yesterday, we launched a social media campaign in San Antonio to debunk these myths and we are working on other ways to get the truth out over the coming days.
In addition to making you aware of this survey, we wanted to request two actions:
Download and share our Truth About Texas Charters paper that addresses many of these myths. This page on our website also houses videos and shareable social media graphics to address the most common myths we hear. Feel free to share these!
We're with you and we've got your back. Please don't hesitate to reach out if there's anything more we can do to help.
Starlee Coleman, CEO of TCSA and John Armbrust, CEO and Founder of Austin Achieve Public Schools honored the Lt. Governor for his hard work and dedication to public school students in Texas by presenting him with the 2019 Charter Champion award. Lieutenant Governor Patrick is one of our greatest champions at the Texas Capitol.  This past session, there were several negative bills filed that would have hurt public charter schools and our students. Lt. Gov. Patrick worked to ensure that bills that would negatively impact public charter schools did not make it to the finish line. Because of the Lt. Governor's help in shepherding our priorities through the process, we were able to get many of our legislative priorities on the Governor's desk. We are thankful for the Lt. Governor's support and look forward to our continued work together in the future.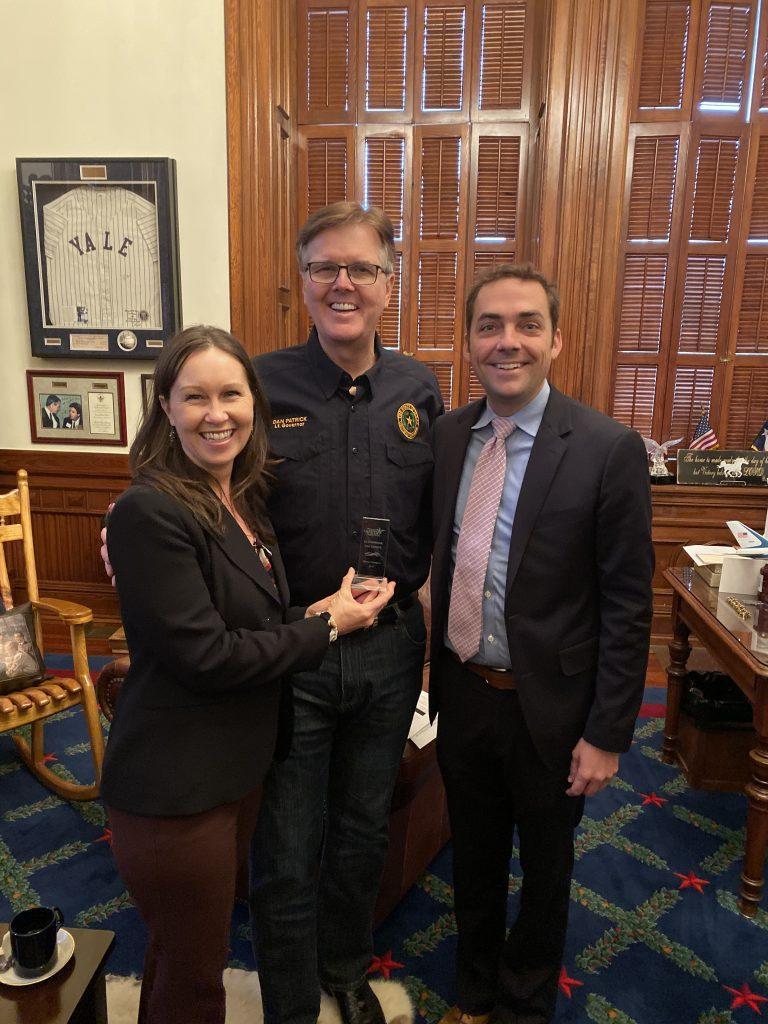 State Representative Krause from House District 93 stopped by the TCSA Headquarters in Austin on Tuesday, November 5 to meet with TCSA staff and accept his award as a 2019 Champion for Public Charter Schools & Students. This past session, Representative Krause sponsored HB 3871 which protects public charter school student safety by requiring municipalities to consider school zone limits for public charter schools in the same manner as ISDs. With Representative Krause's leadership, we were able to get this bill passed! We were honored to name Representative Krause as a Charter Champion and enjoyed spending time discussing interim work and the upcoming 2021 session.
The Texas Charter Schools Association is proud to announce 25 fellows have been accepted to the 2019-2020 Teacher Advocacy Leadership Institute (TALI). This highly selective fellowship is in its second year and has doubled the number of fellows to meet growing demand.   
 The purpose of the fellowship is to help educators gain a more thorough understanding of charter school laws and to teach them how to advocate for policies that advance the charter school movement in Texas.  
Fellows will receive extensive advocacy and communication training and will learn how to engage legislators, testify before legislative committees, respond to action alerts, write op-eds, and engage fellow teachers on issues that concern charter schools, students, and teachers. 
The names of 2019-2020 TALI Fellows are: 
Austin
Tanya Reyes, 

Harmony Science

Academy

 

Aryn Van Steijn, 

Chaparral Star Academy

 

Mark Rogers, 

Austin Achieve

Public Schools

 

Miriam Rodgers, 

Meridian

World School

 

Jennifer Cephus, 

KIPP

Austin

Leadership

Elementary

 
Beaumont
Amber Frasher, 

Harmony Science Academy

 
Dallas
Benjamin Prior, 

Legacy 

Prep

aratory Charter Academy – Mesquite

 

Brandi Weaver, 

Legacy 

Prep

aratory Charter Academy – Plano

 

Elena Creixell, 

Great Hearts – Irving

Sondra Hopper, 

Education Center International Academy

 

Rachel Barrett, 

Leadership 

Prep School 
El Paso
Valerie Astorga, 

Harmony School of Innovation

 

Marilyn Owens, 

Harmony School of Excellence

 
Houston
Abigail Solis, 

YES Prep

–

 Hobby

 

Byron Hannah, 

YES Prep

– 

Fifth Ward

 

Camedra Jefferson, 

YES Prep 

–

District

Debbie Ramos, 

YES Prep – Brays

 Oaks

Jillian

Suan, 

YES Prep – 

White Oak

Mandy Peyrani, 

Harmony

School of

Endeavor

 

Ryan Martinez, 

YES Prep – Brays Oaks

 

Tamira Samuel, 

YES Prep – Northline

 

Ricca

R Dickens, 

YES Prep – District

 
San Antonio
Chanel Ashley, 

Harmony School of Innovation

 

Jennifer

Aceves, 

School of Science and Technology

Brandon Aniol, 

Great Hearts – Northern Oaks
We are excited to welcome this new class to TALI and thank them for their commitment to advocate for our charter schools and our students!
For more information about the program, please contact Shree Medlock, Vice President of Strategic Engagement for the Texas Charter Schools Association. 
        One of the key changes to the weighted funding formula for schools under HB 3 is the formula used to calculate the bilingual education allotment (BEA), which provides funding to districts and charters for the education of students participating in one of the State's six English Learner/Limited English Proficiency (EL/LEP) program models.
 Under HB 3, some bilingual programs will receive an additional weight to the basic allotment that some programs will not. Transitional bilingual education programs (like early exit or late-exit) and English as a Second Language programs (like content-based or pull-out) will receive the same 0.1 weight that they received prior to the passage of HB 3. However, dual-language immersion (DLI) programs will receive an additional 0.05 weight, bringing their weight to 0.15. This weight also applies to non-LEP students participating in a dual language immersion two-way program. This increase in funding for DLI was recommended after data indicated that DLI programs are more effective than other language programs.
Additionally, under HB 3, the minimum spending requirement for BEA funds on the provision of bilingual or ESL programs has increased from 52% to 55%, and spending eligibility to meet this requirement has been expanded. TEA will likewise expand its selection of tools and resources to support bilingual education programs. The SBOE will adopt rules on creating an audit report regarding how BEA funds are spent. These rules will ensure that schools comply with the 55% minimum expenditure requirement and report in their annual financial audit.
The Texas Charter Schools Association will update schools on the SBOE rules when they are announced. For further information on the new bilingual education funding weights, click here or email me.
This year the Charter School Performance Framework (CSPF) underwent a substantial review with input from stakeholders.  After that review process, the TEA proposed the new CSPF and allowed feedback from interested parties before official adoption.  TCSA submitted comments to TEA regarding the proposed changes. The TEA agreed with the vast majority of TCSA's comments and updated the rules to reflect the changes we requested. 
First TCSA requested TEA to add clarification to the overview section of the CSPF to describe any way in which the CSPF could be used.  The agency agreed and modified the overview section to properly reflect the purpose of the manual. 
TCSA also asked for clarification on what specific data would be used for Indicators 1b and 1c. TEA explained that within the Closing the Gaps Status Table, the "Academic Achievement Status" is the data source for Indicator 1b" and the "English Language Proficiency Status" data will be used for Indicator 1c.
TCSA commented regarding Indicator 3f, the training of board members, noting that timelines on the CSPF did not match the timing requirements in the Texas Administration Code. TEA clarified that the Annual Governance Reporting Form allows schools to indicate that a board member is not trained, but is still within the one year they are allotted to receive all the training. As long as that form has been properly filled out, a charter school will still be able to receive a Meets Expectations mark for this sector of the CSPF.  
In Indicator 3i, TREx Usage, the words timely and consistently were used, but not defined. TCSA asked for clarification regarding those terms and TEA agreed the terms needed explanation.  The indicator has now been updated with specific timelines to follow.
The CSPF requirement that 50% of students are in tested grades.  TCSA pointed out the requirement does not apply to all charter schools and TEA agreed and modified the indicator.  There are now a number of different ways to qualify for a Meets Expectation for this Indicator. 
Unfortunately, TEA did not accept two of our comments.  TCSA asked that TEA look for other indicators rather than the academic accountability ratings or the Charter FIRST ratings since the system allows for a double-counting of those factors.  TEA disagreed.  TCSA also asked for clarification in the Indicator regarding what constitutes a teacher for purposes of requiring a baccalaureate degree.  TEA declined to modify the description. 
Overall, TCSA was able to get a lot of changes made to the CSPF that help clarify what is required of charters to successfully meet their requirements.  Please be sure to read the new CSPF to see all the areas TEA is using to generate a rating for your school. 
TCSA worked with several organizations to create this to help your organization make decisions based on changes in the bill. However, some parts of House Bill 3 affecting charters called for the Commissioner to make implementation rules. All charter leaders should continue to check for rule updates from the Texas Education Agency (TEA).
An over-arching summary of House Bill 3 is available at www.thetexasplan.com or here. For updates on TEA guidance related to House Bill 3, please visit https://tea.texas.gov/hb3/. For House Bill 3 questions specific to your individual charter district, please email TEA at HB3info@tea.texas.gov.
     House Bill 3: Changes and Implications for Public Charter Districts
Changes to the Funding Formula and Other Funding Streams
Charters and ISDs both receive a basic allotment of $6,160 per ADA.
Charters are not entitled to the following:

Sparsity Adjustment - to address issues with economies of scale in ISDs with sparse student populations
Fast Growth Allotment - additional .04 weight per ADA for ISDs in which the growth in student enrollment over preceding 3 years is in the top quartile of student enrollment growth for that period statewide
Tier Two Allotment

Charters have access to the "Formula Transition Grant," which compensates for decreases in M&O funding from 2018-2019 onward for four years.
Charters are entitled to the following:
College, Career, and Military Readiness Outcomes Bonus

Bonus for each graduate deemed to be "college, career, or military ready" above the 25th percentile of districts statewide in the '16-17 SY, as measured by proficiency and college enrollment, career certification, or military enlistment. The 25th percentile threshold will remain static. The '16-17 25th percentile rate is unknown/has not yet been calculated; most recent statewide average ('16-17) is 54.2% of students meeting college, career, or military readiness proficiency standards (does not include college enrollment).
Amounts:

$5,000 for eco. dis. graduates
$3,000 for non-eco. dis. graduates
$2,000 if graduate is enrolled in a special education program under Subchapter A, Chapter 29
Teacher Incentive Allotment (outlined below)
Transportation Allotment

Changed from linear density model to simple $1/mile reimbursement

New Instructional Facility Allotment

Cap is increased from $25 million to $100 million

Dropout Recovery and Residential Treatment Center (RTC) Allotment

$275 per ADA for each student residing in an RTC or who attends a district or district campus designated as a dropout recovery school under Section 39.0458

Reimbursement for Optional College Preparation Assessments

1 exam per student per academic year in 8th (preliminary college preparation assessment), 10th (preliminary college preparation assessment), and either 11th or 12th (college preparation assessment)
Assessment must be valid, reliable, nationally norm-referenced and used by colleges and universities as part of admissions process; OR the assessment instrument selected by the Texas Higher Education Coordinating Board under Sec. 51.334

Certification Examination Reimbursement

Districts are reimbursed for the cost of the certification exam for students enrolled in career/tech program, under Sec. 29.190(a) as provided by Sec. 29.190(c)

Incentive for Additional Instructional Days

30 instructional days paid at half-day ADA
Requirement for those minutes and when during the school-year (summer is likely) the instructional days can be offered will be determined by TEA rule-making

Special Education Allotment

Increases the weight applied to the mainstream instructional arrangement of the special education allotment from 1.1 to 1.15.

Dyslexia Allotment
Compensatory Education Allotment

Weights are increased and range from .225 to .275
Funding will be determined by severity of disadvantage based on a five-tier spectrum of poverty determined by census blocks (based on student address). Census blocks are typically smaller (between 600 and 3,000 people, typically) than zip codes and may cut across zip codes.
Commissioner creating advisory committee to help determine tiers.
Charters must assign students to census block group using TEA resources to determine the severity of economic disadvantage.
Compensatory education funding can be used as it always was, but it can also now be used to provide child care services for the children of students at risk of dropping out and for life skills programs.

Bilingual Education Allotment

Retains existing Bilingual Allotment and provides an additional 0.05 weight to students in a dual language immersion (one-way or two-way) program model. Intended to incentivize dual language.
Any bilingual education funds the Commissioner determines were misused will be deducted from a school/district's foundation school program funding for the following year.

Career and Technology Education Allotment

Expands eligibility to grades 7 and 8

Early Education Allotment

Additional .1 weight for each comp. ed. student in Gr. K-3
Additional .1 weight for each ELL student in Gr. K-3
(Therefore, .2 weight for each student who is both ELL and comp. ed.)
Must be used to improve literacy and mathematics outcomes for students in grades Pre-K 3 -- this allotment is intended to be enough to cover the cost of the new full-day pre-k 4 requirement

Blended Learning Grant Program

$6M state allocation. Amount per grant is TBD based on number of quality applicants. Agency assumes $250k average grant to 24 districts.
Grant is for pilot program that starts with at least all teachers in a grade level on one campus using blended learning for all students; to be scaled up across campus(es) in subsequent years. Additional program requirements will be released by TEA.

Mentor Program Allotment (outlined below)
Educator Pay and Other Regulations
Charters may create a "Local Optional Teacher Designation System," rating teachers as Master, Exemplary or Recognized. The rating is based on appraisals and lasts for up to five years. Districts are not required to use student achievement data (standardized test data), but can use that data in determining teacher ratings.

The Commissioner is currently validity standards for these designation systems and evaluate them.
Commissioner is creating Advisory Committee to assist with implementation.
Schools must have a teacher designation system to access the Teacher Incentive Bonus, and it must be approved by TEA.
TEA will have an application charters will need to fill out with a plan outlining their designation system. TEA will expect charters to have a rubric to appraise and designate their teachers as Master, Exemplary or Recognized. See the T-TESS rubric that 90% of ISDs use at https://www.teachfortexas.org/. TEA will expect something similar to the T-TESS rubric in charter applications for local designation systems.
There is no target date yet for the release of this application.
Charters could use existing designation system. TEA will review each charter's designation system when they submit an application.
TEA will judge the charter's designation system based on how consistent teacher ratings would be compared to other designation systems in the state. TEA's main objective is to ensure fair ratings, i.e. that the same teacher would not be rated lower in an ISD versus a charter, or vice versa.

The "Teacher Incentive Allotment" is available to any school in Texas that adopts the teacher designation system (in HB 3).

Bonuses have a base level of $5K (master), $3K (exemplary), and $1.5K (recognized) and increase based on level of student need (for rural schools and compensatory education).
To determine the additional amount above the base bonus, the base is multiplied by the average point value for all students taught by that teacher, with a point value of 0 for a non-eco. dis. student and point values of .5, 1.0, 2.0, 3.0, and 4.0 (from least to most severe economic disadvantage) determined by the census block of the student's home address
TEA will determine economic disadvantage by census block group of students. The allotment is larger for rural campuses with a higher percentage of economically disadvantaged students.
The bonuses are only available to state-certified teachers, and those a school has designated as master, exemplary or recognized.

A "Mentor Teacher Allotment"

Is available to charters that have implemented a mentoring program for teachers who have less than two years of teaching experience under Section 21.458.
The Commissioner will create a formula for the funding, which is to be used for mentor teacher stipends.
Schools receiving the allotment must provide mentor teachers and their mentees release time to engage in mentoring activities.

Charters must use set aside 30% of the increase in the total state aid per student they get in 2019-2020, compared to the total state aid per student they received in 2018-2019. 75% of this 30% must be used to increase compensation to teachers, full-time librarians, full-time counselors and full-time nurses. Charters must differentiate these pay increases for teachers with more than 5 years of experience. TEA recently released guidance on this requirement, which can be found here: https://tea.texas.gov/hb3/. Charters must make 6.8% contributions to TRS on every dollar of salary above the state statutory minimum for every full-time teacher, counselor, librarian and nurse. The state minimum salary schedule has been adjusted and can be found here: https://tea.texas.gov/hb3/
Charters are now subject to Chapter 554 of the Government Code, the "Whistleblower Act," which provides protections to employees for reporting violations of the law.
If charters fail to discharge or hire employees prohibited under 12.0271, they will be in violation of their charter. Charters must confirm that their employees are not on a do-not-hire registry under Section 22.0832.
Charter principals must report educator misconduct to their superintendents, and superintendents must notify the Commissioner of this misconduct. This conduct includes the following: child abuse as defined in Section 261.101 of the Family Code; romantic relationships with, or solicitation of or engagement in sexual contact with a student or minor; or any other unlawful act with a child. However, educators are entitled to a hearing related to alleged misconduct to determine whether the misconduct actually occurred.
Academic Regulations/Requirements
Charters must create Early Childhood Literacy and Mathematics Proficiency Plans & College, Career and Military Readiness Plans.

The board of trustees of each school district shall adopt and post on the district's Internet website early childhood literacy and mathematics proficiency plans that set specific annual quantifiable goals for performance in reading and mathematics at each campus.
The plans must also outline any professional development targeted to help teachers meet their proficiency goals.

Charters must administer a kindergarten reading instrument and a 1st-2nd grade reading instrument from a list approved by the Commissioner or by a district-level committee. They must administer the instrument according to the Commissioner's recommendations. Student performance must be reported to the student's parent/guardian within 60 calendar days; and annually to the Commissioner. At least one instrument per grade level (PK, K, 1, 2) will be made available at no cost to district. This section subject to rule-making by the Commissioner.
Charters must use a direct instruction and phonics curriculum for grades kindergarten through 3. This section subject to rule-making by the Commissioner.
All K-3 teachers must have attended a Teacher Literacy Achievement Academy by school year 21-22. Principals in schools with grades K-3 must also attend the Academy. These Academies have historically been run by Education Service Centers; however, there is precedent for individual LEAs applying to run their own.
Charters must prioritize placement of highly effective teachers in grades K-2. Charters must administer reading development and comprehension instruments for Kindergarten through the 3rd
Charter high school students must complete a FAFSA application as a part of their graduation requirements, unless their parent/guardian signs a form declining it.
Charters will have access to tools to help them implement bilingual and special language programs.
Pre-K
If a charter district offers Pre-K, then Pre-k for eligible 4-year-olds must be full-day by SY 2021-22. Pre-k for 3-year-olds can remain half-day. The number of minutes that qualify as full-day will be determined by TEA through rulemaking.

Pre-k funding is still half of ADA for each Pre-k student
Additional funds to cover costs of mandate for full-day are expected to come from the Early Learning allotment

Districts that do not currently offer Pre-K do not have to start offering Pre-K; districts that already offer Pre-K do not have to continue offering it.
Pre-k for 4-year-olds must comply with high-quality program standards from TEA: https://tea.texas.gov/Academics/Early_Childhood_Education/High-Quality_Prekindergarten_Program/

Requirements include: use curriculum meeting TEA's Pre-k guidelines; measure student progress and learning outcomes; aim for 1:11 student to teacher ratio; not use any Common Core material or standards; have teachers that are certified and have at least 1 of 5 other possible credentials listed under 29.167 of Texas Education Code
Charters must test Pre-k students with an assessment instrument approved by TEA. Charters will also need to report specific information on Pre-k programs to TEA.

Charters are entitled to an exemption from any part of the new Pre-k law if the charter applies for the waiver and (a) the charter would be required to construction classroom space to meet the requirements, or (b) implementation would result in "fewer eligible children being enrolled." Charters must first conduct a public meeting and consider partnerships with public and private entities to offer Pre-k before requesting a waiver. Waivers cannot exceed 3 school years, subject to one renewal (max = 6 years)
Charters cannot simply issue bonds to fund new Pre-k facilities. They first have to consider partnering with other public and private entities (listed in statute are providers eligible).
Other Non-HB 3 Bills with Impacts on Charters
Senate Bill 2293 creates a common charter school admission application form. TEA will create the form online. Families will need to fill out applications for charter schools using this form. SB 2293 also requires the charter holders to submit waitlist data to TEA, not later than the last Friday in October of each school year. Charters must submit data on the following: 1) the number of students enrolled; 2) the enrollment capacity; 3) the total number of students on the waiting list; 4) the number of students on the waiting list disaggregated by grade level; 5) the information described aggregated for all campuses operating under the charter holder's charter; and 6) any information required by the commissioner.
House Bill 3007 requires TEA to provide each school district a copy of the source data submitted to the agency by entities other than the district that the agency considers in the district's accreditation status or performance ratings.
House Bill 391 requires schools to provide instructional materials to students in printed format if the student does not have reliable access to technology at home.
House Bill 2348 prohibits employers from terminating, suspending, or otherwise discriminating against an employee who is a volunteer emergency responder and who is absent from or late to work because they are responding to a declared disaster in their capacity as a volunteer emergency responder.
House Bill 4258 gives the attorney general sole authority to review the record of public notice and hearings relating to any bond financing an educational facility for an authorized charter school. The attorney general will also have the ability to issue approvals for the tax-exempt status of the bond issuance.
Texas Education Agency Commissioner Mike Morath approved four new charter schools to open in August 2020. The final step of authorization shall take place this Friday, June 14th when the State Board of Education meets. 
These schools began a rigorous authorization process in August 2018 and successfully navigated a lengthy and arduous authorization process with external reviewers, internal TEA staff, and the State Board of Education. These four teams represent just a small portion of the over 35 teams that started the journey to authorization. 
At maximum enrollment, these schools will create over 5,000 new charter school seats for families in Houston and San Antonio.
In Houston are Rebecca Francis of Elevate Collegiate Charter School and Deyvis Salazar of Houston Classical Charter School. Opening in the Greater 3rd Ward, Elevate shall educate children in Prek3 to 5th grade, starting with students in Prek4, Kinder, and First grade. Elevate seeks to put children on the path to college by building essential foundational skills in elementary school and preparing them to enter the most rigorous middle and high schools in the area.
Mr. Salazar also seeks to educate children in Kinder and first grade at Houston Classical Charter School, to be located in Alief. With experience launching a high-performing independent charter school in New York City, Mr. Salazar seeks to educate high-needs students with a blend of classical and contemporary educational approaches. Fully scaled, Houston Classical shall enroll students in grades K-8 in preparation for the rigors of the most rigorous high schools in Harris County. 
Launching in the northeast side, San Antonio Preparatory Academy shall serve students in an extended middle school (5th to 8th grades) and transitioning into a 9-12 high school. Founder Stephanie Hall Powell seeks to provide a college preparatory education to students in an under-served area of San Antonio which currently lacks a charter school. Enrollment will begin with students in grades 5 and 6.
The Gathering Place will educate students in grades K through 8 utilizing Project Based Learning with a heavy emphasis on the arts on the northwest side of San Antonio. As a diverse-by-design school, The Gathering Place aspires to bring together students from various socio-economic and ethnic backgrounds to build a community celebrating each child. Founders Ryan York and Joanna Klekowicz will open their doors to 378 students in grades K-2.   
After fulfilling any contingencies set forth by TEA, the new charters will receive an initial contract for five years of operation, subject to maintaining successful academic and financial accountability.  
All four schools moving forward with authorization partnered with TCSA to receive either extensive application development and review services prior to submission or preparation for TEA interviews after completing the external review process.
All of the schools will have the opportunity to participate in a series of year zero "launch" trainings, offered at no cost to the schools by TCSA through grants from the Walton Family Foundation to prepare the schools for their openings in Fall 2020.
Thanks to you, public charter schools in Texas had a very good legislative session! 
Here's the good news: 
More funding for public schools—including charter schools! House Bill 3 provides charter schools with an average increase of $767 per student, which means raises for teachers and more money for the classroom.
Improved student safety! House Bill 3871 will increase student and school staff safety by allowing public charter schools to receive school zone signs when they ask for one.
Charter school autonomy protected! Senate Bill 2293 makes sure that charter school leaders and teachers keep their ability to innovate and respond to student needs by keeping workplace rules under the direction of charter leaders.
Options for charter school teachers with children! House Bill 2190 will allow charter school teachers to send their students to the school where they work. This will help charter schools keep some of their best teachers in the classroom and give these parents more options for their child's education.
We also blocked 40 anti-charter school bills that would have stopped new school growth, made our schools less safe, increased red tape, and decreased funding.
Collectively, charter school supporters sent nearly 50,000 emails to lawmakers—which helped pass these important bills and will create a better environment for charter schools in the future.
Our success is a result of you making your voice heard! Thank you for supporting public charter schools throughout the legislative session.
 We are grateful for your support!
Starlee Coleman
Chief Executive Officer
"Sneak attack!" Miguel screams as he hurdles himself towards me for the fifth time today. It's only 8:10AM – exactly one hour since he entered my classroom – and I feel my ribs crack for what seems like the hundredth time this week. His six-year-old arms slid around my waste, tightening like an angry cobra, and he rests his head right into my 'pillow,' he calls it – but I call it a stomach.
I wince – he's not letting go anytime soon – and a giggle breaks out on the carpet. As I was right in the middle of explaining how to add three two-digit numbers together, Miguel's aggressive-but-loving 'sneak attack' jolted my body so hard, it sent my chalk flying across the floor. "Alright, my love," I say. "It's time for Number Corner, so I need you to sit down." He unlatches his arms from my burning ribcage and peers up at me with the most adorable, dopey grin, his eyes gleaming from underneath his race-car stripped glasses. Despite my aching ribs, it is moments like this that illustrate the intensive joy and growth I've seen in Miguel and my other first grade students.
Just six months ago, Miguel was so jarred by human contact that an accidental brush with a classmate in line sent him hurtling out of the school just feet away from the middle of a busy Austin street, haunted by the physical and verbal attacks he experienced in his former public school. I reminded myself that he deserves so much better than a not-so-patient teacher with a lesson to get through before the art teacher arrives. His playful yearning for connection and contact erased my frustration and growing worry that he was distracting 22 other souls on my carpet.
I flash a wink at the class, turn back to Miguel, and struggle to pretend-frown. "Wait," I call. "Sneak attack!" I open my arms and Miguel jumps in, smiling and giggling. "Okay, you win!" I sing. "You are the sneakiest sneak in the whole wide world!"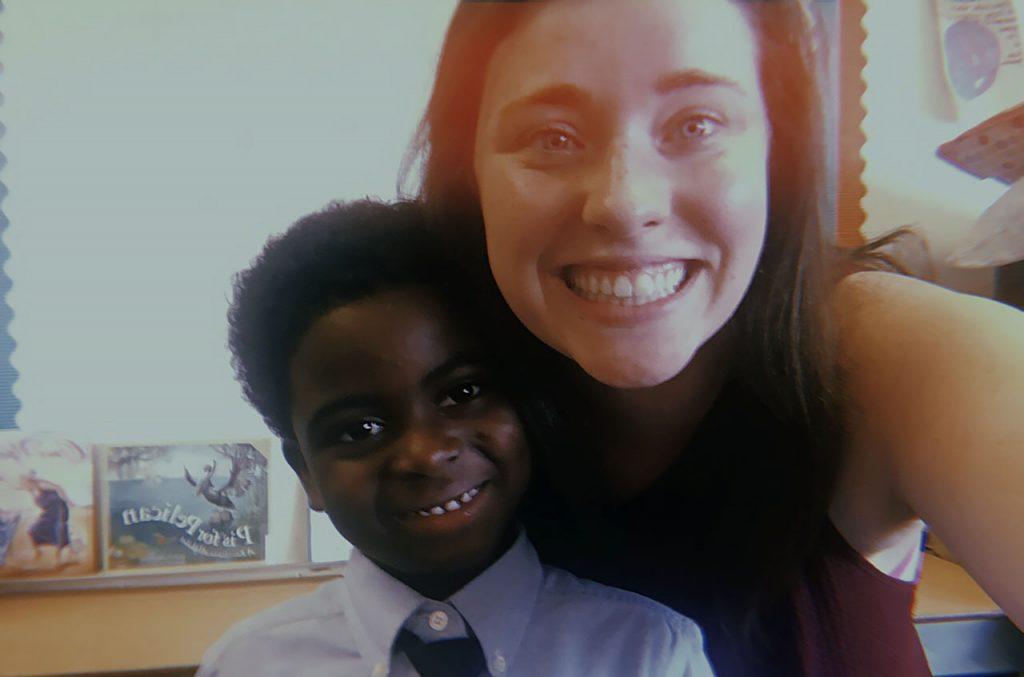 In this moment, Miguel's exponential progress – and my classroom – is summarized best by a quote from Miguel's mother: "Su corazón, por primera vez, es aprender la alegría." His heart, for the first time, is learning joy. My teaching style is simple: we celebrate the small things, find joy in everything around us, and find beauty in growing pains. The most important thing I will ever teach a child is this: we are all beautiful because of our differences, not in spite of them. I teach joy, and the gentle and tremendous growth my students make because it leaves me breathless.
This progress, despite the odds stacked against these prodigious little estrellas, is my most feverous passion. These sneak attacks are the reasons why I teach at a public charter school. Miguel's family was given the choice – their choice – to find a school that would celebrate, not diminish, their child. I teach at a public charter school so mothers can choose who teaches – and loves, and celebrates – their child. Miguel's name and some details for his story have been changed, but the imprint he left on my heart – and my belief in charter schools – has not. Seeing his progress and growth, from being afraid of physical contact to a big bundle of never-ending sneak-attack joy, is the biggest blessing I've ever had the honor of receiving.
Amanda Walsh
KIPP Comunidad, Austin