The Texas Education Agency recently announced the opening of two competitive grant opportunities for recruiting and preparing future teachers and principals. These two grants would allow certain open-enrollment charter schools to receive funding to make available specific teacher/ school leader support and pipeline programs. Recruiting, supporting, and retaining teachers and school leaders will allow for selected schools to provide the highest quality education to their students.
____________________________________________________________________________________
The 2020-2021 Principal Residency Grant Program will offer an opportunity for schools to build strong campus leaders and support pipelines through year-long, full-time principal residencies. Local education agencies who are selected to receive this grant will:
1. Identify potential principal candidates among current staff through a targeted recruitment and selection process.
2. Work in partnership with an effective educator preparation program (EPP) with concentrations in campus and instructional leadership.
3. Create, design, and implement a year-long, full-time residency in partnership with EPP that is focused on authentic, campus-based leadership experiences.
Qualifications and Basic Requirements for the Principal Residency Grant Program:
All local education agencies (LEAs) with at least one campus labeled "Targeted, Additional Targeted, or Comprehensive" per the 2019-2020 Title I Status and/or with at least one campus that received an "F" rating overall per the 2019 Accountability Ratings. Recorded webinar on the Principal Residency Grant Program will be available on September 30, 2019, via the Texas Education Agency website. Applications for the Principal Residency Grant Program are due November 12, 2019, by end of the business day.
_____________________________________________________________________________________
The 2020-2022 Grow Your Own Grant Program is designed to enable increased entry of qualified, diverse candidates into the teaching profession, especially in rural and small school settings. The program seeks to elevate public perception of the teaching profession through the development and facilitation of high-quality Education and Training courses at the high school level. The primary goal here is to address the challenges Texas faces in regards to recruiting and retaining teacher candidates. Applicants may select one or more pathways to achieve this goal. The pathways include:
1. Recruitment of future educators through Education and Training courses offered to high school students.
2. Recruitment and support of paraprofessionals, instructional aides, and long-term substitutes currently employed by the local education agency to transition into full-time teaching roles within the school.
3. Developing well-qualified teacher candidates through a year-long clinical teaching assignment or an intensive pre-service teacher program.
Qualifications and Requirements:
All local education agencies (LEAs) and educator preparation programs (EPPs). Recorded webinar on the Grow Your Own Grant Program will be available on September 30, 2019 via the Texas Education Agency website. Applications for the Grow Your Own Grant Program are due November 15, 2019 by end of business day.
_____________________________________________________________________________________
Contact Information:
For blog source information and inquiries regarding TEA Competitive Grants, we encourage you to visit the TEA Grant Opportunities Page. Further questions surrounding the 2020-2021 Principal Residency Grants should be emailed to Heather Salaz (principalresidency@tea.texas.gov) by October 7, 2019. Questions concerning the 2020-2022 Grow Your Own Grant Program should be emailed to Sheel Jagani (GYOgrant@tea.texas.gov) by October 11, 2019.
Two of the important conference breakout strands emphasize training in effective governance as well as developing school and network leadership systems. Here's a sampling of breakout sessions in these two strands:
Why is Good Charter School Governance so Difficult? presented by Mike Mizzoni of BoardOnTrack – Monday, October 28 – 10:45 a.m.
Great boards are well-staffed and well-supported. They have the right people in the right roles, doing the right work. And, by measuring their performance, they improve their capabilities over time. In this interactive workshop, we'll hand over the keys to great charter school governance. Whether you're focused on ending your first year strong, preparing to replicate, and managing a rapidly-scaling organization, you'll take away actionable strategies and practices for your governance team. Together, we'll explore:
How to ensure you've got the right people in the right roles, from charter starter to rapidly-scaling organization
The systems and processes that make great board meetings
How to establish and strengthen a board-CEO partnership that, in turn, strengthens your organization.
If you don't grow your people, who will? A Model for Developing Organizational Capacity: presented by Troy Mooney, EdD and Lani Norman of Life School – Tuesday, October 29th, 2:00 p.m.
Employees are overtrained and underdeveloped. Learn how to develop leaders at all levels in your organization to improve student outcomes. Participants will explore how to build capacity by redefining systems and empowering leaders in order to create a sustainable learning culture that will:
Develop a systematic approach to creating leaders at all levels in their organization
Build organizational capacity through systems-thinking
Identify critical personnel groups to develop that improve student outcomes
Avoiding Chaos: Leadership Development and Succession Planning presented by attorney Darrick Eugene of Darick Eugene Law Firm – Wednesday, October 30th, 9:45 a.m.
The charter school movement started over 20 years ago and organizations that were new and novel are now mature and possibly in transition. As these organizations grow from founder lead to management lead, they may experience growing pains and challenges with navigating that path. This presentation will provide guidelines and strategies for leadership development and succession planning that will give school leadership resources to avoid potential pitfalls. Through case studies, group discussion and real world examples attendees will be encouraged to participate in and lead their organizations to new horizons.
Have you registered for the conference? Do so now before rates go up!
Have you downloaded the 2019 Conference App? It's the best way to get the most updated information about the conference, including speakers, sessions, and special events!
Questions? Call our conference registration hotline at 1-855-389-8723 or email us at conference@txcharterschools.org
Did you know that nearly half of all charter districts in Texas were in danger of losing out on $200 per student this year? We did, and we fought for our schools.
In December, TCSA was successful in helping protect facilities funding for 72 Texas charter districts. Last year, TEA decided not to issue letter grades to districts impacted by Harvey (17 districts) and single-campus charter districts (55 districts). This is problematic because good academic performance under the new A-F letter grade accountability system is a requirement to receive facilities funds that were set aside in a new law that passed in 2017.
On behalf of our member schools, we worked with TEA to correct this oversight and were the only voice advocating for 72 charter districts that could have lost out on an additional $200 per student. We're thrilled that we helped deliver this win for Texas charter schools. In total, TCSA helped put more than $17 million back into charter school classrooms this school year. Seventeen Harvey-waiver charters received a total of $11,239,502 in facilities funding, and 55 single-campus charters received a total of $5,896,222 in facilities funding.
We're proud to advocate for charter schools – not just at the state Capitol, but at TEA, and the local level as well. We'll continue to fight so that charter schools have the funding, freedom, and flexibility to accomplish their missions and grow to serve the 140,000 names on charter waitlists in Texas.
You can read about our 2019 Policy Priorities here. Have questions about common charter myths? Help debunk them with this information.
Starlee Coleman
Remember that Standard Registration Rates are good through October 22 before the more expensive on-site rate kicks in, so register today! We have planned over 120 breakout and large group sessions as well as a number of social events to help you collaborate, learn, and grow as a charter school leader
Conference breakout sessions and general assembly events provide CEOs, charter administrative staff, business officials, and board members an opportunity to meet training hour requirements as set forth by the Texas Education Agency. Charter governance board members can also earn six hours of credit in Friday's Board Workshop to help satisfy continuing education essentials for new and returning members.
There are also a number of exciting social events planned to help you grow your network of charter school colleagues. On Tuesday evening, the Charter Schools Now Reception, sponsored by the Charter Schools Now Political Action Committee, is an event for charter friends and legislators who are committed to protecting, growing and serving Texas charter schools. Lawmakers who will be supported by Charter Schools Now PAC are invited, so you can thank them in person for their support and help making quality public school options a reality for Texas families.
Immediately following Wednesday's General Session, join us for the Taste of Houston Welcome Reception. Start your TCSACon experience off right with delicious hors d'ourves, refreshing beverages and networking with friends and colleagues at the welcome reception. Meet new friends and get reacquainted with fellow TCSA members in the exhibit hall. Be sure to get your passport through Houston stamped at each food station for your chance to win amazing prizes, but you must be present to win!
On Thursday evening, join us for an Evening at the Ballpark at the home of The Houston Astros and 2017 World Series Champions – Minute Maid Park. This will be a fun-filled night with dinner and drinks, clubhouse tours, photo opportunities, DJ and more. Plus, appearances by your favorite mascot and shooting stars will make it an event to remember. We'll see you at the party! Finally, Friday will feature our annual Awards Luncheon where will we celebrate champions of the charter movement with a variety of awards plus enjoy special guest speakers including Lt. Gov. Dan Patrick and David Osborne, American Author.
Come join us as we meet to learn, grow, collaborate, and celebrate Texas charter schools.
See you at the conference!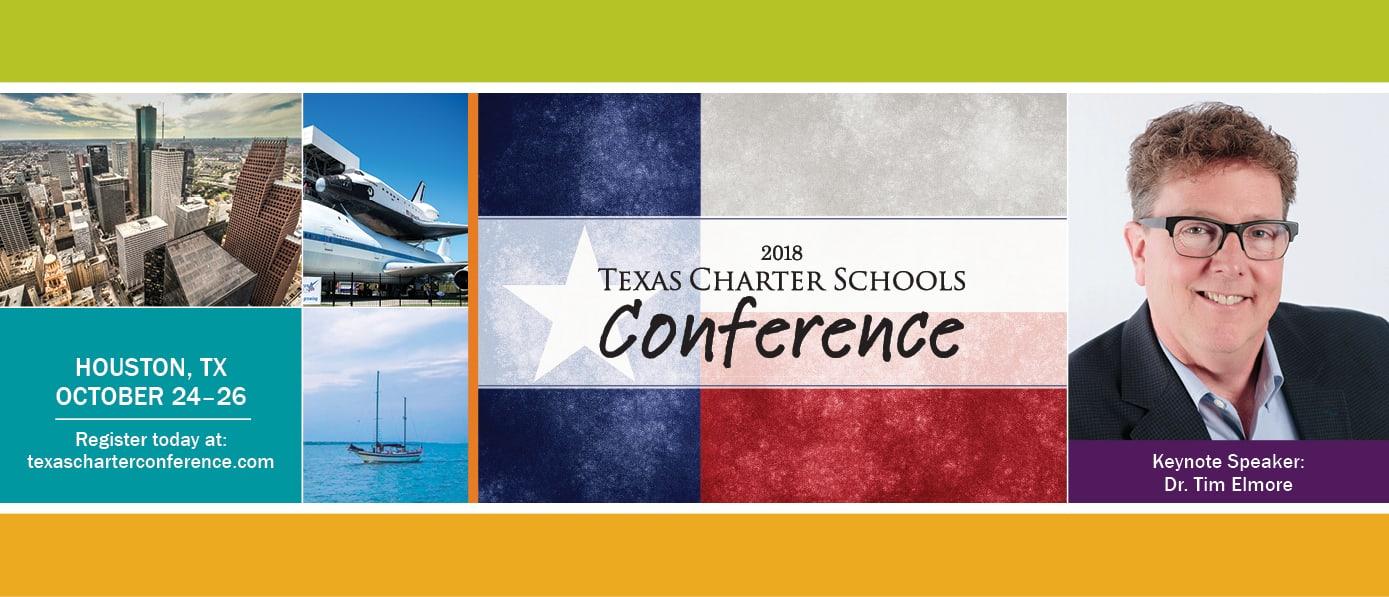 In this series on leading well, we've been exploring a handful of seminal qualities that undergird strong leadership. Characteristics that are seen throughout research and literature as common strengths of those who are able to advance the organizational vision and priorities over the long haul, regardless of field or sector focus.   Previously, we've considered 'Growing and Learning', and a leader's personal, contagious, and articulated commitment to learning as a leader and fostering an environment that encourages and prioritizes the same in its employees. Additionally, we have reflected on the importance of casting a clear vision – one that is digestible, communicated continuously, and systematically upheld and measured to ensure progress toward goals. Today, we'll consider the final of the three qualities – caring for people. The expression of this characteristic can be seen both internally and externally, as it serves to shape offerings and strategy as well as long-term sustainability.  
Caring for people, as it relates to external stakeholders, such as parents, community members, and civic and philanthropic partners, shows itself on the calendars of both the leader and school or organization. On these calendars, you'll see priority given to connecting and listening. As noted throughout sources that range from school principal standards and accreditation guides to Peter Druker's work and the Baldrige Criteria for Excellence – caring enough to listen is foundational to leading well.
Internally, the quality or characteristic of caring for others plays out in a similar, though more layered and holistic manner. As you reflect on how to lead and care well for your team, here are a few topics that experts affirm as worthy of consideration.
Individual health. Assuming that the selection and hiring processes are aligned to the norms and expectations of the organization, and that the right people are 'on the bus,' which Jim Collins notes as foundational, individual health or flourishing can be fostered in many ways, including:
Protecting the sustainability of the individual team members as it relates to work-life balance. Organizational leaders can, at times, fail to notice the ongoing burdens of their teams, inadvertently turning a blind eye to the humanity of the individuals or the burdensome processes that are irreparably broken. The expected stretch factor, which is much needed in seeking norms of excellence and serving others well, stands as the high bar over the long haul. It operates apart from and to the exclusion of the long-term wellness of the individual. Caring for others through thoughtful work-life balance, though more time consuming and at times costly on the frontend, brings the long-term rewards of sustainability. Leading well toward this end retains talent, deep knowledge and attracts excellence from the field as the organization grows.
Developing an environment where individual staff members are empowered and have the freedom to own the work and operate autonomously toward clearly defined and strategically aligned goals.
Enabling personal mastery within a known scope of work and providing professional growth and increasing responsibility, if sought, retains those seeking mastery only as well as those seeking challenge.
Acknowledging critical contributions toward the shared vision. This is done not only as a means of appreciation, but also as a means of understanding individual talents and seeing how their unique gifts fit together to serve the greater good.
Creating rhythms of listening. Both formal and informal surveys and feedback processes encourage personal growth at all levels and can reveal hindrances or organizational misalignments that stymie effectiveness and crush morale. Reiterated by John Maxwell, "A good leader encourages followers to tell him what he needs to know, not what he wants to hear." Often overlooked as a priority, this critical process has the power to refine strategy and strengthen long-term sustainability. Outcomes achieved today do not ensure an organization will be in tact tomorrow.
Culture and functional norms. Here, the expectations, character, values, and collective identities are revealed, defined and protected by the leader. In this realm, leaders can care for others by creating an environment that increases trust among team members. Simon Sinek, Brene Brown and others note that this can be done by modeling the character and values desired, while living authentic lives, as imperfect people leaning into our own growth. Trust, as highlighted in Lencioni's book The Five Dysfunctions of a Team, is the precursor to sharing well and having courageous conversations. If individual members of the team are valued and are able to operate with a deep sense of trust in the inherent good intentions of their leaders and teammates, they are more inclined to have courageous conversations. Such conversations are ultimately what challenge individual and organizational assumptions and assist both the staff members and the leadership team in thinking differently about the work.
Organizational health. Though not intuitively a direct link to the topic, organizational health takes the long view of 'caring for others.' Lencioni notes in his book, The Advantage, that, organizational health is a byproduct of appropriately aligning management, operations, strategy and culture in a way that makes sense. Thoughtful care in these areas minimizes the confusion of clunky workflow or internal politics that stem from structures that don't make sense. Done well, thoughtful alignment boosts morale and productivity, as it facilitates the functional synchronization of work that allows for the team members to flourish in their unique role of within the organization.
So, I would ask, as we reflect together on how to lead well by caring for others – do your actions align well to your intentions? Does your calendar reveal listening well, both internally and externally? Have you established policies, practices or norms that articulate and prioritize caring for others? And, is trust deep enough and wide enough to withstand iron sharpening iron and conversations about new ideas well?
This year, as you lean into leading your team with excellence, may you do so in a manner that values others, provides an avenue for meaningful work, and is sustainable over the long haul.  
Your partnership is crucial to our success in advocating for your interests and we hope you will renew your membership today. In addition to benefiting from TCSA's ongoing advocacy work, membership brings additional benefits, including:
All Model Policy documents now included as a part of the membership fee;
Free On-Demand Training through the TCSA Learning Zone, TCSA's online training portal, and discounted registration rates for the Texas Charter Schools Conference;
Legal information and advice, as well as updates and alerts on specific matters pertaining to public charter schools;
Tools to engage parents on advocacy efforts with the legislature.
We know that you have many tough decisions to make when it comes to balancing your schools' books. Joining TCSA may mean not hiring a new teacher or foregoing something else that you need. We know you're counting and watching every penny. But, having a strong TCSA in your corner is not a luxury. You need us to be your eyes, ears, and voice to ensure you can keep doing what you're doing so well.
Will you please take a minute today to renew or begin your membership with TCSA? We know you count on us and we count on you too.
HOW TO JOIN OR RENEW:
Step 1:
Login to the Quality Member Portal
Applications will be completed in the Quality Member Portal. Once logged in, click the 'Membership' tab at the top. Please click here if you have forgotten your password.
Step 2:
Complete the Online Membership Application
Upon submission of the online application, an invoice will be automatically generated and sent directly to the accounting contact email listed on the application.
Step 3:
Remit your Membership Dues to:
Texas Charter Schools Association 
3801 South Capital of Texas Hwy, Suite 330
Austin, TX 78704
If you have questions, please contact Nadia Luna.
Thank you for your continued support of charter schools in the great state of Texas.
If you joined us for part one of this series, you'll recall that we are considering a few key characteristics of great leaders, those being growing and learning, clear vision, and caring about people. This week let's look at the why, what, and how of creating and communicating a clear vision.

The Why of Vision
Most of you are familiar with the critical nature of having a clearly defined 'why.' As leaders and founders, many of you were charged with shaping and capturing the reason for your organization's existence in its charter application to the state. As decades of literature tells us, having a clearly defined purpose and vision for the future will make or break an organization.
Captured well, the vision will transcend the day-to-day wins and losses and help carry a team through the battlefields of disappointment to victory. The 'Why' of vision is what compels teams into action. It brings unity and clarity and inspires beyond the moment, as strategies are refined and action plans optimized. Though the 'Why' of vision is critical for inspiring action toward the horizon, there are key aspects of vision that must be clarified in order to make that vision a reality.
The What of Vision
It is the 'What' of Vision that provides enough substance and direction to facilitate action. Lencioni suggests that having answers to these six questions is critical:
· Why do you exist?

· How do we behave?

· What do we do?

· How will we succeed?

· What is most important right now?

· Who must do what?
The Why is undergirded, and can be accomplished, by teams having enough meaningful clarity to move forward. If we look at each one of these, there is information that should be defined together and known throughout the organization.
Why do you exist?
Are the mission and vision known, lived, felt?
How do we behave?
What are the articulated and shared values that uphold the organization? Those that shape decisions in situations lacking clarity. Is it expected and known that staff members operate as a team, laboring together toward the good of the organization versus being driven by self-interest?
What do we do? How will we succeed? What is most important right now?
Has the path forward been clearly defined? The logic models created? Have the specific outputs and outcomes been defined? Does the plan note timing and priority of action?
Who must do what?
Does your team know who owns what outcomes or who has responsibility for certain tasks? Do they know their buckets of work well enough to establish systems and develop personal mastery? Or, is their energy being squandered by redundancy of effort due to lack of clarity regarding roles and responsibilities?
Finally, let's look at the 'How' of Vision and the steps to support the internalization of the message and the sustainability of the work.
The How of Vision
A colleague of mine notes that when promoting our schools, we should be marketing 'always and in all ways.' The same holds true for communicating vision. Communication is key. Three words come to mind related to how to share vision effectively – simply, continuously, and systematically.
Simply - For the larger vision to take hold, it must be known and internalized. Clear, digestible language facilitates absorption.
Continuously – We have all experienced the evaporative nature of messaging. What is claimed as critical from higher in the organization may be missed during delivery or only truly heard by a portion of the team. Repetition over time conveys the organization's unwavering commitment and assures the staff that the vision is not a passing fad. Kotter notes that the average employee intakes approximately 2,300,000 words or numbers from the organization over a three month period of time. Overrun by details of the day to day, a new vision may be hard to absorb. Here, as always, the ancient Latin notion that repetition is the mother of all learning holds true. When we hear something said and see it lived out, in the words and actions of the leader, then we take it in as a truth to be trusted.
Systematically – Finally, let's discuss what holds it all together. Systems. Regardless of what you are trying to convey or prioritize as meaningful, if there is not a system in place to message, train toward and measure that stated priority, then it will fall uselessly to the wayside overtime. As you reflect on your stated vison, consider if it is reiterated and supported systematically throughout the organization. Do job descriptions and postings reflect where the organization is heading? Does the onboarding process include a clear vision and the role of that employee in making that vision a reality? Is the team systematically reviewing and discussing progress toward that vision? The established systems of sharing the vision and the expected and current progress toward that vision is what will ultimately drive change. The system that support the vision provide the rails of consistency upon which excellence and sustainability are built.
As you reflect on how to lead your team well, like other great leaders before you, may you lead with a clear and consistent vision that is known, lived and deemed important enough to measure.
Already in her young life, Roshan "Rosie" Khan was ranked first in her class at Harmony Science Academy-Pflugerville, served as student council president, testified before the Texas State House Education Committee about public charter schools, and is now a freshman at the University of Texas-Austin, where she has a quadruple major.
And she accomplished all of that before she got her driver's license this week.
That Khan, 16, has achieved so much at such a young age is hardly a surprise to her teachers such as Jeremy Lippart, who served as her 12th grade AP Micro/Macroeconomics and AP Comparative Government teacher.
"Rosie is a genius," said Lippart, who also worked with Khan for student council and SLS Mock Government. "She's incredibly intelligent. The other thing, in addition to her being incredibly intelligent, is that her work ethic is off the charts. She's one of those kids who won't settle for anything less than her best effort, even when she could give 75 percent and still out-perform everybody else. That's the main thing every teacher always noticed about her – that she could have coasted but obviously didn't."
While it could be argued that a student with Khan's intelligence and drive could have succeeded in any school environment, Khan herself testified to state House members last month that it was the opportunities and instructors afforded to her at HSA-Pflugerville that got her to where she is today.
"I skipped second and fourth grade, then went to Harmony Science Academy Pflugerville for middle and high school," she testified to the committee. "Spending ten years in the system, I found school spirit that was less like a battleground and more like home, a diverse body of students and faculty, engaging classes and extracurriculars, and passionate, genuine, friendly teachers. I had fun projects during school, and after hours, clubs like MathCounts, Robotics, Science Olympiad, Geography Bee, and much more."
Khan said her parents decided to move her and her older brother Abraham into Harmony because both of them were too advanced for their grades in their ISD school. Khan said she was allowed to sit in first grade classes while still in kindergarten, but her parents realized that doing so was only a temporary fix.
While Harmony's program also struggled to keep up with Khan – she skipped both the second and fourth grades – the school was able to work with her to accommodate her accelerated learning pace.
"They had more staff available, and they would come around do different sorts of activities with us," she said. "They allowed us to read more advanced books. They had systems in place to help out kids who were bored with what the rest of the class was learning."
The teachers were flexible enough to allow Khan to go through the entire math workbook at her own pace while classmates were tasked with a specific assignment.
Khan's positive experiences at HSA-Pflugerville extended beyond the classroom, she said. In addition to student government, she worked as a tutor in math and computer science, and played piano.
Lippart noted that Khan became very involved in making her community a better place. Among the charities she has helped with are the American Cancer Society, Keep Austin Beautiful and a food donation program organized from the school's cafeteria.
Khan also is very active in political issues. She served as an aide in the Senate Page Program for Sen. Kirk Watson, and she organized the peaceful student demonstration on school gun violence, inviting U.S. House of Representatives candidate Rick Kennedy as a guest speaker.
Khan, who is majoring in Plan II Honors, Economics, Government, and International Relations in the UT-Austin Honors Program, said she hopes to work in politics after college. One of the things that sparked her interest in politics was a visit to the Capitol and other activities as part of the SLS Mock Government Club.
"That was another immersive way to prepare us for things," she said.
While other students might find it intimidating to be entering college at 16, Lippart said Khan has pretty much always been two years younger than her classmates at Harmony, and it never held her back in terms of class participation.
"It was really almost intimidating for the other kids, because she was so much younger," he said.
Khan said she hopes her testimony to the committee will make a difference in future legislation, noting that public charter students receive less overall funding than their ISD peers and that many groups would like to limit school choice by putting moratoriums on opening new charter campuses.
"If I had been restricted to my district ISD, I would not be who I am now," she testified. "Had I gone to a private school I believe I would not have felt as welcome among more privileged demographics, if my family could afford that, which we cannot."
If Lippart has his way, Khan will one day be sitting among the decision makers in the Capitol and not in front of them.
"Selfishly, I'd like for her to run for office – and win!" he said with a chuckle.
Is there someone at your school worthy of being profiled? Contact Phillip Ramati at pramati@txcharterschools.org and let us know.
Here we are again at the beginning of the school year.  No doubt, the complex details of running an organization well and making the programmatic changes needed in order to meet state and federal requirements are all consuming.  That said, I want to encourage you on your journey and give you food for thought in this part one of a three-part series On Leading Well.
As you reflect, be encouraged that most inspirational leaders have changed the world not because of their expansive, multilayer plans, but because of their ability to do a handful of things remarkably well. The vast majority of best practices, organizational principles, or high impact levers of change are subsumed by or grounded in a few key characteristics.  In summarizing the leadership qualities of Bill Gates, one author noted that Mr. Gates' success is based on three overarching principles:
Growing and Learning
Having a clear vision
Caring about people
These traits or characteristics are repeated throughout writings on effective leadership[1] and reiterated in the research findings that highlight the norms and functionalities of effective organizations and teams.  The good news is that you do not have to create a new project plan or take on one more program or direct report -- you can simply reflect on what these principles look like or could look like within your organization and determine how you might expand the depth, breadth, and consistency of your efforts or the organization's efforts as a whole.  In this writing we'll explore the first of the three leadership characteristics -- Growing and Learning.  
What we see throughout history and organization literature is that most successful organizational leaders value learning and growth.   Think of this characteristic through a multifaceted lens as having a threefold value, with multiple layers of impact.   First, they seek to learn and grow as leaders; to augment their knowledge, shore up their lesser developed skills, or expand and refine their strengths. Additionally, they also tend to possess an innate love of learning and desire to grow and learn as a way of being.  This characteristic then manifests itself and is emulated by others -- prioritized as shared value within the organization.
Impactful leaders who value learning, also tend to value the personal growth and development of their teams: they recognize that as human beings we flourish when allowed to learn, stretch and find inspiration in new ideas or knowledge.  The allocation of time and resources to ensure that staff members have the ability to learn and grow communicates the leader's passions and priorities. It is the stake in the ground that says, 'personal learning and growth matters!'
Finally, in the best of scenarios, the prioritization of growth and learning transcends both the leader and the staff members' personal commitments and efforts and becomes part of the organizational identity as a whole.  As non-profits that are running on lean budgets, seeking to redefine what is possible with children, the best of teams, and the leaders who run them, recognize that the school must become a true learning organization. As captured by Senge's seminal work, The Fifth Discipline, a thriving learning organization recognizes and values the ongoing learnings of the organization and structures mental models and systems by which to capture, reflect on, and learn from each other.  Senge describes learning organizations as places, "where people continually expand their capacity to create the results that they truly desire, where new and expansive patterns of thinking are nurtured, where collective aspiration is set free, and where people are continually learning how to learn together."
Below are a few thoughts for consideration as you seek to create a learning organization and press further into the Growth and Learning as a leader.
1. Systematic Problem Solving. How does your team solve problems now? How do they evaluate the cause of or the solutions to a particular challenge?    Practical steps include:  
Continuously ask, "How do we know this to be true?" Push beyond the common assumptions when considering cause and effect.
Utilize a more scientific model of problem solving such as Plan, Do, Check, Act or other methods by which your team takes action on a problem and circles back within a defined period of time to confirm outcomes or change interventions. Whether the problem is student outcomes on the 3rd grade STAAR exams or reoccurring or increasing staff turnover, a more scientific model with defined frameworks for measuring change can give staff a lens through which to evaluate and determine course change over time.
Implement fact-based management. Use data, rather than assumptions to drive decision-making. Require teams and leaders to define the issue and prove the solutions using data. An intervention or solution has not proven itself a success without a process to circle back and evaluate effectiveness.
2. Learning from Past Experience. Made famous by philosopher, George Santayana, from which the term 'Santayana Review' is derived, the quote "Those who cannot remember the past are condemned to repeat it," bares out as a timeless truth in our organizations. As you reflect on your organization, ask yourself: 
Lessons Learned. How does your team capture knowledge and learnings on whole? How do you document lessons learned as an organization?  Do departments chronicle processes or practices that have proved ineffective (or effective)?  Do incoming leaders or staff members have a way to learn lessons from their predecessors or must they relearn through trial and error on their own?
Knowledge Capture. Are effective practices or key learnings captured for future use in both short-cycle and long-term efforts.
3. Learn from Each Other. Finally, the best leaders realize that learnings can and should originate both internally and externally. Consider the following:
Stakeholder surveys and feedback. What stakeholder surveys and feedback processes are in place to support organizational learning?  Is the team gleaning insights from external stakeholders to shape their future work?  Do you have an ongoing process to assess the health and satisfaction of your team?
This allows teams to uncover, analyze, adapt and adopt practices that have provided leading outcomes or results.
Cross-industry learnings. Savvy leaders realize that some of the greatest insights come from outside of their industry. How have others solved a vexing staff issue or strategically partnered to meet a community need not solvable within the limited organizational budget?
Though not measured by the state or other governmental entities as an organizational requirement, a leader's view of growth and learning and the prioritization thereof impacts the organization's vitality, functionality, and future viability.
Finally, and more importantly, a leader's contagious love of learning is taught and caught as a joyful way of life by young people that walk the halls each day.  Today, like Bill Gates, consider how you might change lives by pressing into personal and organizational growth and learning.
Your elected advocacy committee has been hard at work shaping the legislative agenda for the upcoming state session - now just six months away! We've had a strong response to the issue survey and thank the school leaders that took the time to complete it. The upcoming August 2nd member council is a critical meeting as we will share the results of the issue survey and take the next step in finalizing our agenda for the 86th Legislature.
Member schools remain very concerned about state funding, academic accountability, and property taxes, but new issues like school safety, and municipal regulations are also coming into focus. Based on our work at member council, the second part of our member survey will be completed so schools can respond early in the year. Come learn how you can make this a successful legislative session by lending your voice and feedback. 
-Dr. Rebecca Good, 
TCSA Elected Advocacy Committee Chair
Here's what's planned for the full day:
8:30 am: Registration & Continental Breakfast 
9:00 am: Welcome and Introductions: Dr. Jennifer Goodman, Chair, Member Council
9:05 am: Greetings from TCSA Solution Provider & Sponsor: Charter School Capital
9:20 am: CEO Search Conclusion: Chuck Cook, TCSA Interim CEO
9:30 am: Advocacy Legislative Priorities: Dr. Rebecca Good, TCSA Elected Advocacy Committee Chair
10:10 am: Legislative and Grassroots Update: TBD to share Interim Charge Report, Addie Gomez, Executive Director, Charter Schools Now
10:45 am: Break
11:00 am: Legal Update: Christine Nishimura, TCSA Deputy General Counsel
11:30 am: Lunch sponsored by Charter School Capital; Instructional Focus: Magnolia Montessori for All: Sara Cotner, Founder and CEO
12:15 pm: School Communications Update: Phillip Ramati, TCSA Director of Communications
12:45 pm: TCSA Membership Updates: Nadia Luna, TCSA Director of Membership
1:15 pm: Performance and Data Updates: Laura Kelly, TCSA Director of Quality Services
1:45 pm: Conference Update: Dr. Bruce Marchand, TCSA Director of Training Services
Agenda is subject to change.
If you can't make it and would like to attend virtually, please register here.
Nearby Accommodations:
Marriott South, 4415 S IH 35 Frontage Rd., Austin, TX 78744, 512.441.7900 
Omni Southpark, 4140 Governors Row, Austin, TX 78744, 512.448.2222
Thank you to TCSA Solution Provider Charter School Capital for sponsoring: