Graduation season for many of us at TCSA is a reminder of why we do what we do. The culminating experience of seeing the joy in the eyes of the people we serve -- school leaders, teachers, parents, and students --reenergizes us and invigorates us to continue to fight for the diverse sector of public charter schools in our great state of Texas.
Our work here is to break down the barriers our schools face on a daily basis so that they can guide their scholars through their educational journey to ultimately cross that stage and enter college or the workforce as successful citizens. These rooms were filled with a varied group of people that supported and fostered the growth and success of our youth.
This graduation season I had the honor of attending YES Prep's Signing Day and Imagine International of North Texas' commencement ceremony. I watched student after student cross the stage and name the school they chose for the next stage of their life and career. The pride and joy in the room was palpable and undeniable. These students were not just receiving a piece of paper, they were granted access to the knowledge and skills necessary to succeed.
The enthusiasm for education and the future I witnessed was echoed by their school peers and most importantly by parents.
My favorite part to it all was getting to meet the entire international baccalaureate administrative team and the incoming junior class at Imagine International. The team showed a true passion for their craft and the students continuously expressed their gratitude for the wonderful environment the school offered.  I hope we continue to be invited to these events and that schools continue to share their triumphs with us. I wish everyone a fun and safe summer and a successful freshman year.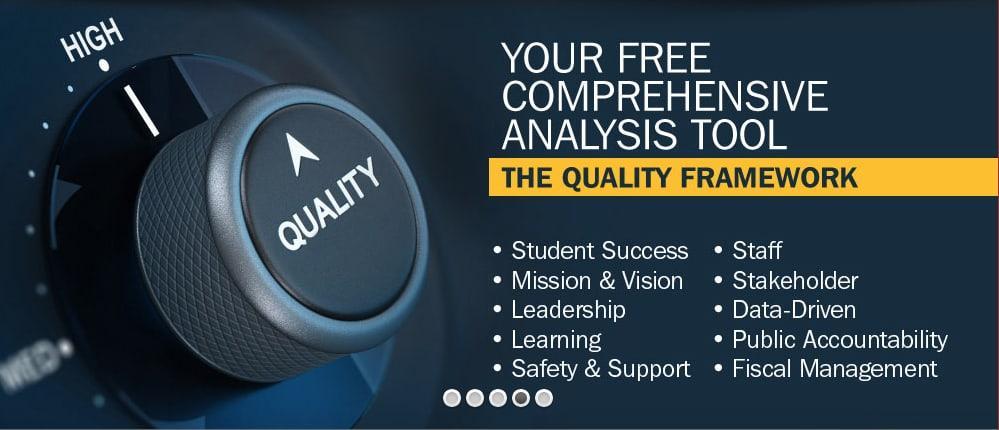 The needs assessment process, which is required for schools implementing federal and state programs using ESSA (Title I, II, III, IV) and State Compensatory Education funds, is useful for all school leadership teams as an ongoing part of continuous improvement planning. Conducting a comprehensive needs assessment (CNA) is a vital task for school leaders, though some shy away from the process assuming the task is fraught with complexity. 
TCSA has helped ease your anxiety as you follow this simple, step-by-step assessment process.  
1. Determine your Purpose
Are you conducting a comprehensive needs assessment as part of a requirement for state or federal funding? Or, are you reviewing performance as a whole to develop a shared understanding of the school's weaknesses and programmatic or organizational needs? Be sure to share your purpose and hoped for outcomes as you engage others in the work.
2. Identify your Team/Committees
As a best practice, representation from several stakeholder groups is best. Identify a few parents and appropriate staff members to participate. Differing views and perspectives will shed light on the nuances of current engagement and programmatic implementation and will help shape the improvement plan. 
3. Review Data, Organizational Activities, and Observed Strengths & Weaknesses
Within the member portal leaders can take the Quality Framework self-evaluation, providing insights into ten systems of school functionality and health.  Additionally, an extensive data pack is available. Once the self-assessment is complete and submitted, review the results under the Quality Framework Reports section of the portal. The QF report will highlight critical areas needing attention as well as spotlight exceptional performance. 
4. Determine Action Plan and Next Steps
Once the gaps have been identified, determine the areas of focused improvement. It is important to narrow the efforts to a few key areas, since research tells us that having too many goals diminishes the likelihood of reaching the desired outcomes. Note that the QF report also includes a "Next Steps" report option which enables teams to choose areas of focus and print a related report that includes improvement recommendations for those areas.
5. Identify Goals, Targets, Owners, Follow-Up Dates and Process
The final step is to ensure that each area of improvement has clearly defined owners and expectations for ongoing follow-up and accountability. Each outcome target should have measurable and time-bound expectations along with ongoing follow-up steps to monitor progress toward goals.
The comprehensive needs assessment process is critical and made simple by the tools provided FREE to member schools. For more information, or for assistance in leading your team through this process, contact Laura Kelly, Director of Quality Services, at  lkelly@txcharterschools.org. 
Nine applications are currently under review by the Texas Education Agency (TEA) to become new Texas charter schools in the Generation 23 authorization cycle.  Schools ultimately approved as part of Generation 23 will open at the start of the 2019-2020 school year.   In this most recent cycle, twenty-one applications were submitted to TEA by the December 4th deadline.  Of those, seven were rejected by the agency as incomplete, and fourteen proceeded to external review where nine of the fourteen ultimately met the 85% cut-score threshold to continue in the approval process.
Of the nine schools under review, six of the schools contracted with TCSA and received extensive application development and review services prior to submission. In addition, TCSA staff continues to work with TEA on refining the authorization process, especially in the area of application external review. Our TCSA efforts helped to result in a change in the external review process that allows applicants who do not initially reach the 85% combined cut score for all five reviewers to request a sixth reader if the original score was between 80 and 84 percent.  In this most recent cycle, two applicants met this criteria and requested a sixth reader.   
The charters currently under review are as follows: 
Houston/Harris County Area
Bloom Academy, opening as a K-1st school with a projected enrollment of 180 and a maximum K-5th enrollment of 1,080
Reve Preparatory, opening as a K-1st school with a projected enrollment of 180 and a maximum K-8th enrollment of 1,620
The Collegiate School of Houston, opening as a 6th grade school with a projected enrollment of 150 and a maximum 6th – 12th enrollment of 1,050
Thrive School Network, opening as a 6th – 12th school with a projected enrollment of 80 and a maximum 6th – 12th enrollment of 100
San Antonio Area
Promesa Academy, opening as a K-1st school with a projected enrollment of 176 and a maximum K-5th enrollment of 1,056
Single Seed Enrichment School, opening as a K-6th school with a projected enrollment of 325 and a maximum PreK4- 12th grade enrollment of 1,332
Lubbock Area
Elementary School for Education Innovation, opening as a K-2nd school with a projected enrollment of 270 and a maximum K-5th enrollment of 540
Fort Worth
LEAD International Academy is applying to open as a K-6th school with a projected enrollment of 700 and a maximum K-12th enrollment of 1,300
Tarrant, Harris, Travis, and El Paso counties
Impact Public Schools hopes to open four schools as a K-2nd, 6th, and 9th grade model with a projected enrollment of 500 and a maximum K-12th enrollment of 6,200
The next step in the authorization cycle is a thorough review of the application by the agency and interviews with TEA staff and SBOE members to be held in mid-May, with Commissioner's recommendations for approval to come by late May.  The full State Board of Education will meet June 15th where they may choose to take no action and approve the Commissioner's recommendations for a charter contract or vote to veto one or more of his choices.
Are you wondering how your campus compares with other schools? Are your students experiencing academic growth in Reading and Math that is comparable to other schools in your county, region or the state? Is your school, as a whole, serving students well when compared to other schools that serve similar populations?
Have you viewed your Student Growth Percentile (SGP) Data or your Similar Schools Measure Rankings (SSM)?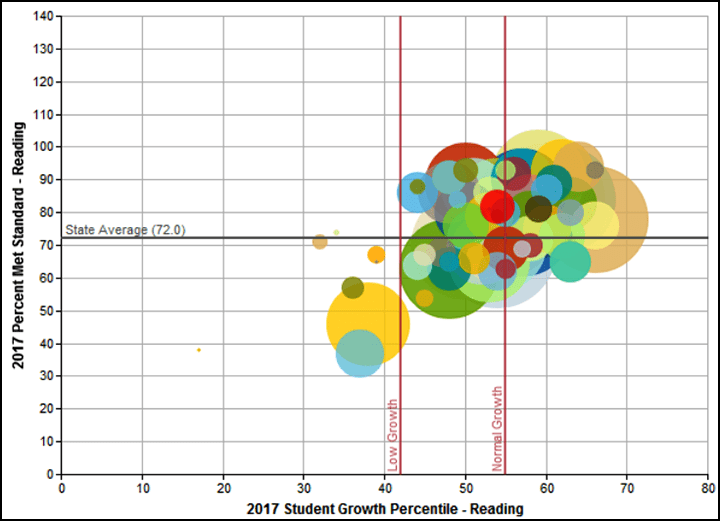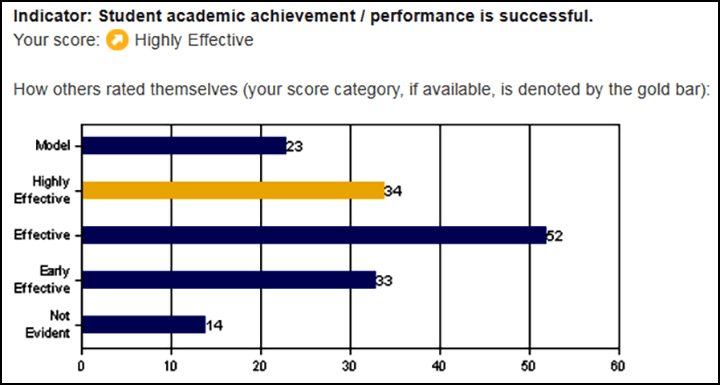 Do you know how you compare organizationally in critical areas of operations, human resources and finance? All of this is available as part of your membership with TCSA.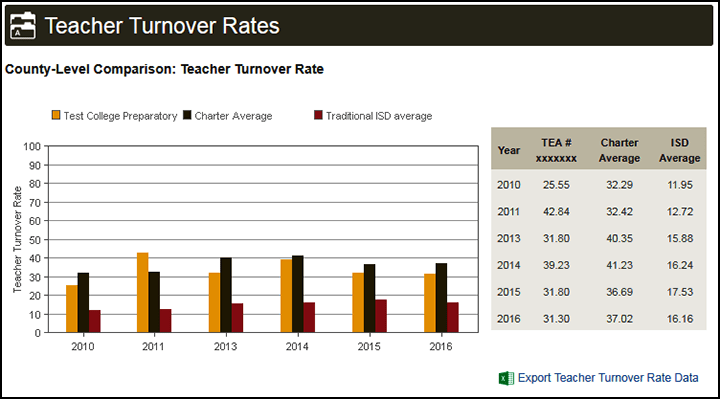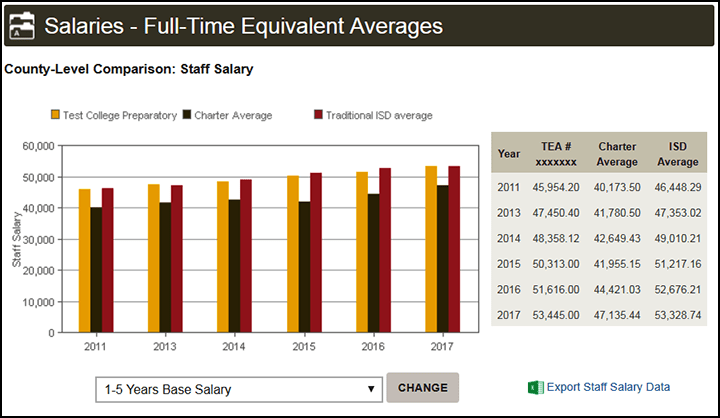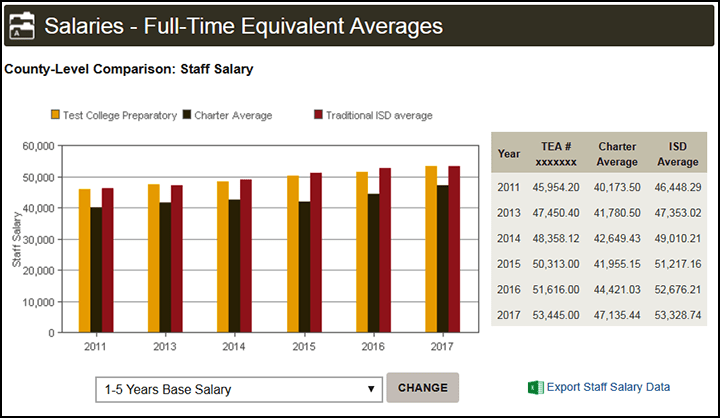 TCSA maintains a data warehouse for each member school, which includes proprietary data as well as aggregated data from the Texas Education Agency (TEA) and trend over time comparative organizational data.  Leaders, teams, and school boards use these data in their strategic decision-making process, as they craft improvement plans and determine resource allocation.  For assistance accessing your school's data, request an account here or email qualityframework@txcharterschools.org today!
Changes are coming to the Charter FIRST indicators. If you are a growing school, many of those changes may impact your ratings. The draft Charter FIRST indicators, which are proposed to go into effect in 2020, expand the topics reviewed as a part of a charter school's annual financial evaluation.
The current financial rating system is comprised of 15 indicators that assess a school's solvency, sustainability and compliance with its commitments and its use of public funds. The proposed indicator list for the 2020 school year expands the number of indicators from fifteen to twenty-one, adding the following topics:
- Change in Net Assets,
- Maximum Annual Debt Burden,
- Debt to Capitalization Ratio,
- Average Daily Attendance,
- Financial Transparency,
- Budgeted vs Actual Revenues, and
- Geographic Boundary
Join us for a live webinar on Thursday, March 8th at 4 p.m. when we'll walk through calculations for the draft indicators and discuss implications for charter schools.  Register here in TCSA's Learning Zone or email Laura Kelly at lkelly@txcharterschools.org.
Is your school expanding? Or, are you part of a team that hopes to open a charter school in Texas?  TCSA's new market identification service can help your team identify a target location that aligns to your school's needs.
The TCSA team works, on an ongoing basis, to develop tools and services that provide value to charter leaders and their boards. We are pleased to announce the launch of our latest offering -- the statewide heat mapping tool and its related market identification service. 
The tool accesses TCSA's rich repository of historical data related to charter school and ISD performance across the state and merges key school performance and composition data points with community-level census data. The data analysis renders a map with "heat' showing areas of density of need across the state. 
The tool enables the TCSA Growth and Development Team to identify locations aligned with your goals using a variety of filtering options. Additionally, the tool provides location markers for existing charter school and ISD campus locations across the state.  A few of the variables available in the location analysis include:
Academic ratings
Campus-level, student enrollment composition data (Economically Disadvantaged, English Language Learners, At-Risk students and additional student demographic options available)
School type
Grade levels served
Community Poverty rates
Community educational attainment levels
Community-level limited English language use
Geographic options include: state, region, county, city and district level
As you consider where to locate your new school site, we encourage you to let TCSA assist you in your expansion and new school development efforts.  Feel free to contact the TCSA Quality Service and Growth Team for additional information – quality@txcharterschools.org or by calling 512-584-8272.
In 2018, it's expected that nationally the demand for and expansion of charter schools will grow, but the challenges of funding such endeavors will likely also increase. Despite a promising budget from the current administration to increase funding for charter schools, there are strong opponents in local government and traditional ISDs that view charter schools as competition for education dollars. Demand for equipment to drive learning in the charter classroom could go unmet if schools have trouble partnering with companies to make technology acquisition more affordable.
Revive IT, a computer refurbisher, believes that their commitment to community revitalization includes charter schools. Seeing a technology gap in charter schools that struggle with funding, they know their business model to refurbish computer equipment for resale is a perfect fit for charters balancing tight budgets with the need to educate and expose students to technology. To date, Revive IT has partnered with nearly 50 districts throughout the country. Many of these schools serve vulnerable communities, so the impact of these relationships goes far beyond technology.
"Our school...has 80 - 85 percent (of students) that are at free or reduced lunch," said Jesus Armenta, Principal at New World Educational Center in Phoenix. "Many students don't have access to a computer at home." Revive IT proposed creative solutions to make the purchase of refurbished equipment a reality at New World.  
"They really are seeing school not just necessarily as the place where they come and learn, but that learning can happen anywhere. There's definitely magic happening," agreed Lisa Smith, STEM teacher at New World.
Data suggests that such partnerships are crucial to student success. Studies released on personalized learning (PL) in the classroom, particularly in schools that use technology to deliver it, are promising. In particular, a report from the Bill and Melinda Gates Foundation and the RAND Corporation found students do better on computer-based reading and math assessments in schools that use PL approaches. So, partnerships that allow for more cost-effective technology to be placed in students' hands not only satisfies budgetary concerns, it creates a lasting legacy as each student advances in their education.
"We see that big ripple effect - it's affecting our future. Revive IT is making an impact more than they know," agreed Armenta.
"Our vision as a company is in part to be responsible to our community," said Revive IT CEO Chris Ko. "In these school partnerships, we are not only equipping them with technology, we are also equipping each student with critical tools to compete, succeed and thrive in their communities, and the workplace."
          Austin — The Intercultural Development Research Association (IDRA) issued a report critical of public charter school graduation rates in their ongoing and longstanding opposition to these public schools. IDRA doesn't support public charter schools or the families that choose them in spite of the fact that more than 273,000 students are currently enrolled and another 141,000 are on waiting lists to attend one. The most recent 2017 Texas Education Agency state performance reports show minority and low income charter students outperform their traditional school peers in Reading, Writing, and Social Studies, and Limited English Proficiency charter students outperform in all subject areas. This is significant as public charter schools serve larger proportions of these students compared to traditional public schools.
          • The IDRA data is not current. The report is based on 2015-16 data, even though 2016-17 data is already available and shows stronger results.
          • IDRA data is not correct. 2016 Texas Education Agency (TEA) ratings clearly show 10% of charter schools were rated Improvement Required, and not the the larger percentage (22.9%) reported by IDRA.
          • The methodology used in the IDRA report raises more questions than it provides clear answers. The IDRA report does not disaggregate the public charter school data, meaning it lumps all types of charters together including Juvenile Justice and Alternative Education Programs, as well as Residential Treatment Centers. The IDRA methodology masks public charter school actual academic performance and prevents a true "apples to apples" comparison with traditional public schools.
         • 2017 Texas Academic Performance Reports shows strong public charter school graduation rates. The 4 year graduation rate of standard accountability charters is 96.31%. That compares to the 97.36% reported by traditional public schools.
          • The most current data of the 2017 Accountability system shows continued public charter school improvement: 79.9% of charter campuses achieved a Met Standard or Met Alternative Standard rating and only 7.3% of charter campuses were rated Improvement Required. That's an improvement over the 2016 data.
Did you know a lack of board, officer, and campus administrator training can result in a material violation of your charter?  Many charter systems struggle to aquire the appropriate amount of training for board members, officers, and campus administrators.   The Texas Charter Schools Association (TCSA) offers member schools various webinar trainings either free or at a discounted rate to help charter leaders meet Texas Education Agency training requirements.  Member schools can opt to join bi-monthly webinars or access the webinar recording each month, accelerating progress toward training requirements.
Member schools also receive deep discounts on training bundles within the TCSA Learning Zone.  If you are a new or existing charter on a tight budget, TCSA can manage your school's compliance training efficiently and affordably. Please contact Dr. Paula Moeller to discuss how online training is the right solution for your school. This is one more reason to join or renew your membership with TCSA.
HOW TO JOIN OR RENEW:
Step 1: Login to the Quality Member Portal
Applications will be completed in the Quality Member Portal. Once logged in, click the 'Membership' tab at the top. Please click here if you have forgotten your password.
Step 2: Complete the 2018 Online Membership Application
Upon submission of the online application, an invoice will be automatically generated and sent directly to the accounting contact email listed on the application.
Step 3: Remit your Membership Dues to:
Texas Charter Schools Association (TCSA)
700 Lavaca Street, Suite 930
Austin, TX 78701
If you have questions, please contact Nadia Luna.
Thank you for your continued support of charter schools in the great state of Texas.
In the fall 2017, the Texas Charter Schools Association (TCSA) began a partnership with Proximity Learning, LLC. to help our member charter schools find innovative staffing and curriculum solutions.
Proximity Learning, a Texas-based, fully accredited K-12 online education solution, offers schools more flexibility when it comes to course offerings, special education (SPED) services and staffing needs. Districts across the nation are using Proximity Learning to meet their needs through a variety of delivery methods. Spring Branch ISD and Garland ISD have both found success with Proximity Learning's catalog of courses and virtual teachers.
Is your network growing?
Do you have a difficult time recruiting and retaining highly qualified staff for your students?
Are your families requesting more course offerings such as Mandarin, Latin or AP courses?
Proximity Learning may be the solution for you. TCSA is particularly excited about Proximity Learning's synchronous (live) system for instruction: students receive instruction from live, highly-qualified and state certified teachers streamed straight into the classroom via a webcam. Teachers can be part-time or full-time, giving administrators the flexibility of choosing only the classes they need. Utilizing the live teacher option, Proximity Learning works one-on-one with each school to fully align with their bell schedule, parent teacher conferences, grading expectations and curriculum adoption – your normal operations won't be interrupted. Additionally, Proximity Learning can take the curriculum from a district for any subject and develop and teach the course virtually using a state accredited instructor.
Is your SPED program understaffed? Proximity Learning can meet your SPED needs. We know that finding long-term SPED-certified staff is especially difficult. Proximity Learning's full suite of special education services includes assessment, direct instruction, indirect instruction and administration to alleviate the burden on schools.
In addition to live instruction, Proximity Learning has a suite of self-paced online courses for 6th-12th grade students, including AP courses.
Proximity Learning's suite of services includes:
Live Teachers (synchronous)
Online, self-paced course (asynchronous)
Live Tutors
Full course catalog for grades 6-12, including AP courses
Full suite of SPED Services, including assessment, instruction and administration
If you anticipate semester- or year-long teacher vacancies, want to expand course offerings or need to bulk up your SPED support, Proximity Learning should be considered as a viable and innovative solution for your school.
Contact Erin Tholen or Zach Harris to learn more.