On Wednesday, September 11th, charter school parents, students, and educators, primarily African-American and Hispanic/Latino, took a "shot across the bow" to the Democratic Presidential candidates who were participating in the Democratic Presidential Debate held on the campus of TSU in Houston. The rally, organized by African-American and Hispanic/Latino charter school leaders from across the country, engaged over 500 parents, students, parents, school leaders and board members in an hour of speeches, chants and student performances.
The program was emceed by Margaret Rodriguez, Superintendent Sanchez Charter School and Luly Castillo – YES Prep board member/alumni and parent! The rally was co-organized by Dr. Howard Fuller, Roland Martin, and Dr. Steve Perry. The inspirational talks, performances and general excitement from everyone will be remembered for a long time.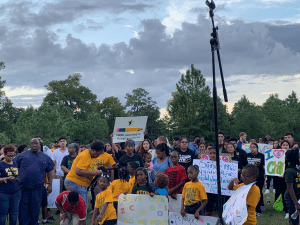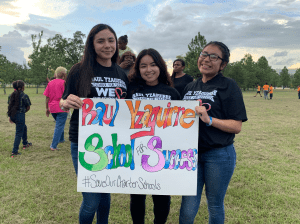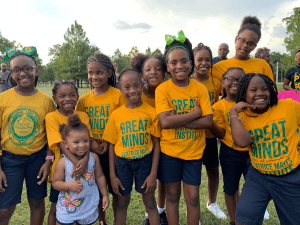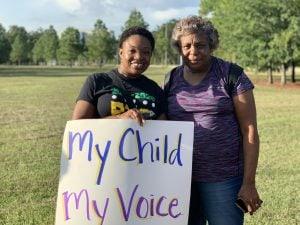 Thanks to the Rhodes School for the Drum Line, Beatrice Mayes Institute, for the Cheerleaders and the Southside Dazzling Giants dance group from YES Prep. Other program speakers included; Victor Garcia – a Senior from Harmony Schools, Tereasa Doss- Parent from the Beatrice Mayes Institute; Tristan Jones - a teacher at KIPP Houston (and TALI alumni), and Lauren Philpott, 7th grader at Rhoades School.
Check out the Rally here. 
Other stories and blogs about the rally can be found at https://www.saveourcharterschools.com/
 Leaders of the Coalition for Charter Schools participated in a demonstration the next day prior to the Presidential Debate held at TSU. You can read more about that here.
Hundreds of Texans attended the school choice rally on the front steps of the Texas State Capitol on Wednesday, January 23. The event was a chance for parents, educators and students to voice their support for educational opportunity in the state. The rally coincided with National School Choice Week. Some of the notables attending the event include Texas State Senators Larry Taylor, Paul Bettencourt and Donna Campbell with TX Land Commissioner George P. Bush, Assistant U.S. Education Secretary Frank Brogan and U.S. Senator Ted Cruz speaking to attendees.
Below are remarks made from TCSA's CEO, Starlee Coleman, at the rally:
"Good morning. I am Starlee Coleman, the CEO of the Texas Charter Schools Association, and we are thrilled to have more than 500 public charter school students and parents from across Texas here today.
On Monday we celebrated Civil Rights leader Martin Luther King—and that was a fitting way to kick off School Choice Week. More than 60 years after Brown v. Board of Education we are still failing to ensure that all students regardless of background have access to a great public school.
Civil Rights leader Rosa Parks once said: "I would like to be known as a person who is concerned about freedom and equality and justice and prosperity for all people."
School choice is a vehicle to deliver freedom, equality, justice and prosperity to all children and there is no greater cause that we can set our sights on.
Thank you for being here and standing with us in the effort to ensure every child in Texas has the freedom and equality to access an excellent public school."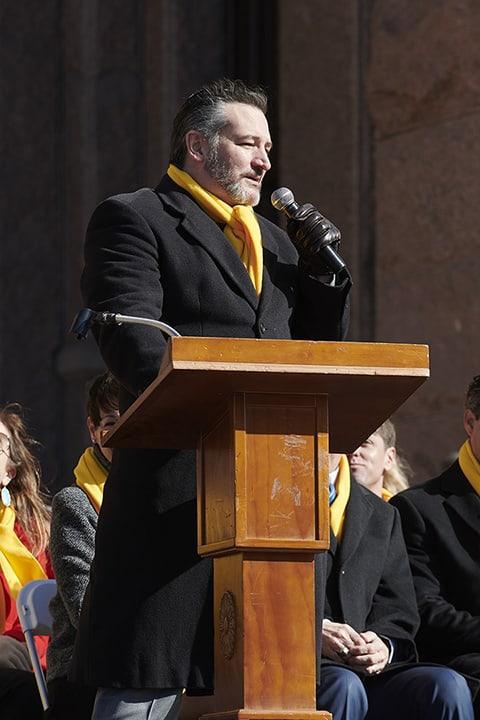 The new Texas Charter Revolution website (www.txcharterrevolution.org) launches as students head back to school, and families get into the swing of homework, sports, and all the other activities that gear up in a new academic year. For Texans impacted by Hurricane Harvey, we hope soon the schools in the affected areas will reopen and help lend a sense of normalcy and progress after the devastating storm. We should all begin a new school year with a sense of hope and optimism. It's the right time to create good study habits, make new friends, and get the year off to the best start possible.
We feel the same way about our new website. It has all the tools and resources that will empower you to help public charter schools. The site tells the stories of parents, teachers, and students that all share a love for their charters and who all want to ensure every student has the chance to attend a great public school. The website has plenty of videos, and blog posts written by people like you. If you're reading this blog its likely because you're already a member of the Charter Revolution. It's possible you've contacted your state elected official, or participated in a rally at the Capitol in Austin. Maybe you've hosted local officials on your campus, or visited a lawmaker in their district office.
There are many ways to get involved and support your public charter school, and becoming part of our digital family is one of the easiest ways. What's great about our new website isn't just the content you find there, but how simple it is to stay informed and how easy it is to take action when we need your help. Members of our grassroots army have sent more than 20,000 messages to elected officials during the recent legislative sessions in Austin. Many took action because of a post they read on Facebook, or a tweet they received from their school. You may have received an email asking you to contact state lawmakers. As a result of recent grassroots efforts, the Texas Legislature passed a bill providing facilities funding for public charter schools for the first time ever. While we're thrilled at this victory, our work is not done. We are just getting started.
This new school year you'll be able to receive text messages about important advocacy efforts, and you'll be able to respond right from your smart phone or tablet. In addition to quickly sending an email to your lawmakers, you will also be able to share your message on their Facebook page and in their Twitter feed. These are important social media tools lawmakers use to stay in touch with their constituents, and now we will be able to reach them on these platforms. And when it's really important, we will be able to route your phone call directly to their office.
So, are you in?
Please take a few minutes to visit our new website, and make sure you are a part of the Texas Charter Revolution by texting "countmein" to 52886. Have a great start to the year, and we look forward to working with you to make it even better.
We are approaching the end of another full and exciting school year for public charter schools and our movement. Reflecting on the year's successes and challenges helps measure our progress as a sector.  Here are some highlights from the 2016-17 school year.
Fall 2016
One indication of our success as a sector is our student enrollment growth. More Texas families want options within public education as demonstrated by the nearly 250,000 students at 629 campuses across the state. In fact, our sector's trend is a 13 percent increase annually over the last five years and we fully expect this growth to continue. As this school year concludes, the Texas Education Agency (TEA) is gathering final counts and we're anxious to see the release of 2016-17 charter school data later this summer.
Part of our growth includes Compass Rose Academy in San Antonio and Goodwater Montessori Public Charter School in Georgetown, which will begin instruction in August 2017. Congratulations to these charters!
In early October, we had our most well attended Texas Charter Schools Conference ever. More than 1,600 participants from public charter schools across the state gathered together in Austin for training sessions and the opportunity to share best practices. We also had top notch speakers including Governor Greg Abbott, Dr. Steve Perry, and Andre Agassi.
Charter operators, teachers, and staff went back to their campuses after the conference and continued to provide students with an innovative public education, and the following month, the Texas Education Agency released the final 2016 academic accountability ratings.
We learned that Texas public charter schools continue to serve higher proportions of students who are economically disadvantaged, African American, and/or Hispanic. These students outperform their peers at school districts in reading. Further, English language learners at charter schools outperform their school district peers in every subject!
One clear example of producing great outcomes is Rise Academy. This charter was chosen last November as one of only two schools in the entire state to be recognized with the prestigious National Title 1 Distinguished School Award. We thank all of our charters for their hard work in making sure that students learn and achieve great outcomes. We know that you strive for excellence.
Another success for our movement includes Barbara Gervin-Hawkins' victory in the November general election. She is the first charter operator in the Texas House of Representatives, serving District 120 and charter school students across the state.
Winter/Spring 2017
Following a well-earned break, charter school students, teachers, and staff returned to campus in January and the state's 85th Legislative Session also began. Also in January, the TEA released preliminary A-F ratings for all schools.
Shortly thereafter, the newly elected president appointed charter supporter, Secretary Betsy DeVos, to the U.S. Department of Education and included a request for a $168 million increase for charter schools in his 2018 budget.
The Charter Schools Program Grants allow for new and expanded charters across the country. We are excited for the Texas CMOs who applied for the Charter Schools Program Grants for Replication and Expansion of High-Quality Charter Schools and look forward to the Department's announcement of new awardees. Texas charters, we're rooting for you!
While part of our team has been tied up at the Texas Capitol pushing for charter school priorities, we know that you have been working hard at your campus. We're thrilled you were able to take time in between STAAR tests and classes to attend the 2017 Texas Public Charter Schools Rally. Due to you, it was the largest rally we've hosted to date. Thank you for traveling and coming to the Capitol to advocate for your students and public charter schools!
Charters have been breaking new ground to increase outcomes for students, including developing new charter-district partnerships that share best practices. Recently, San Antonio ISD trustees approved a partnership that allows the John H. Wood Jr. charter school district to manage SAISD's alternative school for students with emotional or behavioral disorders. We hope to foster new partnerships like these moving forward to benefit students.
Another milestone for the charter school movement has been the application process for Generation 22 charters. The TEA conducted interviews for nine applicants last week, and we look forward to the announcement of the new Generation 22 charters later this summer!
We're also thrilled that another Texas charter network is receiving national recognition for their work in providing an excellent education to students. This month, Harmony Public Schools was announced as a finalist for the Broad Prize and we couldn't be more proud of this charter. Many of the TCSA team will be at the National Charter Schools Conference cheering for our Harmony brethren when the winner is announced in June.
It has been another great school year for public charter schools and we know how hard you have worked to provide students with a quality public education! This list of successes is by no means exhaustive and we know there are hundreds of examples of the incredible work happening at each and every one of your schools. As you are closing out the school year, we wish you a safe and happy summer break.
The Texas Charter Schools Association (TCSA) held its sixth 2017 Texas Public Charter Schools Rally earlier this week at the state capitol with public charter school students, parents, teachers, leaders, and advocates from campuses across the state.
Momentum continues to grow for public charter schools as the state Legislature approaches the last month of the 85th Session. Rally attendees were there to garner support for key priorities, especially facilities funding for public charter schools, and to meet with legislators on the importance of quality public charter schools.
The rally began with the Houston Gateway Academy marching band leading the charter school rally participants to the south steps of the Texas Capitol. The crowd was further energized by an exciting lineup of speakers including Governor Greg Abbott, Lt. Governor Dan Patrick, and Texas Land Commissioner George P. Bush.
"I will do all I can in this budget conference to get money for the first time into facility funding for charter schools," Patrick said. "We will not stop, session after session until we are victorious I'm getting facility funding that you deserve."
Additionally, rally participants heard from Larontay Chester, a high school senior at Inspired Vision Secondary in Dallas; Bardo Montelongo, a parent of a student attending Wayside Public Schools in Austin; and Derrick and Lindsay Bowman, who spoke about having their children on a waiting list to attend IDEA Public Schools at campuses in Austin.
Chester told the crowd, "I learned the state pays fourteen hundred dollars less for my education because I go to a charter school versus the school district in my zip code. Today, I'm here to ask the legislators--Senator Royce West and Representative Toni Rose—who represent my school, why do I get less because my family selected the right school for me?" 
Senator Donna Campbell, a charter school mother and author of SB 457, spoke about her bill which proposes to provide charter schools with facilities funding. Please Note: One day after the rally, SB 457 was passed out of the Texas Senate. TCSA thanks Lt. Governor Patrick and Senator Campbell for their efforts to shepherd this bill and provide charter schools with facilities funds. 
The crowd also heard from legislators from both chambers including Senator Don Huffines; Representative Dwayne Bohac, co-author of HB 2337, the House companion bill to SB 457; and Representative Jim Murphy, author of HB 467, which would increase charters' access to the Permanent School Bond Guarantee Bond Program, and HB 382/SJR 34 which would provide property tax relief to charters leasing their facilities. The last legislator to address the crowd was Representative Barbara Gervin-Hawkins, the first charter operator to be elected to the Texas House of Representatives.
There was a strong showing from public charter schools statewide including A+ Charter Academy; Anne Frank; Austin Achieve; East Austin College Prep; East Grand Prep; George Gervin Academy; Great Hearts; Harmony Public Schools' campuses in Austin, Dallas, Houston, San Antonio; Houston Gateway Academy; Horizon Montessori Public Schools; IDEA Public Schools' campuses in Austin, San Antonio, and the Rio Grande Valley; ILTexas; Inspired Vision Secondary; Legacy Preparatory; Lumin; KIPP Public Schools in Austin, Houston, San Antonio; Meridian; New Frontiers; NYOS (Not Your Ordinary School); Odyssey; Orenda Education; Priority; Southwest Schools; St. Anthony School & Community Center; Wayside Public Schools; and Yes Prep.
TCSA wants to thank everyone who participated in the rally for coming to advocate for students at public charter schools and all those on a waiting list to attend one! 
The day after the rally, SB 457 passed the Senate and now heads to the House, where similar bills have been heard in committee and are awaiting a vote.  This is great news, but our work is not done.
Click here to email your state representative right now and let them know public charter school children are not worth less. It's time to provide them with needed facilities funding.
Having been a very early member of Texas Charter Schools Association (TCSA), KIPP Houston Public Schools has seen its membership and voice grow over the years. I am thrilled our shared work empowers parents to have a voice as advocates at the state level. Everything from TCSA rallies to a deeper dive into Action Alerts through the Texas Charter Revolution empower parents of waitlisted and enrolled students to engage in the conversation for public school options for their children.
And every year we get better at this work together. Parents across Texas and my home city of Houston are reaching out together, meeting with their elected officials, and engaging in a conversation about supporting priorities for public charter schools like facilities funding.
Recently TCSA and KIPP Houston Public Schools have worked on a few high impact projects:
• Increasing the number of parents in Voter Voice for Action Alerts
• Involving parents in a letter writing campaign with their state legislators
• Training parents through Charter School 101
• Connecting the KIPP lottery to a Voter Voice Campaign for parents to share why they want educational options for their children
This last project is probably my favorite and in just one week, we have had more than 1,400 letters sent to Houston-area legislators about why parents are demanding public school options like KIPP for their children.
In a democracy, real action occurs when communities have voices. I am excited to partner with TCSA to ensure that our parents' voices are heard.
_____________________________________________________________________
How to Join or Renew with TCSA:
Step 1: Login to the Quality Member Portal
Applications will be completed in the Quality Member Portal. Once logged in, click the 'Membership' tab at the top. Please click here if you have forgotten your password.
Step 2: Complete the 2017 Online Membership Application.
Upon submission of the online application, an invoice will be automatically generated and sent directly to the accounting contact email listed on the application.
Step 3: Remit your Membership Dues to:
Texas Charter Schools Association (TCSA)
700 Lavaca Street, Suite 930
Austin, TX 78701
If you have questions, please contact Nadia Luna.
Thank you for your continued support of charter schools in the great state of Texas.
The upcoming 85th Texas Legislative Session will be our biggest challenge to date. Parents, teachers and board members are at the forefront of our advocacy efforts. It is critical to engage your lawmakers on an on-going basis. We are faced with difficult times in passing pro-charter legislation due to a variety of obstacles and competing interests. As Dr. Steve Perry said at the 2016 Texas Charter Schools Conference, "Grassroots equals defining the truth." We need your help engaging teachers, parents, and board members in defining the truth about public charter schools.
One of the largest hurdles we must overcome is the public perception of charter schools. "How dare you complain about something you can correct," Dr. Perry remarked during this week's opening conference session. Now more than ever, we need all of our advocates; school leaders, parents, teachers, and board members to advocate on behalf of public charter schools as passionate constituents at the forefront of this battle. We must demand equitable funding for all public schools.
Governor Abbott was the conference closing session keynote speaker and stated "Let's end the waiting list and fund charter schools with the resources needed." In order to do so, we need your help to get support from your elected officials to vote for and represent us at the Capitol. One hundred and fifty House Representatives and 31 Senators are waiting to hear from you and your families.
It is vital that you connect with lawmakers to share the successes occurring at your public charter schools. You are constituents of your lawmakers and it is imperative that they hear from YOU on why charter schools are necessary and important to your child and the public education system. Our livelihood depends on this!
The Texas Charter Schools Association offers a robust bilingual program to engage you, ranging from an advocacy toolkit for staff, training program materials for your school, online advocacy tools, and our Facebook page @TXCharterRevolution. Join us in this fight and take action today!
On January 29, 2016, I had the privilege of hosting more than 400 public charter school students from ten of our ResponsiveEd's campuses at the Texas State Capitol for the National School Choice Week Rally. Many of these students were visiting Austin and the Capitol for the first time, including some students who live in Austin. The School Choice Week Rally gave students an opportunity to show support for public school choice while their participation in the event allowed them to realize that school choice provides them with options in selecting the right school to meet their needs.  
After the rally, some of ResponsiveEd students met with legislators serving on either the House or Senate Education Committees. They heard first-hand how education policy is created and how these decisions affect more than five million students in Texas. 
One of the keynote speakers at the rally was David, a high-school student that attends our Premier High School of North Austin.  He discussed how he feels lucky that he has had a choice in education. Previously, he always felt like he was failing and falling behind in school. Finding and attending Premier High School of North Austin has given him an opportunity to gain control of his life, education, and look forward to his future. His great-grandmother flew to Texas from Arizona to see him speak before the audience. When he started high school three years ago, David never dreamed of speaking to thousands of supporters, and especially in front of legislators at the Capitol. He realized this was a big moment to share his story and hoped it would help other students to know there is hope and options for them. 
I love my job because of students like David. I want to make sure that every student, regardless of their circumstances, has access to a quality education and is provided with educational options. David had a choice; he could have easily dropped out of school, but instead made the choice to attend a public charter school and get his life back on track. Students like David give me a worthwhile reason to go to work each day.
See more photographs from the event by clicking here.
By Samantha Womack, TCSA Communications Specialist
About 1,500 charter leaders and innovators participated in the 2015 Texas Charter Schools Conference this week in San Antonio.
Hundreds were inspired and energized by opening keynote David Robinson, education advocate and Spurs center, during the opening session on Wednesday.
"Charters are where my heart is," Robinson said. "Leaders, thank you for bringing promise to our students."
See the tweets of audience members.
The Honorable Joe Straus, speaker of the Texas House of Representatives, also welcomed charter leaders and innovators to San Antonio.
"I appreciate all you do and want to continue to be your partner," Straus said.
Thursday was packed with a variety of educational sessions, from advocating for your school to the Texas Education Agency on the Performance Framework.
Closing out the conference, Texas Land Commissioner George P. Bush and TCSA Executive Director David Dunn participated in a charter school Q&A.
Bush explained how his role enables him to support public charter schools through the management of the Permanent School Fund assets. It's access to the PSF bond guarantee program that has saved charters millions of dollars and returned that money to the classroom.
We hope you will join us for the 2016 Texas Charter Schools Conference October 3-5 in Austin.
Update: Learn how to build grassroots advocates on your campus for your public charter school students at the 2015 Texas Charter Schools Conference on October 28-30. View workshops and session
Earlier this year, we asked you to share why you love your charter school. It's critical to share your stories so the community, elected officials and local leaders understand the importance of public charter schools in Texas. Our students and families deserve the right to choose the best fit public school for them. To get involved please join the Texas Charter Revolution.
In case you missed the responses, below are some of the highlights.
"Our students come from a diverse set of backgrounds. Seeing them grow and learn daily reminds me why I wanted to become an educator." - Educator at Harmony School of Science Austin
"I love my charter school because they are big on building lasting relationships and training life leaders....The teachers and staff genuinely care for the kids they teach, doing what it takes to help the [students]." - Parent, Advantage Academy, Waxahachie
They care about each student on a personal level, and each student and their parents, know it and see it on a daily basis. The entire staff is amazing and they take so much time out of their own lives....I feel like my child really matters!" - Parent, Vista Academy of Hickory Creek
"My public charter school actually cares about the students and helps them to succeed in their class work. The wow factor for us is the way students are treated with respect and are allowed to move forward with their studies on an individual basis." - Parent, Premier High School, New Braunfels
"Where do I start? My grandson attends this school and I am so grateful for all they have accomplished in him. He is nonverbal and they are so patient and kind in his instructions and because of their diligence, he is able to speak a few words now." - Guardian, Foundation School for Autism, San Antonio
"[My school] is caring, respectful and mindful of kids, not only their education but their feelings too. They know they are dealing with the future and give these kids the right steps to be great leaders and mindful adults." - Parent, International Leadership Texas, Garland
"I love my public charter school because I have students that actually want to learn and they have a choice to go any where. The thing my school does that wows me is that we make sure every child is learning and getting the support that they need." - Educator, Houston Gateway Academy
"I love my public charter because they are big on building lasting relationships and training life leaders. Life's love for us WOWS me and helps me understand what "Life" is all about. My public charter school ROCKS! There is no other place like it!" - Educator, Life School Oak Cliff
And a letter from Abigail, a 9th Grader at Houston Gateway Academy
My school, Houston Gateway Academy, is very great. I love that my school has a band and a few other activities. My school makes me want to be the best of the best. It encourages me to never give up and accomplish my many goals.
I love the education I receive. The teachers really care about grades and are able to give us students one-on-one education when we need it. Our teachers know us so well, they can tell when we don't understand something or are struggling
My teachers are always pushing us to give everything our all.
My charter school makes me feel like I can be myself, and I'll always be understood.
I love my charter school. There's no other school I'd rather go to than Houston Gateway Academy.
Be sure to attend the 2015 Texas Charter Schools Conference, where the advocacy and grassroots track will give you the tools needed for strong advocates on your campus.