HB3 made significant changes to the regular transportation program funding rate that will allow districts to improve students' access to schools outside of their attendance zone without negatively impacting their transportation allotment.
Before HB3, the maximum effective rate per mile calculation and linear density rate provided a disincentive for districts to provide home to school and school to home transportation to students who attend specialized school models.
-Districts may have bused students to their zoned school and then had students ride additional transportation to a school outside their attendance zone; or
-Parents may have been required to provide all or part of the transportation by dropping off students at zoned schools or other centralized locations.
-Students without transportation would be closed off to specialized opportunities and school models. Students with transportation barriers now have equitable access to specialized school models.
-Specialized school models include: schools with specific academic models like dual language, Montessori, or single-gender schools, schools with specific themes or focuses like STEM or Fine Arts, and magnet schools/magnet programs within schools
Transportation Allotment:
The transportation allotment outlined in HB3 provides state funds to school districts for certain transportation of two types of eligible students:
Special-program students: students with disabilities who require specialized transportation to access their academic programs and other related services, and who meet the eligibility requirements given in statute.
Regular-program students: students who do not require specialized transportation to access their specialized programs.
School districts may receive transportation allotment funds for four categories of transportation services:
Regular route services
Special route services
Career and technical education (CTE) route services
Private route services
It is significant to note that costs for transportation are now funded equally between recapture and non-recapture districts.
In addition, HB3 formally expanded the definition of a "Regular Eligible Student" to include students who are facing homelessness according to the criteria found in United States Code, Title 42, §11434a.
Reporting Transportation Information:
In order to calculate the Formula Transition Grant, HB3 requires districts and charter schools calculate using both the linear density effective rate and the $1 per mile rate; however the 2019-2020 regular program transportation allotment will be calculated using the $1 per mile rate.
There are no changes to Foundation School Program transportation reporting due to HB3, and transportation allotment reporting remains on the same schedule for 2019-2020. Actual 2019-2020 transportation operations data is due to TEA by December 1, 2020.
If you have questions related to transportation funding implications under House Bill 3, please refer to the frequently asked questions on the House Bill 3 webpage or email HB3info@tea.texas.gov.
Thanks to everyone who attended our 2019 TCSA Conference!  We had a record crowd of over 1700 attendees and an extremely high level of engagement from our attendees, whether it was in attendance at breakout sessions, prowling the exhibit hall, or enjoying the 80's prom with the Spazmatics!                                    
While it's fresh on your mind, if you attended the conference, would you mind taking a few minutes to complete our conference survey?  We want to make next year's conference even better, so your feedback is extremely important.  Speaking of next year – we'll be back again at the JW Marriott San Antonio Hill Country Resort for TCSA Conference 2020 from September 30th – October 2nd, so save the date!
The 2019 conference app has been updated with additional presenter slides.  Even though the conference is over (and even if you didn't attend the conference), you can access the presenter slides and the information they contain.  If you haven't loaded the app or if you accidentally deleted it, you can find the download here.
Several new training webinars are available on our on-demand learning zone.  One new addition is Reporting Requirements for Educator Misconduct which details your responsibilities as a school leader when instances of potential educator misconduct arise.  Presented by TCSA Attorney Elizabeth Cross, this course discusses responsibilities for educators under TAC Chapter 153 and 249, and well as TEC Chapter 22 and HB 3.  In addition, an updated presentation on Proposed Changes to the Charter School Performance Framework will be presented as a webinar on November 7 and available in our on-demand portal on November 12th. 
Did you know that all of our on-demand course content is available free to TCSA member schools?  Whether you are a CEO/Superintendent, Principal, Board Member or CFO, you can find courses in our Training Zone that will help you meet your Commissioner's Credit training requirements.   Let me know how I can help you access the training content you need.
The Protexus (PX200ES) Cordless Electrostatic Sprayer along with EarthSafe's PURTABS Disinfecting and Sanitizing Tablets enable touchless disinfection and sanitizing programs that allow each worker to cover up to 80% more surface area per minute than traditional programs using wipes, buckets, spray bottles, mops or rags. The 360° wrap around capability of an electrostatically sprayed disinfectant or sanitizer allows even the most untrained worker to deliver expert results. Simply point the sprayer, pull the trigger, and let the charged droplets seek out and wrap around up to 3X more surface area, eliminating many of the neglected and hard to reach areas typically missed in traditional programs. This amazing capability allows for programs that do more with their existing staff than ever before and finally shift the focus from Infection Control to true Infection Prevention.
Designed as a system for use with EarthSafe's line of PURTABS effervescent disinfection and sanitizing tablets, the PX200ES sprayer allows for simplified and standardized programs that eliminate cross contamination issues and empower staff to disinfect and sanitize more thoroughly, effectively, and affordably than ever before; for results that dramatically exceed those of today's cleaning and infection control programs.
Cordless electrostatic spraying technology enables 360 degree touchless disinfection and sanitizing using the PURTABS Effervescent Disinfection and Sanitizing Tablets.

Cordless electrostatic spraying enables the PURTABS Disinfecting and Sanitizing Solutions to reach up to 80% more surface touch points per hour than traditional sprayers, wipes, mops, or rags.

PURTABS can be diluted for up to 10 different uses included killing C Diff in 4 minutes, to NSF D2 Certified no rinse/no wipe food contact surface safe sanitizing.

Multipurpose disinfecting and sanitizing system with up to 10+ uses when used with PURTABS effervescent disinfecting and sanitizing tablets
Each of us can probably remember a funny, quirky, even magical thing we believed in or feared as children. Children are very imaginative thinkers, and they will almost NEVER talk about these inner thoughts. For the most part, we grow out of these thoughts and become happy, healthy adults.
However, children who experience overwhelming fears related to a very real event aren't so lucky. Research shows that even one traumatic event has a lifelong impact on a child, down to their genetic level.
Alone with their Worries
Our childhood stories seem funny now, mostly because they are not grounded in reality. However, there are children in our community who worry about things that aren't so funny, and that they can't outgrow. For instance, when a child is trying to make sense of a parent's illness like cancer or Lyme disease. At these difficult times, kids and teens are alone with their inner thoughts and silent worries.
Without context, children may believe they can "catch" their parent's illness. They worry that mom's hair will never grow back. They think that the hard hug they gave dad caused his cancer. And, remarkably teens worry more than children and are less likely to ask questions directly to their parents.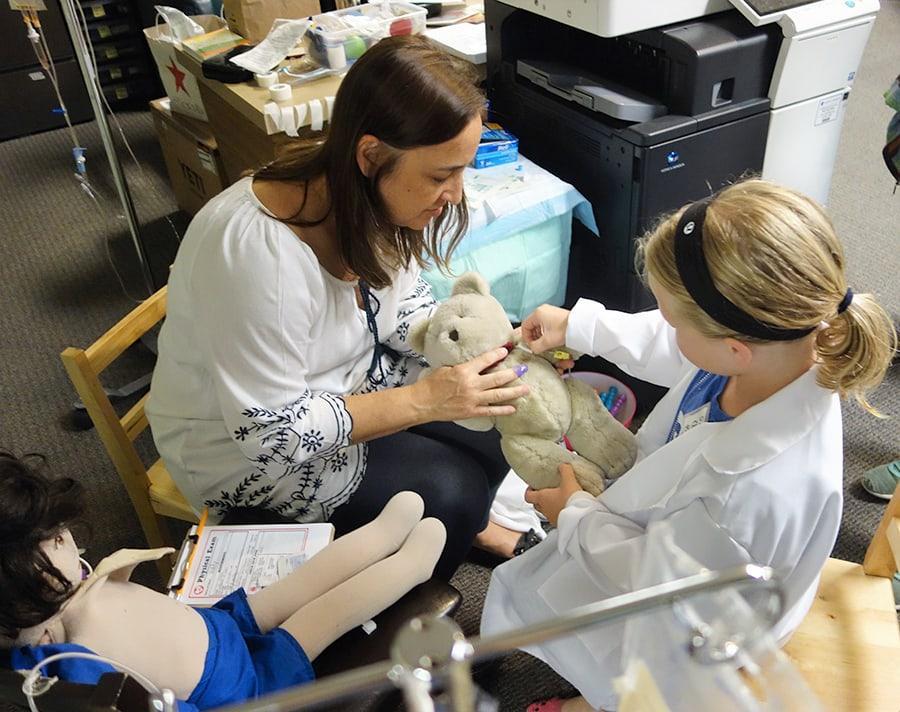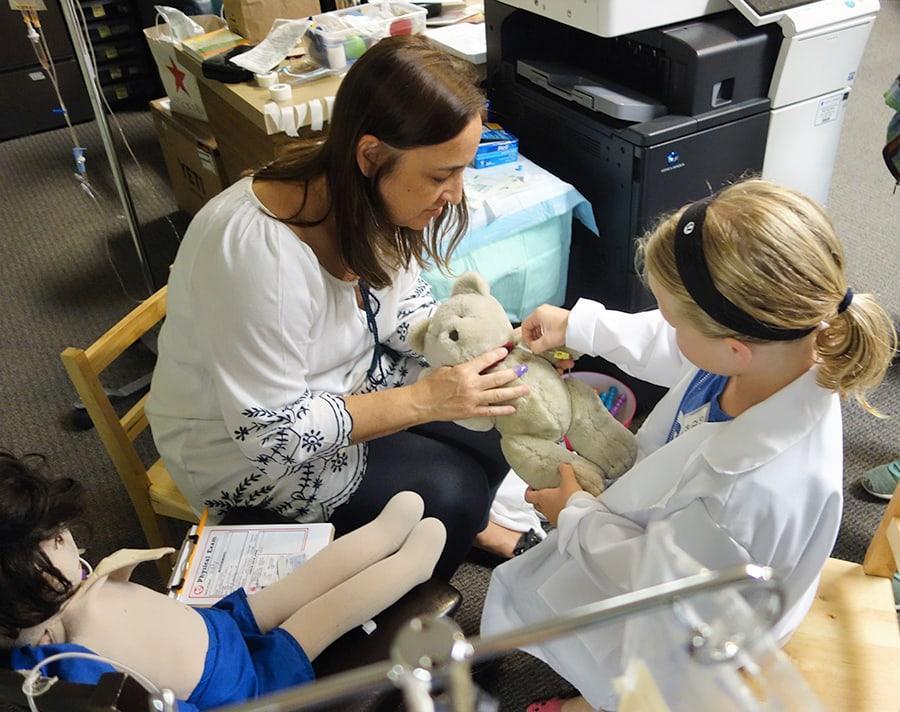 Family Code of Silence
Unfortunately, parents aren't much help. Even highly educated parents say they don't know what to say to their children, so they say nothing. Parents assume that if the children don't ask, then they are doing fine.
Children can sense when something is wrong. But our reluctance to get support for them creates a chilling code of silence in families, leaving children on their own to fret.
Children Suffer
There are over 5 million children in the US under the age of 18 living with a mom or dad who is fighting a serious or chronic disease. Without support, children may experience post-traumatic stress symptoms, feel unloved, withdraw socially and emotionally, and perform poorly in school.
Very little has been done to help these children…until now.
Hope for Families
Wonders & Worries is the first organization of its kind anywhere. Started in Austin, Texas, 17 years ago, Wonders & Worries provides professional mental health and coping support to children and teens to help them thrive despite a parent's serious illness.
Specifically, Wonders & Worries:
Provides one-on-one and group support to any child ages 2-18.
Teaches parents what to say to their child, and how to keep their family thriving throughout the illness.
Provides anticipatory grief support to families who will experience the death of a parent.
Offers all services at no cost to families in English and Spanish
Proven Results
Our program is evidence-based and has proven results. We have helped over 8,000 individuals and families in Central Texas. We have a 96% client satisfaction rating and ongoing evaluations.
Looking Ahead
However, we know that we are only getting to a small fraction of families who need our help. We are currently piloting a helpline and teen app to reach those who cannot travel to one of our five offices. We are also developing virtual reality, online educational videos and therapeutic kits to send to family and friends.
You Can Help
We need you to share information about our services, including the helpline. You can refer families or go to our website to learn more about resources available to help them get through a very difficult time.
Safety is a top priority for all schools and at every level of education. In light of recent tragedies around the nation and in Texas, public schools, including open-enrollment charter schools, are facing critical decisions on how to best protect and safeguard children. Among those safety options, includes considering whether to permit firearms on campus. For charter schools, those options include possible implementation of the Guardian Plan, the Marshall Plan, a school resource officer, or use of a private security firm.  Understanding the requirements, responsibilities and liabilities associated with these school safety options will be important to schools considering how to best protect their students.
Guardian and Marshall Plans
Under both the Guardian Plan and Marshall Plan the governing body of a charter school may authorize designated employees to carry firearms on school district property. The Marshall Plan is more structured, requires specific training for designated employees and limits school marshals to one per 200 students.
School Resource Officers
A School Resource Officer (SRO) is a peace officer assigned by the officer's employing jurisdiction (i.e. municipal police department, county sheriff, etc.) to provide a police presence, safety or drug education to students, or other similar services. To employ an SRO, the school must enter into a memorandum of understanding with another governmental entity to have the peace officer placed at the school on a full or part-time basis.
Private Security
If a charter school employs a private company, rather than its own employees to provide security, state law does not directly address whether the company's employees may be authorized to carry firearms. This arrangement will be guided by a contract between the school and the private company and should be reviewed by the school's attorney.
While state and federal law gives schools broad discretion to authorize the possession of firearms and other weapons on school premises, granting such authority brings a host of practical concerns, including safety and liability. Prior to permitting firearms on campus, schools should consider local environmental factors, including first responder response time, proximity to major thorough fares, history of violent incidents, etc. Other factors to consider include coordination with local law enforcement, community input, stakeholder input, confidentiality, and most importantly liability issues.
Civil Liability
Permitting firearms on campus exposes a school district to additional risks, including theft, accidents, or injuries to school personnel or students.  A public school that adopts a policy or practice that introduces risk, such as permitting firearms on campus, arguably may increase exposure to liability. School districts considering permitting firearms on campus should discuss the decision with their school attorney and insurance provider to gain a solid understanding of the possible federal, state, civil and criminal risks that are associated with this school safety option.
Of course, permitting firearms on campus is not the only school safety option or consideration. Schools may also consider installing additional doors and facility security devices, including alarms, panic buttons, self-locking doors, metal detectors and closed-circuit cameras. Each school community must decide what is best for their local environment based on factors such as school needs, size, location and costs. There is no one-size-fits-all solution.
When considering school safety options, school leaders are faced with a daunting task. Their decisions should be research based and informed by the needs of each community. There is no one-size-fits-all solution. If considering permitting firearms on campus, schools must weigh the added security benefits with increased risks and decide what is best for their community. A team approach that includes community stakeholders, legal representatives and risk management, will help schools reach the choice that is best for their community and circumstance.