Yesterday, we learned that Northside ISD has sent out a survey to parents that includes inaccurate and misleading information about public charter schools.
The survey asks questions about where parents plan to send their children to school. For any parent that indicates they are also considering a charter, they receive the questions below.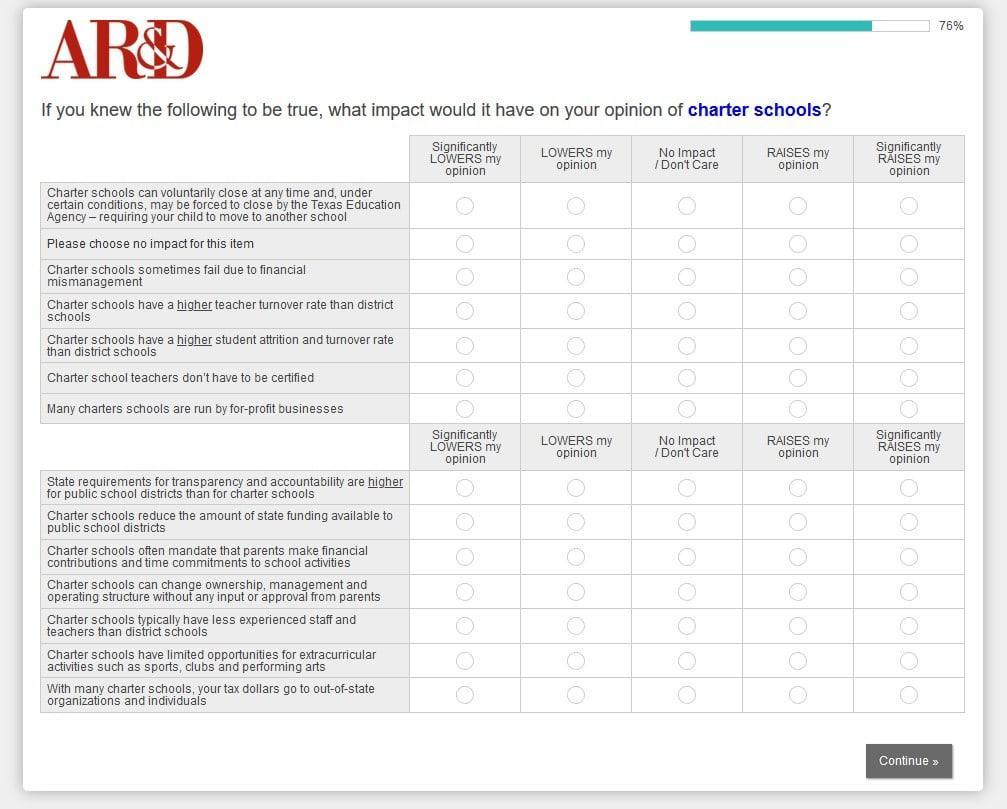 This is not an objective survey—it is biased propaganda. The questions, as posed, are partial, manipulative and misleading, at best. Many of them are blatantly false. For example, Texas bans for-profit charters and charter schools are subject to higher accountability, not lower.
Of course, there is absolutely nothing in these questions that talks about student outcomes. We know that Texas public charter schools send more students to college and that 2/3 of the top-rated districts in the state are charters even though we only educate 6 percent of students. These are just two reasons why so many families are choosing public charter schools.
TCSA is responding quickly to set the record straight. Yesterday, we launched a social media campaign in San Antonio to debunk these myths and we are working on other ways to get the truth out over the coming days.
In addition to making you aware of this survey, we wanted to request two actions:
Download and share our Truth About Texas Charters paper that addresses many of these myths. This page on our website also houses videos and shareable social media graphics to address the most common myths we hear. Feel free to share these!
We're with you and we've got your back. Please don't hesitate to reach out if there's anything more we can do to help.
The grassroots team is hard at work as the current school year comes to a close.  From direct parent training to hosting on-campus events to bringing elected officials to your schools, we want to support your advocacy needs!
Last week, Texas Charter Revolution wrapped up a series of 4 neutral candidate forums leading up to the important May 22nd runoff election.  These events brought TCSA member schools together with their families and community members to provide candidates the opportunity to meet with their constituents.  Check out video and photos of the Austin, San Antonio, and Dallas forums on the Texas Charter Revolution Facebook page.  In addition, a San Antonio mom talked about why these forums are so important to her and this Austin charter school board member and mom shared her perspective about what an event like this means to her family.
If you are not already, here are five EASY ways to stay engaged about our events and grassroots advocacy opportunities for you and your families across the state:
Text COUNTMEIN to 52886 and follow the easy instructions to receive future action alerts. Events in the legislative world happen quickly, and it's important that we can reach our supporters with up-to-the-minute alerts
Contact us smedlock@txcharterschools.org to set up a unique training opportunity, tailored just for your parents, staff, leadership, or alumni
Contact us mfernandez@txcharterschools.org to learn how to incorporate a no-cost TAKE ACTION campaign into your application and enrollment processes
RSVP for the May 22nd webinar by emailing kbritton@txcharterschools.org focused on grassroots advocacy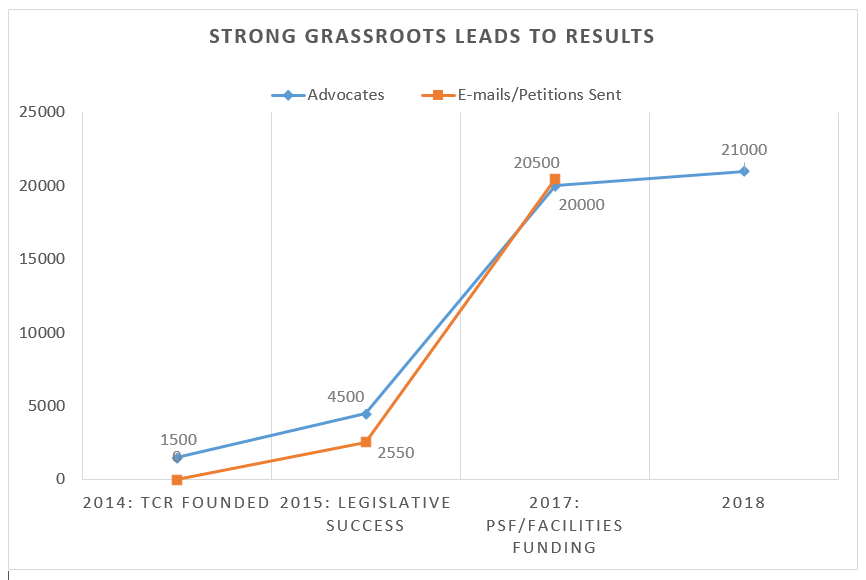 The Texas Charter Revolution has come a long way in the last four years.  Our supporters have stepped up in big ways to support historic legislative wins, but there is still much work to be done!
The next legislative session is a few short months away, and already public charter school issues are a hot topic of debate in and around the Texas Capitol.  It is imperative that elected officials – or those seeking elected office – hear from public charter school families.  NOW IS THE TIME to engage with our team so that we can give your school community all the tools that it needs to stay involved.
It is imperative that elected officials – or those seeking elected office – hear from public charter school families.  Be sure to read and share this important piece by Dr. Becky Goode, your elected advocacy chair, about the importance of participating in the May runoff election.
Even though we're now well into February, let me challenge you with one more New Year's resolution – raise your hand and repeat after me – "I will resolve to improve my messaging and communication skills!" Seriously, it's always a great time for you to think about how to identify and articulate what you want others to know about your school, and to understand what the most effective methods are for communicating your message.
Why is messaging important? For several reasons. First, clearly and coherently communicating your charter's mission benefits students, parents, and staff members by facilitating a school culture focused on common goals and beliefs concerning the most important pieces of your educational program. A strong, clear messaging of your school's mission helps to set expectations for students and staff that will help to make your program successful. Externally, precise messaging about your school helps your local community understand who you are, what makes you unique, and why your school merits support and recognition as a valid public school option.
Here are some thoughts on getting the messaging right:
Consider the content of your message. This is Communication 101. As a charter leader, you are the expert in regards to your school's mission, vision, and every piece of data about your school in terms of student achievement, enrollment, staffing, the facility – you name it, and you need to be ready and able to talk about your school anytime and all the time. But don't carry this burden alone. You can be sure that board members, staff members, and parents are always being asked questions about your school by curious community members and potential enrollees. Make sure that you spend the time to inform and engage your stakeholders internally so they can share an informed message externally.
Consider the medium for your message. I spend a lot of time on the road, and it drives me crazy to get a call and only understand about half of what is being said to me. Of course the person on the other end isn't trying to sound garbled, but the cell signal is so weak it makes them hard to understand. So even if their message is coherent, the transmission is poor and the conversation is fruitless. In the same way, it's a good idea to think about the medium for your message; that is, the way you are transmitting what you want others to hear.
For example, social media is an effective tool for your parents and supporters and those who know your story, but print media may be a better vehicle for those who don't know who you are. Local papers are always looking for things to print. Spotlight a program and call the education reporter. Have bullet points ready to emphasize what you would like covered. Ask the editor if you can write a column or article about your school. Better yet, ask the paper if you can do this on a monthly basis. Not only are you controlling the message, but you are taking advantage of a free resource that is viewed by thousands of people. Getting your story in print gives your message credibility and longevity.
Consider the audience who hears your message. Your communication needs to be tailored to who you are seeking to reach. The message you share with the parent interested in your school may not be the same message you share with your state representative when you are asking his or her support in increasing charter school funding. Know your charter facts and tailor your message to your audience. Always be prepared to identify those programs, teachers, activities, and students that need to be put in the spotlight. Be ready in an instant to share the great things going on at your school with whoever is asking. If you are confronted with negative press or "alternative facts," don't avoid those assertions or try to spin them. Refute inaccurate data with the facts. Always remember that as a charter leader you are the number one advocate for your school.
Many of us have been prompted (usually by our significant other) with the phrase "I don't want you to just hear me, I want you to listen to what I'm saying!" That's a good reminder for all of us in the charter business. You know that as a charter leader and advocate you are providing a great public school option for Texas students. If we want our stakeholders to really listen to our message and believe it, we need to make sure our content is correct, our medium is effective, and tailored to our audience. Take time to get the message right!
The upcoming 85th Texas Legislative Session will be our biggest challenge to date. Parents, teachers and board members are at the forefront of our advocacy efforts. It is critical to engage your lawmakers on an on-going basis. We are faced with difficult times in passing pro-charter legislation due to a variety of obstacles and competing interests. As Dr. Steve Perry said at the 2016 Texas Charter Schools Conference, "Grassroots equals defining the truth." We need your help engaging teachers, parents, and board members in defining the truth about public charter schools.
One of the largest hurdles we must overcome is the public perception of charter schools. "How dare you complain about something you can correct," Dr. Perry remarked during this week's opening conference session. Now more than ever, we need all of our advocates; school leaders, parents, teachers, and board members to advocate on behalf of public charter schools as passionate constituents at the forefront of this battle. We must demand equitable funding for all public schools.
Governor Abbott was the conference closing session keynote speaker and stated "Let's end the waiting list and fund charter schools with the resources needed." In order to do so, we need your help to get support from your elected officials to vote for and represent us at the Capitol. One hundred and fifty House Representatives and 31 Senators are waiting to hear from you and your families.
It is vital that you connect with lawmakers to share the successes occurring at your public charter schools. You are constituents of your lawmakers and it is imperative that they hear from YOU on why charter schools are necessary and important to your child and the public education system. Our livelihood depends on this!
The Texas Charter Schools Association offers a robust bilingual program to engage you, ranging from an advocacy toolkit for staff, training program materials for your school, online advocacy tools, and our Facebook page @TXCharterRevolution. Join us in this fight and take action today!
On May 6, 2016, Rapoport Academy held its Generation Texas Decision Day, a college signing event for high school seniors. The entire high school including teachers, staff, parents and all 161 students celebrated with the Class of 2016 seniors. Each of the 32 senior students applied and were admitted to one or more colleges or universities. This day was set aside for the students to commit to their final selection in postsecondary education.
Collectively the class earned more than 550 hours of college credit and were awarded more than $1,040,000 in scholarships and academic awards.
Rapoport seniors were accepted into the following colleges and universities: Baylor, Texas Tech University, Abilene Christian University, Southern Methodists University, Texas State University, Stephen F. Austin University, Tyler Junior College, Tarleton State, Sam Houston State, the University of North Texas, McLennan Community College, Lamar University, Texas State Technical College, University of Mary Hardin Baylor, and Rollins College (FL). Additionally seniors were accepted at the University of Texas campuses in Austin, Arlington, and Tyler. Students were also admitted to the Texas A&M University campuses at College Station, Commerce, Corpus, and Prairie View.
There was another reason for Rapoport Academy to mark the occasion: Paul Shattschneider was the first Early College High School (ECHS) dual graduate. Rapoport Academy has participated in the Early College High School Program since 2007 and has partnerships with Texas State Technical College and McLennan County Junior College.
As a freshman, Paul was determined to achieve this designation and diligently worked towards his goal. Paul is also McLennan County Junior College's first ECHS dual graduate and earned his Associates degree on May 10 and his high school diploma on May 28 from Rapoport. While Paul was accepted to several colleges and earned several scholarships, he decided to attend Rollins College in Winter Park, Florida with $240,000 in scholarships and awards.
Paul is the first dual graduate and many rising seniors are on track to earn this distinction in the next academic year.
TCSA congratulates Rapoport Academy, the Class of 2016 and their families for a job well done!
By Sandra Zamarripa
The first day of school at Sanchez Charter School in Houston, I walked to my seventh grade class and was mad at the fact that my mother made me move schools last minute. I had never heard of George I. Sanchez and was not happy about attending a small school but at the end of the day I did not care about school. I was always interested in playing sports, but I had never played. One of my seventh grade teachers encouraged me to join the basketball team and so I did. I was an average student who was okay with any grade as long as I passed the class. I grew closer and closer to my coach, teachers and staff members, and also high school mentors. Slowly I began caring about my grades and even thinking about college.
During my freshman year I also joined volleyball and soccer became my passion. I was focused in sports and getting good grades so that when I was a senior I had a good GPA. I was inducted into National Honor Society my sophomore year and I was very proud of myself. With the help of my coaches and teachers I became an athlete and a leader. My counselors began encouraging me to practice doing speeches and so I did. I was becoming a young professional. I was fortunate to be able to apply to Genesys Works, a program to become a young professional and get an internship. My senior year I was working at Aza Law, taking college credit courses, and applying to universities and scholarships. I soon got the news that I was accepted to Texas A&M University with my first year paid for. I was excited and nervous to start a new journey but I knew I would miss high school.
At first, I was mad about attending a small charter school but I do not regret attending Sanchez Charter School. With time I grew as a team player, leader, professional and as a person. The staff at Sanchez Charter School truly cares about the students and creates a support system for every student. Since it is a small school every teacher and staff member knows each and every student at Sanchez Charter School. They are willing to go out of their way to help the students with family and school problems. My teachers and counselors were always there for me to motivate and help me. I was given many opportunities and had many resources open to me. I honestly do not know where I would be if I hadn't attended Sanchez Charter School. Words cannot explain how thankful I am to every staff member at Sanchez and I would like to give back and make a difference in students' lives.
In recognition of the benefit charter schools provide to the students and communities of Texas, Governor Abbott proclaimed May 1-7, 2016, Charter Schools Week in Texas. Help us celebrate 20 years of operating charter schools in Texas by raising awareness of the great work at your school.  
Use TCSA's information, resources, and tools to spread awareness of this important week!
•Facts about Charter Schools 
•Information on Charter Schools 
•Get involved 
Make sure to like/follow TCSA on Facebook and Twitter. 
We want to connect with you to share how you're celebrating National Charter Schools Week. "Like" us on Facebook or "Follow" us on Twitter to show us what you're doing with the following hashtag: #charterschoolsweek. Send us pictures, stories and ideas by posting them on our wall and we will share them on our Facebook and Twitter accounts. You can also e-mail them to Christine Isett at cisett@txcharterschools.org.
Also be sure and check out our brochures available in both English and Spanish. This is a great tool to get parents involved in advocating on behalf of their child's charter school. 
We are so excited to recognize the important contributions charter schools make for students and communities during this special week.
Rio Grande Valley High School Students Help Each Other Get Accepted to College
Premier High School alumna Priscila Cantu is halfway through her freshman year at the University of Texas-Rio Grande Valley (UT-RGV). Getting into college was one of her high school goals, and while she was striving to reach it, she decided to help her classmates get into college too.
Through Premier High School of Palmview's Go-Center, a peer mentoring program where students are trained to help their peers apply for college, Priscila and several other students made sure that no one in her senior class fell through the cracks. Together, they helped their classmates complete college, the Free Application for Federal Student Aid (FAFSA®), and scholarship applications. Of the 43 students in her graduating class, all of them were accepted to a college. Currently, 30 of them are enrolled in college. In 2016, 60 students have been accepted to a college thanks to the support of their classmates.
"At times it was hard to give up my time because I also had to concentrate on school, but I learned to balance school and mentoring. It made me happy because I got to help some of my classmates prepare to go to college. Someday, I want to start my own business, and the program has helped me build my own communication skills and gain confidence," said Priscila.
College acceptance is a priority at ResponsiveEd's Premier High School of Palmview, but completing applications is a challenge when 95 percent of the students are English Language Learners (ELL) who struggle with the application process. As the first members of their families to apply to college, many of the students depend on the school for help to correctly fill out the paperwork.   
Eleazar Cantu, the school's College Readiness Specialist, knew he could not oversee each student with the detail they needed, so he looked for programs that could help his students pursue college. In 2009, his school was selected to receive help from college mentors through University of Texas Rio Grande Valley (UT-RGV).  In 2011, the school was once again selected to receive help from UT-RGV's new G-Force college counseling program.
As the teacher coordinating the program, Mr. Cantu decided to send six of his seniors to get trained in the college admissions process at UT-RGV and then bring them back to support the rest of the senior class. When the G-Force program ended, he was able to continue his own peer tutoring program called Palmview High School's Go-Center.
"Overseeing the school's college readiness program with the help of the College Start Program and G-Force helped me become more aware of how to encourage students to become more interested in college and college opportunities. Today I continue working with some of the methods that were used by these programs," said Mr. Cantu.
Sophomore Maria Garza, one of Mr. Cantu's mentors this year, wanted to be part of the program because she wanted to learn more about college.
"I've learned about scholarships, how to apply to college and the various classes that are available.  I now know how to access the system and how to apply for scholarships. Most of my classmates want to go to college, but they just don't know the steps," said Maria.
With checklists, the mentors hold their classmates accountable, making sure they have taken the PSAT, SAT and ACT. When the college admissions season starts, they keep each other on track filling out applications, submitting paper work, completing FAFSA applications and applying for scholarships. The students even look over tax statements to make sure everything is filled out correctly. By the end of the process, every graduating senior will be accepted to college, which is a district and high school expectation.
Senior Anahi Montelongo believes one of the benefits of the program is that students are more at ease asking their peers questions.
"I know how I felt when I didn't know anything about the college admissions process. As a mentor, I am better able to help other students. They open up more freely to classmates because they are too shy to ask a teacher. My advice is for them not to be afraid to ask questions even when they may think they are dumb. You don't want to make any mistakes," said Anahi.
Campus director, Selma Femat said the leadership of the college readiness specialist and the willingness of students to help each other is part of the school's family dynamic.
"Most of our students will be the first in their families to attend college. Therefore, there is a tremendous sense of the need to come together to help each other. All of the staff members help students when needed, but this program would not be possible without Mr. Cantu who is one of the most driven and self-motivated young men I know," said Ms. Femat.
The success of each student is confirmed in Premier High School of Palmview's performance. The school ranked in Texas' top 20 preforming alternative accountability charter schools in 2014-15.
The views and opinions expressed in guest blog posts are those of the authors and do not necessarily reflect the official policy or position of the Texas Charter Schools Association.
This Super Tuesday was my first time ever to vote. As a first-generation college graduate and first-generation citizen of this country, it is my duty to spread the importance of voting among eligible voters, particularly young voters. Becoming an American offered me the opportunity to have access to a great education and with my ability to vote I feel compelled to protect those opportunities for generations to come. Voting is a right and privilege we often take for granted or only exercise during presidential years. As representatives of public schools, we have a responsibility to register our students to vote (See code below) and to encourage them to be self-advocates.
Sec. 13.046. HIGH SCHOOL DEPUTY REGISTRARS.
(a) Each principal of a public or private high school or the principal's designee shall serve as a deputy registrar for the county in which the school is located.
(b) In this code, "high school deputy registrar" means a deputy registrar serving under this section.
(c) A high school deputy registrar may distribute registration application forms to and receive registration applications submitted to the deputy in person from students and employees of the school only.
(d) At least twice each school year, a high school deputy registrar shall distribute an officially prescribed registration application form to each student who is or will be 18 years of age or older during that year, subject to rules prescribed by the secretary of state.
On Tuesday, March 1, 2016, I had the opportunity to work with Amanda List of ResponsiveEd and the amazing school leaders at Premier High School, a drop out recovery school in South Austin. We registered students who had not previously registered to vote, totaling 22 new voters! We also helped answer students' questions on the electoral process and the importance of participating in local to presidential elections. As students walked into the classroom, their energy level could be described as lethargic but by the end of our brief program, students were excited by election discussions with their peers, receiving answers on the electoral process, and of course, receiving a sticker for registering to vote.
It is my life's mission to work tirelessly and relentlessly to advocate for all students to have access to quality public schools. I am also aware of how often those of us that work at the campus level forget to engage in our democratic process. Maybe some of us have lost faith in our electoral system, but now is not the time, and we are not in a space where we can afford to opt out of voting for elected officials and engaging with them on the legislative process. Education is a state's responsibility and voting is our responsibility. 
We must speak out for all public charter school students. To learn more, visit TCSA's Get Involved webpage.
The Fulbright Commission and U.S. Embassy in Uruguay recently selected Legacy Preparatory Charter Academy (Legacy) in the Dallas area to participate in the prestigious Visiting Uruguayan Educator Program.  Legacy was paired with a Fulbright Scholar from Uruguay for this distinct honor, and the program offers the host and the visiting educator an opportunity to share teaching strategies and best practices; compare school systems; discuss global issues, culture, curriculum development, and educational policy; and develop joint projects.  Approximately 300 educators applied for the program, but only 45 were selected for participation.  Two schools in Texas were chosen by the Fulbright Commission to partake in this program, including Legacy.
During the last two weeks, Legacy campuses in Mesquite and Plano have hosted Pablo Ferrari, who is currently a principal at the Jubilar Juan Pablo II High School in Montevideo, Uruguay.  He is participating in the Visiting Uruguayan Educator Program to learn innovative ideas from U.S. schools and utilize them to improve the educational programs and practices at his home school in Montevideo, which is currently on summer break. He has also shared the good practices that have worked with his students who come from some of the lowest poverty areas in Montevideo. 
Principal Ferrari's educational background includes a computer analyst degree from the University of the Republic, a bachelor's degree in education from the Catholic University of Uruguay, and a degree in secondary education mathematics from Instituto de Profesores Artigas.  Some of his professional experience includes teaching math to students from middle grades to the university level, as well as serving as a technical advisor at a state agency.  
Legacy prepared a full schedule for Principal Ferrari's time with rotations at Legacy's Mesquite West Elementary campus, Mesquite West Secondary campus, and the campus in Plano.  Principal Ferrari has been shadowing the district and campus leadership and discussing best practices during the times for observations.  His schedule has also included professional development opportunities, parent meetings, faculty meetings, visits to other public charter school campuses, as well as cultural events.  
Dr. Rebecca Good, the superintendent and CEO of Legacy, made sure that Principal Ferrari's schedule included activities exposing him to Texas including visits to the Reunion Tower, Perot Science Museum, Dallas Museum of Art, the Arboretum, an east Dallas community garden, a Dallas Maverick's basketball heartbreaker game lost in overtime, and a night time tour of downtown Dallas. The mayor of the city of Mesquite also attended a meet and greet event and brought Mr. Ferrari a gift bag from the city. 
TCSA congratulates Dr. Good and the Legacy team for their work with the Fulbright Commission and Principal Ferrari.