The Mentor Program Allotment (MPA) is a new, optional teacher mentorship program for districts. If districts choose to follow the best practices laid out in TEC §21.458, they may qualify for MPA funding. The MPA funding formula would provide selected districts with $1,800 per mentee, which can be used on: mentor stipends, scheduled release time, and mentor training. State funding is intended to reduce each district's cost for building and sustaining their own best practices in new teacher mentorship.
Interested districts will need to apply for MPA funds when applications are available in spring 2020 for the 2020-2021 school year.
In the application, districts will:
Describe how they will abide by the requirements of TEC §21.458 (including those around mentor selection/ assignment, mentor training, mentor roles/ responsibilities, and mentor program design/ delivery).
Priority points will be based on district size, rural status, and percentage of the district's student population that qualifies as economically disadvantaged. The point system will be communicated at a later date by the Texas Education Agency.
Districts interested in applying for the Mentor Program Allotment should refer to the timeline below:

Districts that are selected to participate in the MPA will submit an end-of-year compliance report and certify that they have spent their MPA funds on mentor stipends, release time, or mentor training.
If you have questions pertaining to the Mentor Program Allotment under HB 3, please email HB3info@tea.texas.gov or Michelle Aguilar from the Texas Charter Schools Association at miaguilar@txcharterschools.org.
December 5, 2019- The Texas Education Agency has announced the implementation of changes to RDA related activities (formerly known as the Performance-Based Monitoring Analysis System) for the 2019-2020 school year.
On December 9th, TEA released the 2019-2020 performance levels for districts for: bilingual education/ English as a second language, career/technical education, Every Student Succeeds Act (ESSA), and special education program areas through the Intervention, Stage, and Activity Manager (ISAM) application in the Texas Education Agency Login (TEAL).
Many of the requirements for program-specific intervention remain the same. The updated requirements are described in the RDA Interventions Guidance. In the charts below you will see intervention differences between special education and special populations.

Local Education Agencies (LEAs) with overall performance levels that require intervention in one or more program areas for 2019-2020 will participate in an improvement process to develop a district plan to address the areas of low program performance. Submission options will be determined locally, but may include:
Strategic Support Plan (SSP)
Targeted Improvement Plan (TIP)
Adding a required improvement language to a pre-existing planning document used within the Local Education Agency
Charter leaders should refer to ISAM RDA interventions guidance, the Interventions and Submissions chart, and/or the RDA Performance Framework.
For additional questions regarding performance or updated intervention requirements for the 2019-2020 school year, please contact the Division of Review and Support at reviewandsupport@tea.texas.gov or 512-463-9414.
The Texas Legislature has authorized $100 million for the 2019–2021 School Safety and Security Grant to help public school districts (including public charters) meet the new safety and security requirements under Senate Bill 11 (SB 11). SB 11 requires school districts to provide costly and time-consuming training to their employees, in addition to facilities upgrades such as security cameras, cell phone signal boosters or installation of land lines in classrooms, and doors that lock from the outside. The Texas Legislature is providing these grants to supplement the safety allotment schools are already receiving ($9/pupil), which for many districts is insufficient to cover upfront costs for necessary security upgrades.
TCSA encourages all charters to apply for this grant funding. To apply for a grant, visit the following Texas Education Agency (TEA) website: https://tea4avoswald.tea.state.tx.us/GrantOpportunities/forms/GrantProgramSearch.aspx and search for "2019–2021 School Safety and Security Grant" from the drop-down menu "Application Name." The grant application is due on January 22, 2020 at 5:00 p.m. School districts should use their existing safety and security allotment funding to cover unallowable costs in the 2019–2021 School Safety and Security Grant. These unallowable costs include the following:
Safety and security purchases made before January 1, 2020
Maintenance, repairs, or replacement (with equal specifications) of existing safety/security equipment
Training, unless a documented part of a larger security system or active shooter alarm system and only specific to the implementation of the system
Training required by other statutes or regulations
Active shooter training, unless a documented part of a larger active shooter alarm system and only specific to the implementation of the active shooter alarm system
Mental health activities or training
For more information on this grant, contact TEA via email grantsupport@tea.texas.gov. For more information on training and facilities requirements under Senate Bill 11, contact TCSA's Director of Policy and Research, Dr. Timothy Mattison, via email tmattison@txcharterschools.org or by phone (512) 584-8272 ext. 309.
TCSA has scheduled a conference call for school leaders to discuss the proposed rule changes to the Charter School Performance Framework.  The call is scheduled for Wednesday, December 11th at 1:00 p.m.  To make the best use of everyone's time, please email your CSPF questions, comments, or concerns to Dr. Timothy Mattison and Dr. Bruce Marchand by 5:00 p.m. on Monday December 9th.  This will give us a chance to consolidate similar concerns as well as research anything that needs further investigation prior to the call.   To join the call, dial 512-768-6006. You will be prompted to enter the conference number, which is 7005, and then the conference pin, which is also 7005.
The Proposed 2019 CSPF Manual documents the indicators and notes changes from past years.  You'll want to take time to familiarize yourself with the proposed changes prior to the call.  Briefly, the major changes from what was originally proposed are as follows: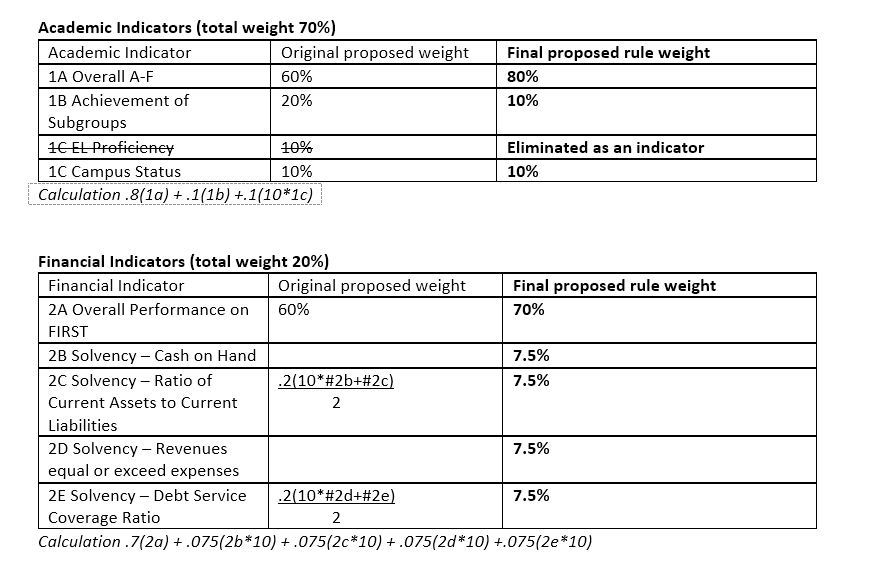 As a new requirement under HB 3, high school students will need to complete a post-secondary financial aid application in order to graduate. Beginning with students enrolled in 12th grade during the 2021-2022 school year, each student must complete a FAFSA or TASFA, or submit a signed opt-out form for post-secondary financial aid before graduation. By fall 2020, TEA will make resources available to support schools in implementing this requirement. More information may be found here.
The Early Childhood Data System (ECDS) is a new state reporting feature in the Texas Student Data System. Schools will report prekindergarten and kindergarten data (only if administering a commissioner-approved kindergarten assessment) at the district level. Under the new required data reporting, schools that provide Pre-K or kindergarten programs will need to report information about those programs starting this year.
All public schools, including open-enrollment charters, that administer a commissioner-approved kindergarten assessment are required to report data about school demographics, progress monitoring, and assessment data. If the school does not offer kindergarten, or does not administer a commissioner-approved assessment instrument, they are not required to report. Schools that use a non-approved kindergarten assessment should notify TEA of their choice and retain their data locally. 
All schools, including charter schools, that offer Pre-K programs are required to report data about those programs regardless of whether they administer an approved assessment. This data will include school demographics, teacher information, and other program information.
Kindergarten data is required by the end of January 2020, while Pre-K data is not required until June 2020. More information about the ECDS, including the specific required data elements and commissioner-approved assessments, can be found here.
Several significant changes to the rules surrounding growth and expansion as well as charter school application and waitlist requirements have come about as the result of legislation passed in the recent 86th legislative session.  TCSA has been working with TEA charter division staff to provide schools with the most up to date information to be presented in two important conference breakout sessions.  
On Tuesday, October 29th TEA charter division staff will present SB 668 - New Growth and Expansion Rules for Charter Schools (2:00 p.m. Grand RS).  SB 668 alters the existing charter school expansion rules and allows charter holders to provide written notice of a new open-enrollment charter school up to 18 months before the date on which the campus is anticipated to open. This session will provide an overview of these new requirements and what charters should plan to do going forward if they are considering expansion. In addition, the TEA charter division staff will discuss the upcoming CSP grant available to schools looking to expand. 
Immediately following at 3:15 in the same breakout room, TEA staff will present HB 2293 - The New Statewide Common Application and Waitlist Reporting Requirements for Charters.  Significant changes are ahead in the way that charter schools enroll students. HB 2293 mandates that when charter schools recruit students, they will be required to direct their families to fill out the common charter school application posted on TEA's website. In addition, charters will begin the process of submitting waitlist data to TEA. This session will provide a comprehensive overview of these major changes in the ways charters enroll students. 
Time will be provided in both sessions for participants to ask questions.  Come early – we expect these sessions to be full.  With that, we are making arrangements to videotape these sessions for inclusion in our training portal. 
Speaking of our training portal, did you know that all of our on-demand courses are now available free to TCSA member schools?  Now schools can have the convenience of high-quality, 24/7 on-demand training at no cost.  Do you need help in registering board members or staff or don't know what courses to register for?  Look for "Special Offer" icons next to many of the courses.  These will connect you to a course bundle that will allow you to register your board members and administrative staff for required courses with just a few clicks.  If you have any questions or are interested in live training to meet Commissioner Credit hour requirements, please reach out to Dr. Bruce Marchand, TCSA VP of Member Services.    
        One of the key changes to the weighted funding formula for schools under HB 3 is the formula used to calculate the bilingual education allotment (BEA), which provides funding to districts and charters for the education of students participating in one of the State's six English Learner/Limited English Proficiency (EL/LEP) program models.
 Under HB 3, some bilingual programs will receive an additional weight to the basic allotment that some programs will not. Transitional bilingual education programs (like early exit or late-exit) and English as a Second Language programs (like content-based or pull-out) will receive the same 0.1 weight that they received prior to the passage of HB 3. However, dual-language immersion (DLI) programs will receive an additional 0.05 weight, bringing their weight to 0.15. This weight also applies to non-LEP students participating in a dual language immersion two-way program. This increase in funding for DLI was recommended after data indicated that DLI programs are more effective than other language programs.
Additionally, under HB 3, the minimum spending requirement for BEA funds on the provision of bilingual or ESL programs has increased from 52% to 55%, and spending eligibility to meet this requirement has been expanded. TEA will likewise expand its selection of tools and resources to support bilingual education programs. The SBOE will adopt rules on creating an audit report regarding how BEA funds are spent. These rules will ensure that schools comply with the 55% minimum expenditure requirement and report in their annual financial audit.
The Texas Charter Schools Association will update schools on the SBOE rules when they are announced. For further information on the new bilingual education funding weights, click here or email me.
The Texas Education Agency recently announced the opening of two competitive grant opportunities for recruiting and preparing future teachers and principals. These two grants would allow certain open-enrollment charter schools to receive funding to make available specific teacher/ school leader support and pipeline programs. Recruiting, supporting, and retaining teachers and school leaders will allow for selected schools to provide the highest quality education to their students.
____________________________________________________________________________________
The 2020-2021 Principal Residency Grant Program will offer an opportunity for schools to build strong campus leaders and support pipelines through year-long, full-time principal residencies. Local education agencies who are selected to receive this grant will:
1. Identify potential principal candidates among current staff through a targeted recruitment and selection process.
2. Work in partnership with an effective educator preparation program (EPP) with concentrations in campus and instructional leadership.
3. Create, design, and implement a year-long, full-time residency in partnership with EPP that is focused on authentic, campus-based leadership experiences.
Qualifications and Basic Requirements for the Principal Residency Grant Program:
All local education agencies (LEAs) with at least one campus labeled "Targeted, Additional Targeted, or Comprehensive" per the 2019-2020 Title I Status and/or with at least one campus that received an "F" rating overall per the 2019 Accountability Ratings. Recorded webinar on the Principal Residency Grant Program will be available on September 30, 2019, via the Texas Education Agency website. Applications for the Principal Residency Grant Program are due November 12, 2019, by end of the business day.
_____________________________________________________________________________________
The 2020-2022 Grow Your Own Grant Program is designed to enable increased entry of qualified, diverse candidates into the teaching profession, especially in rural and small school settings. The program seeks to elevate public perception of the teaching profession through the development and facilitation of high-quality Education and Training courses at the high school level. The primary goal here is to address the challenges Texas faces in regards to recruiting and retaining teacher candidates. Applicants may select one or more pathways to achieve this goal. The pathways include:
1. Recruitment of future educators through Education and Training courses offered to high school students.
2. Recruitment and support of paraprofessionals, instructional aides, and long-term substitutes currently employed by the local education agency to transition into full-time teaching roles within the school.
3. Developing well-qualified teacher candidates through a year-long clinical teaching assignment or an intensive pre-service teacher program.
Qualifications and Requirements:
All local education agencies (LEAs) and educator preparation programs (EPPs). Recorded webinar on the Grow Your Own Grant Program will be available on September 30, 2019 via the Texas Education Agency website. Applications for the Grow Your Own Grant Program are due November 15, 2019 by end of business day.
_____________________________________________________________________________________
Contact Information:
For blog source information and inquiries regarding TEA Competitive Grants, we encourage you to visit the TEA Grant Opportunities Page. Further questions surrounding the 2020-2021 Principal Residency Grants should be emailed to Heather Salaz (principalresidency@tea.texas.gov) by October 7, 2019. Questions concerning the 2020-2022 Grow Your Own Grant Program should be emailed to Sheel Jagani (GYOgrant@tea.texas.gov) by October 11, 2019.
A change from House Bill 3 is the addition of a new section of code, Tex. Edu. Code 28.0062. This new code places new requirements on charter schools in the areas of Reading Academies and Certification of Practices to TEA. There is also a new testing requirement for teaching certificates for Pre-K through 6th-grade teachers. This requirement is not applicable to charters unless they require a Texas certification for their teachers. Additionally, the new certification requirement is not retroactive, it will only apply to people who obtain a certificate after January 2021.
Reading Academies
All teachers and administrators of kindergarten, first, second, or third-grade students will be required to attend a reading academy. TEA is in the process of creating guidelines and authorizing providers of this training. The list of authorized providers is expected by March of 2020 and trainings will begin in the summer of 2020. The training will be specialized for teachers and administrators and will be offered in two different manners. The comprehensive program is an in-person training and TEA expects the cost to be between $3000 and $6000 per person. The other option is a blended program that will combine in-person training with internet-based training. They expect this type of program to cost from $300 to $500 per person.
Certification to TEA
Each school will have to certify to TEA that they are
implementing a phonics curriculum in grades K-3;
prioritizing the placement of highly effective teachers in K-2; and
utilizing integrated reading instruments used to diagnose reading development and comprehension to support each student in pre-k-3.
TEA will have a survey for schools to complete in order to certify these three requirements.
Paying for these Requirements
TEA suggests allocating funds from a number of different sources in order to pay for the reading requirements imposed in HB3. They suggest using funds from the early education allotment, the dyslexia allotment, the basic allotment, the bilingual education allotment, and the compensatory education allotment. Additionally, if schools choose to provide a stipend to the teacher to cover the cost of the reading academy, they may count those stipends as part of the required 30% compensation increase.
TEA has provided a webinar on this topic, which can be viewed here. As always, TCSA is happy to assist your charter in complying with these requirements. If you have any questions, please feel free to contact TCSA.