Thinking about adding capacity or simply providing more space to your current students? Maybe you've been in those portables a bit longer than you anticipated? Perhaps it's time to move out of the old strip mall and into something newer and more modern? Is your landlord giving you the raw deal?
If any of these questions have crossed your mind, attend our Inaugural Texas Facilities Summit! Hosted in Austin in just a few short weeks, this convening will leverage experts from the various aspects related to facilities and financing to help our schools learn more about this constantly evolving space. Schools that acquired facilities ten or fifteen years ago now have many more options for competitive products while newly authorized charters are gaining more attention. While the charter market is slowing down significantly in other parts of the country, we still see a more positive charter environment here in the Lone Star State.
Learn more here in last newsletter's blog post. If you have questions, please contact Elliott Nguyen at Enguyen@txcharterschhools.org.
See you in four weeks!
At TCSA we are always looking for ways to add value to your membership and respond to training requests from members.  One topic that frequently arises is that of superintendent evaluation.  Most governance boards understand the importance of evaluating the school leader of their organization, but they aren't sure where to start.   We've created a free webinar airing Thursday, April 25th at 10:00 a.m. for our members, CEO/Superintendent Evaluations – Best Practices , that will address the following:
What are the state laws and regulations related to school leader evaluations?
How frequently should superintendents be evaluated?  
What metrics should boards use as part of the evaluation?  
How do 3, 5, or 7 people decide on what are a leader's areas of strength and what are areas where growth is needed?
How do you communicate the evaluation?  
What if we need to put the superintendent on a growth plan?
TCSA's Director of Training/COO Dr. Bruce Marchand will use his background and training as an ISD and charter school leader to answer these and other questions that boards (and superintendents) frequently ask.  Whether you are a board member, superintendent, or aspiring leader, please click on the link and plan to join the free webinar on Thursday, April 25th at 10:00 a.m. as we work through this important topic. 
In addition, we've created a new free on-demand course available now especially for school secretaries, receptionists, and anyone else in your school whose job is to work in the front office titled Customer Service Training for Front Office Staff .  Front office staff members (secretaries, receptionists, clerks) are the first people that students, parents, and other school guests often see - they are the face of your school.  Yet without proper training in customer service best practices, mistakes can be made that can cause small problems to grow into large ones and use valuable resources to correct. In the training participants will learn the following:
What is good and bad customer service
Who your customers are
How to conduct a customer service self-assessment to build trust
Understanding how the physical environment affects customer's perceptions
Verbal and non-verbal communication tips
Handling e-mail, phones, and letters
Dealing with difficult cases
Handling meetings
Speaking of great training opportunities, registration for the 2019 TCSA Annual Conference is now open!  Register now to take advantage of early registration rates. 
Do you have a training need or are you interested in live training at your school?  Let us know – we're here for you!
The Texas Charter Schools Association, in conjunction with the National Alliance for Public Charter Schools and Tennessee Charter School Center, is excited to announce the launch of the Charter School Facilities Summit. Taking place in Austin on June 4th, 2019, this convening shall provide objective information on the various aspects of growth and expansion, including, but not limited to:
Building Your Facilities Team
Understanding Facilities Financing (PSF, CDFIs, NMTC, long and short-term debt)
Construction Procurement and Delivery Methods
Real Estate Identification
Project Timelines and Costs
Leasing vs. Ownership
This convening is designed for Superintendents, CFOs, Board Members, and District Staff involved in growth and expansion. Whether you are a single-site organization or a large CMO, the charter school landscape is constantly evolving and growth is becoming both easier and more difficult at the same time. Come learn from industry experts in this daylong training for a low registration fee of $25.00. Registration is only open to schools and capped at 60 individuals.   
To register, visit the Learning Zone. For questions, please contact Elliott Nguyen at Enguyen@txcharterschools.org. Please note that this convening is taking place one day before TEA's Annual Summer Summit in Austin.
TCSA received helpful feedback from member schools earlier this year in regards to scheduling Member Council meetings. Many of our member schools indicated that traveling to Austin for a meeting was often challenging for school leaders with their busy schedules and the difficulty of being away from their organization for a day or two.
Based on that feedback, TCSA has scheduled webinars for Wednesday, May 8 and Wednesday, August 28. Participants will be able to participate via phone (like a conference call) but will also be able to view meeting content on their computer screen. We anticipate that these webinars will last 60 to 90 minutes.
Although the May 8 and August 28 Member Council meetings will be presented in this webinar format, the October 29 Member Council will be an in-person meeting held at the 2019 TCSA Conference in San Antonio.
Member Councils are a great way to get the latest updates on legislative action, TEA requirements, and other issues that impact the public charter school movement. Be sure to register now for one or both of our TCSA Member Council webinars!
We are excited about our new event format for our Regional Meetings! Join us for one of four TCSA Regional Meetings and Charter Supporter Receptions scheduled for this Spring in San Antonio (January 28-29), Houston (February 25-26), Austin (March 5-6), and Dallas (March 25-26). All of the locations will feature a Monday 5:30 p.m. -7:00 p.m. charter supporter reception and a Tuesday 9:00 a.m – 1:00 p.m. meeting.
The Monday receptions will give a chance for charter school leaders, local political officials, TCSA staff, community partners, and other charter supporters to mix and mingle and celebrate the public charter school movement. The Tuesday meetings will allow charter school leaders, charter supporters, and TCSA staff an opportunity to cover a wide range of topics including legislative updates, local successes and challenges, charter advocacy, legal updates, and the latest TEA initiatives. The meeting will include a panel discussion with local charter leaders. Lunch is provided at each location. Attendees will receive 120 minutes of 19 TAC Chapter 100 Commissioner's Credit.
So many important things are happening this spring in the legislature that will have a profound effect on the public charter school movement in Texas. Don't be left out of the discussion – sign up for one of TCSA's regional events today!
It's back to school after the holidays, and it's time to get back to training! Join TCSA this January for two webinars that we are providing free to TCSA member schools. On Thursday, January 24 from 10:00-11:00 a.m. join us for Creating and Submitting a Successful Expansion Amendment - 2019 Edition. Follow along as we walk you through the step-by-step process for submitting a successful expansion amendment to TEA. Implementing the guidelines presented will help you assemble and submit your documentation correctly the first time and get your amendment approved. 
On Thursday, January 31 at 10:00 a.m. TCSA will present Tips and Tricks on Using Your TAPR to Boost School Performance. You've looked at your Texas Academic Performance Report and have shared the information in the report to your board and your community.  But have you really studied it?  Join us as we reveal ways to look at your TAPR data with a fresh perspective that will help you and your board make better data-informed strategic decisions and improve the performance of your school.
Are the members of your school team — board members, CEOs, business officers, and campus administrators — up to date on your TEA-mandated training requirements? We can help with that! Whether you choose to access our 24/7 on-demand training portal or prefer live training, TCSA has the right solution for your training needs. We offer significant discounts for bulk purchases of courses – the more you buy the more you save. Contact TCSA Director of Training Bruce Marchand to schedule your on-demand or live training today!
Want to learn more about Blended Learning strategies? NOW is the time. Funding is available for the costs of blended learning training. This TEA initiative to fund professional development (PD) for teachers who are committed to learning and implementing blended learning strategies in their classrooms is available through July 2019. In addition, campus coaches, teacher aides and other staff interested in learning about blended learning are eligible for the PD and reimbursement.
UTeach at the University of Texas at Austin believes in the power of well-prepared teachers with effective instructional pedagogies, classroom management strategies, and technology that will spark student interest and support personalized learning. The UTeach Blended Learning series was born out of this conviction.
The UTeach Blended Learning Series consists of 4 facilitated online courses that are self-paced and designed to be completed in 3 months with approximately 2 to 2.5 hours of time commitment per week. Upon completion, teachers will have lesson plans, classroom management plans, and technology strategies to use in their classrooms. A new learning cohort begins the first week of each month until June 2019. The cost of the series is $1,000 per teacher and completion of the online courses are fully reimbursable and UTeach takes care of the reimbursement process. In addition, participants get a $750 stipend upon completion of the course series.  UTeach will provide the documentation to TEA, and TEA will reimburse the charter school. Each charter school needs to review their educator contracts and determine that the stipend is allowable. 
See the UTeach Blog on Medium for more information about the power of Blended Learning.
For questions about the UTeach Blended Learning professional development opportunity contact pdinfo@uteach.utexas.edu
At TCSA we're continuing our free Tuesday interactive live webinar series for CEOs, board members, and charter school officials. On Tuesday November 20 at noon we will present Basics for Founding Boards and New Board Members. This training will provide insight and guidance to charter governance board members in regards to duties and liabilities, non-delegable duties, nepotism, conflicts of interest, management companies, appropriate roles concerning internal and external audits, and the legal requirements specific to members of the governing body of a charter holder. Commissioner's Credit – 60 minutes Charter School Law.
Join us Tuesday November 27 at 10:00 am for Social Media Use – A School Leader's Legal Guide . Expert attorney John Janssen of Powell & Leon, L.L.P. will provide insight into issues involving the inappropriate use of social media and messaging services as well as some common-sense guidelines that schools should follow to avoid potential legal issues resulting from the use of such platforms. Commissioner's Credit – 60 minutes Charter School Law.
On Tuesday, December 4 at 10:00 am you won't want to miss Charter School Finance–2019. School finance expert Dr. Toni Templeton Montoya will provide insight and clarity into the basics of Texas charter school finance and the components of the FSP funding system including enrollment, attendance, weighted student formulas, facilities funding, transportation allotments, and more.  She'll also explain the per-pupil differences between ISD and charter funding and how those differences vary from school to school and across the state.  Dr. Templeton will help you have a clearer understanding of school finance so you can speak accurately and precisely with strategic partners, legislators, parents, and even charter school opponents. Commissioner's Credit – 60 minutes School Finance.
All of these webinars are FREE to TCSA members and each webinar offers 60 minutes of Commissioner's Credit in the categories noted. Do your board members need training? We would love to come to your school and train your board in person – contact Dr. Bruce Marchand for further details.
In addition, TCSA offers dozens of free and low-cost courses on our on-demand training portal to meet state training requirements mandated under TAC 19.100.1102-1105:
Members of the governing body of the charter holder (12 hours in the first year of service, 6 hours annually thereafter)
Members of the governing body of the charter school (12 hours in the first year of service, 6 hours annually thereafter)
Chief executive officers (30 hours in the first year of service, 15 hours annually thereafter)
Central administrative officers (30 hours in the first year of service, 15 hours annually thereafter)
Campus administrative officers (10 hours in the first year of service, 5 hours annually thereafter)
Business managers (30 hours in the first year of service, 15 hours annually thereafter)
Don't let your training requirements lapse – let TCSA be your source for the most up to date trainings for your board and charter staff!
Remember that Standard Registration Rates are good through October 22 before the more expensive on-site rate kicks in, so register today! We have planned over 120 breakout and large group sessions as well as a number of social events to help you collaborate, learn, and grow as a charter school leader
Conference breakout sessions and general assembly events provide CEOs, charter administrative staff, business officials, and board members an opportunity to meet training hour requirements as set forth by the Texas Education Agency. Charter governance board members can also earn six hours of credit in Friday's Board Workshop to help satisfy continuing education essentials for new and returning members.
There are also a number of exciting social events planned to help you grow your network of charter school colleagues. On Tuesday evening, the Charter Schools Now Reception, sponsored by the Charter Schools Now Political Action Committee, is an event for charter friends and legislators who are committed to protecting, growing and serving Texas charter schools. Lawmakers who will be supported by Charter Schools Now PAC are invited, so you can thank them in person for their support and help making quality public school options a reality for Texas families.
Immediately following Wednesday's General Session, join us for the Taste of Houston Welcome Reception. Start your TCSACon experience off right with delicious hors d'ourves, refreshing beverages and networking with friends and colleagues at the welcome reception. Meet new friends and get reacquainted with fellow TCSA members in the exhibit hall. Be sure to get your passport through Houston stamped at each food station for your chance to win amazing prizes, but you must be present to win!
On Thursday evening, join us for an Evening at the Ballpark at the home of The Houston Astros and 2017 World Series Champions – Minute Maid Park. This will be a fun-filled night with dinner and drinks, clubhouse tours, photo opportunities, DJ and more. Plus, appearances by your favorite mascot and shooting stars will make it an event to remember. We'll see you at the party! Finally, Friday will feature our annual Awards Luncheon where will we celebrate champions of the charter movement with a variety of awards plus enjoy special guest speakers including Lt. Gov. Dan Patrick and David Osborne, American Author.
Come join us as we meet to learn, grow, collaborate, and celebrate Texas charter schools.
See you at the conference!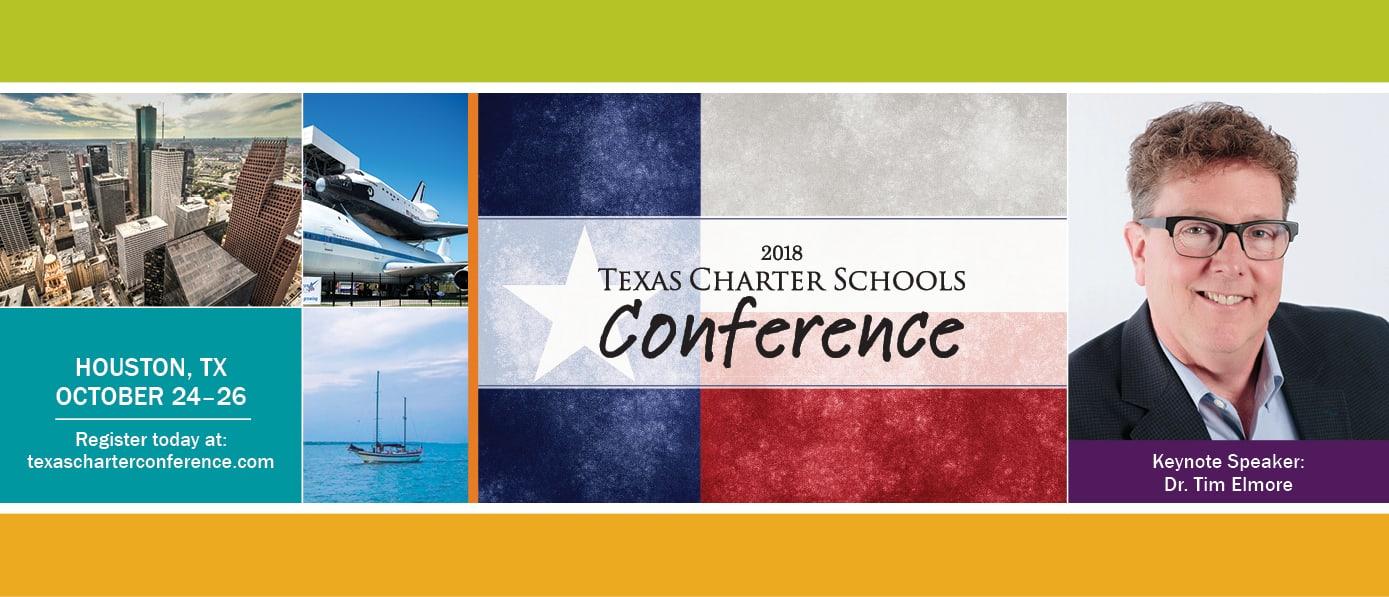 As a charter leader, there are lots of dates and deadlines you need to remember. One very important date is December 1, the day your Annual Governance Reporting Forms are due to TEA. The Annual Governance Form documents that charter governance board members and other charter staff have met the training requirements mandated under TAC 19.100.1102-1105.
Who must be trained and what are the training requirements?
Members of the governing body of the charter holder
(12 hours in the first year of service, 6 hours annually thereafter)
Members of the governing body of the charter school
(12 hours in the first year of service, 6 hours annually thereafter)
Chief executive officers
(30 hours in the first year of service, 15 hours annually thereafter)
Central administrative officers
(30 hours in the first year of service, 15 hours annually thereafter)
Campus administrative officers
(10 hours in the first year of service, 5 hours annually thereafter)
Business managers
(30 hours in the first year of service, 15 hours annually thereafter)
When must training occur?
Officials at new charters must complete the required training within a year. The signing of the charter contract marks the beginning date for that year. New officials at existing charters must also complete the required training. They have one calendar year from taking office to complete the training. In addition, new governance board members must complete Open Meetings and Public Records training within the first 90 days of service.
What does the training consist of?
There are very specific content requirements related to who is being trained. Content categories include charter school finance, financial accountability, academic accountability, health and safety, charter school law, open meetings, and public records.  
How can I access training?
Your Texas Charter Schools Association, a TEA Authorized Training Provider, is the best solution for the most up to date, accurate, and relevant training. In addition to the various types of training hours that you can earn at the Texas Charter Schools Conference (including the 6-hour update board training opportunity on October 26), we can travel to your school and conduct "live" training with your board and administrators as well as offer training through our on-demand training portal. Contact TCSA Training Director Bruce Marchand today to schedule discounted training for your school and to find out about all of the professional development opportunities to keep your school in compliance with TEA training requirements!