TPCSA works hard to connect competitively-priced solution providers with the needs of our member schools. If you are a TPCSA Solution Provider or TPCSA member school with a positive story to share, let us know! Click to contact us and learn more about TPCSA membership opportunities.
R-Zero is a biosafety company dedicated to making safer everyday spaces and common places -- including schools. Here's a window into their work:
Lowering Coronavirus Risk with UV-C Disinfection
Educators and school leaders have confronted multiple challenges during this pandemic with perseverance and ingenuity that continues to inspire. But the SARS-CoV-2 virus is relentless, and challenges persist. With new school outbreaks reported daily and the arrival of flu season well on its way, education leaders are facing increased pressure to implement effective safety and disinfection protocols, fast.
While the mandate to make classrooms and school facilities safer is clear, school district leaders face tough decisions on developing and implementing the right plan to combat COVID-19. So, what is the best approach?
Schools Turning to UV-C Disinfection
In addition to adhering to CDC recommendations, school leaders are looking to the healthcare industry for disinfection best practices. The key lessons learned from the hospital experience is that manual disinfection is not enough, and UV-C provides an added layer of critical air and surface protection that chemicals and wipes can miss. For decades, hospitals have relied on UV-C technology to strengthen disinfection protocols and reduce the spread of disease.
What is UV-C?
UV-C is a specific form of ultraviolet light that destroys or inactivates bacteria and viruses by disrupting the molecular bonds of their DNA and RNA. UV-C light has been used for over 100 years and is proven to be one of the most effective ways to kill bacteria, viruses and molds on surfaces and in the air. Hospitals have some of the highest disinfection standards in the world, and UV-C has been a critical part of their multi-modal approach to reducing Hospital Acquired Infections for decades.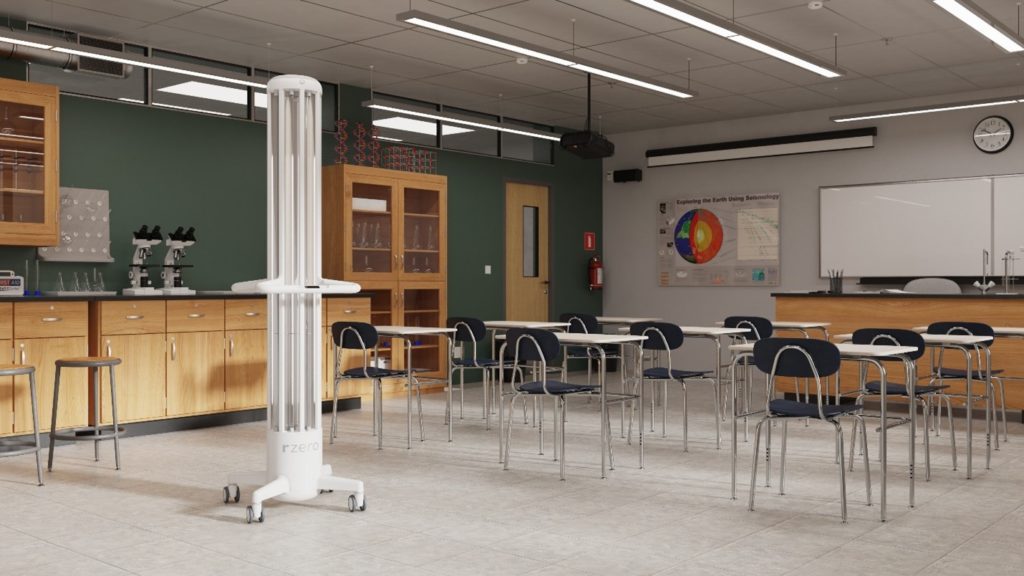 Meet R-Zero Arc: Designed for Hospitals, Innovated for Schools
Arc is the first hospital-grade UV-C disinfection system designed for dynamic education environments. It's the most powerful, human-centric and adaptable UV-C device on the market.
With Arc, school leaders can:
Destroy 99.99% of Viruses in Minutes

R-Zero Arc was designed to be easy to use by any operator, in every space on campus, destroying over 99.99% of pathogens in a 1,000 ft room in just 7 minutes.
Make a Historically Invisible Process, Visible

Embedded software allows school leadership to see who ran Arc, where they ran it, and when they ran it. Usage and compliance can be tracked via a personalized dashboard.
Deliver Powerful Disinfection that is Non-toxic and Eco-friendly

UV-C is a chemical-free disinfection solution. Arc is safe to use around food, plants, furniture and electronics and humans can immediately re-enter a treated room.
Arc delivers critical infection prevention capabilities schools need to provide safer environments. R-Zero is on a mission to not only help schools reopen safely today, but reduce sick days, long term. We offer both purchase and lease options, and Arc is also an eligible "disinfection equipment and services" expense under the CARES Act.
If you or someone in your community is seeking the leading information on infection prevention for schools, or may benefit from learning more about how R-Zero can help, please contact sales@rzerosystems.com.