The Texas Charter Schools Association requested your help to increase charter school funding and protect charters from more red tape and anti-charter regulations. 
On Tuesday, 2/5, charter school CEOs, superintendents, campus leaders, charter board members and teachers were joined by the TCSA Board of Directors and leadership team in Austin for an orientation and reception, followed up by dinner at the Brick Oven.
On Wednesday, 2/6, TCSA Lobby Day was held at the Texas State Capitol. Attendees helped to advance policies supporting charter schools and inform state policymakers about the issues affecting their schools.
With a new Speaker of the Texas House, 34 new members of the House and Senate, and an increasing urgency around school finance reform, the voices of charter school senior leaders and board members are more important than ever. Thank you to all you who lent theirs on these very important days for Texas public charter schools.
Below are some images from the orientation and reception.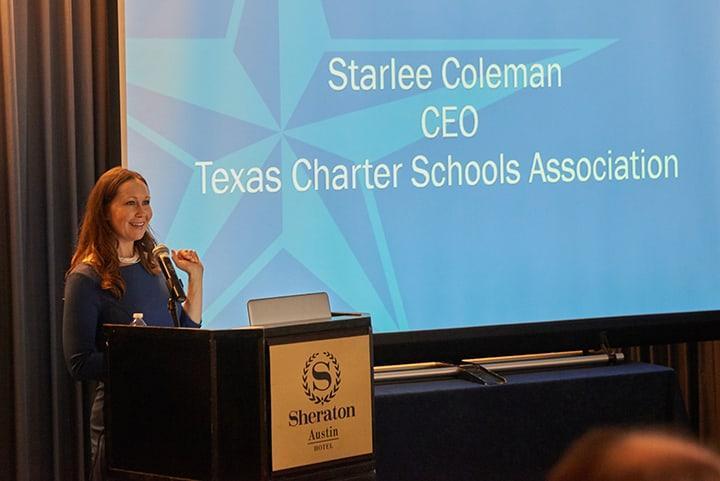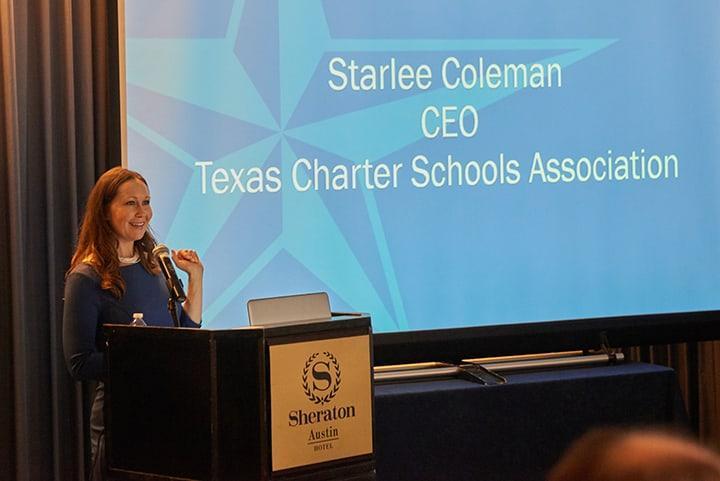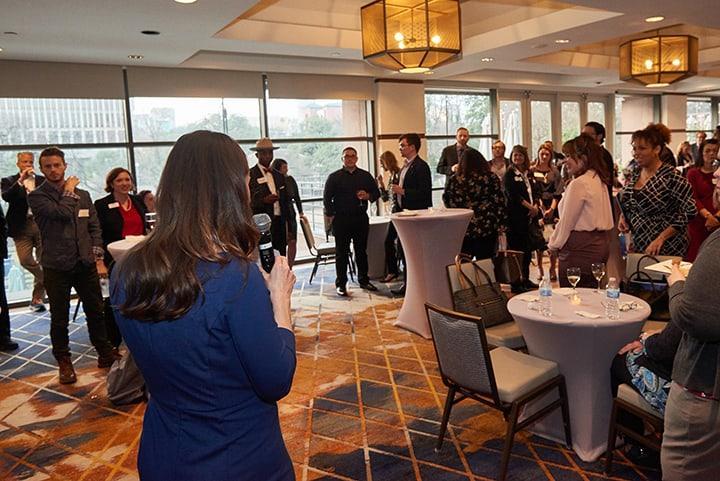 The grassroots team is hard at work as the current school year comes to a close.  From direct parent training to hosting on-campus events to bringing elected officials to your schools, we want to support your advocacy needs!
Last week, Texas Charter Revolution wrapped up a series of 4 neutral candidate forums leading up to the important May 22nd runoff election.  These events brought TCSA member schools together with their families and community members to provide candidates the opportunity to meet with their constituents.  Check out video and photos of the Austin, San Antonio, and Dallas forums on the Texas Charter Revolution Facebook page.  In addition, a San Antonio mom talked about why these forums are so important to her and this Austin charter school board member and mom shared her perspective about what an event like this means to her family.
If you are not already, here are five EASY ways to stay engaged about our events and grassroots advocacy opportunities for you and your families across the state:
Text COUNTMEIN to 52886 and follow the easy instructions to receive future action alerts. Events in the legislative world happen quickly, and it's important that we can reach our supporters with up-to-the-minute alerts
Contact us smedlock@txcharterschools.org to set up a unique training opportunity, tailored just for your parents, staff, leadership, or alumni
Contact us mfernandez@txcharterschools.org to learn how to incorporate a no-cost TAKE ACTION campaign into your application and enrollment processes
RSVP for the May 22nd webinar by emailing kbritton@txcharterschools.org focused on grassroots advocacy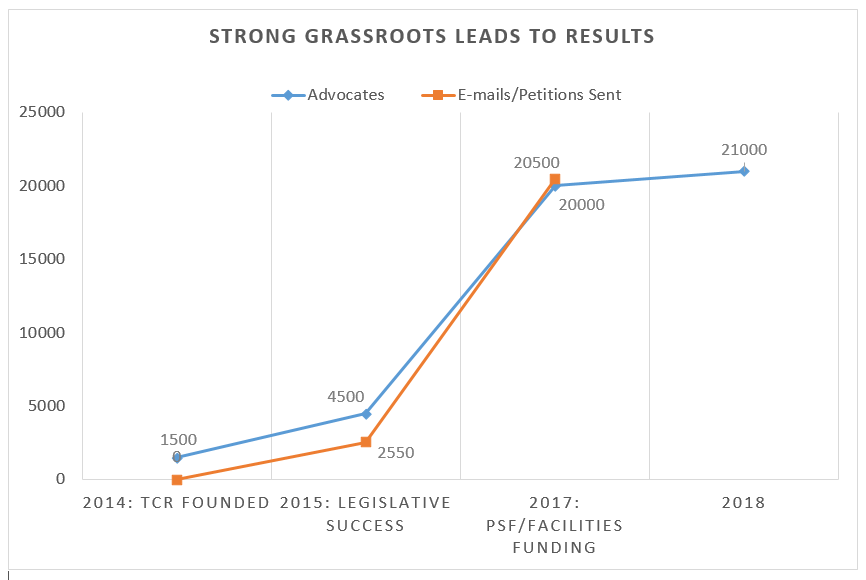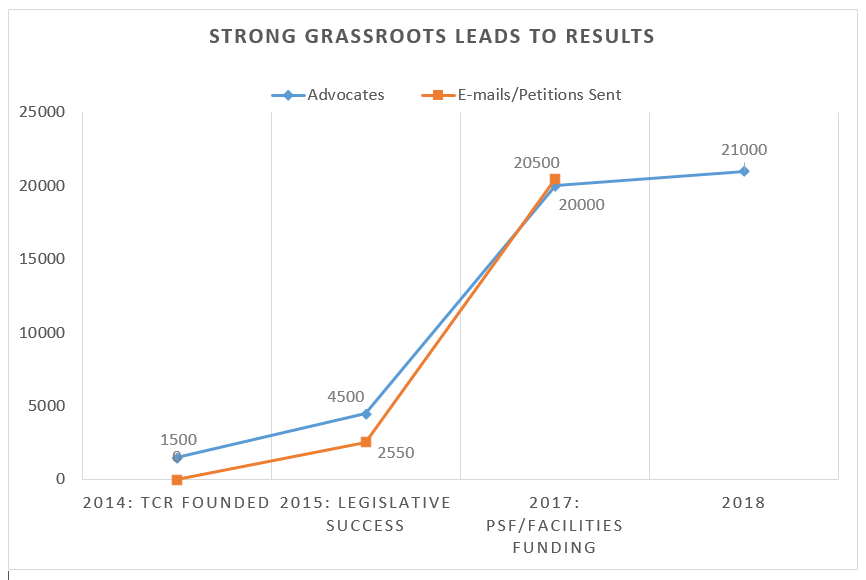 The Texas Charter Revolution has come a long way in the last four years.  Our supporters have stepped up in big ways to support historic legislative wins, but there is still much work to be done!
The next legislative session is a few short months away, and already public charter school issues are a hot topic of debate in and around the Texas Capitol.  It is imperative that elected officials – or those seeking elected office – hear from public charter school families.  NOW IS THE TIME to engage with our team so that we can give your school community all the tools that it needs to stay involved.
It is imperative that elected officials – or those seeking elected office – hear from public charter school families.  Be sure to read and share this important piece by Dr. Becky Goode, your elected advocacy chair, about the importance of participating in the May runoff election.
Texas public school charters voices are being heard during this legislative interim as lawmakers prepare for the next session in Austin.  On Monday, March 26, 2018 TCSA provided expert testimony at the Senate Education Committee hearing. Jerry Lager, Superintendent of Schools of Ki Charter testimony focused on teacher compensation and shared his school's best practices to retain high quality teachers.   On Wednesday, April 4, 2018, Matthew Hansen, Director of School Operations at YES Prep Public Schools testified about the success of their partnerships with Spring Branch and Aldine ISD. 
We are thankful that TCSA leaders step up during the interim to provide testimony at hearings in the House and Senate. It is important that we continue to share our stories of success. Coming to Austin isn't the only way to stay connected between sessions. We encourage you to reach out to your local officials at home in their districts offices to let them know about the good work we are doing! 
You can read Jerry Lager's testimony for the March 26th hearing here and Matthew Hansen's testimony for the April 4th hearing here.
The Texas Charter Schools Association (TCSA) offers a variety of grassroots advocacy tools and resources for your public charter school. Whether you are an individual campus or a large network with multiple campuses, we have the bilingual staff and materials to support your grassroots advocacy efforts. Our grassroots support consist of the following:
- Grassroots Consultations
- Grassroots Trainings (Charter 101, Story of Self, Civic Education)
- Strategic planning around parent engagement (recruitment, enrollment, advocacy)
- Opportunities to network with peers and share best practices
- Legislator Outreach Support
- Online Bilingual Advocacy Website/Database
- Legislative one-pagers
- Portable Professional Translation Equipment
Public charter schools exist because of strong advocates. One primary example includes achieving facilities funding during this most recent legislative session, which was made possible thanks to the many parents, teachers, school leaders, and board members advocating for charter schools like yours. We want to help strengthen your advocates to fully engage with your local community and representatives from all levels of government.  Please reach out to us and invite us to your next parent meeting, staff development, or board retreat. We are here to partner with you!
The Texas Charter Schools Association's (TCSA) Interim CEO Chuck Cook tapped former association staffer Amanda List to serve as Interim Vice President of Government and Public Affairs.
Amanda is a principal of AList Consulting and served as TCSA's first director of advocacy. As one of the earliest hires for the association, she helped recruit new members during the organization's formation. Amanda has extensive state government affairs and public charter school experience including strong ties to the Texas Capitol and the Texas Education Agency. She will work with the TCSA Advocacy Team and the elected member advocacy committee as the association prepares for the next state legislative session in 2019.
"It's great to be back at TCSA during the transition to new leadership. I look forward to working with member schools to ensure our grassroots network continues to grow. Public charter schools had a great legislative successes this year and now we must defend our gains and do the work to prepare for what is next on the horizon," she said.
"Amanda has longstanding relationships with member schools and a great working knowledge of the legislative process and the players. She's a natural fit for the interim post," Chuck Cook said. Veronica Garcia left the senior advocacy post at the conclusion of the special session in August. The new CEO will hire a permanent vice president in 2018.
Wayside Schools became a member of the Texas Charter Schools Association (TCSA) five years ago when I joined the Wayside staff as CEO. I have been a passionate supporter of TCSA for many years and share the belief that every parent should have the opportunity to choose the free, public school that best fits the needs of their scholar(s).
TCSA is a great partner in advocacy efforts and one primary example includes the passage of HB 21, which provides $60 million in facilities funding beginning in 2018-19. Like many public charter schools, our small charter network is impacted by the disparity in funding. However, we worked with TCSA during the last legislative session to pass HB 21! Public charter school students will receive about $200 per pupil, which is a first step in closing the funding gap. Unlike any single charter network, TCSA is able to bring together multiple voices and multiple communities, to advocate on behalf of increased funding and other important policies affecting charter school operations.
As a member organization, Wayside Schools receives special help scheduling legislative visits and engaging legislators to attend individual school events. TCSA staff work alongside our parents helping them to practice their talking points and prepare for advocacy activities. TCSA is there every step of the way so that parents never feel they are acting alone. Their staff go above and beyond to provide the support we need to have a voice in the world of education public policy.
As a network leader, they have helped me connect with other charter leaders to share best practices. TCSA offers many trainings and workshops that give insight into charter and school policy changes that will impact how our school operates. They also provide a comprehensive analysis tool as part of membership. More than anything else, I recommend a TCSA membership because they make you feel like you are never alone and provide support while navigating the world of running a charter school.
The new Texas Charter Revolution website (www.txcharterrevolution.org) launches as students head back to school, and families get into the swing of homework, sports, and all the other activities that gear up in a new academic year. For Texans impacted by Hurricane Harvey, we hope soon the schools in the affected areas will reopen and help lend a sense of normalcy and progress after the devastating storm. We should all begin a new school year with a sense of hope and optimism. It's the right time to create good study habits, make new friends, and get the year off to the best start possible.
We feel the same way about our new website. It has all the tools and resources that will empower you to help public charter schools. The site tells the stories of parents, teachers, and students that all share a love for their charters and who all want to ensure every student has the chance to attend a great public school. The website has plenty of videos, and blog posts written by people like you. If you're reading this blog its likely because you're already a member of the Charter Revolution. It's possible you've contacted your state elected official, or participated in a rally at the Capitol in Austin. Maybe you've hosted local officials on your campus, or visited a lawmaker in their district office.
There are many ways to get involved and support your public charter school, and becoming part of our digital family is one of the easiest ways. What's great about our new website isn't just the content you find there, but how simple it is to stay informed and how easy it is to take action when we need your help. Members of our grassroots army have sent more than 20,000 messages to elected officials during the recent legislative sessions in Austin. Many took action because of a post they read on Facebook, or a tweet they received from their school. You may have received an email asking you to contact state lawmakers. As a result of recent grassroots efforts, the Texas Legislature passed a bill providing facilities funding for public charter schools for the first time ever. While we're thrilled at this victory, our work is not done. We are just getting started.
This new school year you'll be able to receive text messages about important advocacy efforts, and you'll be able to respond right from your smart phone or tablet. In addition to quickly sending an email to your lawmakers, you will also be able to share your message on their Facebook page and in their Twitter feed. These are important social media tools lawmakers use to stay in touch with their constituents, and now we will be able to reach them on these platforms. And when it's really important, we will be able to route your phone call directly to their office.
So, are you in?
Please take a few minutes to visit our new website, and make sure you are a part of the Texas Charter Revolution by texting "countmein" to 52886. Have a great start to the year, and we look forward to working with you to make it even better.
The upcoming 85th Texas Legislative Session will be our biggest challenge to date. Parents, teachers and board members are at the forefront of our advocacy efforts. It is critical to engage your lawmakers on an on-going basis. We are faced with difficult times in passing pro-charter legislation due to a variety of obstacles and competing interests. As Dr. Steve Perry said at the 2016 Texas Charter Schools Conference, "Grassroots equals defining the truth." We need your help engaging teachers, parents, and board members in defining the truth about public charter schools.
One of the largest hurdles we must overcome is the public perception of charter schools. "How dare you complain about something you can correct," Dr. Perry remarked during this week's opening conference session. Now more than ever, we need all of our advocates; school leaders, parents, teachers, and board members to advocate on behalf of public charter schools as passionate constituents at the forefront of this battle. We must demand equitable funding for all public schools.
Governor Abbott was the conference closing session keynote speaker and stated "Let's end the waiting list and fund charter schools with the resources needed." In order to do so, we need your help to get support from your elected officials to vote for and represent us at the Capitol. One hundred and fifty House Representatives and 31 Senators are waiting to hear from you and your families.
It is vital that you connect with lawmakers to share the successes occurring at your public charter schools. You are constituents of your lawmakers and it is imperative that they hear from YOU on why charter schools are necessary and important to your child and the public education system. Our livelihood depends on this!
The Texas Charter Schools Association offers a robust bilingual program to engage you, ranging from an advocacy toolkit for staff, training program materials for your school, online advocacy tools, and our Facebook page @TXCharterRevolution. Join us in this fight and take action today!
Charter schools were well represented at this week's House Public Education Committee hearing at the Texas Capitol.  On Tuesday, February 9, Chairman Jimmie Don Aycock presided over the hearing focusing on interim charges for school strategies at the middle school level and high-performing students. 
Witnesses from charter schools included members of our Elected Advocacy Committee:  Matt Abbott of Wayside Schools, John Armbrust of Austin Achieve, and William Clark of Step Charter.  Each witness gave testimony on best practices and strategies they are implementing at their respective campuses to ensure the success of their students.  John Armbrust even brought two ninth grade students who participated and experienced a first-hand part of the legislative process: both students were called to testify and extended invitations to the Committee to visit their school.
Texas Charter Schools Association representatives were also in attendance and took note of issues impacting charter schools.  There was discussion on high school retention, success, and postsecondary readiness, as well as strategies specifically aimed towards at-risk youth. 
Additionally, the hearing covered the needs of high-performing students and increasing the recognition of the performance of higher performing students on test-based and non-test based measures.  The committee is examining the state accountability systems' ability to serve students across the performance spectrum, including those students significantly outperforming their peers.
We appreciate our Advocacy Committee members stepping up to the plate to share with our elected officials the great work they undertake at their schools.  We must work towards ensuring that the charter school voice is heard in every conversation involving public education.
By Samantha Womack, TCSA Communications Specialist
A recent Gallup poll illustrates students who have at least one teacher who excites them about the future are 30 times more likely to be engaged. Furthermore, if the principal is engaged, there's a trickle-down effect on teachers, students and families.
Unfortunately, the polling indicates only 31 percent of teachers are highly engaged, with only one-in-three showing involvement, enthusiasm and commitment to their school and their work.
Teachers and staff who have an engaged principal say:
I have received recognition or praise for doing good work in the last seven days.
Someone at work has talked to me about my progress in the last six months.
My opinion seems to count at work.
Gallup found hope and engagement are significant predictors of academic achievement.
But more than 50 percent of students don't feel they get to do what they do best every day.
When asked what makes a school effective, survey results show its dependent on:
Percent of students engaged with their classwork (78%)
Percent of students who feel hopeful about their future (77%)
Percent of students who graduate from high school (69%)
Standardized test scores came in last.
Additionally, only one in five parents are fully involved with their students' school. These parents are your vocal advocates and ambassadors of your school—going above and beyond to share their pride.
In contrast, the banking, insurance and healthcare industries have 30 to 40 percent of customers who are fully involved!
Building an engaged school takes a long-term commitment, hard work and dedication to changing your school's culture.
Where can you start to help your school?
1. Register for the free Gallup Student Poll by October 30 to gauge your students' engagement. Then analyze the results for what needs changing.
2. Learn more at the Texas Charter Schools Conference at the JW Marriott San Antonio Hill Country Resort and Spa from October 28-30. The advocacy session track will cover how to start, build and grow your grassroots advocates on your campus. Register today.