The deadlines to submit candidate questionnaires are quickly approaching!
There are six leadership seats up for election this year:
(2) Board of Director, Small School Representative (Questionnaire due August 20th)
(1) Elected Advocacy Committee, University Charter Representative (Questionnaire due August 20th)
(1) Elected Advocacy Committee, RTC/JDC Representative (Deadline extended - Questionnaire due August 31st)
(1) Elected Advocacy Committee, Small School Representative (Deadline extended - Questionnaire due August 31st)
(1) Elected Advocacy Committee, Large School Representative (Deadline extended - Questionnaire due August 31st)
All nominations, campaigning and voting are conducted electronically via the TCSA Quality Member Portal.
Below is an overview and timeline for the 2016 nomination and election process. You should also be aware of recent changes to the Bylaws and Nomination and Election Policy, found within the 2016 Candidate and Nomination Form and Voting Packet (Nomination Packet):
TCSA has increased the number of members that serve on the Nominating Committee from three to five members. The Nominating Committee is composed of the following persons: Member Council Chair; (1) non-operator director; (2) charter operator directors; and the Advocacy Committee Chair. See Nomination and Election Policy (Nomination Packet).
TCSA has added an eligibility criteria for leadership positions. Elected leaders must participate in and advance all TCSA advocacy strategies during his or her leadership term. See Attachments B and C (Nomination Packet).
A 'University Charter' category is now a TCSA recognized school mission. See Attachment C (Nomination Packet).
A leadership seat has been added to the Elected Advocacy Committee for a 'University Charter' school representative. See Bylaws, Nomination and Election Policy and Attachment A (Leadership Structure) within the Nomination Packet.
How to Nominate and Vote Online
First, click here to log into the TCSA Quality Member Portal. Once you are logged in, click on 'Membership Voting' in red font at the top right hand corner of the page. This link will take you to the voting pages where you may view, complete and submit the Candidate Questionnaire (also referred to as the Nomination Form).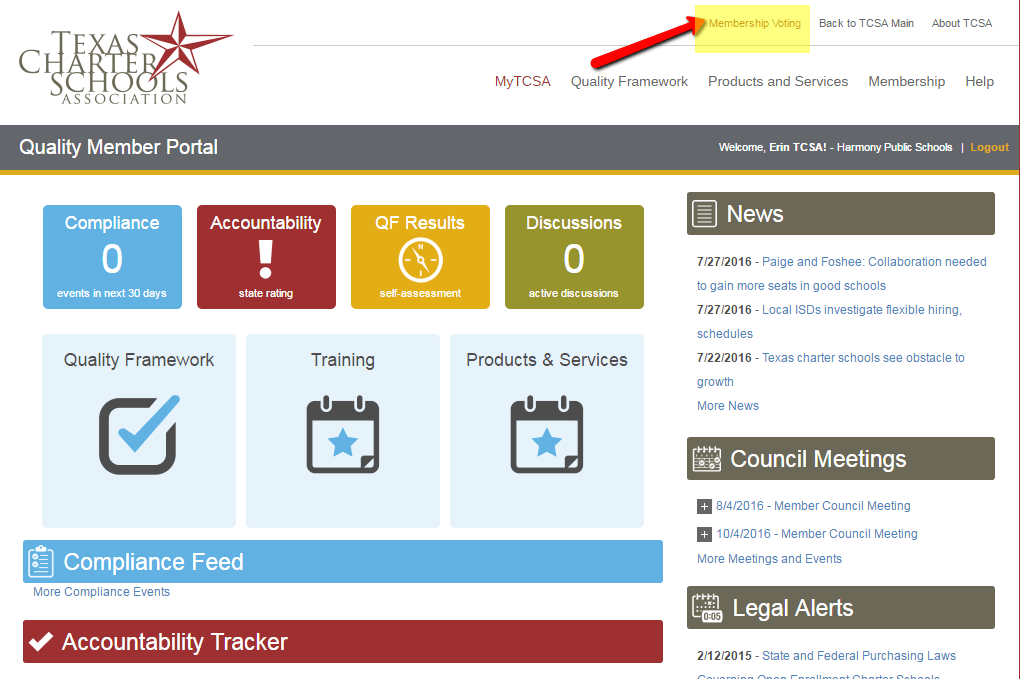 If you have forgotten your password to the portal, please click on the top right hand corner of the page that says "Forgot password" to generate a new password.  You may also contact Nadia Luna at nluna@txcharterschools.org or at 512.584.8272.
The downloadable Nominations Packet is located on the right hand side of the voting portal landing page and includes the following:
2016 Candidate Questionnaire;
TCSA Bylaws; and
TCSA Board of Directors and Member Council Nomination and Election Policy.
If you would like to nominate someone other than yourself, please reach out to that potential candidate and ask him or her to complete the Candidate Questionnaire. Incomplete forms will not be accepted.
If you have any questions regarding the nomination and election process or have problems accessing the voting pages on our portal, please contact Maria-Theresa Sigua at msigua@txcharterschools.org or 512.584.8272. 
Need additional hours to satisfy new or returning board or officer training requirements? Join us for this live training event to receive six hours of §19 TAC 100 training credit. Attendees will receive the latest information on special education law, the performance framework, school finance, fiduciary responsibilities, open meetings, public information and receive a health and safety overview. These sessions will allow an attendee to receive all six hours required by the Texas Education Agency for renewal training.
The Texas Charter Schools Association (TCSA) selected three dates and locations for the training events: March 4th in San Antonio, April 1st in Houston, and April 30th in Lewisville, which will be our final board and officer training.
You have a special opportunity to register and pay for three attendees and get the fourth registration free. Just use the coupon code BUY3 to access this free registration. You will see the reduced price when you finalize and pay for registration prior to March 5th. To register for this training event, visit the TCSA Learning Zone.
By Dr. Paula Moeller, TCSA Director of Training
Got school board members?
Of course!
But have they met their training requirements? Returning board members need six hours and new board members need 12 instructional hours of training this year!
TCSA has you covered with a six-hour Board Workshop on the Friday of the Texas Charter Schools Conference October 28-30 at the JW Marriott San Antonio Hill Country Resort and Spa. It's the perfect place for board members to satisfy these compliance training hours and meet the requirements outlined in the Texas Administrative Code §100.1102.
Board members who attend the entire three-day conference can receive up to 10 hours of training credit! View the full schedule by workshop or topic track by downloading the free TCSACon Mobile App.
The list of available topics and sessions include:
School Law
Maintaining a Legal Eye on the Charter Movement
School Finance
A Standardized Approach to Budgeting
Understanding FSP
Financing Facility Needs with Low-Interest Rates
Open Meetings
Fix Your Board Meetings, Strengthen Your Board
Accountability (reporting, student performance, human resources)
10 HR Mistakes That Could Sink Your Charter
Academic Accountability: What Is Your Data Telling You?
Public Records
"Garbage In, Garbage Out" Policies That Govern PEIMS Data That Might Result in Lost Funds
Health and Safety
The Role of Charter Schools in High-Quality Emergency Management Programs
TCSA is an approved provider of training credit hours and board members will receive a certificate of attendance after completing the training at the conference.
Got your board members covered on training? Learn more about the TCSACon Principal Workshop and Teacher Workshop.
Click to view the full TCSACon workshop and session schedule.