The other night while I was buckling in my 4 1/2 year old son into his carseat he asked, "Dad, what do you do?" I thought for a second… what's the best way I can respond that he can digest? And then it hit me… "I help schools, Graham." 
When it comes down to it, at it's simplest level, that is what the Texas Charter Schools Association does, day-in and day-out. We all wear different hats with a different set of skills and duties, but at the end of the day we all have the same purpose—to help schools.
Education is the one industry which can change so much in its wake—it has the power to end conflicts, prevent hunger, provide healthcare, house the homeless, thwart poverty… and that's just the tip of the iceberg. Yet it is the one industry we seem to take for granted, not spending nearly enough resources on. There's literally not a more sound investment for our future than in educating our youth. What they learn today will change tomorrow—for better or worse. It's our duty to ensure what they soak in is enlightening, substantial, accurate and comprehensive. This is what public Texas charter schools do. This is what public Texas charter schools do best.
Just prior to starting at the Texas Charter Schools Association I spent almost a decade in the finance industry. I acquired plenty of investment knowledge, but it was soulless work. I felt like a hamster in a wheel of red tape. I earned my MBA toward the tail-end of my tenure there. Also my wife Jen and I welcomed our first child, the aforementioned curious Graham. Time in grad school and becoming a new father has a way of putting things in perspective—what I didn't want to do with my life and what direction I wanted it to head suddenly came into focus. I realized I was happiest when I was helping others. So, loaded with this newfound insight, I decided my path moving forward must combine making a living with making a difference.
I spent much longer than I wanted to searching to meet this new-found goal, but was determined. After growing frustrated numerous times with dead ends, I stumbled upon the Director of Marketing role at TCSA. It was exactly what I was looking for. So I applied and flooded my peers' inboxes whom I hoped might be able to provide a referral on my behalf. Well, my friends came through and the stars aligned. I started in April of this year and I couldn't be happier. There's so much to like about this job—the autonomy, the energy, the support, the camaraderie. it's a joy to spend my days providing support to over 600 TX charter schools with over 225,000 students, all with the same purpose—to provide more innovation in education with the flexibility to adapt to individual student's needs.
But the best part of working at TCSA—
Now when my son asks me what I do I have a simple, straightforward answer… one which he easily grasps, and I do as well: "I help schools."
By Dorothy Gentry, 4th Grade Teacher, A.W. Brown Leadership Fellowship Academy
Note: A.W. Brown charter leaders will be presenting at the 2015 Texas Charter Schools Conference during the Principals Workshop on Wednesday, October 28, to discuss hiring and retaining high-quality teachers.
Angela Brown is a true example of a success story in teaching. The long-time employee of A.W. Brown Fellowship Leadership Academy in Dallas, a successful Texas charter school, is passionate about the field of education and about teaching at the two-campus academy.
Brown began at A.W. Brown as a substitute teacher in January of 2005 and was officially hired as a teacher's assistant in March 2008. Ten years at the school and she said, "I've loved every moment."
As the special education teacher for the past three years at A.W. Brown's Early Childhood Campus she said the school's vision is key to why she stays.
"First off, what made me get on board with this school was the vision that it has for its students and the community," Brown said. "They want to make the world a better place one student at a time and it has been an amazing privilege to see it unfolding and steadily coming to fruition right before my eyes."
Brown said the school supported her in efforts to gain additional education.
"[They] allowed so many doors to open up for me once I was ready to move up. They continue to support and nurture my growth by presenting multiple opportunities to get involved," she said.
The school feels like a family, where she can speak openly with others about any concerns, Brown said.
"Words cannot express the joy I have of being able to watch these children grow from babies to teenagers, and then they come back to visit as adults," Brown said. "They thank us for all we instilled in them and taught them. My own daughter was 3-years-old when she started here, and now she is in the 7th grade."
Brown said she feels "secure and comfortable" at A.W. Brown and plans to stay as long as possible.
"With the constant growth and success at this school I feel like the sky is the limit and I have no reason not to continue to be loyal to them as they have been to me," Brown said. "This is one district that I truly feel secure in. They make me feel appreciated in everything I do."
Other schools can adopt those practices by starting with the board and administrators, she said.
"Ours is awesome. They do a great job letting us know how much we are appreciated and acknowledge that none of this would be possible without us," she said.
Brown believes the regular evaluations and continuous positive feedback is crucial to the success of the school. Also important is having a good vision of what you are trying to accomplish and then determining what steps are necessary to achieve it.
"They do a good job making sure new teachers are aware of the vision and the steps and why we are all here. For veterans they never let us get complaisant. They find new exciting ways to break down the vision and mission and those steps we need to complete in order to accomplish them," Brown said.
The vision of A.W. Brown-Fellowship Leadership Academy is to provide a learning environment in which children are trained, prepared and equipped for life leadership and academic excellence. The mission of A.W. Brown-Fellowship Leadership Academy is to produce smart, effective, efficient, disciplined students by creating an environment in which teachers feel safe and free to teach and students feel safe and motivated to learn.
A.W. Brown serves more than 2,000 students on two campuses in grades PK thru 8th grade and has more than 200 full- and part-time staff. A.W. Brown has been in existence since 1998.
By Dr. Paula Moeller, TCSA Director of Training
Struggling to hire quality teachers in critical areas such as mathematics and science for your campus?
Finding it difficult to locate certified bilingual and special education educators?
You are not alone!
The Texas Charter Schools Conference Principal Workshop will feature panelists from across Texas to discuss hiring and retaining strategies for outstanding teachers with a passion for educating charter school students.(View the full TCSACon workshop and session schedule)
The Texas Charter Schools Association is committed to providing support, training and technical assistance to Texas charter schools on the newly developed teacher and principal evaluation systems, Texas Teacher Evaluation and Support System (T-TESS) and Texas Principal Evaluation and Support System (T-PESS). These systems will replace the current PDAS evaluation system as the new state-recommended appraisal systems in the 2016-2017 school year. While charter schools aren't required in statute to implement these new appraisal systems, learning about new ways to evaluate and provide feedback to educators is critical for continual improvement.
Join us for three credit hours of training on Wednesday, October 28, at the Texas Charter Schools Conference at the JW Marriott San Antonio Hill Country Resort and Spa.
Register today! Space is limited.
Principal Workshop Presenters:
Sheila Collazo, Academy Director, T-TESS, National Institute for Excellence in Teaching
Tim Regal, Texas Education Agency
Paula Brown, COO, A.W. Brown – Fellowship Leadership Academy
Michelle Holland, Principal, Leadership Prep School
John de la Cruz, Principal, Sanchez Charter School
By: Justin Parmann, guardian of a KIPP Austin Comunidad student
My wife and I became the guardians of her two amazing grandsons a little more than three years ago. They were almost one- and four-years old at that time. In their short lives, the boys experienced a lot of instability and uncertainty. It is because of this that our goal has always been to provide a stable environment.
Quality education and matriculating to college is one way we wanted to help the boys to grow and develop into successful men. My wife and I both understand and appreciate the importance of a college education. We began to work with the kids at home introducing many of the pre-K topics knowing it would help make school a positive experience. We were excited that our local public elementary was in our neighborhood which would allow us to walk to ride our bikes to school with the boys each day. Unfortunately the learning environment at our local school was anything but supportive.
The teacher's approach to our oldest already knowing his shapes, colors, numbers, and letters was to ostracize him by having him sit in the corner and not be taught. This was so the rest of the class could catch up. But it marked him for bullying. He would come home so sad because other students would write on his clothes, cut his clothes with scissors and even pour glue on him. When our concerns were excused as "normal kid things", we moved it up the ladder. Little did we know this would mark him from the top on down. The school did nothing.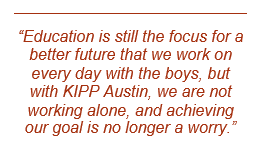 The disregard for his education from the educators was inexcusable and it set us back even further when it came to his life threatening peanut allergy. We got promises that they would hand out all snacks, but still putting a peanut snack in his backpack. We finally had to keep him from participating in school parties because they refused to see the severity of his condition. The final straw was when he was taken on a field trip without his emergency bag containing lifesaving medications and his inhaler.
After the repeated disappointments with our neighborhood public elementary we began actively looking for alternatives. With private schools not being an affordable option we began to investigate public charter schools. Neither of us had any experience with public charter schools so we began to read everything we could about the various choices in Austin. Using social media we reached out to other parents and visited our top school choices.
In the end, the right choice for us was KIPP Austin Comunidad. We loved the immersion dual language program. Plus the passion and energy of the staff was contagious. The KIPP motto of "To and Through College" is something KIPP Austin Comunidad lives every day. College is a natural part of everything they do -- from classroom decorations, to the names of their homeroom classes, field lessons, class projects, spirit days and more. The expectations of students at KIPP are high. The days are long and it requires a commitment from the entire family. The effort your family puts in is exceeded by the effort the teachers and staff put forth. The teachers keep in consistent contact through email, text, and phone calls; as we discuss good and bad behaviors, and work together to help him overcome different challenges.
Early in his kindergarten year his ADHD became apparent. Beyond working with our pediatrician, our amazing team of kinder teachers jointly did research with us on additional things we could do in the classroom to help him stay focused, and implemented them quickly. The business manager for the school consulted with us regularly on continuous improvements to their policies and procedures they were implementing around food allergies. The examples of positive, constructive engagements with myself and other parents are just too numerous to list.
The results of being challenged and supported by our charter school are amazing. After his first month, he was switching between Spanish and English with ease, and his confidence in both languages has continued to soar for the last two years. He is preparing to start second grade now. Next year, we are excited our youngest will join him as a kindergartner at KIPP Austin Comunidad. Education is still the focus for a better future that we work on every day with the boys, but with KIPP Austin, we are not working alone and achieving our goal is no longer a worry.