TCSA Members, 
TCSA will hold a special election to elect a second Small Standing Member School representative to the TCSA Board of Directors. Please note there is a short time frame for this special election. Nominations are due January 19, 2018 and voting begins January 23, 2018. Election results and any run-off (if necessary) will be held on February 1, 2018 at the TCSA Member Council Meeting.
In accordance with Section 3.2 of the TCSA Bylaws, the TCSA Board of Directors recently approved a Large Standing Member School Directorship for Responsive Education Solutions (RES) as RES has reached a student enrollment of over 20,000 students. Pursuant to Section 3.5 of the TCSA Bylaws, a Small Standing Member School Directorship shall be created for each Large Standing Member School Directorship created. Small Standing Member School Director positions are elected by the membership and subject to charter leadership two year term periods.
The Candidate Nomination Form is attached here. You may also access election forms and information through the TCSA Quality Member Portal.
Forms may also be submitted via email to msigua@txcharterschools.org or online through the TCSA Quality Portal or through Survey Monkey. Candidate Nomination Forms are due no later than January 19, 2018. If you wish to include a bio and campaign video for voters to view, please submit both along with your completed nomination form. Please note that you must be a 2018 charter holder member and small school to participate in this special election. Small schools are defined as a charter holder that educates 1499 students or less in Texas.
If you would like to nominate someone other than yourself, please reach out to that potential candidate and ask him or her to complete the Candidate Nomination Form.
If you have any questions or have problems accessing the voting pages on our portal, please contact Maria-Theresa Sigua at msigua@txcharterschools.org.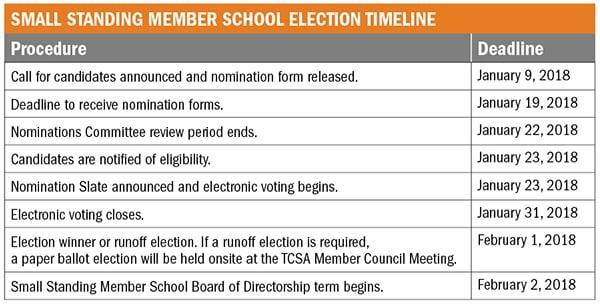 The 2017 Nomination Slate was recently announced and there are a total of 14 positions open for TCSA's leadership election this year.  The slate is available on the voting page of the TCSA Quality Portal and charter leaders must log in to view the voting page.
Electronic voting, candidate bios, and campaign videos will be available on the voting page on September 21, 2017. Charters leaders are the designated voting representative for its charter and charters are permitted to only vote for leadership positions within their own size and charter mission categories. Voting closes at 12 midnight CST on October 11, 2017, and election winners will be announced at the Annual Meeting and Member Council Luncheon at the 2017 Texas Charter Schools Conference on October 12, 2017.
We hope that every eligible member participates in this election, and we encourage you to learn more about the candidates from their videos.  Additionally, please reach out to candidates directly with any outstanding questions or concerns. 
If you have questions about the election, please email Maria-Theresa Sigua at msigua@txcharterschools.org.
TEXAS CHARTER SCHOOLS ASSOCIATION's 2017 NOMINATION SLATE
Member Council Vice-Chair (1 vacancy)
Jennifer Goodman, Odyssey Academy
Board Member - Large School Representative (3 vacancies)
Aaron Kindel, Great Hearts Texas
Brent Wilson, Life School
Eddie Conger, International Leadership of Texas
Mark Larson, KIPP San Antonio
Matt Abbott, Wayside Schools
Recy Dunn, YES Prep
Board Member - Small School Representative (1 vacancy)           
David Ray, St. Anthony
Michelle Bonton, The Rhodes School
Rebecca Good, Legacy Preparatory Charter Academy
Board Member - Standing Member School Small Representative (1 vacancy)
Alfredo Segura, Jr., New Frontiers Charter School
Elected Advocacy Committee – Large School Representative (2 vacancies)
Lisa Freeman Schutz, Brooks Academy
Samuel Goessling, IDEA Public Schools
Elected Advocacy Committee – Small School Representative (2 vacancies)
Alexis Neumann, Rapoport Academy
David Ray, St. Anthony
John Armbrust, Austin Achieve
Michelle Bonton, The Rhodes School
Ron Nelms, Calvin Nelms Charter Schools
Virginia Lannen, Pegasus School of Liberal Arts
Elected Advocacy Committee - College Preparatory Representative (1 vacancy)
Alexis Neumann, Rapoport Academy
Matt Abbott, Wayside
Elected Advocacy Committee - Dropout Recovery Representative (1 vacancy)
Brady Schott, Winfree Academy Charter Schools
Elected Advocacy Committee – Early Childhood & Elementary Education Representative
(1 vacancy)
William Clark, Stepping Stones Charter Elementary
Elected Advocacy Committee – Specialized Mission Representative (1 vacancy)
Virginia Lannen, Pegasus School of Liberal Arts