The grassroots team is hard at work as the current school year comes to a close.  From direct parent training to hosting on-campus events to bringing elected officials to your schools, we want to support your advocacy needs!
Last week, Texas Charter Revolution wrapped up a series of 4 neutral candidate forums leading up to the important May 22nd runoff election.  These events brought TCSA member schools together with their families and community members to provide candidates the opportunity to meet with their constituents.  Check out video and photos of the Austin, San Antonio, and Dallas forums on the Texas Charter Revolution Facebook page.  In addition, a San Antonio mom talked about why these forums are so important to her and this Austin charter school board member and mom shared her perspective about what an event like this means to her family.
If you are not already, here are five EASY ways to stay engaged about our events and grassroots advocacy opportunities for you and your families across the state:
Text COUNTMEIN to 52886 and follow the easy instructions to receive future action alerts. Events in the legislative world happen quickly, and it's important that we can reach our supporters with up-to-the-minute alerts
Contact us smedlock@txcharterschools.org to set up a unique training opportunity, tailored just for your parents, staff, leadership, or alumni
Contact us mfernandez@txcharterschools.org to learn how to incorporate a no-cost TAKE ACTION campaign into your application and enrollment processes
RSVP for the May 22nd webinar by emailing kbritton@txcharterschools.org focused on grassroots advocacy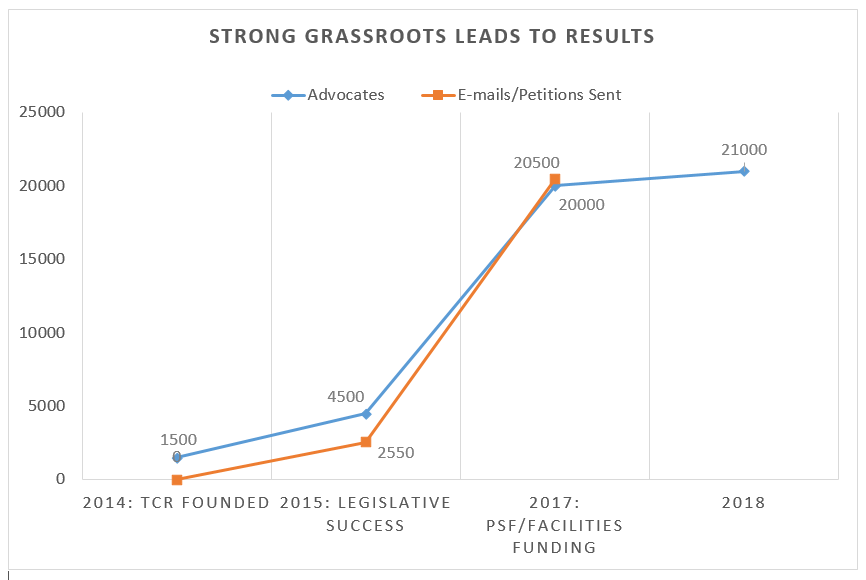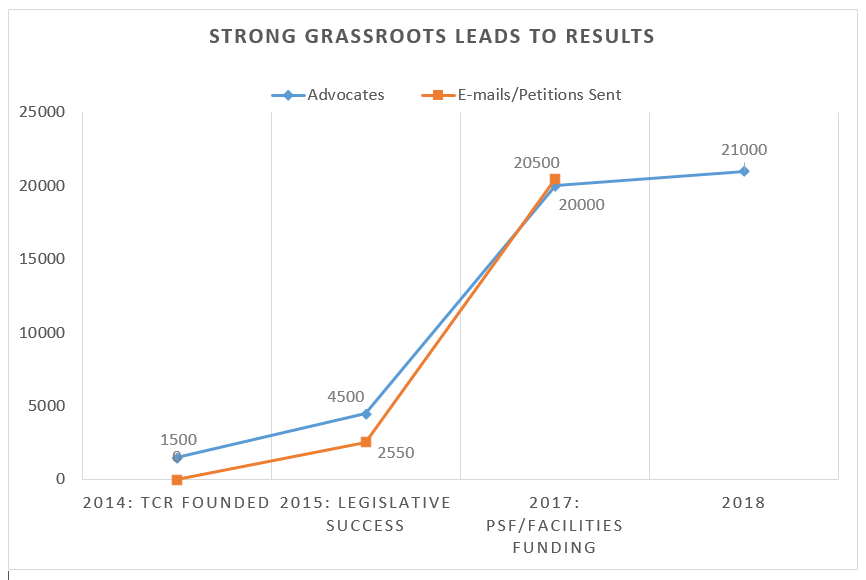 The Texas Charter Revolution has come a long way in the last four years.  Our supporters have stepped up in big ways to support historic legislative wins, but there is still much work to be done!
The next legislative session is a few short months away, and already public charter school issues are a hot topic of debate in and around the Texas Capitol.  It is imperative that elected officials – or those seeking elected office – hear from public charter school families.  NOW IS THE TIME to engage with our team so that we can give your school community all the tools that it needs to stay involved.
It is imperative that elected officials – or those seeking elected office – hear from public charter school families.  Be sure to read and share this important piece by Dr. Becky Goode, your elected advocacy chair, about the importance of participating in the May runoff election.
The new Texas Charter Revolution website (www.txcharterrevolution.org) launches as students head back to school, and families get into the swing of homework, sports, and all the other activities that gear up in a new academic year. For Texans impacted by Hurricane Harvey, we hope soon the schools in the affected areas will reopen and help lend a sense of normalcy and progress after the devastating storm. We should all begin a new school year with a sense of hope and optimism. It's the right time to create good study habits, make new friends, and get the year off to the best start possible.
We feel the same way about our new website. It has all the tools and resources that will empower you to help public charter schools. The site tells the stories of parents, teachers, and students that all share a love for their charters and who all want to ensure every student has the chance to attend a great public school. The website has plenty of videos, and blog posts written by people like you. If you're reading this blog its likely because you're already a member of the Charter Revolution. It's possible you've contacted your state elected official, or participated in a rally at the Capitol in Austin. Maybe you've hosted local officials on your campus, or visited a lawmaker in their district office.
There are many ways to get involved and support your public charter school, and becoming part of our digital family is one of the easiest ways. What's great about our new website isn't just the content you find there, but how simple it is to stay informed and how easy it is to take action when we need your help. Members of our grassroots army have sent more than 20,000 messages to elected officials during the recent legislative sessions in Austin. Many took action because of a post they read on Facebook, or a tweet they received from their school. You may have received an email asking you to contact state lawmakers. As a result of recent grassroots efforts, the Texas Legislature passed a bill providing facilities funding for public charter schools for the first time ever. While we're thrilled at this victory, our work is not done. We are just getting started.
This new school year you'll be able to receive text messages about important advocacy efforts, and you'll be able to respond right from your smart phone or tablet. In addition to quickly sending an email to your lawmakers, you will also be able to share your message on their Facebook page and in their Twitter feed. These are important social media tools lawmakers use to stay in touch with their constituents, and now we will be able to reach them on these platforms. And when it's really important, we will be able to route your phone call directly to their office.
So, are you in?
Please take a few minutes to visit our new website, and make sure you are a part of the Texas Charter Revolution by texting "countmein" to 52886. Have a great start to the year, and we look forward to working with you to make it even better.
Immigration and Your Charter School: Protecting Rights of Schools and Students in an Age of Immigration Enforcement
This webinar will highlight best practices on matters pertaining to federal and state law enforcement agencies in light of new and anticipated rulings and interpretations of immigration enforcement practices.
Presented by Joseph Hoffer from Shulman, Lopez, Hoffer and Adelstein LLP
Wednesday, September 20th from 12 noon to 1 p.m.
Register
Are you in? Online Tools to Engage Advocates
Public Charter Schools in Texas had a great victory in the 2017 Special Legislative Session. We attribute this victory to the thousands of advocates who spoke up and contacted their lawmakers this year, and in prior years. TCSA has been able to make significant gains for students as a result of these grassroots advocacy campaigns. Our fight is not over and we need you to join our efforts! Join us on this webinar to learn about the digital tools that TCSA has created to make sure all of our advocates are part of our advocacy efforts. Are you in? Text "countmein" to 52886* to get a sneak peek of our new tools and learn how you can make a difference!
Presented by Martha Fernandez from the Texas Charter Schools Association
Wednesday, October 18th from 12 noon to 1 p.m.
Register
Fostering Success for Students in Foster Care
All of your students are special, but particularly those who are in the temporary or permanent custody of the State of Texas. Spend an hour learning Texas law and best practices for fostering the success of students in foster care. Charter school attorney and former TCSA General Counsel Denise Pierce will lead a rich discussion on issues pertaining to the admission, enrollment, and services for foster care students. Pierce will also touch on the thorny issues of confidentiality, special education, discipline, and on-campus access to these students by third parties such CPS case workers and police officers. Board members, central office administrators, special program directors, and campus administrators who attend this webinar will leave with information, insights and resources to make them better equipped for fostering success for students in foster care.
Presented by Denise Nance Pierce from The Law Office of Denise Pierce, P.C.
Wednesday, October 25th from noon to 1 p.m.
Register
Update Your Personnel Handbook: Changes are needed due to new legislation
When was the last time you updated your Personnel Handbook? Chances are it has been too long! This webinar will help charter leaders understand the policy changes required as a result of Senate Bill 7, regarding electronic communication policies and impacts on TRS annuities. The webinar will address common charter school human resources questions, such as state leave days, and exempt and nonexempt employees under the Fair Labor Standards Act, to name a few.
Presented by Lindsey Gordon from the Texas Charter Schools Association
Wednesday, November 8th from 12 noon to 1 p.m.
Register
HB 22: Preparing for Changes in 2018 Accountability System
Are you aware of all of the accountability changes that are coming in August of 2018? Join Dr. Paula Moeller as she discusses what will be measured within each of the three domains and how the Texas Education Agency will roll out the new accountability system with charter districts and campuses.
Presented by Paula Moeller from the Texas Charter Schools Association
Wednesday, November 29th from 12 noon to 1 p.m.
Register 
When I first joined TCSA almost a year ago, I knew the best way to build a grassroots movement would be to connect with parents and families in various communities across the state. What I didn't know was that in more than one way, public charter schools have changed the lives of so many families and students in Texas. Every week I have the opportunity to sit with parents from various schools to talk about the reasons they chose a public charter school and in every occasion parents never shy away from sharing in detail the many reasons choosing a local charter school has been the best decision they've made. These are families whose dreams are to see their kids succeed in school and graduate from college. After each meeting, I think about the similarities in all of these stories and the common thread amongst them. Parents want options when it comes to their child's education and advocating for those options is our mission.
Most recently I spent a few hours with six high school students at KIPP Collegiate in Austin to talk about the many reasons they love their school and their goals for the future. Every single student named their dream profession and the university they applied to and in some cases had already been accepted to. Five out of those six students were first generation college students whose goal was to make their parents proud by graduating from college.
I often say my job is to make sure perception matches reality which is why I'm passionate about building a grassroots movement alongside all of you so that together we can empower parents to share what they already share with us. I want to make sure every elected official has had the chance to hear the same stories I've heard on the field.
Through these grassroots efforts this past year alone we've empowered hundreds of parents across the state to advocate for public school options for their children and connected these parents with their elected officials. But our work is far from over – and your collaboration is crucial to our work. Partner with us by joining TCSA and let's make these options available for all students.
The upcoming 85th Texas Legislative Session will be our biggest challenge to date. Parents, teachers and board members are at the forefront of our advocacy efforts. It is critical to engage your lawmakers on an on-going basis. We are faced with difficult times in passing pro-charter legislation due to a variety of obstacles and competing interests. As Dr. Steve Perry said at the 2016 Texas Charter Schools Conference, "Grassroots equals defining the truth." We need your help engaging teachers, parents, and board members in defining the truth about public charter schools.
One of the largest hurdles we must overcome is the public perception of charter schools. "How dare you complain about something you can correct," Dr. Perry remarked during this week's opening conference session. Now more than ever, we need all of our advocates; school leaders, parents, teachers, and board members to advocate on behalf of public charter schools as passionate constituents at the forefront of this battle. We must demand equitable funding for all public schools.
Governor Abbott was the conference closing session keynote speaker and stated "Let's end the waiting list and fund charter schools with the resources needed." In order to do so, we need your help to get support from your elected officials to vote for and represent us at the Capitol. One hundred and fifty House Representatives and 31 Senators are waiting to hear from you and your families.
It is vital that you connect with lawmakers to share the successes occurring at your public charter schools. You are constituents of your lawmakers and it is imperative that they hear from YOU on why charter schools are necessary and important to your child and the public education system. Our livelihood depends on this!
The Texas Charter Schools Association offers a robust bilingual program to engage you, ranging from an advocacy toolkit for staff, training program materials for your school, online advocacy tools, and our Facebook page @TXCharterRevolution. Join us in this fight and take action today!
By Dorothy Gentry, 4th Grade Teacher, A.W. Brown Leadership Fellowship Academy
Note: A.W. Brown charter leaders will be presenting at the 2015 Texas Charter Schools Conference during the Principals Workshop on Wednesday, October 28, to discuss hiring and retaining high-quality teachers.
Angela Brown is a true example of a success story in teaching. The long-time employee of A.W. Brown Fellowship Leadership Academy in Dallas, a successful Texas charter school, is passionate about the field of education and about teaching at the two-campus academy.
Brown began at A.W. Brown as a substitute teacher in January of 2005 and was officially hired as a teacher's assistant in March 2008. Ten years at the school and she said, "I've loved every moment."
As the special education teacher for the past three years at A.W. Brown's Early Childhood Campus she said the school's vision is key to why she stays.
"First off, what made me get on board with this school was the vision that it has for its students and the community," Brown said. "They want to make the world a better place one student at a time and it has been an amazing privilege to see it unfolding and steadily coming to fruition right before my eyes."
Brown said the school supported her in efforts to gain additional education.
"[They] allowed so many doors to open up for me once I was ready to move up. They continue to support and nurture my growth by presenting multiple opportunities to get involved," she said.
The school feels like a family, where she can speak openly with others about any concerns, Brown said.
"Words cannot express the joy I have of being able to watch these children grow from babies to teenagers, and then they come back to visit as adults," Brown said. "They thank us for all we instilled in them and taught them. My own daughter was 3-years-old when she started here, and now she is in the 7th grade."
Brown said she feels "secure and comfortable" at A.W. Brown and plans to stay as long as possible.
"With the constant growth and success at this school I feel like the sky is the limit and I have no reason not to continue to be loyal to them as they have been to me," Brown said. "This is one district that I truly feel secure in. They make me feel appreciated in everything I do."
Other schools can adopt those practices by starting with the board and administrators, she said.
"Ours is awesome. They do a great job letting us know how much we are appreciated and acknowledge that none of this would be possible without us," she said.
Brown believes the regular evaluations and continuous positive feedback is crucial to the success of the school. Also important is having a good vision of what you are trying to accomplish and then determining what steps are necessary to achieve it.
"They do a good job making sure new teachers are aware of the vision and the steps and why we are all here. For veterans they never let us get complaisant. They find new exciting ways to break down the vision and mission and those steps we need to complete in order to accomplish them," Brown said.
The vision of A.W. Brown-Fellowship Leadership Academy is to provide a learning environment in which children are trained, prepared and equipped for life leadership and academic excellence. The mission of A.W. Brown-Fellowship Leadership Academy is to produce smart, effective, efficient, disciplined students by creating an environment in which teachers feel safe and free to teach and students feel safe and motivated to learn.
A.W. Brown serves more than 2,000 students on two campuses in grades PK thru 8th grade and has more than 200 full- and part-time staff. A.W. Brown has been in existence since 1998.
There's less than a month left to register for the only statewide conference for Texas public charter school leaders and educators!
The Texas Charter Schools Conference is early this year on October 28-30, so don't miss out on specialized workshops, dozens of educational sessions and networking opportunities with industry experts. You make the conference better each year and we hope to see you in San Antonio!
Check out the great video below to review fun snapshots from at last year's Texas Charter Schools Conference.
Update: Learn how to build grassroots advocates on your campus for your public charter school students at the 2015 Texas Charter Schools Conference on October 28-30. View workshops and session
Earlier this year, we asked you to share why you love your charter school. It's critical to share your stories so the community, elected officials and local leaders understand the importance of public charter schools in Texas. Our students and families deserve the right to choose the best fit public school for them. To get involved please join the Texas Charter Revolution.
In case you missed the responses, below are some of the highlights.
"Our students come from a diverse set of backgrounds. Seeing them grow and learn daily reminds me why I wanted to become an educator." - Educator at Harmony School of Science Austin
"I love my charter school because they are big on building lasting relationships and training life leaders....The teachers and staff genuinely care for the kids they teach, doing what it takes to help the [students]." - Parent, Advantage Academy, Waxahachie
They care about each student on a personal level, and each student and their parents, know it and see it on a daily basis. The entire staff is amazing and they take so much time out of their own lives....I feel like my child really matters!" - Parent, Vista Academy of Hickory Creek
"My public charter school actually cares about the students and helps them to succeed in their class work. The wow factor for us is the way students are treated with respect and are allowed to move forward with their studies on an individual basis." - Parent, Premier High School, New Braunfels
"Where do I start? My grandson attends this school and I am so grateful for all they have accomplished in him. He is nonverbal and they are so patient and kind in his instructions and because of their diligence, he is able to speak a few words now." - Guardian, Foundation School for Autism, San Antonio
"[My school] is caring, respectful and mindful of kids, not only their education but their feelings too. They know they are dealing with the future and give these kids the right steps to be great leaders and mindful adults." - Parent, International Leadership Texas, Garland
"I love my public charter school because I have students that actually want to learn and they have a choice to go any where. The thing my school does that wows me is that we make sure every child is learning and getting the support that they need." - Educator, Houston Gateway Academy
"I love my public charter because they are big on building lasting relationships and training life leaders. Life's love for us WOWS me and helps me understand what "Life" is all about. My public charter school ROCKS! There is no other place like it!" - Educator, Life School Oak Cliff
And a letter from Abigail, a 9th Grader at Houston Gateway Academy
My school, Houston Gateway Academy, is very great. I love that my school has a band and a few other activities. My school makes me want to be the best of the best. It encourages me to never give up and accomplish my many goals.
I love the education I receive. The teachers really care about grades and are able to give us students one-on-one education when we need it. Our teachers know us so well, they can tell when we don't understand something or are struggling
My teachers are always pushing us to give everything our all.
My charter school makes me feel like I can be myself, and I'll always be understood.
I love my charter school. There's no other school I'd rather go to than Houston Gateway Academy.
Be sure to attend the 2015 Texas Charter Schools Conference, where the advocacy and grassroots track will give you the tools needed for strong advocates on your campus.
By Martha Fernandez, TCSA Director of Advocacy
Since the end of the 84th Legislative Session, I've been meeting with several of our charter school leaders to discuss their advocacy plans for the next 15 months. And while they've been busy getting their schools up and running for the 2015-16 school year, everyone has been positive and passionate about activating a grassroots network among teachers and parents. Join the TX Charter Revolution!
This spring, we had several priority bills pass into law and we had more parents and teachers than ever before at our rally at the Capitol. But we can and should do more.
My goal is to continue to build TCSA's grassroots advocacy offerings to support our schools. I understand that every campus is unique in its mission and in the community that it serves, which is why the TCSA advocacy team hit the road on a listening tour. I want to know our members' grassroots needs in order for TCSA to provide targeted and useful support to its members.
So far, I've had the chance to meet with members from International Leadership of Texas, Uplift Education, Life School, Austin Achieve, Montessori for All, KIPP Austin, IDEA Austin and Harmony Public Schools. I will continue meeting and working with you and hope that you will reach out to me if you are interested in hearing more. I am happy to visit as many campuses as possible to support the great work happening on the ground and to connect you to your area lawmakers.

Email Martha Fernandez
By: Martha Fernandez, TCSA Director of Advocacy
The beginning of the school year is a busy time for families, educators and students. There are supplies to purchase, lessons to plan and a new routine to learn. But don't let that excitement and stress distract you from an important piece of being in the public charter school movement: ADVOCACY!
Public charter schools have changed the lives of thousands of students and families in Texas since 1995 thanks to dedicated educators and families. But the work is far from over and your voice is needed to continue to grow effective schools and support student achievement.
Here are three easy steps to add advocacy to your school year:
1. Invite local and state elected officials to tour your campus or attend a school event, such as a fall carnival or student performance.
2. Visit your lawmaker's office with parents, students and teachers and tell them about your school.
3. Sign up to join the Texas Charter Revolution and learn all about the issues facing public charter school students!
Our students are being shortchanged about $1,000 just because they attend a public charter school. We have 18 months to show our lawmakers how important public charter schools are to Texas families.
Let's start advocating NOW and erase that funding gap!