Rep. Simmons, Rep. Bohac, Rep. Dutton, Sen. Campbell, Parent Pricilla Cavazos, and Larkin Tackett of IDEA
There is significant momentum for charter school facilities funding this legislative session. Earlier this week, Senator Donna Campbell held an event at the Texas Capitol to highlight joint efforts to narrow the funding gap between students at public charter schools and traditional school districts.
Sen. Campbell was joined by state Reps. Harold Dutton, Dwayne Bohac, and Ron Simmons to discuss the importance of providing charter schools with facilities funding through their companion legislation, SB 457 and HB 2337.
Also participating in this event were parents, charter leaders, and advocates from Austin area charters including Harmony Public Schools, IDEA Public Schools, KIPP Public Schools, Not Your Ordinary School (NYOS), Orenda Education, and Rapoport Academy (Waco). These schools, among others from across the state, coordinated a letter writing campaign beginning last fall to encourage families to reach out to their elected officials regarding the need for facilities funding.
Pricilla Cavazos, a parent whose child attends NYOS, shared her personal story on finding a school to best meet the needs of her child and her experience on a waiting list for a charter school. Additionally, Ms. Cavazos told legislators the need for facilities funding and what it would mean for her child to have access to a school library and large hallways in a brick and mortar building (as opposed to a portable classroom).
Larkin Tackett of IDEA Public Schools also delivered remarks describing their student success and tragically, the number of students on a waiting list to attend one of their campuses.
TCSA wants to thank these legislators for hearing the demand of Texas families and responding with filing SB 457 and HB 2337. This is the first time a House bill for charter school facilities funding has been filed by a set of joint authors representing both bipartisan and geographic diversity. This effort is led by legislators representing Dallas-Ft. Worth, San Antonio, Houston, and the Rio Grande Valley, where a majority of charter schools educate students.
We also want to thank the families from across the state who wrote letters to their elected officials advocating for public charter schools. Many of these letters were delivered to legislative offices later in the afternoon.
Click here to watch the full event in its entirety. (not compatible with Chrome).
Does your technology infrastructure need a boost? With the E-rate program filing window coming up, now is the time to consider whether your school is making effective use of the E-Rate program.
The Universal Service Fund's School and Libraries Program, more commonly known as the E-Rate program, awards $3.9 billion annually in funds to support the broadband and Wi-Fi needs of schools and libraries in the United States. In particular, charter schools serving high percentages of students eligible for free or reduced meals under the National School Lunch Program are prioritized highly in this program. In a climate that offers few funding mechanisms to support facilities, the E-Rate program helps offset the cost of technical infrastructure that most schools will implement in their facility projects anyway.
E-Rate offers up to a 90 percent discount on broadband, and up to 85 percent on Wi-Fi services and related infrastructure. Common E-Rate eligible needs include:
• High quality, high bandwidth Internet Access
• Wide area network connectivity
• Wireless access points and other network electronics
• Building network wiring in support of the above
With over 10 years of experience working exclusively with charter schools and the E-Rate program, E-Stream Technologies has a substantive understanding of both the technologies as well as the E-Rate program rules, and is committed to assisting charter schools use these funds effectively.
In 2008, E-Stream began working with KIPP Delta Public Schools in the state of Arkansas. KIPP Delta serves a student population with over 90 percent eligibility for free or reduced meals in the National School Lunch Program. Being a rural organization and with relatively little E-Rate program participation at the time, KIPP Delta experienced significant daily operational and instructional challenges due to unstable, insufficient, or non-functional Internet Access and Wi-Fi: Teachers and classrooms could not access web-based content reliably. Operations staff could not access central repositories of school data. Basic network printing was hit or miss. The prime reason: The rural location often increased the cost of quality technologies and services beyond what school budgets could reasonably accommodate.
Starting in 2009, E-Stream Technologies assisted KIPP Delta in obtaining significant E-Rate support for an organization-wide overhaul of its technical infrastructure. "With the support of local partners we [KIPP Delta] selected during annual competitive bidding, in just a few years we have virtually eliminated the problems our staff had in accessing the Internet," says Scott Shirey, Executive Director. "As a result of the increase in stability in our systems, we've become a more efficient organization, and more effective in our mission."
Getting support from the E-Rate program isn't without its hurdles, however. The compliance requirements are significant, and applications often undergo close scrutiny, sometimes resulting in randomly-assigned complete audits of the application process. "E-Stream handled every step of the review process comprehensively when our applications underwent scrutiny. By the time we started review, E-Stream already had documentation prepared that was assembled and provided during review. The process was painless, and the result well worth our investment."
If you'd like to learn more about the E-Rate program, or discuss your organization's eligibility to participate, please call Ignacio Gonzalez at 888-776-5269, or email us at erate@estreamtech.com.
Having been a very early member of Texas Charter Schools Association (TCSA), KIPP Houston Public Schools has seen its membership and voice grow over the years. I am thrilled our shared work empowers parents to have a voice as advocates at the state level. Everything from TCSA rallies to a deeper dive into Action Alerts through the Texas Charter Revolution empower parents of waitlisted and enrolled students to engage in the conversation for public school options for their children.
And every year we get better at this work together. Parents across Texas and my home city of Houston are reaching out together, meeting with their elected officials, and engaging in a conversation about supporting priorities for public charter schools like facilities funding.
Recently TCSA and KIPP Houston Public Schools have worked on a few high impact projects:
• Increasing the number of parents in Voter Voice for Action Alerts
• Involving parents in a letter writing campaign with their state legislators
• Training parents through Charter School 101
• Connecting the KIPP lottery to a Voter Voice Campaign for parents to share why they want educational options for their children
This last project is probably my favorite and in just one week, we have had more than 1,400 letters sent to Houston-area legislators about why parents are demanding public school options like KIPP for their children.
In a democracy, real action occurs when communities have voices. I am excited to partner with TCSA to ensure that our parents' voices are heard.
_____________________________________________________________________
How to Join or Renew with TCSA:
Step 1: Login to the Quality Member Portal
Applications will be completed in the Quality Member Portal. Once logged in, click the 'Membership' tab at the top. Please click here if you have forgotten your password.
Step 2: Complete the 2017 Online Membership Application.
Upon submission of the online application, an invoice will be automatically generated and sent directly to the accounting contact email listed on the application.
Step 3: Remit your Membership Dues to:
Texas Charter Schools Association (TCSA)
700 Lavaca Street, Suite 930
Austin, TX 78701
If you have questions, please contact Nadia Luna.
Thank you for your continued support of charter schools in the great state of Texas.
By: Justin Parmann, guardian of a KIPP Austin Comunidad student
My wife and I became the guardians of her two amazing grandsons a little more than three years ago. They were almost one- and four-years old at that time. In their short lives, the boys experienced a lot of instability and uncertainty. It is because of this that our goal has always been to provide a stable environment.
Quality education and matriculating to college is one way we wanted to help the boys to grow and develop into successful men. My wife and I both understand and appreciate the importance of a college education. We began to work with the kids at home introducing many of the pre-K topics knowing it would help make school a positive experience. We were excited that our local public elementary was in our neighborhood which would allow us to walk to ride our bikes to school with the boys each day. Unfortunately the learning environment at our local school was anything but supportive.
The teacher's approach to our oldest already knowing his shapes, colors, numbers, and letters was to ostracize him by having him sit in the corner and not be taught. This was so the rest of the class could catch up. But it marked him for bullying. He would come home so sad because other students would write on his clothes, cut his clothes with scissors and even pour glue on him. When our concerns were excused as "normal kid things", we moved it up the ladder. Little did we know this would mark him from the top on down. The school did nothing.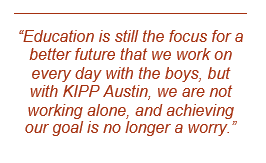 The disregard for his education from the educators was inexcusable and it set us back even further when it came to his life threatening peanut allergy. We got promises that they would hand out all snacks, but still putting a peanut snack in his backpack. We finally had to keep him from participating in school parties because they refused to see the severity of his condition. The final straw was when he was taken on a field trip without his emergency bag containing lifesaving medications and his inhaler.
After the repeated disappointments with our neighborhood public elementary we began actively looking for alternatives. With private schools not being an affordable option we began to investigate public charter schools. Neither of us had any experience with public charter schools so we began to read everything we could about the various choices in Austin. Using social media we reached out to other parents and visited our top school choices.
In the end, the right choice for us was KIPP Austin Comunidad. We loved the immersion dual language program. Plus the passion and energy of the staff was contagious. The KIPP motto of "To and Through College" is something KIPP Austin Comunidad lives every day. College is a natural part of everything they do -- from classroom decorations, to the names of their homeroom classes, field lessons, class projects, spirit days and more. The expectations of students at KIPP are high. The days are long and it requires a commitment from the entire family. The effort your family puts in is exceeded by the effort the teachers and staff put forth. The teachers keep in consistent contact through email, text, and phone calls; as we discuss good and bad behaviors, and work together to help him overcome different challenges.
Early in his kindergarten year his ADHD became apparent. Beyond working with our pediatrician, our amazing team of kinder teachers jointly did research with us on additional things we could do in the classroom to help him stay focused, and implemented them quickly. The business manager for the school consulted with us regularly on continuous improvements to their policies and procedures they were implementing around food allergies. The examples of positive, constructive engagements with myself and other parents are just too numerous to list.
The results of being challenged and supported by our charter school are amazing. After his first month, he was switching between Spanish and English with ease, and his confidence in both languages has continued to soar for the last two years. He is preparing to start second grade now. Next year, we are excited our youngest will join him as a kindergartner at KIPP Austin Comunidad. Education is still the focus for a better future that we work on every day with the boys, but with KIPP Austin, we are not working alone and achieving our goal is no longer a worry.
By: Zach Salesman, A.I.M. , and Lisa Freeman Schutz, KIPP San Antonio
TCSA works hard to connect competitively-priced solution providers with the needs of our member schools. If you are a TCSA Solution Provider or TCSA member school with a positive story to share, let us know! Click to learn more about TCSA membership opportunities.
Zach Salesman, A.I.M.
"KIPP San Antonio is always focused on providing the best education and environment for its students. When our team started working with KIPP we were impressed by the amazing collaboration and dedication that [the] team brought to the table. Working in education we know that every student's learning profile is unique and services often have to be tailored to meet those needs. The staff at KIPP understands this and it's one of our favorite things about working there. KIPP is always communicating with us and trying to find unique ways to do more for students and families. In that spirit, together we have developed new systems, tracking mechanisms, professional development and service delivery models that keep quality high, but are cost effective for our customer. What we've done and shared with KIPP in the last year is so inspiring and energizing. We can't wait to see what happens next!"
Lisa Freeman Schutz, KIPP San Antonio
"As a growing charter school region, it was a leap of faith for us to leave our special ed co-op and manage our own services. A.I.M. was an amazing partner for us in this process. Their team of service providers were great to work with – knowledgeable, professional and caring. I felt as though I had the benefit of full-time employees. They are all invested in doing the right thing for our children. And the owners of A.I.M. were always ready with advice about ensuring that we are meeting the needs of our students and complying with regulatory requirements. They understand the ways charter schools are similar to, and different from, traditional public schools. I couldn't ask for a better partner than A.I.M."