TCSA has two new free webinars planned for next week that should be of interest to both charter CEOs and administrators as well as board members.
On Tuesday, September 10th at 11:00 a.m. please plan to join Ryan Alexander for Introduction to Civic Builders. Civic Builders, a non-profit facilities developer, offers very favorable terms to charters looking to establish a permanent facility presence in their community. Ryan oversees the Facilities Investment Fund, a $100 million loan fund formed in partnership with the Walton Family Foundation and Bank of America to support high-performing charter schools nationwide with their permanent facilities initiatives. The program offers very favorable financing terms to charter schools and has an established track record of working with charters in Texas. If you are thinking about expanding or upgrading your current facility, this is a webinar you don't want to miss.
On Friday, September 13th at 10:00 a.m. please plan to join us for How to Have Great Governance Board Meetings. Great governance board meetings don't just happen - they are a result of detailed planning, collaborative communication, consistent implementation, and knowing to expect the unexpected. The webinar is designed for both charter CEOs and board members and will cover the following topics:
Planning for meetings throughout the year
Crafting a collaborative agenda
Reports and data that board members need to see
Monitoring SMART student outcome goals during the meeting
Rules and best practices for open meetings and closed executive sessions
Can't make the live webinar presentation? No worries – these webinars will be recorded and offered for free as part of our ever-growing collection of on-demand training offerings.
Speaking of free – all of our on-demand, commissioner credit approved content is now free to TCSA members as part of your 19-20 membership renewal! This is a convenient option for those board members and administrators who want the option of a 24/7 training and credit acquisition platform.
Did you know that TCSA also does live board training? Last year we trained over 30 charter holder boards. The trainings are informative, interactive, and enjoyable. Contact Dr. Bruce Marchand at TCSA to get on our training calendar!
Two of the important conference breakout strands emphasize training in effective governance as well as developing school and network leadership systems. Here's a sampling of breakout sessions in these two strands:
Why is Good Charter School Governance so Difficult? presented by Mike Mizzoni of BoardOnTrack – Monday, October 28 – 10:45 a.m.
Great boards are well-staffed and well-supported. They have the right people in the right roles, doing the right work. And, by measuring their performance, they improve their capabilities over time. In this interactive workshop, we'll hand over the keys to great charter school governance. Whether you're focused on ending your first year strong, preparing to replicate, and managing a rapidly-scaling organization, you'll take away actionable strategies and practices for your governance team. Together, we'll explore:
How to ensure you've got the right people in the right roles, from charter starter to rapidly-scaling organization
The systems and processes that make great board meetings
How to establish and strengthen a board-CEO partnership that, in turn, strengthens your organization.
If you don't grow your people, who will? A Model for Developing Organizational Capacity: presented by Troy Mooney, EdD and Lani Norman of Life School – Tuesday, October 29th, 2:00 p.m.
Employees are overtrained and underdeveloped. Learn how to develop leaders at all levels in your organization to improve student outcomes. Participants will explore how to build capacity by redefining systems and empowering leaders in order to create a sustainable learning culture that will:
Develop a systematic approach to creating leaders at all levels in their organization
Build organizational capacity through systems-thinking
Identify critical personnel groups to develop that improve student outcomes
Avoiding Chaos: Leadership Development and Succession Planning presented by attorney Darrick Eugene of Darick Eugene Law Firm – Wednesday, October 30th, 9:45 a.m.
The charter school movement started over 20 years ago and organizations that were new and novel are now mature and possibly in transition. As these organizations grow from founder lead to management lead, they may experience growing pains and challenges with navigating that path. This presentation will provide guidelines and strategies for leadership development and succession planning that will give school leadership resources to avoid potential pitfalls. Through case studies, group discussion and real world examples attendees will be encouraged to participate in and lead their organizations to new horizons.
Have you registered for the conference? Do so now before rates go up!
Have you downloaded the 2019 Conference App? It's the best way to get the most updated information about the conference, including speakers, sessions, and special events!
Questions? Call our conference registration hotline at 1-855-389-8723 or email us at conference@txcharterschools.org
TCSA has Training and Services to Meet Your Specific Needs!
Did you know - There are very specific professional development requirements outlined in 19 TAC §100.1102-1105 describing required training for board members, CEOs and charter officers, and campus administrators;
Did you know - New board members must receive 12 hours of prescribed Commissioner-hour training in their first year of service and 6 hours annually thereafter, with training in Public Records and Open Meetings within the first 90 days of service on the board;
Did you know - CEOs and Business Managers must receive 30 hours of training in their first year of service and 15 hours annually thereafter, with different training modules for each role;
Did you know - Campus administrators are required to have 10 hours of training initially and 5 hours annually thereafter; and
Did you know - The Texas Charter Schools Association has a solution for all of your training needs!
Training Solutions for Board and Administrator Training
TCSA's on-demand training portal is a great option for board members, CEOs, and campus administrators who want high-quality, up to date Commissioner-hour credit training with the convenience of 24/7 access.
In-person board training is available at reasonable rates for schools that prefer a "live" training option and can be customized to meet the needs of the school. TCSA is also one of the few authorized providers of the new state EISO training for CEOs and boards that are interested in an effective way to look at data and goal-setting.
TCSA will again provide a 6-hour large-group board training on Friday, October 26th in Houston as part of the TCSA Conference.
Customized Training to Meet Your Needs for 2018-2019
TCSA can provide training to complete the ESSA-required Campus Needs Assessment and Campus Improvement Plan using the TCSA Quality Framework
Request access to the TCSA Heat Map and learn how the Campus and Network Data Packs in the Quality Portal can help you with Growth and Development strategies.
Be looking for an announcement of our CFO Boot Camp Training to be held in early December!
As your member organization, TCSA is here to assist you in any way we can to help you achieve excellence in your organization.  Be sure to let us know how we can serve you!
Are you wondering how your campus compares with other schools? Are your students experiencing academic growth in Reading and Math that is comparable to other schools in your county, region or the state? Is your school, as a whole, serving students well when compared to other schools that serve similar populations?
Have you viewed your Student Growth Percentile (SGP) Data or your Similar Schools Measure Rankings (SSM)?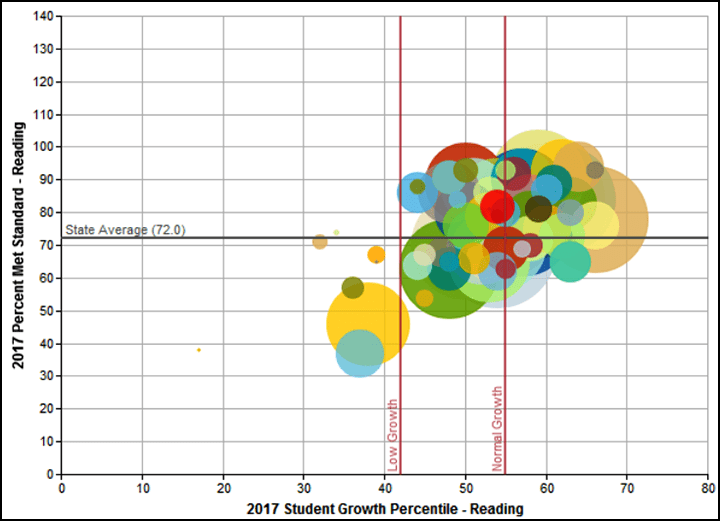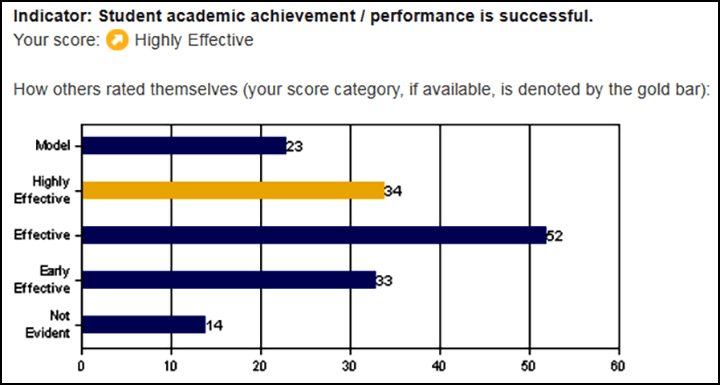 Do you know how you compare organizationally in critical areas of operations, human resources and finance? All of this is available as part of your membership with TCSA.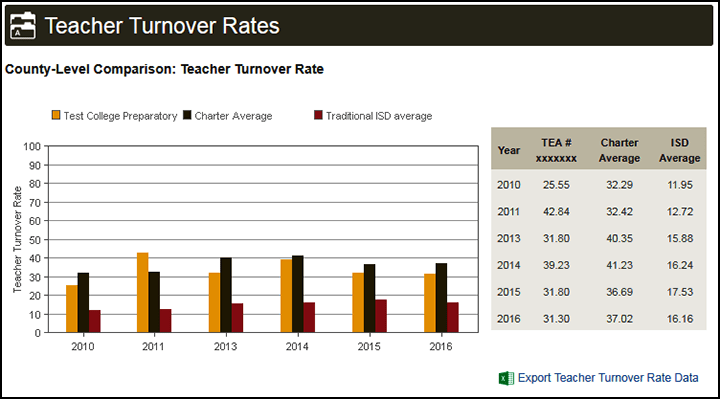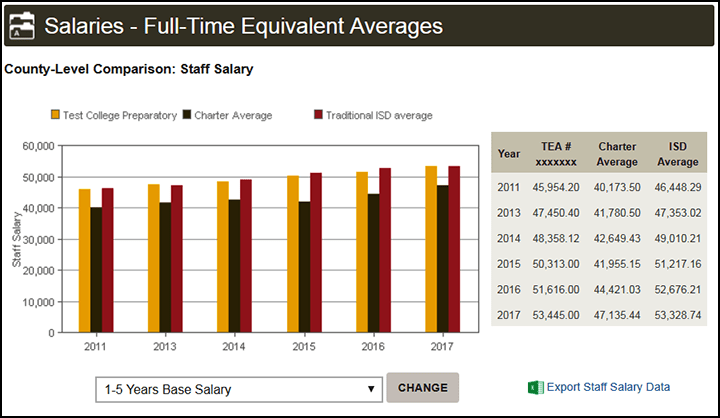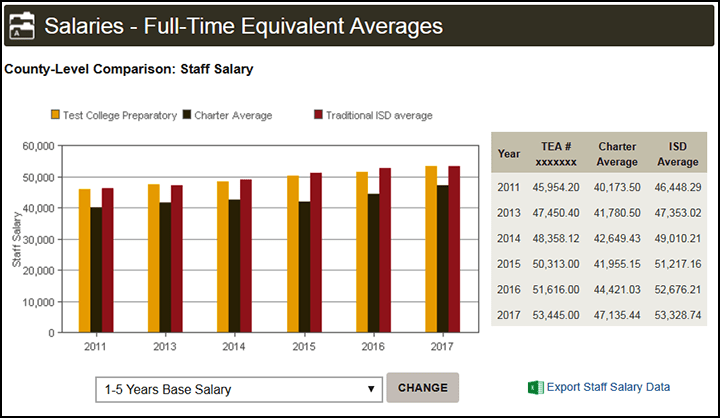 TCSA maintains a data warehouse for each member school, which includes proprietary data as well as aggregated data from the Texas Education Agency (TEA) and trend over time comparative organizational data.  Leaders, teams, and school boards use these data in their strategic decision-making process, as they craft improvement plans and determine resource allocation.  For assistance accessing your school's data, request an account here or email qualityframework@txcharterschools.org today!
Changes are coming to the Charter FIRST indicators. If you are a growing school, many of those changes may impact your ratings. The draft Charter FIRST indicators, which are proposed to go into effect in 2020, expand the topics reviewed as a part of a charter school's annual financial evaluation.
The current financial rating system is comprised of 15 indicators that assess a school's solvency, sustainability and compliance with its commitments and its use of public funds. The proposed indicator list for the 2020 school year expands the number of indicators from fifteen to twenty-one, adding the following topics:
- Change in Net Assets,
- Maximum Annual Debt Burden,
- Debt to Capitalization Ratio,
- Average Daily Attendance,
- Financial Transparency,
- Budgeted vs Actual Revenues, and
- Geographic Boundary
Join us for a live webinar on Thursday, March 8th at 4 p.m. when we'll walk through calculations for the draft indicators and discuss implications for charter schools.  Register here in TCSA's Learning Zone or email Laura Kelly at lkelly@txcharterschools.org.
Is your school expanding? Or, are you part of a team that hopes to open a charter school in Texas?  TCSA's new market identification service can help your team identify a target location that aligns to your school's needs.
The TCSA team works, on an ongoing basis, to develop tools and services that provide value to charter leaders and their boards. We are pleased to announce the launch of our latest offering -- the statewide heat mapping tool and its related market identification service. 
The tool accesses TCSA's rich repository of historical data related to charter school and ISD performance across the state and merges key school performance and composition data points with community-level census data. The data analysis renders a map with "heat' showing areas of density of need across the state. 
The tool enables the TCSA Growth and Development Team to identify locations aligned with your goals using a variety of filtering options. Additionally, the tool provides location markers for existing charter school and ISD campus locations across the state.  A few of the variables available in the location analysis include:
Academic ratings
Campus-level, student enrollment composition data (Economically Disadvantaged, English Language Learners, At-Risk students and additional student demographic options available)
School type
Grade levels served
Community Poverty rates
Community educational attainment levels
Community-level limited English language use
Geographic options include: state, region, county, city and district level
As you consider where to locate your new school site, we encourage you to let TCSA assist you in your expansion and new school development efforts.  Feel free to contact the TCSA Quality Service and Growth Team for additional information – quality@txcharterschools.org or by calling 512-584-8272.
Do not forget your free legal assistance from the dynamic duo of Texas Charters Schools Association's (TCSA) Legal Team: Lindsey Gordon, General Counsel and Christine Nishimura, Deputy General Counsel. As members of TCSA, each school's administration, board of directors, and human resource specialists have access to free legal assistance on all your pressing questions. TCSA Legal is here to assist you through the ever-changing state and federal charter school laws.
In addition to legal assistance, TCSA Legal provides a voice for member schools by submitting comments to the Texas Education Agency (TEA) and School Board of Education (SBOE) as it relates to regulations impacting charter schools.  TCSA Legal also works closely with TCSA Advocacy to review, draft and analyze legislation that strengthens the Texas charter movement and supports TCSA Legislative priorities, such as achieving facilities funding this past legislative session.
TCSA Legal is here to assist schools and to ensure they are always in compliance. Member schools also receive discounted prices on Model Policy Subscriptions, the Model Personnel Handbook, and the Model Student Code of Conduct that reflect the current state and federal requirements.
Renew your membership today to ensure you continue to receive free legal assistance from TCSA!
Most traditional teacher support organizations are anti-school choice – are your staff's paychecks going to one of these organizations? Working at a charter school comes with its own set of unique challenges. Staff work long hours and are selfless in their pursuit of supporting their charter's mission, but what if they belong to an organization that seeks to stifle the charter movement? Let us offer a better choice.
"I want my teachers to be a part of a professional educators association but finding one that advocates and supports charter schools is not easy. AAE provides the professional benefits we care about as educators in addition to advocating on behalf of all public school teachers including those who choose to serve in a charter school."
Lisa McDonald
Executive Director
Brighten Academy Charter School
One of the best things you can do to support your staff is help them advocate for themselves and the charter sector. TCSA collaborates with The Association of American Educators (AAE) to support educators working in our charter schools. AAE is the largest national, non-union, professional educator's organization that supports school choice and legislation that paves the way for new and innovative learning environments, including charters and virtual schools.
"We all know teachers and school personnel aren't paid what they are worth. So it is even more important to offer them opportunities to be financially responsible and proactive. They are building the future every day, so partnering with AAE just makes sense to help your staff prepare for that future. They should be able to enjoy it!"
Michelle Holland – Elementary Principal
Leadership Prep School Frisco
AAE provides professional benefits and services to its members such as liability insurance, professional development opportunities, supplementary insurance, and classroom grants. A number of Texas charter school educators are members of AAE, including Anita Collins, who received a classroom grant in 2017.
"I joined AAE because I wanted to build relationships and network with other educators around the country, gain knowledge on the latest trends and issues impacting education, and to receive the excellent insurance benefits it provides."
Anita E. Collins - Teacher
Life Oak Cliff Secondary
AAE offers school-wide training and advocacy resources for your staff. Have you seen their Teachers as Charter School Advocates toolkit? Keep your staff energized and engaged – let them be a part of the grassroots effort to advocate for Texas charter schools while building a culture of leadership at your campuses.
To learn more about TCSA's partnership with AAE, contact Erin Tholen. To speak directly with AAE, contact Rena Youngblood.
85TH REGULAR SESSION LEGISLATIVE SUMMARY AVAILABLE NOW
The TCSA Legislative Summary of the 85th Regular Session of the Texas Legislature is now available for member schools through the TCSA Quality Member Portal. TCSA Legal kept busy this summer reviewing and summarizing all 113 bills passed during the 85th Regular Legislative Session that impact public education. We hope the Summary will be a useful tool for charter school leaders as they head into the 2017-2018 school year and implement many of the new laws. Some of the highlights from the Legislative Session include:
Two Key TCSA Legislative Priorities:
SB 1480 increases the capacity of the Permanent School Fund (PSF) available to guarantee the financing of public charter schools from $1 billion to an estimated $4 billion beginning September 1, 2017, providing ample capacity for qualifying charter schools to take advantage of the savings afforded by the PSF Bond Guarantee Program.
HB 2442 protects the funding of about 110 public charter school campuses that enroll nearly 21,000 students. HB 2442 changes the requirement of 75,600 minutes of instructional time, to 75,600 minutes of operation. Additionally, it amends Tex. Education Code §42.005 to ensure all charter schools in operation on January 1, 2015 continue to receive full funding.
Other Significant Bills Include:
SB 179, known as "David's Law" makes significant changes and additions related to student bullying and cyberbullying, and subjects charter schools to the Chapter 37 requirements of the Education Code as it relates to bullying prevention policies.
SB 7, expands the prohibition of improper relationships between an educator and an student to include any teacher, librarian, aide, administrator, counselor, or diagnostician regardless of whether the person holds a license or certificate, and imposes new SBEC reporting requirements and penalties for failure to report and improper conduct.
SB 160 removes by statute the 8.5% special education PBMAS indicator and SB 1153 implements new requirements relating to multi-tiered intervention strategies such as response to intervention (RTI), including parent notification and PEIMS reporting requirements.
Many of the new laws require charter schools to adopt new policies and procedures. We are currently updating the TCSA Model Policy Series (including the Model Personnel Handbook) which we will make available to subscribers soon.
The Model Student Code of Conduct Guide has been updated and is now available to purchase. The new Model Student Code of Conduct Guide addresses bullying and cyberbullying. Previous purchasers will receive a discount on the purchase of this new edition. As a reminder, the Guide was developed by TCSA and the Walsh Gallegos law firm to provide a legal and practical guide for charter schools to use in developing a student code of conduct. It contains model code of conduct language, legal and practical tips for development and implementation, and helpful forms for use in the student discipline process.
As always, do not hesitate to contact me or Christine Nishimura with questions or for more information on the laws passed by the Texas Legislature during the Regular Session.