Update: Learn how to build grassroots advocates on your campus for your public charter school students at the 2015 Texas Charter Schools Conference on October 28-30. View workshops and session
Earlier this year, we asked you to share why you love your charter school. It's critical to share your stories so the community, elected officials and local leaders understand the importance of public charter schools in Texas. Our students and families deserve the right to choose the best fit public school for them. To get involved please join the Texas Charter Revolution.
In case you missed the responses, below are some of the highlights.
"Our students come from a diverse set of backgrounds. Seeing them grow and learn daily reminds me why I wanted to become an educator." - Educator at Harmony School of Science Austin
"I love my charter school because they are big on building lasting relationships and training life leaders....The teachers and staff genuinely care for the kids they teach, doing what it takes to help the [students]." - Parent, Advantage Academy, Waxahachie
They care about each student on a personal level, and each student and their parents, know it and see it on a daily basis. The entire staff is amazing and they take so much time out of their own lives....I feel like my child really matters!" - Parent, Vista Academy of Hickory Creek
"My public charter school actually cares about the students and helps them to succeed in their class work. The wow factor for us is the way students are treated with respect and are allowed to move forward with their studies on an individual basis." - Parent, Premier High School, New Braunfels
"Where do I start? My grandson attends this school and I am so grateful for all they have accomplished in him. He is nonverbal and they are so patient and kind in his instructions and because of their diligence, he is able to speak a few words now." - Guardian, Foundation School for Autism, San Antonio
"[My school] is caring, respectful and mindful of kids, not only their education but their feelings too. They know they are dealing with the future and give these kids the right steps to be great leaders and mindful adults." - Parent, International Leadership Texas, Garland
"I love my public charter school because I have students that actually want to learn and they have a choice to go any where. The thing my school does that wows me is that we make sure every child is learning and getting the support that they need." - Educator, Houston Gateway Academy
"I love my public charter because they are big on building lasting relationships and training life leaders. Life's love for us WOWS me and helps me understand what "Life" is all about. My public charter school ROCKS! There is no other place like it!" - Educator, Life School Oak Cliff
And a letter from Abigail, a 9th Grader at Houston Gateway Academy
My school, Houston Gateway Academy, is very great. I love that my school has a band and a few other activities. My school makes me want to be the best of the best. It encourages me to never give up and accomplish my many goals.
I love the education I receive. The teachers really care about grades and are able to give us students one-on-one education when we need it. Our teachers know us so well, they can tell when we don't understand something or are struggling
My teachers are always pushing us to give everything our all.
My charter school makes me feel like I can be myself, and I'll always be understood.
I love my charter school. There's no other school I'd rather go to than Houston Gateway Academy.
Be sure to attend the 2015 Texas Charter Schools Conference, where the advocacy and grassroots track will give you the tools needed for strong advocates on your campus.
By: Justin Parmann, guardian of a KIPP Austin Comunidad student
My wife and I became the guardians of her two amazing grandsons a little more than three years ago. They were almost one- and four-years old at that time. In their short lives, the boys experienced a lot of instability and uncertainty. It is because of this that our goal has always been to provide a stable environment.
Quality education and matriculating to college is one way we wanted to help the boys to grow and develop into successful men. My wife and I both understand and appreciate the importance of a college education. We began to work with the kids at home introducing many of the pre-K topics knowing it would help make school a positive experience. We were excited that our local public elementary was in our neighborhood which would allow us to walk to ride our bikes to school with the boys each day. Unfortunately the learning environment at our local school was anything but supportive.
The teacher's approach to our oldest already knowing his shapes, colors, numbers, and letters was to ostracize him by having him sit in the corner and not be taught. This was so the rest of the class could catch up. But it marked him for bullying. He would come home so sad because other students would write on his clothes, cut his clothes with scissors and even pour glue on him. When our concerns were excused as "normal kid things", we moved it up the ladder. Little did we know this would mark him from the top on down. The school did nothing.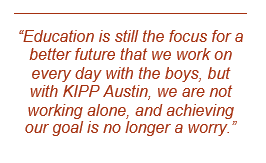 The disregard for his education from the educators was inexcusable and it set us back even further when it came to his life threatening peanut allergy. We got promises that they would hand out all snacks, but still putting a peanut snack in his backpack. We finally had to keep him from participating in school parties because they refused to see the severity of his condition. The final straw was when he was taken on a field trip without his emergency bag containing lifesaving medications and his inhaler.
After the repeated disappointments with our neighborhood public elementary we began actively looking for alternatives. With private schools not being an affordable option we began to investigate public charter schools. Neither of us had any experience with public charter schools so we began to read everything we could about the various choices in Austin. Using social media we reached out to other parents and visited our top school choices.
In the end, the right choice for us was KIPP Austin Comunidad. We loved the immersion dual language program. Plus the passion and energy of the staff was contagious. The KIPP motto of "To and Through College" is something KIPP Austin Comunidad lives every day. College is a natural part of everything they do -- from classroom decorations, to the names of their homeroom classes, field lessons, class projects, spirit days and more. The expectations of students at KIPP are high. The days are long and it requires a commitment from the entire family. The effort your family puts in is exceeded by the effort the teachers and staff put forth. The teachers keep in consistent contact through email, text, and phone calls; as we discuss good and bad behaviors, and work together to help him overcome different challenges.
Early in his kindergarten year his ADHD became apparent. Beyond working with our pediatrician, our amazing team of kinder teachers jointly did research with us on additional things we could do in the classroom to help him stay focused, and implemented them quickly. The business manager for the school consulted with us regularly on continuous improvements to their policies and procedures they were implementing around food allergies. The examples of positive, constructive engagements with myself and other parents are just too numerous to list.
The results of being challenged and supported by our charter school are amazing. After his first month, he was switching between Spanish and English with ease, and his confidence in both languages has continued to soar for the last two years. He is preparing to start second grade now. Next year, we are excited our youngest will join him as a kindergartner at KIPP Austin Comunidad. Education is still the focus for a better future that we work on every day with the boys, but with KIPP Austin, we are not working alone and achieving our goal is no longer a worry.