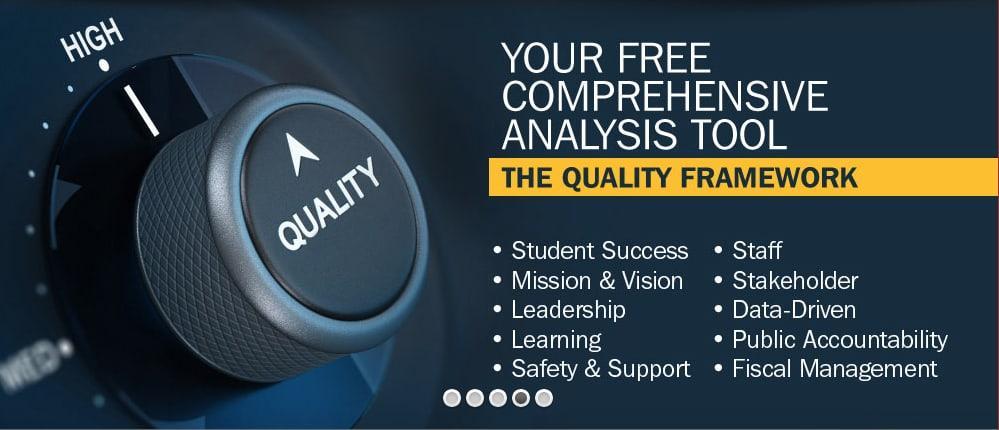 The needs assessment process, which is required for schools implementing federal and state programs using ESSA (Title I, II, III, IV) and State Compensatory Education funds, is useful for all school leadership teams as an ongoing part of continuous improvement planning. Conducting a comprehensive needs assessment (CNA) is a vital task for school leaders, though some shy away from the process assuming the task is fraught with complexity. 
TCSA has helped ease your anxiety as you follow this simple, step-by-step assessment process.  
1. Determine your Purpose
Are you conducting a comprehensive needs assessment as part of a requirement for state or federal funding? Or, are you reviewing performance as a whole to develop a shared understanding of the school's weaknesses and programmatic or organizational needs? Be sure to share your purpose and hoped for outcomes as you engage others in the work.
2. Identify your Team/Committees
As a best practice, representation from several stakeholder groups is best. Identify a few parents and appropriate staff members to participate. Differing views and perspectives will shed light on the nuances of current engagement and programmatic implementation and will help shape the improvement plan. 
3. Review Data, Organizational Activities, and Observed Strengths & Weaknesses
Within the member portal leaders can take the Quality Framework self-evaluation, providing insights into ten systems of school functionality and health.  Additionally, an extensive data pack is available. Once the self-assessment is complete and submitted, review the results under the Quality Framework Reports section of the portal. The QF report will highlight critical areas needing attention as well as spotlight exceptional performance. 
4. Determine Action Plan and Next Steps
Once the gaps have been identified, determine the areas of focused improvement. It is important to narrow the efforts to a few key areas, since research tells us that having too many goals diminishes the likelihood of reaching the desired outcomes. Note that the QF report also includes a "Next Steps" report option which enables teams to choose areas of focus and print a related report that includes improvement recommendations for those areas.
5. Identify Goals, Targets, Owners, Follow-Up Dates and Process
The final step is to ensure that each area of improvement has clearly defined owners and expectations for ongoing follow-up and accountability. Each outcome target should have measurable and time-bound expectations along with ongoing follow-up steps to monitor progress toward goals.
The comprehensive needs assessment process is critical and made simple by the tools provided FREE to member schools. For more information, or for assistance in leading your team through this process, contact Laura Kelly, Director of Quality Services, at  lkelly@txcharterschools.org. 
Is your school expanding? Or, are you part of a team that hopes to open a charter school in Texas?  TCSA's new market identification service can help your team identify a target location that aligns to your school's needs.
The TCSA team works, on an ongoing basis, to develop tools and services that provide value to charter leaders and their boards. We are pleased to announce the launch of our latest offering -- the statewide heat mapping tool and its related market identification service. 
The tool accesses TCSA's rich repository of historical data related to charter school and ISD performance across the state and merges key school performance and composition data points with community-level census data. The data analysis renders a map with "heat' showing areas of density of need across the state. 
The tool enables the TCSA Growth and Development Team to identify locations aligned with your goals using a variety of filtering options. Additionally, the tool provides location markers for existing charter school and ISD campus locations across the state.  A few of the variables available in the location analysis include:
Academic ratings
Campus-level, student enrollment composition data (Economically Disadvantaged, English Language Learners, At-Risk students and additional student demographic options available)
School type
Grade levels served
Community Poverty rates
Community educational attainment levels
Community-level limited English language use
Geographic options include: state, region, county, city and district level
As you consider where to locate your new school site, we encourage you to let TCSA assist you in your expansion and new school development efforts.  Feel free to contact the TCSA Quality Service and Growth Team for additional information – quality@txcharterschools.org or by calling 512-584-8272.
Studies have shown that in a student's years between kindergarten and their senior year, he or she will spend the equivalent of one school year's time with a substitute teacher.  School administrators use a lot of energy and lose a lot of time in the recruitment, hiring, training, payrolling, and scheduling of substitute teachers. 
These activities can be even more challenging for charter schools because some are not located in large residential areas and face tougher challenges in recruiting and retaining valued substitutes.
Outsourcing substitutes is becoming a much more widespread practice among schools for the advantages it offers schools and substitutes such as weekly payroll, call centers, training, workman's compensation, affordable care act, and time spent on these activities.
SubTeachUSA and ESS Company collaborates with TCSA as an Elite Provider of substitute outsourcing and has over fifteen years of experience in the placement of quality substitutes in the classroom. 
"I am still very pleased with the level of customer service I receive from SubTeach.  I have communication with them on at least a weekly basis and any other time it is needed.  The sub pool is continuing to grow and the fill rates have steadily improved from last year."
Ryan Harris, Executive Director of Human Resources
Faith Family Academy, Dallas TX
One of its co-owners is a former substitute teacher who wanted to broaden opportunities for people like her that needed a flexible schedule to attend to her own children.  One of its leadership team is a retired principal whose district was the first to use SubTeach and continues with them today.
To learn more about TCSA's partnership with SubTeachUSA, contact Erin Tholen.  To speak directly with SubTeach, contact James Brittingham, Assistant Director of Operations (the retired principal).