The Texas Education Agency (TEA) has just posted the RFQ announcing the need for qualified external reviewers to score Generation 23 charter school applications. The application packet can be found here. The deadline to apply is Monday, December 11th.
What is an independent external reviewer of charter applications, and what do they do?
As most of you know, the Texas charter authorization process consists of four major components: external review, a panel interview by TEA staff for applicants who were successful in external review, recommendations for approval of charter applicants by the TEA commissioner, and ratification of those recommendations by the State Board of Education (SBOE), where the proposed contract to charter is upheld or vetoed by the SBOE.
Those individuals selected as independent external reviewers will attend a day of training at TEA, tentatively scheduled for January 10, 2018, where they will be trained in the scoring process. Upon completion of the training, reviewers will be assigned applications to score – usually between 8 and 10, depending on the number of applicants as each application is scored by five reviewers. Typically reviewers will have about 30 days to complete the scoring of their assigned applications. Thanks in part to the efforts of the Texas Charter Schools Association, applicants who receive a cumulative score of 80 to 84 percent may request an additional sixth review of their application to allow for the opportunity to raise their score to the 85 percent cut score minimum to proceed in the authorization process.
Why is it important for you as a charter leader to consider this opportunity?
As charter leaders, we have very little say in the charter authorization task with one notable exception: the external review process. And as charter leaders, if we don't take the opportunity to add high levels of competence and collective years of educational expertise to the authorization effort, we are at risk of undermining the foundation of the charter growth movement – the creation of more high-quality seats to provide a world-class public education to the students of Texas.
Successful reviewers need to have a solid background in curriculum and instruction, operations, finance, personnel, governance, and charter law in general. That sounds like a description of many of our great Texas charter school leaders. The hours are long and the pay isn't great, but the cause is worthy.
Please feel free to reach out to me if you have any questions about the process. Thanks ahead of time for considering making a difference in the Texas charter application review process!
By now you have probably heard the buzz and excitement about the addition of five new charter schools that were officially announced by the Texas State Board of Education (SBOE) on Friday, June 23rd. Here's a snapshot of the five new charters opening in August, 2018:
Bridgeway Preparatory Academy, which will be located in the Carrollton/Farmers Branch area of Dallas and eventually expand to Tarrant county with an initial PreK4 - 2nd grade enrollment of 286 and a maximum PreK3-5th grade enrollment of 1,560. Bridgeway plans to use the Universal Design for Learning (UDL) instructional model to provide individualized instructional approaches to all students with an emphasis on students with unique learning needs.
Etoile Academy, which will open in Harris County/Southwest Houston and eventually grow to two campuses with an initial grade 5 enrollment of 150 and a maximum 5th – 8th grade enrollment of 1,500. Etoile will focus on a rigorous, college preparatory curriculum focused on first-time college goers and educationally disadvantaged students.
Legacy the School of Sport Sciences, which will start with one campus in North Houston and eventually add an additional campus in Southwest Houston with an initial 6th – 10th grade enrollment of 550 and a maximum 6th -12th grade enrollment of 2,400. Legacy will offer a unique instructional approach that will feature a rigorous curriculum based on all aspects of the worldwide sports industry, athletics, and sports technology.
Valor Public Schools, which will begin with one campus in the Austin area and eventually operate three campuses in Travis County with an initial K – 9th grade enrollment of 574 and a maximum K-12th grade enrollment of 4,200. Valor will offer a curriculum that combines classical education with a technology-infused, STEM-based instructional approach.
Yellowstone College Prep, which will operate one campus in Houston with an initial 5th – 8th grade enrollment of 240 and a maximum 5th – 12th grade enrollment of 1,000. Yellowstone is unique in that it will share facilities with the existing Yellowstone Academy and will offer a rigorous college preparatory education to students living in Houston's historic Third Ward.
The Current Charter Approval Process
So what does the approval process look like for a new charter in Texas? To put it simply, there are four steps after the charter application is submitted to the Texas Education Agency (TEA). I like to call them the "views": TEA Internal Preview, Independent External Review, Stakeholder Committee Interview, and State Board Review.
TEA Internal Preview is the first step and happens immediately after the charter application is submitted, and is simply a process where TEA Charter Division staff checks each application for missing components and conducts a plagiarism check. Next, an Independent External Review is conducted for all applications deemed complete. External reviewers are selected from applicants who respond to a request for quotation (RFQ) from TEA, with the expectation that reviewers have a solid educational background and an in-depth knowledge of charter schools. Individuals selected are provided a day of training with TEA staff on all eight application components and 90 indicators and in procedures for accurately grading each section. Reviewers are generally assigned six to eight applications to score (each application is scored five times) with about a 30-day window to complete the task.
Next, the Stakeholder Committee Interview is conducted for applications that meet or exceed external review cut score, currently set at 85 percent. This is where TEA staff and State Board of Education members probe projected school staff and governing board members about every aspect of the projected school plan.
Finally, based on the recommendations of the interview committee, the TEA Commissioner will recommend charters to the SBOE for approval, who, in the State Board Review, ask questions of commissioner-recommended applicants. Based on a full board vote, the SBOE will either take no action and thus approve the commissioner's recommendation or choose to veto any of the commissioner's choices.
Strengthening the Charter Approval Process
The approval procedure is arduous, and TEA Charter Division staff and Deputy Commissioner A.J. Crabill do an excellent job holding applicants accountable for fidelity to their proposed mission and vision and the tremendous duty to educate Texas students and responsibly manage taxpayer resources. But like any task of great importance, there are opportunities to improve the current approval process. The main area that should be strengthened is the Independent External Review.
Currently, independent reviewers work with TEA staff, but there is no process in place for reviewers to talk with one another and establish inter-rater reliability regarding common applications they are scoring, and there is no procedure for identifying and mitigating large variations in scores on the same indicator. One suggestion to improve the process is to conduct score panel conference calls, facilitated by a TEA staff member, where reviewers discuss common applications they have scored and share comments they have written about each item and the score they have assigned to the indicator. This is important for several reasons. First, panel reviews eliminate the possibility that when scoring an indicator a reviewer might miss details imbedded in the application narrative and any accompanying attachments. Second, the possibility for wide variations in scores will be lessened, especially if reviewers are required to explain any differences greater than a 20 percent difference in an individual indicator score between reviewers. Finally, panel reviews tend to hold reviewers accountable, as reviewers would have to justify their scores to the rest of the review panel. Ultimately each reviewer would independently score their assigned applications, but the score panel conference call procedure would help to improve the overall consistency and quality of the external review process.
Current commissioner's rules would allow for these changes in the external review process to take place. Although no process for scoring applications is perfect, with some minor adjustments the entire external review process, and ultimately the entire approval process, would be greatly strengthened. At TCSA, our goal is to support and strengthen a diverse set of high quality charter schools, and any adjustments to improve the approval process will help to ensure that only the best applicants will be selected to provide Texas students a quality public charter school education.
Shirin Foroudi McMillan, Dean of College Preparation at Uplift Luna Preparatory-Secondary, delivered brief remarks as a witness at the second meeting of the Texas Commission on Next Generation Assessments and Accountability on February 23, 2016.  The following is her testimony in its entirety.
Good afternoon and thank you for inviting public testimony today on such an important topic. My name is Shirin and I've been a public school educator for total of 13 years and for the last decade I've been at public charter schools. By way of introduction, I'm currently the Dean of College Prep at Uplift Luna, a public charter high school in Dallas. Before this role, I've worked in education in various capacities– I've taught 8th, 9th, 10th and 11th grade English, in addition to teaching courses on College and Career Readiness for 11th and 12th graders. Also, I worked as a college counselor – helping students identify and apply to postsecondary institutions. I'm also a mom – the toughest and the most well-paid teaching job ever. I'm new to Texas, though - so most of my experience comes from New York City– please don't hold that against me.
As I see it, the purpose of standardized testing is three-fold. First, we use it to gauge student mastery. Next, we use results to determine a student's readiness for the next level coursework at our schools or at their next stop academically. Finally – and this is the piece with which I'm most intimately familiar – standardized assessments offer easy points of comparison for outside institutions to determine whether our students are ready for their programs – except for the ever-growing number of test-optional and test-flexible colleges.
No one reason to test is more important than the other. I collaborated with other teachers and brainstormed on a list of all the tests the average college-ready student takes in Texas. We assumed this average student wanted to take the SAT and ACT a few times to benefit from colleges' pretty standard practice of super-scoring by seating or by section. We assumed this average student is considering a state university as a real college option, so he or she would likely sit for the Texas Success Initiative (TSI) Assessment. We also assumed this average student was challenging him or herself with the most rigorous coursework available – not taking into account whether he or she passed the tests or not. Just the tests alone would take this student over 50 hours, and we didn't even account for the amount of practice and prep that should go into each exam. (If you think back to a year-end review with a supervisor or your last interview that may have been tough, it may have felt that long – but I'm sure it wasn't that long.)
The tests don't all happen in the same academic year – but the preparation and practice take place largely over junior and senior years, the time when kids should probably be refocusing their attention on determining their college lists, visiting schools and completing increasingly lengthy college applications. They also happen during a time when kids are hopefully rising up in leadership roles on their campus, on sports teams and in their extracurricular and civic activities.
As it stands, our testing is heavy and redundant. The reading sections of the PSAT, the ACT/SAT, the TSI placement exam and the State of Texas Assessments of Academic Readiness (STAAR) end-of-course (EOC) assessments for English II all read very similarly and I am fairly certain that's not on accident. Obviously, standardized testing doesn't work unless it's standardized and translatable. For better or worse, we assess reading in pretty much the same way across the board – read this, answer these questions about it, and probably bubble something in at the end or maybe write a few sentences on it that can be graded on a very standardized rubric. We did this in New York, we do this in Texas and probably in a lot of states in between. The tests I've mentioned rely heavily on multiple-choice and by offering reading passages that are within two grade levels of one another, often with similar content. With an exception here or there, kids score pretty similarly on the different exams across the board. What we have learned from that is that the tests are in fact standardized, but we learn very little new information about the student from the different measures.
As a result, the tests are redundant, even though they serve slightly different purposes: it's as if we give a test in advance of the finish line, at the finish line and just past the finish line. And whether we like it or not – by and large college admissions offices have defined the finish line for our college-going high schoolers as the SAT/ACT. Given geography and the recent changes in the SAT to match the ACT, the ACT seems the way to go: and though it's not a fool-proof test, it's a nationally-recognized method of assessing what all the other tests gauge too. In some ways, it'll make the test more high stakes if we eliminate the EOCs, but it will open up the opportunity for teachers to spend more time on deeper conceptual understanding and offer students the ability to focus on the one big test instead of a seeming barrage of testing at the end of the year. Besides, most college admissions officers will tell you they rarely give a second glance to EOC scores.
Again though, I actually value tests and love a good spreadsheet full of data -- but until Texas can determine a way to test something differently or how test different skills, I don't think we need to repeat what colleges already require of our students. I offer two solutions: eliminate the STAAR exams and replace them either with the ACT or the TSI placement exam, depending on the child's postsecondary plans or offer some sort of portfolio or project-based assessment like the models offered in the International Baccalaureate program.
Our kids are tested every day – and usually they aren't faced with clear-cut multiple choice decisions, yet more and more they are trained for those exams. Frankly, I wish my life included more multiple-choice options – but it doesn't – and neither do most of the decisions professionals make daily. Thank you for your time.
The views and opinions expressed in guest blog posts are those of the author and do not necessarily reflect the official policy or position of the Texas Charter Schools Association.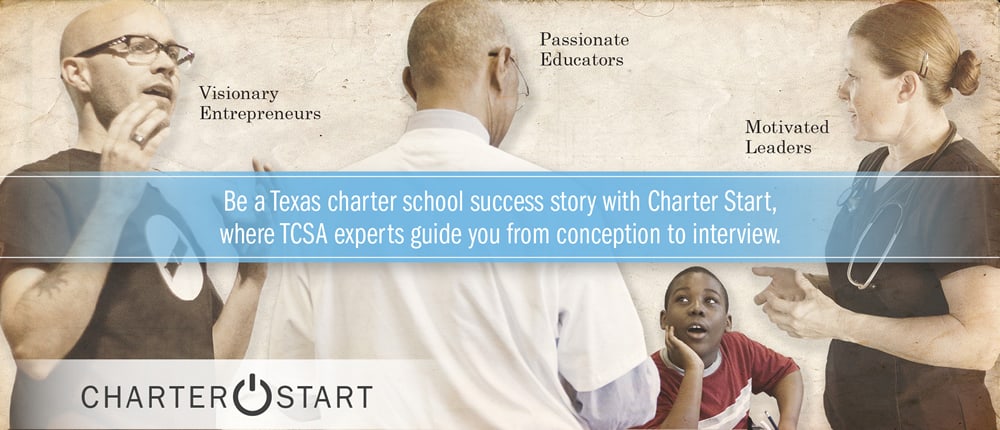 By: Philip Muzzy, Co-Founder Ki Charter Academy
Understanding the competitive nature of the Texas charter application process, we felt that it was imperative from day one to seek the Texas Charter Schools Association team for guidance. We were applying for the 501(c)3 when we first contacted the TCSA Quality Services division.
Initially, they gave us specific advice on how to fill out the non-profit paperwork properly, and then introduced us to the TCSA Charter Start development services team.
Over the next few months, we learned:
How to assemble the best possible board of directors;
The authorizer grading process;
Background on the political climate of charter education;
Step-by-step instruction on the charter application process;
How to build a strategic plan with a timeline template;
And tools for the SBOE interview process experience through two mock interviews.
To be honest, our true charter narrative and identity was not fully realized until we were given constructive and honest feedback from the mock board and TCSA team.
Through formal interviews and informal conversations, TCSA helped us realize that parts of our application simply needed improvement for us to be the best charter that we could be. The feedback gave us an opportunity to reevaluate and dig into more research in order to better serve our students in innovative ways. I can say with great confidence that the TCSA training services division was critical to the success of our Generation 19 charter approval.
TCSA's expert team provides one-on-one support through every stage of the charter school development process from conception to the interview. TCSA's Charter Development Services also include a Charter Start Membership with TCSA, giving you access to advocacy, legal, marketing and training services and networking with established school leaders for a comprehensive foundation for your public charter school. If you want to join the next generation of successful charter awardees, contact TCSA Director of Quality Services Laura Kelly or call 512-584-8272.
Ki Charter Academy received its charter from the state of Texas in 2014 and is operated under the nonprofit, Ki Education Foundation, which was formed solely for the public charter school. Ki's purpose is to assist local schools in educating the unique population of students in residential treatment centers. The mission of Ki, which is located in San Marcos, Texas, is to reduce recidivism by helping children and adolescents find joy in learning and reach their highest potential. A public charter school is a tuition-free public school that has the flexibility to adapt to the educational needs of individual students, while being held to strict state accountability standards.