Hundreds of Texans attended the school choice rally on the front steps of the Texas State Capitol on Wednesday, January 23. The event was a chance for parents, educators and students to voice their support for educational opportunity in the state. The rally coincided with National School Choice Week. Some of the notables attending the event include Texas State Senators Larry Taylor, Paul Bettencourt and Donna Campbell with TX Land Commissioner George P. Bush, Assistant U.S. Education Secretary Frank Brogan and U.S. Senator Ted Cruz speaking to attendees.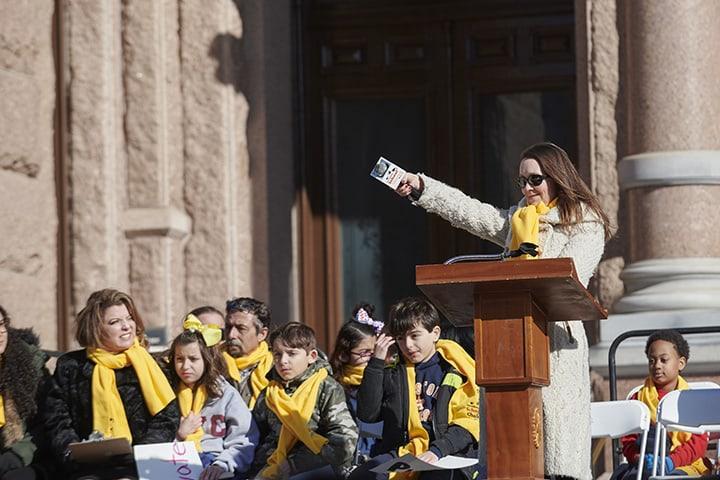 Below are remarks made from TCSA's CEO, Starlee Coleman, at the rally:
"Good morning. I am Starlee Coleman, the CEO of the Texas Charter Schools Association, and we are thrilled to have more than 500 public charter school students and parents from across Texas here today.
On Monday we celebrated Civil Rights leader Martin Luther King—and that was a fitting way to kick off School Choice Week. More than 60 years after Brown v. Board of Education we are still failing to ensure that all students regardless of background have access to a great public school.
Civil Rights leader Rosa Parks once said: "I would like to be known as a person who is concerned about freedom and equality and justice and prosperity for all people."
School choice is a vehicle to deliver freedom, equality, justice and prosperity to all children and there is no greater cause that we can set our sights on.
Thank you for being here and standing with us in the effort to ensure every child in Texas has the freedom and equality to access an excellent public school."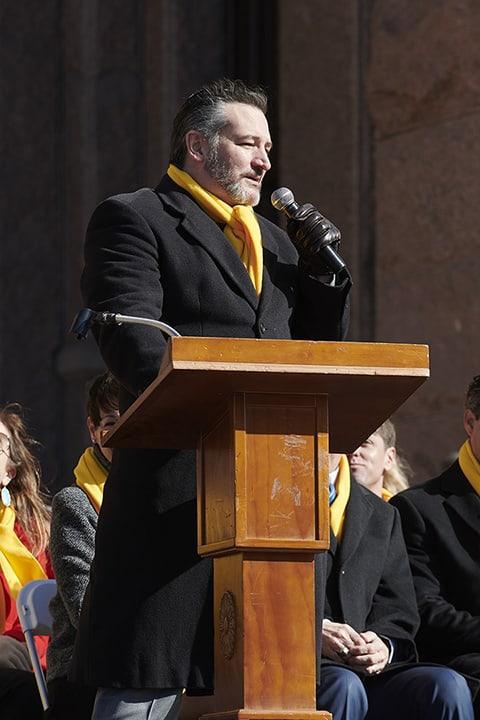 I was so pleased to participate in National School Choice Week with nearly four thousand events taking place throughout our state. Parents, grandparents, teachers, administrators, and students from every type of school come together to celebrate the power of education. The premise of school choice is simple: we need a strong system of educational options in Texas, because every student deserves the right to learn and thrive.
             Education isn't a one size fits all proposition, and different learning environments are right for every child depending on their needs.  Texans can be proud of our great traditional public schools, innovative public charter schools, and private and parochial schools in each of our communities. There are also parents who home school and take advantage of home school networks to educate their children. In Texas, we should work to ensure each of these models continues to flourish so that every child succeeds.
              As a state senator who serves on the education committee, I've had the opportunity to visit classrooms of all types. Whether it's a public, private, or home school; a charter or magnet program; or a traditional or online instructional format — when high quality teaching and learning happens, a student's future is bright and their potential is unlimited. I've worked hard with my colleagues to ensure Texas families have choices within public education by championing policies that increase access to online digital learning and help keep up with the demand for innovative public charter schools.
             Too often in the education community, there is a rush to secure resources and declare one type of classroom as the ideal model, pitting one type of schools against another. This is not beneficial to our dedicated teachers, does not help develop our future workforce, and it's certainly not in the best interest of the child. In education, the correct answer should truly be "all of the above." Adding options multiplies success.
             Texas boasts some of the best traditional and charter public schools in the nation. Our system of private and parochial schools is diverse, and homeschooling communities are growing, too. We should empower each of these types of schools to grow and improve so families have great options.
             Texas is one of eleven states that provides parents with flexibility when enrolling their children in a traditional public school. Many of our school districts have developed successful magnet school programs. We also support open enrollment public charter schools, where some 141,000 students are on a waiting lists to attend one. Texas also provides tuition free online learning for students interested in this option to augment classroom learning.
            Celebrating a good education means supporting it in all its forms wherever it occurs. What works for one child may not work for another. We need to call out excellent teaching and make sure our best teachers are rewarded. We need to drive more dollars to the classroom where learning actually occurs, not just support more bricks and mortar, fancy buildings, and stadiums. Most importantly, we need to expand school choice in Texas so that no child gets left out.
            Where school choice is implemented, the results are promising. We see expanded opportunities for traditionally underserved students, higher test scores, and fewer disciplinary problems. The result is more students who are the first in their families to go to college and obtain high-demand job skills, creating an upwardly mobile trajectory where more Texans prosper.
            As the mother of a sixth grader, it's important to me that we are doing everything we can to make sure our children live up to their full potential. We have a moral obligation to ensure every child has access to the best education - in every form. Let's continue to explore ways to expand opportunities for all Texans.
###
Dr. Donna Campbell is an emergency room physician and Texas State Senator representing District 25.
On January 29, 2016, I had the privilege of hosting more than 400 public charter school students from ten of our ResponsiveEd's campuses at the Texas State Capitol for the National School Choice Week Rally. Many of these students were visiting Austin and the Capitol for the first time, including some students who live in Austin. The School Choice Week Rally gave students an opportunity to show support for public school choice while their participation in the event allowed them to realize that school choice provides them with options in selecting the right school to meet their needs.  
After the rally, some of ResponsiveEd students met with legislators serving on either the House or Senate Education Committees. They heard first-hand how education policy is created and how these decisions affect more than five million students in Texas. 
One of the keynote speakers at the rally was David, a high-school student that attends our Premier High School of North Austin.  He discussed how he feels lucky that he has had a choice in education. Previously, he always felt like he was failing and falling behind in school. Finding and attending Premier High School of North Austin has given him an opportunity to gain control of his life, education, and look forward to his future. His great-grandmother flew to Texas from Arizona to see him speak before the audience. When he started high school three years ago, David never dreamed of speaking to thousands of supporters, and especially in front of legislators at the Capitol. He realized this was a big moment to share his story and hoped it would help other students to know there is hope and options for them. 
I love my job because of students like David. I want to make sure that every student, regardless of their circumstances, has access to a quality education and is provided with educational options. David had a choice; he could have easily dropped out of school, but instead made the choice to attend a public charter school and get his life back on track. Students like David give me a worthwhile reason to go to work each day.
See more photographs from the event by clicking here.
The following is a response by guest blogger, Dr. Rebecca Good, to an article of January 21.
The drama surrounding the sudden "awakening" of Dallas ISD's understanding of the impact that charters are having on their enrollment has kept several important messages from being heard. First of all, let us remember that charters are public schools. It is not as if a cabal of private school operators have invaded Dallas ISD's territory. Charters were legislated by the state of Texas twenty years ago to answer the public's call for schools that would embrace innovative curriculums free of the bonds of bureaucracy that still mire many ISDs. Uplift, Harmony, Life School, Responsive Ed, and Kipp, among others, answered that call, bringing high levels of expectation and instruction to the most challenging zip codes in the Dallas area and beyond.
It was not long before these charters, and others, found themselves in strong demand by parents seeking safer, academically rigorous free open-enrollment public charter schools. In fact, there are waiting lists at almost all charters in Dallas due to the desire of parents to exercise their right to school choice for the benefit of their children.
One of the messages that came out of the hullabaloo last week was that charters were "taking our kids." Not so. Parents are bringing their children to charters, hoping for an opening. Another message was, "charters are taking our money." Again no! - That money does not belong to an ISD; it is intended to educate our children wherever they can best do so!
That a DISD board trustee would address a City Council meeting to demand that a public school approved by the Texas Education Agency not receive a building permit is a reach of power that does not exist. Dr. Hinojosa said it correctly when he stated that Dallas ISD is "not the only game in town" any more. It does not, and under our current regulatory system, should not possess a monopoly on teaching our children.
Charter schools, especially the longer existing ones like the ones mentioned above, have succeeded at having safe, instructionally strong schools for scholars from poverty and of color. Why not cheer the charter movement as a motivator to clean up one's own house, leaving the drama and politics behind? As a parent in Dallas, I would be offended that anyone would try to deny my family the right to school choice that has been granted by the state of Texas.
We North Dallas charter superintendents know that to keep our schools growing we must provide environments that encourage our scholars to continue to excel in meeting – and beating – those educational goals set by the TEA. Dallas ISD has begun to talk about plans to provide desirable student choices within its district. That is the kind of competition that would benefit today's young students, enabling them to be the leaders of tomorrow.
May I suggest this - As National School Choice Week just concluded, let us all work together – Dallas ISD and the charter community - to bring high quality schools of choice to our scholars, whether they be in an ISD or charter school. Isn't it time we remembered that we exist because of our "little people," and that "big people" politics are best left to those who are not designing the future of our educational arena? I sincerely hope so...