"I really appreciate you giving me the opportunity, but I don't think I would be the best fit for the position."  
Humiliated, I tapped the text to my friend who'd convinced me to interview with one of the few charter schools in East Texas, UT Tyler University Academy, a STEM academy, known for its Project-Based Learning instructional model. I'd just attempted to complete a task that had overwhelmed me as I tried to make my very first Skype call in order to speak to the school's administrators. I connected, though it was faint and flickering, but could not hear the three women who spoke to me. After pressing an array of buttons on my computer in attempts to solve this deeply confounding problem, I did precisely the opposite of what I had advised countless students to do: I panicked and quit.
Fortunately, that text I sent fell on deaf ears; they wouldn't let me quit the interview process due to a technical failure. It didn't take me long to realize that would be a recurrent theme. I was offered a teaching position and became part of the University Academy (UA) family.  
 I quickly learned that at UA, you never give up. This was a culture where I was pushed to be a better teacher than I thought I could be. That push came in the form of constructive feedback from the highest levels of administration and from my students. It came from working closely with my colleagues, people with vastly different life experiences from my own. It came in the form of the obstacles we ran into as we "constructed an airplane while it was flying".
That first year at UA, I tried to give up again. I agreed to teach fifth and sixth grades. I'd only ever taught high school, so the shift from talking with students about their driver's licenses and after school jobs to Minecraft and the lunch their mom had packed was startling, as was the way they required my constant attention. It wasn't long until I found myself, overwhelmed and exhausted, in the office of my Campus Director, intending to quit. For the first time in years, I lacked confidence in my ability to teach and manage a classroom effectively and wanted to run back to the safety of a familiar environment. She read my letter of resignation and, over the next hour, patiently talked me down off the ledge. She predicted that this painful period of growth would yield to a time of success and fulfillment. She put the letter in her filing cabinet and asked me to stay at least another month, then reassess if needed. Fortunately, I persisted despite my defeat, and continued to teach.
In the past five years at UA, I have grown into the teacher I never thought I could be. Not only have I mastered the art of the Skype call, I have integrated a variety of other digital technologies into my lessons and evolved my pedagogy. I've presented my own research at educational conferences and visited both Austin and Washington, D.C. to meet with legislators about education policy. I have gained the courage and fortitude to venture out, beyond the confines of my comfort zone.
I've worked with the same students – my kids – the absolute highlight of each of my days, for all five years. Certainly, they have taught me more than I could ever hope to teach them. I have become better. I have achieved more than I ever thought possible because I was surrounded by a community who encouraged me to keep going and never give up.
And that is why I teach at a charter school.
By Heather Richmond, M.A., English
Master Teacher/Dual Credit Coordinator,
UT Tyler University Academy at Palestine
The saying goes that everything is bigger and better in Texas, and population growth is certainly no exception. In fact, Census data shows that last year, 170,103 more residents moved into Texas from other states than left — averaging out to 466 new Texans each day. With this many new Texans, student enrollment also continues to increase, which only magnifies the issue of state-wide teacher shortages. Additionally, more than 20 percent of the new Texans are Hispanic which also increases the need for bilingual educators.
To help address the teacher shortage, the Texas Education Agency has a Memorandum of Understanding with the Ministry of Education of Spain for the Texas-Spain Visiting International Teacher Program (VIT program).
The Texas-Spain VIT program allows participating school districts the opportunity to initiate cultural exchanges by recruiting qualified teachers from Spain. Additionally, the VIT program provides local education agencies with access to teachers with the Spanish language skills needed to provide second language instruction to students in Languages Other Than English (LOTE) programs or primary language instruction to limited English proficient (LEP) Spanish-speaking students. This program provides students, parents, and educators the opportunity to work with professionals from another country.
At least two Texas charter schools are participating in the VIT program, Legacy Preparatory Charter School (Legacy Prep) and International Leadership of Texas (ILTexas). For this upcoming school year, there were approximately 3,000 applicants from Spain and 1,200 teachers were selected for the VIT program. In Texas, 13 districts will host teachers from Spain and this includes about 50 teachers for ILTexas and 17 for Legacy Prep at their various campuses. At Legacy Prep, each of the selected teachers has earned a Master's degree and three have doctorates. By coming to the U.S., these teachers will double their current salaries and Texas students will benefit by having highly qualified teachers who bring much to the table including subject matter expertise, teacher training, and an international background.
Another source of bilingual teachers that has been used by these districts is Puerto Rico (PR). Since they are already American citizens, there are no immigration requirements. Teachers certified in PR have the same rights as teachers who come to Texas certified from other states so they are granted a one year waiver from the state test requirements. This year, Legacy Prep and ILTexas went over as part of a six charter job fair group from the North Texas area to interview those ready to come to Texas for more money and a less expensive standard of living.
The U.S. Department of Education identified the 2015-16 teacher shortages for Texas by subject matter and there are shortages in these areas: Bilingual/English as a Second Language, Career and Technical Education, Computer Science, English as a Second Language, Mathematics, Science, and Special Education – Elementary and Secondary Levels. The VIT teachers coming to Texas will teach many of those hard to fill positions, especially in those bilingual areas.
While policy-makers and the education community continue to identify more permanent solutions to address teacher shortages, programs like VIT ensure that students still receive instruction from quality teachers. As a result of their superintendent and leadership's commitment to excellent teachers and quality education, ILTexas and Legacy Prep students will receive the support and instruction they need to succeed.
On March 29, 2016, the Senate Education Committee met jointly with the Senate Higher Education Committee to consider interim charges, which include studying the teacher shortage and retention issues in Texas and evaluate educator preparation programs to determine if these programs are preparing educators for the rigors of the 21st century classroom. In particular, examine the shortages of ELL, special education, and STEM educators across the state and identify the issues creating a shortage.  
Dr. Alexis Neumann, Superintendent of Rapoport Academy, appeared before the joint committees and testified at the public hearing.  The following is her testimony.  
Thank you for the opportunity to share our story and struggles with each of you.  My name is Dr. Alexis Neumann.   I come today on behalf of the students, parents, and staff of Rapoport Academy in Waco, Texas as their Superintendent.  We are a pre-K through 12th grade public charter school and were the first in Texas dual-designated as T-STEM and Early College High School.  Our 800 students are majority minority and majority low-income.  Also you will find in the school's most current report card that we received 6 out of 7 academic distinctions, only missing the 7th because our students took college-level chemistry as sophomores and, as such, were not included.  Our mission is to help students from low-income families overcome the educational gaps and be prepared academically to successfully complete college coursework by 9th grade.  As you can imagine, not an easy task when you consider that less than five of our students start pre-K with an understanding of the most simple academic concepts.  Today, I will focus on challenges we encounter in securing qualified teachers for our Early College High School ("ECHS") and T-STEM areas. 
Before joining Rapoport Academy, I was an administrator at the Texas State Technical College ("TSTC") in Waco and was fortunate to experience the creation of Rapoport's high school and the budding ECHS partnership.  We have continued to develop that partnership with TSTC and have recently begun to finalize an agreement with McLennan Community College.  Through these partnerships, we have created multiple pathways for our students to obtain a Level 1 Certificate or full Associate's degree before they graduate from high school.  Our pathways address each of the endorsement areas of HB5 and aid in consolidating the offerings for students to ensure that maximal application of coursework occurs should they continue their education elsewhere. This also allows our students to take foundational coursework in their respective areas of interest without tying them to a specific career path.  As an ECHS, it is also our commitment to provide this opportunity at zero cost to the students or their families in order to create more access for students who otherwise would not be able to afford this type of opportunity.    This means we cover the costs for all transportation, books, fees, tuition, etc. These costs total approximately $75,000 and are expected to triple in the next five years.  TSTC currently waives tuition and McLennan waives that for those who qualify based on income.  I am sure that you are all familiar with the discussion related to funding for education, particularly smaller charter schools.  I'll come back to this in a moment.
Preparing these students to be college ready cannot start in 8th grade.  It does not start in middle school.  We begin with a college mindset at pre-K.  Our STEM curriculum is targeted and begins in kindergarten with focused efforts on the engineering design process at developmentally appropriate levels as students progress through the district.  What we have discovered with our students is that academic preparedness, though difficult, can be achieved.  However, finding staff who can bridge the gap of a 15 year old's social maturity while teaching English 1301 or psychology is challenging.  Experiences with professor/student interactions, high school/traditional college student interactions, and parent/professor interactions,  both on and off of the college campus, have led us to the practice of hosting most 9th and 10th grade college courses on our own campus, either through online courses or visiting college adjuncts.  This is where one of the most significant issues we face comes to a head.  We find it seemingly impossible to find a magical combination of teachers who are qualified to teach for college credit, want to interact with still-maturing teenagers, and do this for a salary considerably lower than larger districts around us.  We can compound this problem even more when we try to seek a candidate that can and will do what I just mentioned and has real-world experience in any of the STEM fields.  Why would one leave a $70,000 engineering job to come to our little charter school and make exactly half of that salary?  For those that do, the rewards are priceless.  However, priceless does not pay student loans and grocery bills.  Currently, we could add a core teacher in each of the four areas if they were eligible to teach dual-credit, possibly serving an additional 100 students and enabling more students to complete an Associate's degree before graduating high school.
I want to be clear that the teachers we have – from pre-K through 12th grade are mission-driven, focused on student outcomes, passionate about making a difference for these children, and committed to the Rapoport way of education.  However, when every dollar Rapoport receives is split to pay the light bills, building maintenance, intervention materials, classroom supplies, and a host of other necessities, what is left in the end does not allow for salaries that can even compete with larger districts, and especially not with professorships or industry.  Though we have participated in college job fairs, community job fairs, Region Service Center job fairs, maintained relationships with the city, four area chambers of commerce, and advertised in local print media, we have continued to see little increase in the number of qualified teaching applicants with industry experience or qualifications to teach dual-credit.
I appreciate the Senate Education and Senate Higher Education Committees addressing this issue today.  Thank you for working towards crafting solutions that will help us find those people who are willing to put their real-world experience to use in expanding and nurturing the minds of our future workforce.
The views and opinions expressed in guest blog posts are those of the authors and do not necessarily reflect the official policy or position of the Texas Charter Schools Association.
By Samantha Womack, TCSA Communications Specialist
A recent Gallup poll illustrates students who have at least one teacher who excites them about the future are 30 times more likely to be engaged. Furthermore, if the principal is engaged, there's a trickle-down effect on teachers, students and families.
Unfortunately, the polling indicates only 31 percent of teachers are highly engaged, with only one-in-three showing involvement, enthusiasm and commitment to their school and their work.
Teachers and staff who have an engaged principal say:
I have received recognition or praise for doing good work in the last seven days.
Someone at work has talked to me about my progress in the last six months.
My opinion seems to count at work.
Gallup found hope and engagement are significant predictors of academic achievement.
But more than 50 percent of students don't feel they get to do what they do best every day.
When asked what makes a school effective, survey results show its dependent on:
Percent of students engaged with their classwork (78%)
Percent of students who feel hopeful about their future (77%)
Percent of students who graduate from high school (69%)
Standardized test scores came in last.
Additionally, only one in five parents are fully involved with their students' school. These parents are your vocal advocates and ambassadors of your school—going above and beyond to share their pride.
In contrast, the banking, insurance and healthcare industries have 30 to 40 percent of customers who are fully involved!
Building an engaged school takes a long-term commitment, hard work and dedication to changing your school's culture.
Where can you start to help your school?
1. Register for the free Gallup Student Poll by October 30 to gauge your students' engagement. Then analyze the results for what needs changing.
2. Learn more at the Texas Charter Schools Conference at the JW Marriott San Antonio Hill Country Resort and Spa from October 28-30. The advocacy session track will cover how to start, build and grow your grassroots advocates on your campus. Register today.
By Dorothy Gentry, 4th Grade Teacher, A.W. Brown Leadership Fellowship Academy
Note: A.W. Brown charter leaders will be presenting at the 2015 Texas Charter Schools Conference during the Principals Workshop on Wednesday, October 28, to discuss hiring and retaining high-quality teachers.
Angela Brown is a true example of a success story in teaching. The long-time employee of A.W. Brown Fellowship Leadership Academy in Dallas, a successful Texas charter school, is passionate about the field of education and about teaching at the two-campus academy.
Brown began at A.W. Brown as a substitute teacher in January of 2005 and was officially hired as a teacher's assistant in March 2008. Ten years at the school and she said, "I've loved every moment."
As the special education teacher for the past three years at A.W. Brown's Early Childhood Campus she said the school's vision is key to why she stays.
"First off, what made me get on board with this school was the vision that it has for its students and the community," Brown said. "They want to make the world a better place one student at a time and it has been an amazing privilege to see it unfolding and steadily coming to fruition right before my eyes."
Brown said the school supported her in efforts to gain additional education.
"[They] allowed so many doors to open up for me once I was ready to move up. They continue to support and nurture my growth by presenting multiple opportunities to get involved," she said.
The school feels like a family, where she can speak openly with others about any concerns, Brown said.
"Words cannot express the joy I have of being able to watch these children grow from babies to teenagers, and then they come back to visit as adults," Brown said. "They thank us for all we instilled in them and taught them. My own daughter was 3-years-old when she started here, and now she is in the 7th grade."
Brown said she feels "secure and comfortable" at A.W. Brown and plans to stay as long as possible.
"With the constant growth and success at this school I feel like the sky is the limit and I have no reason not to continue to be loyal to them as they have been to me," Brown said. "This is one district that I truly feel secure in. They make me feel appreciated in everything I do."
Other schools can adopt those practices by starting with the board and administrators, she said.
"Ours is awesome. They do a great job letting us know how much we are appreciated and acknowledge that none of this would be possible without us," she said.
Brown believes the regular evaluations and continuous positive feedback is crucial to the success of the school. Also important is having a good vision of what you are trying to accomplish and then determining what steps are necessary to achieve it.
"They do a good job making sure new teachers are aware of the vision and the steps and why we are all here. For veterans they never let us get complaisant. They find new exciting ways to break down the vision and mission and those steps we need to complete in order to accomplish them," Brown said.
The vision of A.W. Brown-Fellowship Leadership Academy is to provide a learning environment in which children are trained, prepared and equipped for life leadership and academic excellence. The mission of A.W. Brown-Fellowship Leadership Academy is to produce smart, effective, efficient, disciplined students by creating an environment in which teachers feel safe and free to teach and students feel safe and motivated to learn.
A.W. Brown serves more than 2,000 students on two campuses in grades PK thru 8th grade and has more than 200 full- and part-time staff. A.W. Brown has been in existence since 1998.
There's less than a month left to register for the only statewide conference for Texas public charter school leaders and educators!
The Texas Charter Schools Conference is early this year on October 28-30, so don't miss out on specialized workshops, dozens of educational sessions and networking opportunities with industry experts. You make the conference better each year and we hope to see you in San Antonio!
Check out the great video below to review fun snapshots from at last year's Texas Charter Schools Conference.
Update: Learn how to build grassroots advocates on your campus for your public charter school students at the 2015 Texas Charter Schools Conference on October 28-30. View workshops and session
Earlier this year, we asked you to share why you love your charter school. It's critical to share your stories so the community, elected officials and local leaders understand the importance of public charter schools in Texas. Our students and families deserve the right to choose the best fit public school for them. To get involved please join the Texas Charter Revolution.
In case you missed the responses, below are some of the highlights.
"Our students come from a diverse set of backgrounds. Seeing them grow and learn daily reminds me why I wanted to become an educator." - Educator at Harmony School of Science Austin
"I love my charter school because they are big on building lasting relationships and training life leaders....The teachers and staff genuinely care for the kids they teach, doing what it takes to help the [students]." - Parent, Advantage Academy, Waxahachie
They care about each student on a personal level, and each student and their parents, know it and see it on a daily basis. The entire staff is amazing and they take so much time out of their own lives....I feel like my child really matters!" - Parent, Vista Academy of Hickory Creek
"My public charter school actually cares about the students and helps them to succeed in their class work. The wow factor for us is the way students are treated with respect and are allowed to move forward with their studies on an individual basis." - Parent, Premier High School, New Braunfels
"Where do I start? My grandson attends this school and I am so grateful for all they have accomplished in him. He is nonverbal and they are so patient and kind in his instructions and because of their diligence, he is able to speak a few words now." - Guardian, Foundation School for Autism, San Antonio
"[My school] is caring, respectful and mindful of kids, not only their education but their feelings too. They know they are dealing with the future and give these kids the right steps to be great leaders and mindful adults." - Parent, International Leadership Texas, Garland
"I love my public charter school because I have students that actually want to learn and they have a choice to go any where. The thing my school does that wows me is that we make sure every child is learning and getting the support that they need." - Educator, Houston Gateway Academy
"I love my public charter because they are big on building lasting relationships and training life leaders. Life's love for us WOWS me and helps me understand what "Life" is all about. My public charter school ROCKS! There is no other place like it!" - Educator, Life School Oak Cliff
And a letter from Abigail, a 9th Grader at Houston Gateway Academy
My school, Houston Gateway Academy, is very great. I love that my school has a band and a few other activities. My school makes me want to be the best of the best. It encourages me to never give up and accomplish my many goals.
I love the education I receive. The teachers really care about grades and are able to give us students one-on-one education when we need it. Our teachers know us so well, they can tell when we don't understand something or are struggling
My teachers are always pushing us to give everything our all.
My charter school makes me feel like I can be myself, and I'll always be understood.
I love my charter school. There's no other school I'd rather go to than Houston Gateway Academy.
Be sure to attend the 2015 Texas Charter Schools Conference, where the advocacy and grassroots track will give you the tools needed for strong advocates on your campus.
By Dr. Paula Moeller, TCSA Director of Training
Calling all public charter school teachers!
The first few months of school are exhilarating, but they can also be exhausting.
For your students, take a day to focus on you at the Texas Charter Schools Conference on Friday, October 30, at the JW Marriott San Antonio Hill Country Resort and Spa.
Through this full-day teacher workshop you'll receive expert training in better reaching students with language or discipline barriers. There will also be tools on utilizing classroom technology to go beyond the four walls of your learning zone.
As Texas demographics continue to change, instructional strategies must also improve to engage the students we teach. Register for the workshop and gain the academic language needed to reach second language learners. Also, identify principles to build positive behaviors with your students to maximize your teaching and learning time. And enjoy a power hour of blended learning strategies to capitalize on the technology you already have on your campus.
A one-day teacher pass for the October 30 workshop is only $100 for Texas Charter Schools Association members. Or you can attend the full, three-day conference for $450 for TCSA members.
Register today! Spaces are limited.
Teacher Workshop Presenters:
Kathryn Brown of Visage Collaborative, a leader in ELL strategies developed while working for Edgewood and Northside ISD, ESC Region 20, and IDRA.
Dan St. Romain will lead the discussion surrounding discipline. He is a behaviorist with extensive national experience in training on discipline, brain-based learning, and student engagement strategies. Dan served as a presenter with Quantum Learning and Eric Jensen.
By Mackee Mason, Austin Achieve High School Principal
Last week, a scholar told me, "Mr. Mason, I am in the red, and I need to talk to you."
As the scholar described a typical high school conflict with another scholar, I recalled a year ago when the same scholar handled a similar situation with swear words and aggressive behavior.
"We will work this out," I told the scholar. "But I just want to give you a shout-out for your emotional intelligence with this situation."
The scholar looked confused and said, "Of course. This is how we do it at Austin Achieve," as if reminding me of our school's expectations.
This remarkable situation is a product of various strategic measures we have taken at Austin Achieve to increase our scholars' Emotional Intelligence. Social Emotional Learning (SEL) programs have been gaining traction in schools since the publication of initial research about the positive effects of developed EI in the early 1990s. Recently, a New York Times editorial concluded, "Social and emotional learning programs significantly improve students' academic performance." Additional research also shows EI strongly linked to staying in school, avoiding risk behaviors and improving health, happiness and life success.
EI is the ability to use emotions effectively and productively. At Austin Achieve, we believe one's Emotional Quotient is not fixed, and it can be developed with learnable skills that build self-awareness, self-discipline and empathy.
Our scholars start their day with edMosphere, an app that takes the temperature of their emotions with a series of questions. Teachers can log in, see real-time feedback on the emotional state of the classroom, and adjust if necessary. For example, one teacher noticed that a high number of scholars answered the edMosphere questions with "tired," so she made small lesson adjustments to include more group work that day. With edMosphere, administrators have a birds-eye view of the scholars' emotion state and can address misbehavior such as bullying before they become bigger issues.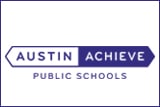 Austin Achieve has a goal of zero off-campus suspensions, because often it does not fix the problem and it results in lost class time. To that end, Austin Achieve teachers volunteer their conference periods to be available in the hallways should a scholar have a difficult time meeting classroom expectations. Teachers are trained to ask restorative questions such as:
What did you notice about your body? (i.e. heart beats faster, thoughts race, other physical signs of emotions)
How are you feeling now?
How are your body's signals?
Who is affected by your actions and in what ways?
How does this affect the school?
If the scholar reflects and gets back on track, they can reenter the classroom and serve an appropriate consequence later. If there are continuing issues, they spend time with our Restorative Justice coordinator in the Accountability Center, where they dig deep into the behavior cause and effect. Scholars keep up with their classwork while working independently and in group sessions.
Let's go back to the scholar's situation that began this post. The scholar used the word "red" in describing emotions. The color-coding is a part of Austin Achieve's mood measuring and regulation program, which helps scholars self-identify and then regulate their actions.
In that scholar's case, they identified, approached me for assistance, and we resolved the situation through a Restorative Circle. The RC facilitates a conversation between the involved scholars, where they share and then listen to how their actions affected others. Instead of focusing on intent, the RC aims to decrease fear of consequence and open the door for transparency.
We are not perfect, but we know that if we continue to implement best-practice strategies to increase our scholars EQ, while providing a rigorous education, the possibilities for our scholars are endless.
Mackee Mason is a former Teach For America corps member and has led two public charter schools to ambitious academic results, including a second place ranking out of 40 comparable Texas schools.

By Dr. Paula Moeller, TCSA Director of Training
While the start of school is often challenging with many demands on your time, TCSA seeks to help you to train your staff whenever and wherever they need to receive training. Using technology to teach content to adult learners is a passion of mine, and one that I hope to fully develop for you and your staff through the association.
To give you an idea, this fall, we will be developing additional videos for inclusion in the TCSA learning platform hosted by Nuvola Networks. While we aren't abandoning face-to-face training, we will be using in-person training more sparingly this year.
Instead, I plan to create school-based training opportunities where we can highlight the advanced efforts of other campuses and districts within the network. I believe we are able to implement change more efficiently when we are able to observe these innovations in active learning environments.
The best charter schools in the nation are right here in Texas, and I can't wait for other leaders to visit these schools with me to learn about the exciting strategies that are being implemented.
Over the years, I've had the opportunity to work with many of the districts and charter schools in the state through grant funding from the Texas Education Agency. Some of my work was focused on helping campuses implement systemic change to increase student performance, while other work helped districts create teacher-incentive funding programs or develop Early College High Schools. The OnTRACK for College Readiness program was developed to help Texas students master TEKS content 24/7, in real-time, whenever they needed to accelerate or remediate their understanding of core content. Quality instruction and practice, along with strong instructional leadership, drive results.
I look forward to working with you and for you! Please feel free to share your ideas about future TCSA training opportunities with me via email at Paula Moeller.