This week, the U.S. News & World Report released their annual rankings of the best public high schools in the nation for 2019. This year's rankings again recognized many open-enrollment charter schools in Texas. In addition to the national list, US News also puts out a Top 100 Texas Public High Schools. Public charter schools took 35 of the Top 100 spots! A great accomplishment when you consider that we only make up 6 percent of public schools in Texas.
In determining its rankings, U.S. News and World Report considers many factors, including college readiness, math and reading proficiency, math and reading performance, underserved student performance, college curriculum breadth, and graduation rates.
Open-enrollment public charter schools continue to make great progress in preparing Texas students for life. The Texas Charter Schools Association is incredibly proud of the 35 public charter schools that have earned their spot in the Top 100 Public High Schools in the Lone Star State. Way to go!
Public charter schools in the Top 100 Texas Public High Schools 2019 Rankings (state ranking, national ranking):
• Imagine Academy of North Texas #11 in TX, #104 Nationally
• Uplift Education-North Hills Prep High School #12 in TX, #114 Nationally
• Westlake Academy #13 in TX, #116 Nationally
• IDEA Frontier College Preparatory #15, #119 Nationally
• IDEA Quest College Preparatory #16 in Texas, #112 Nationally
• IDEA College Preparatory San Juan #24 in Texas, #160 Nationally
• YES Prep – Southeast #25 in Texas, #163 Nationally
• KIPP Austin Collegiate #31 in Texas, #198 Nationally
• Uplift Summit International High #38 in Texas, #242 Nationally
• Meridian World School #39 in Texas, #249 Nationally
• YES Prep – East End #42 in Texas, #254 Nationally
• Harmony School of Innovation – Katy #44 in Texas, #259 Nationally
• YES Prep – North Central #46 in Texas, #270 Nationally
• YES Prep – West #48 in Texas, #291 Nationally
• Vanguard Academy #49 in Texas, #293 Nationally
• YES Prep – Southwest #51 in Texas, #297 Nationally
• IDEA College Preparatory Mission #54 in Texas #312 Nationally
• Harmony Science Academy (El Paso) #57 in Texas, #347 Nationally
• IDEA College Prep #59 in Texas, #359 Nationally
• KIPP Houston High School #60 in Texas, #363 Nationally
• Uplift Williams Preparatory HS #65 in Texas, #438 Nationally
• Harmony School of Science – Houston High #68 in Texas, #460 Nationally
• YES Prep – Gulfton #78 in Texas, #568 Nationally
• IDEA College Preparatory San Benito #79 in Texas, #590 Nationally
• Harmony School of Discovery – Houston #80 in Texas #591 Nationally
• International Leadership of Texas – Garland High School #81 in Texas, #640 Nationally
• Chaparral Star Academy #83 in Texas, #662 Nationally
• Harmony School of Innovation – Fort Worth #84 in Texas, #665 Nationally
• Founders Classical Academy #88 in Texas, #716 Nationally
• NYOS Charter School #91 in Texas, #776 Nationally
• Gateway College Preparatory School #94 in Texas, #797 Nationally
• Harmony Science Academy North Austin #95 in Texas, #827 Nationally
• Uplift Heights Preparatory High School #97 in Texas, #886 Nationally
• YES Prep – Brays Oaks #98 in Texas #904 Nationally
• Harmony School of Advancement – High #100 in Texas, #920 Nationally
For a complete list of the rankings, visit: https://www.usnews.com/education/best-high-schools/search?ranked=true&state-urlname=texas
The Texas Charter Schools Association requested your help to increase charter school funding and protect charters from more red tape and anti-charter regulations. 
On Tuesday, 2/5, charter school CEOs, superintendents, campus leaders, charter board members and teachers were joined by the TCSA Board of Directors and leadership team in Austin for an orientation and reception, followed up by dinner at the Brick Oven.
On Wednesday, 2/6, TCSA Lobby Day was held at the Texas State Capitol. Attendees helped to advance policies supporting charter schools and inform state policymakers about the issues affecting their schools.
With a new Speaker of the Texas House, 34 new members of the House and Senate, and an increasing urgency around school finance reform, the voices of charter school senior leaders and board members are more important than ever. Thank you to all you who lent theirs on these very important days for Texas public charter schools.
Below are some images from the orientation and reception.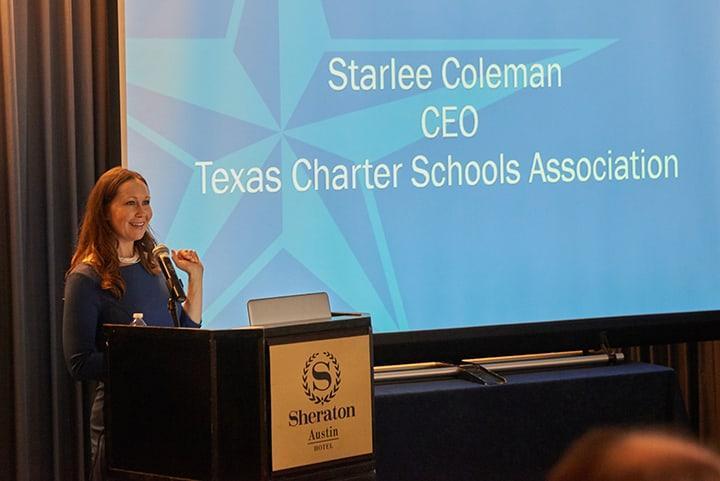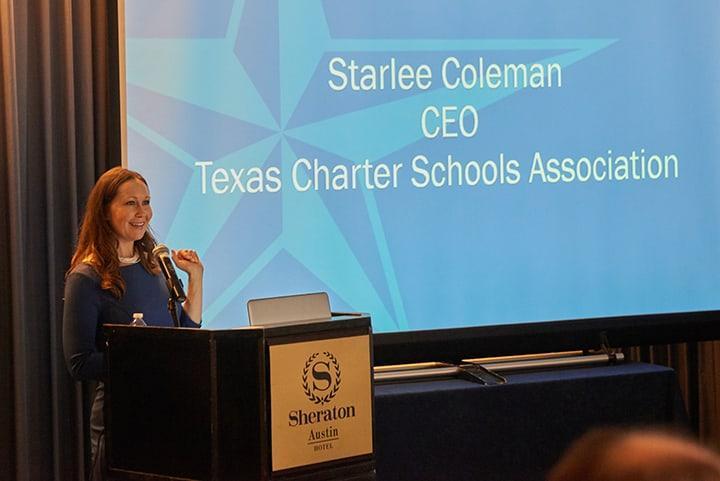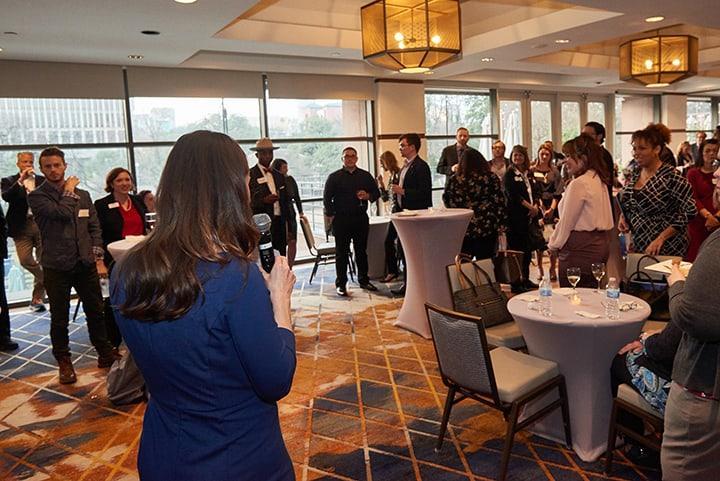 Teachers union advances agenda to keep waiting students from attending a charter school
Texas Charter Schools Association CEO Starlee Coleman issued the following response to the Texas Federation of Teachers' misguided and factually inaccurate call for a charter school moratorium:
"We strongly oppose a ban on new public charter schools. At last count, there were more than 141,000 student names on public charter school waiting lists statewide. Rather than slow down on building new public charter schools, we should speed up."
In addition to TFT's anti-student policy agenda that would keep Texas students on waiting lists, their arguments include numerous inaccuracies, which are addressed individually below.
"TCSA welcomes a debate about the right direction for public education in Texas, but let's have it based on facts," said Coleman.  
On Funding
What TFT forgets to share about funding is that while charters schools are public schools and subject to the same outcomes requirements as district schools, they do not have access to any local property tax money. Their only funding comes from the state and they get an average of $1,700 less per student when you add the state and local funding that district schools receive. It's disingenuous and dishonest to only talk about state funding and ignore the significant local dollars that fund ISDs.
Statewide, charter schools are serving 6 percent of the public school students. If ISDs serve 94 percent of the kids and get funding for those students from the state AND local property taxes and they can't make the math work, that says something about their ability to be accountable to taxpayers.
More on charter school funding can be found here.
On Academic Performance
When it comes to charter school performance, we recognize that not all charter schools are high performing. But poorly performing charter schools don't linger in Texas. Texas has the strongest charter school law in the country for accountability and schools that do not meet academic standards are closed within three years.
For charter schools that are doing well, the data is indisputable. Over 20 percent of Texas' A-rated school districts are charter school districts, despite educating only 6 percent of students. Charter schools send more English Learners to college, and twice as many of them get advanced or dual-course credit in high school. More students from economically disadvantaged backgrounds at charter schools are enrolling in college (65 percent vs. 47 percent of ISD students). Hispanic students attending Texas charter schools outscored all statewide averages in 8th grade math for Hispanic students in all states across the country on the most recent Nation's Report Card.
On Discipline Issues
District schools remove students with disciplinary issues from the classroom every day. The difference is that ISDs have the funding and legal authority to put those students in an alternative setting that is better for them. Some charter schools have worked to find resources within their budgets to create innovative solutions to accommodate students whose disciplinary challenges make them unable to be in a traditional classroom with their peers, and we are proud of their efforts. But many charter schools do not have the resources to create these special programs; and no charters have the legal authority to pool resources for facilities that would allow them to collaborate with one another to serve these students.
On Charter Notification
Perhaps TFT hasn't seen the state law that spells out the charter approval or expansion notification policy. Districts are notified four times before a new charter application is approved in their boundaries; and have the opportunity to weigh in directly with the state on the financial impact the approval would have on the district before the application is approved.
Here is the process charter schools and the state must follow for approving new schools and notifying districts.
On Accountability
TFT would have everyone believe it is the wild west when it comes to the regulation of charter schools. Charter schools are required to follow the same open records law, the same conflict of interest laws, and the same generally accepted accounting principles as ISD schools. Furthermore, the Charter First accountability system run by TEA rates finances for charter schools. If a school receive three strikes, they are shut down, regardless of academic performance.
For more information about charter schools in Texas, click here.
Two weeks ago, the 86th Texas Legislature convened, so we are officially in session! On day one, The Texas House unanimously elected Representative Dennis Bonnen (R-Angleton) as Speaker of the House. In his acceptance speech, the Speaker highlighted school finance reform, which the Governor and Lt. Governor have also emphasized, as a top priority for this session. With multi-billion dollar education spending increases in both the House and Senate budgets, as well as significant increases to the state's General Fund and Rainy Day Fund, there is sure to be major legislation on that topic.
While over 1200 bills have already been filed, the big news from the Capitol so far has been changes to committees in both chambers. The House added two members to both the Public Education and Higher Education committees. The House announced committee memberships on Wednesday the 23rd, with 8 returning and 5 new members in the Public Education committee.
Returning members:
Chair Dan Huberty (R-Kingwood)
Vice Chair Diego Bernal (D-San Antonio)
Alma Allen (D-Houston)
Harold Dutton, Jr. (D-Houston)
Ken King (R-Canadian)
Morgan Meyer (R-Dallas)
Mary González (D-San Elizario) (Rep. González was not a member of the committee in the 85th session, but was in the 84th)
Gary VanDeaver (R-New Boston)
Newcomers:
Trent Ashby (R-Lufkin)
Steve Allison (R-San Antonio)
Keith Bell (R-Forney)
Scott Sanford (R-McKinney)
James Talarico (D-Round Rock)
The Senate committee memberships were announced on Friday the 18th, with the Senate Education committee remaining at 11 members – 7 returning members and 4 new faces.
Returning:
Chair Larry Taylor (R-Friendswood)
Vice Chair Eddie Lucio, Jr. (D-Brownsville)
Bryan Hughes (R-Mineola)
Bob Hall (R-Rockwall)
Paul Bettencourt (R-Houston)
Royce West (D-Dallas)
Donna Campbell (R-New Braunfels)
Newcomers:
Angela Paxton (R-McKinney)
Beverly Powell (D-Burleson)
Pat Fallon (R-Prosper)
Kirk Watson (D-Austin)
Chairman Huberty's strong leadership on the House Public Education Committee for a second term shows his commitment to Texas public schools. As a reminder Rep. Harold Dutton, the longest serving member of the Public Education Committee, authored pro-public charter school legislation HB 2337 last session. The 2018 Charter Champion, Chairman Larry Taylor retains his leadership position on the Senate Education Committee. Senator Donna Campbell, a strong public charter school supporter, previously authored numerous pro-charter school bills including SB 457 last legislative session. We look forward to working with all members of the Senate Education and House Public Education Committees this session.
Bookending the winter holidays were reports by the School Finance Commission and the House Public Education Committee. The School Finance Commission's report is the conclusion of a year of meetings of a group of legislators, educators, public officials, and education policy experts on the best steps to reform the Texas school finance system. Though there are 35 individual recommendations, overall the Committee recommends balancing state and local funding for schools, restructuring and adding funding to target high-need student groups, and reducing property taxes and recapture.
Similarly, the House Committee's Interim Report followed a year of research and testimony, including TCSA's testimony on the issues of school safety, Hurricane Harvey relief, and charter schools. On the topic of charter schools, the committee recommends expanding ISD partnerships, helping charters fulfill their role in education children with disabilities, reducing funding disparities, and reconsidering some of the statutory disciplinary admissions policies that charters currently hold.
TCSA welcomes many of the recommendations from both reports and will track which recommendations move forward, how they work with other policy changes, and how they will all affect charter schools. We're excited to see how the next few months unfold and to work with legislators ensure all Texas students have access to a high quality education.
TCSA received helpful feedback from member schools earlier this year in regards to scheduling Member Council meetings. Many of our member schools indicated that traveling to Austin for a meeting was often challenging for school leaders with their busy schedules and the difficulty of being away from their organization for a day or two.
Based on that feedback, TCSA has scheduled webinars for Wednesday, May 8 and Wednesday, August 28. Participants will be able to participate via phone (like a conference call) but will also be able to view meeting content on their computer screen. We anticipate that these webinars will last 60 to 90 minutes.
Although the May 8 and August 28 Member Council meetings will be presented in this webinar format, the October 29 Member Council will be an in-person meeting held at the 2019 TCSA Conference in San Antonio.
Member Councils are a great way to get the latest updates on legislative action, TEA requirements, and other issues that impact the public charter school movement. Be sure to register now for one or both of our TCSA Member Council webinars!
We are excited about our new event format for our Regional Meetings! Join us for one of four TCSA Regional Meetings and Charter Supporter Receptions scheduled for this Spring in San Antonio (January 28-29), Houston (February 25-26), Austin (March 5-6), and Dallas (March 25-26). All of the locations will feature a Monday 5:30 p.m. -7:00 p.m. charter supporter reception and a Tuesday 9:00 a.m – 1:00 p.m. meeting.
The Monday receptions will give a chance for charter school leaders, local political officials, TCSA staff, community partners, and other charter supporters to mix and mingle and celebrate the public charter school movement. The Tuesday meetings will allow charter school leaders, charter supporters, and TCSA staff an opportunity to cover a wide range of topics including legislative updates, local successes and challenges, charter advocacy, legal updates, and the latest TEA initiatives. The meeting will include a panel discussion with local charter leaders. Lunch is provided at each location. Attendees will receive 120 minutes of 19 TAC Chapter 100 Commissioner's Credit.
So many important things are happening this spring in the legislature that will have a profound effect on the public charter school movement in Texas. Don't be left out of the discussion – sign up for one of TCSA's regional events today!
It's back to school after the holidays, and it's time to get back to training! Join TCSA this January for two webinars that we are providing free to TCSA member schools. On Thursday, January 24 from 10:00-11:00 a.m. join us for Creating and Submitting a Successful Expansion Amendment - 2019 Edition. Follow along as we walk you through the step-by-step process for submitting a successful expansion amendment to TEA. Implementing the guidelines presented will help you assemble and submit your documentation correctly the first time and get your amendment approved. 
On Thursday, January 31 at 10:00 a.m. TCSA will present Tips and Tricks on Using Your TAPR to Boost School Performance. You've looked at your Texas Academic Performance Report and have shared the information in the report to your board and your community.  But have you really studied it?  Join us as we reveal ways to look at your TAPR data with a fresh perspective that will help you and your board make better data-informed strategic decisions and improve the performance of your school.
Are the members of your school team — board members, CEOs, business officers, and campus administrators — up to date on your TEA-mandated training requirements? We can help with that! Whether you choose to access our 24/7 on-demand training portal or prefer live training, TCSA has the right solution for your training needs. We offer significant discounts for bulk purchases of courses – the more you buy the more you save. Contact TCSA Director of Training Bruce Marchand to schedule your on-demand or live training today!
Did you know that nearly half of all charter districts in Texas were in danger of losing out on $200 per student this year? We did, and we fought for our schools.
In December, TCSA was successful in helping protect facilities funding for 72 Texas charter districts. Last year, TEA decided not to issue letter grades to districts impacted by Harvey (17 districts) and single-campus charter districts (55 districts). This is problematic because good academic performance under the new A-F letter grade accountability system is a requirement to receive facilities funds that were set aside in a new law that passed in 2017.
On behalf of our member schools, we worked with TEA to correct this oversight and were the only voice advocating for 72 charter districts that could have lost out on an additional $200 per student. We're thrilled that we helped deliver this win for Texas charter schools. In total, TCSA helped put more than $17 million back into charter school classrooms this school year. Seventeen Harvey-waiver charters received a total of $11,239,502 in facilities funding, and 55 single-campus charters received a total of $5,896,222 in facilities funding.
We're proud to advocate for charter schools – not just at the state Capitol, but at TEA, and the local level as well. We'll continue to fight so that charter schools have the funding, freedom, and flexibility to accomplish their missions and grow to serve the 140,000 names on charter waitlists in Texas.
You can read about our 2019 Policy Priorities here. Have questions about common charter myths? Help debunk them with this information.
Starlee Coleman
The 2019–2021 Public Charter School Program (PCSP) Start-Up Grant for charter schools authorized under Subchapters D and E was posted on the TEA Grants Opportunities website on November 30, 2018.  The purpose of the 2019–2021 PCSP Start-Up Grant is to provide financial assistance for the planning, program design, and initial implementation of state-authorized charter schools and to expand the number of high-quality charter schools available to students.
Eligible applicants for this discretionary grant opportunity include:  open-enrollment charter schools authorized by the commissioner of education under the Generation 23 charter application pursuant to the TEC, Chapter 12, Subchapter D or Subchapter E; open-enrollment charter schools designated by the commissioner of education, for the 2019–2020 school year, as a new school under an existing charter; and open-enrollment charter schools designated by the commissioner of education, for the 2018–2019 school year, as new schools under existing charters that have never received PCSP Start-Up Grant funds.  Note that open-enrollment charter schools submitting an application for a New School Designation for the 2019–2020 school year are considered eligible to apply for the grant. However, the commissioner must designate the campus as a new school under an existing charter prior to the charter receiving grant funding, if awarded.
The grassroots team is hard at work as the current school year comes to a close.  From direct parent training to hosting on-campus events to bringing elected officials to your schools, we want to support your advocacy needs!
Last week, Texas Charter Revolution wrapped up a series of 4 neutral candidate forums leading up to the important May 22nd runoff election.  These events brought TCSA member schools together with their families and community members to provide candidates the opportunity to meet with their constituents.  Check out video and photos of the Austin, San Antonio, and Dallas forums on the Texas Charter Revolution Facebook page.  In addition, a San Antonio mom talked about why these forums are so important to her and this Austin charter school board member and mom shared her perspective about what an event like this means to her family.
If you are not already, here are five EASY ways to stay engaged about our events and grassroots advocacy opportunities for you and your families across the state:
Text COUNTMEIN to 52886 and follow the easy instructions to receive future action alerts. Events in the legislative world happen quickly, and it's important that we can reach our supporters with up-to-the-minute alerts
Contact us smedlock@txcharterschools.org to set up a unique training opportunity, tailored just for your parents, staff, leadership, or alumni
Contact us mfernandez@txcharterschools.org to learn how to incorporate a no-cost TAKE ACTION campaign into your application and enrollment processes
RSVP for the May 22nd webinar by emailing kbritton@txcharterschools.org focused on grassroots advocacy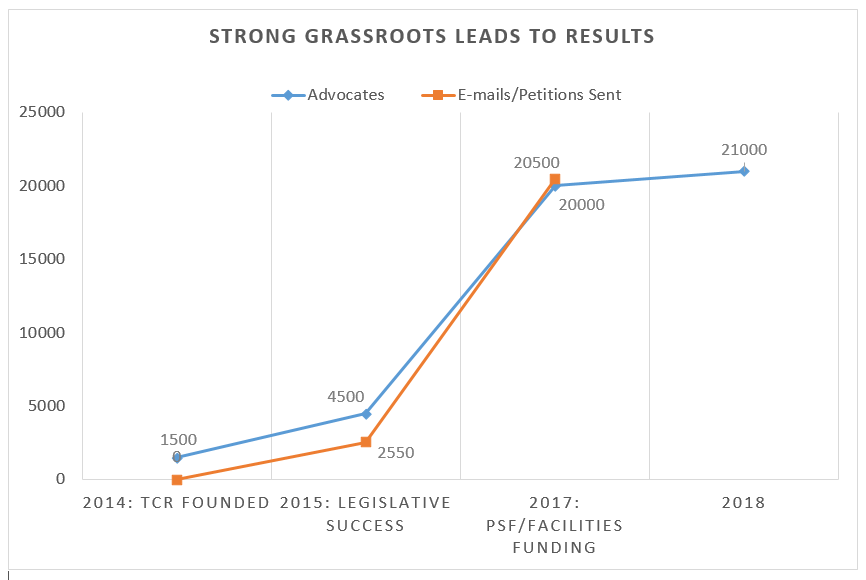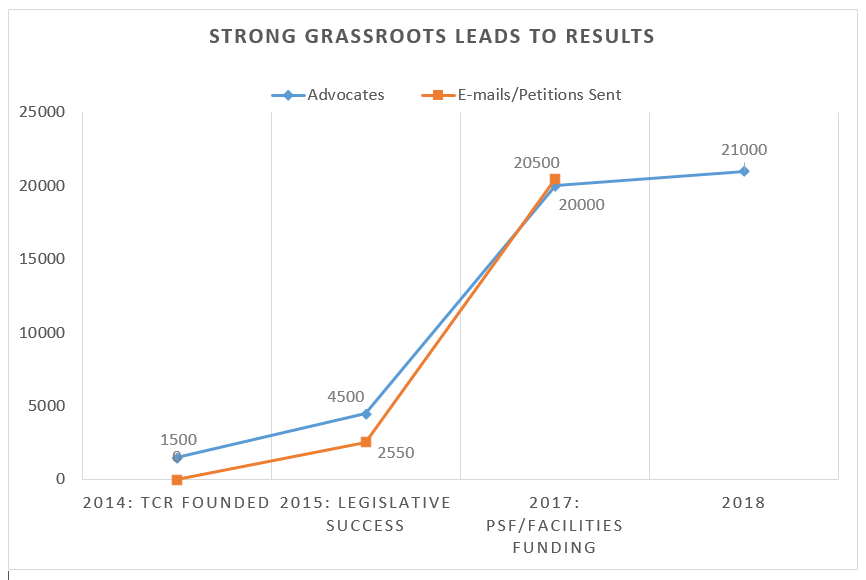 The Texas Charter Revolution has come a long way in the last four years.  Our supporters have stepped up in big ways to support historic legislative wins, but there is still much work to be done!
The next legislative session is a few short months away, and already public charter school issues are a hot topic of debate in and around the Texas Capitol.  It is imperative that elected officials – or those seeking elected office – hear from public charter school families.  NOW IS THE TIME to engage with our team so that we can give your school community all the tools that it needs to stay involved.
It is imperative that elected officials – or those seeking elected office – hear from public charter school families.  Be sure to read and share this important piece by Dr. Becky Goode, your elected advocacy chair, about the importance of participating in the May runoff election.