When Joey was just two years old, he was diagnosed with autism. His mother was uncertain about Joey's future. She wondered how he would overcome the challenges he was sure to face and whether they would be able to find a school that worked for him. She researched private and public school options and even thought about moving out of state to make sure he got the resources he needed.
Fortunately, after one year in the local public elementary school, Joey's case manager recommended the Foundation School for Autism, a charter school serving kids ages 3-7 in San Antonio and Austin.
It was life changing.When Joey started at the school he was non-verbal with very little social interaction. He quickly went on to use words and pictures to communicate and is now able to interact socially with adults and some peers. Joey's mom Shiela says, "The Foundation School gave us all the resources we needed. It has a very advanced curriculum and our son is doing things a regular kid his age is doing. Our son is actually able to succeed and learn academically."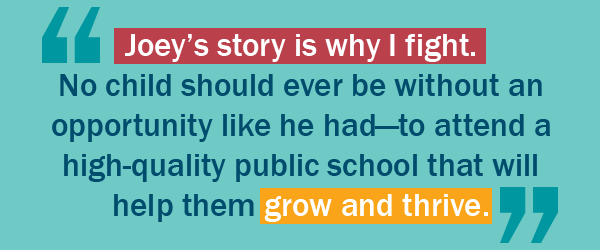 Coming up on November 27, TCSA will be celebrating Giving Tuesday, a chance for all of us to give to charities and causes that make all of our lives better and help kids like Joey.
Would you be willing to make a donation to TCSA? Your support ­- no matter the size - will help us fight for more opportunities for kids like Joey. And with 140,000 Texas charter school students on waiting lists, we've got a lot of work to do.
You don't have to wait until November 27. Click here to donate today.
Thank you for your support and for joining with me to fight for kids like Joey!
Starlee Coleman
CEO
Texas Charter Schools Association
P.S. It's really easy to make a gift here. You can read more about Joey's story here.